THERE'S a pattern of thought that can dog human beings seeking peak performance that has been identified by psychologists as "Imposter Syndrome".
Despite evidence to the contrary, those suffering from it doubt their competence at certain tasks and fear being exposed as a "fraud".
They wonder if they're good enough and ponder whether it's lucky that they've reached the level they're at. It's a cycle of thought that can generate stress, anxiety and affect performance – ultimately creating a self-fulfilling prophecy; think you're not good enough persistently and it's likely you won't be.
We've seen this unfold in front of our very eyes at Liverpool down the years, and everyone will have their own examples of players that have wilted under the glare of the Anfield spotlight.
Stewart Downing is one often referenced, in particular the sliding doors moment of his debut in a red shirt. Had his brilliant run and shot from distance been rewarded with a debut goal instead of it cannoning off the crossbar could things have been different for the England winger?
We'll never know.
There is little doubt, though, that he regressed into a player that became all too keen to take the safe option and shined on too few occasions to justify his £20million transfer fee.
Further, he became all too aware of what fans thought of him – culminating, bizarrely, in him putting his fingers to his lips to "shush" home supporters after scoring a goal for Liverpool, one of only seven in 91 appearances in red.
He later moved to West Ham, before returning to the comfort of his hometown club, Middlesbrough, swapping the Premier League for The Championship – a move he admitted himself at the time that many would struggle to understand.
Perhaps it was a form of the imposter phenomenon, perhaps not. What was certain was that he never had the chance to shine at a club as big as Liverpool ever again.
There is clearly a greater pressure to perform at the very top of the game, which is where Liverpool aspire to be. Some can cope with that pressure and deliver on a regular basis, others can't.
Rewind a few months to the summer and there was much hand-wringing about the recruitment of Xherdan Shaqiri for a cut-price £13m, a fee Jürgen Klopp described as a "no brainer".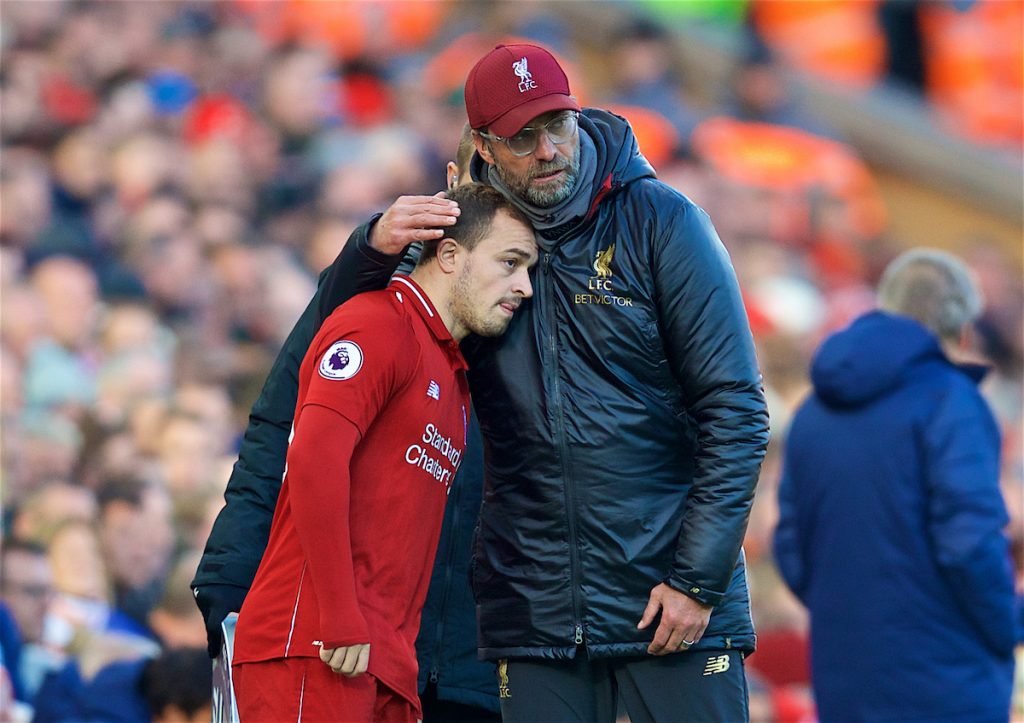 After following moves to Bayern Munich and Inter Milan with one to Stoke City, many voiced concerns about the 27-year-old's attitude, with Gary Neville among those shouting loudest over the summer.
"I'm not a fan of Shaqiri, to be honest with you," he said. "I think that was, to be fair, made worse by the fact that he distanced himself from his teammates at Stoke.
"They were unprofessional last season – there's no doubt – and he epitomises it. To be honest with you, players like that I can't have. I struggle with it."
A pre-season overhead kick against Manchester United didn't shift his thinking either, with the player turned pundit tweeting: "I hope you lot are going to message me every time you see him stood on the halfway line while your team are being attacked."
Phil Neville was also at it, adding: "I am not a fan of Shaqiri. He was a disgrace at Stoke. His attitude was shocking."
Throw in Charlie Adam putting his fried egg butty down long enough to chip in about the Swiss international's contribution to Stoke's relegation fight and alarm bells might have started to ring for some.
Charlie Adam criticising Shaqiri for Stoke going down… pic.twitter.com/cbl0DTxcLB

— Elliot Hackney (@ElliotHackney) 31 July 2018
It turns out there is no fire. It's only nine competitive appearances – punctuated by one goal and three assists – but so far, so good. It does not appear we have another imposter on our hands.
Far from being the problem child presented by the summer shit stirrers, Shaqiri's attitude has been exemplary thus far. It's only 378 minutes with a Liverbird upon his chest, but in that time he has shown graft and guile, he has taken responsibility, and he has added momentum and purpose to Liverpool's play.
Against Cardiff City on Saturday, while Adam Lallana too often slowed things and stuttered his way through a painful hour to watch, Shaqiri gave Liverpool an added edge, culminating in a coolly taken finish to register his first goal for the club.
And does he have any qualms about belonging on this stage, at this club, in this league? Absolutely none, as his wonderful moment of milking it in front of The Kop demonstrated.
This is a man with confidence, with swagger, with arrogance; he knows what he can do and he's determined to show it.
Perhaps crucially, he has to show it. At Stoke he was the big fish in the small pond – the man with a big CV who the manager pinned all his hopes of survival on.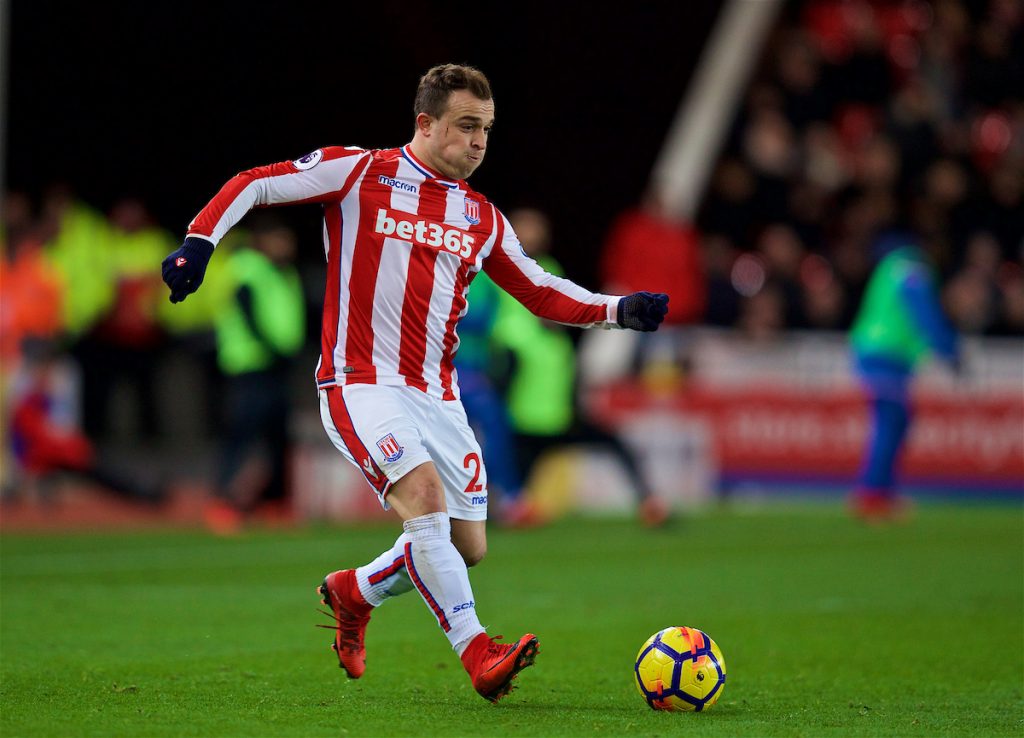 At Liverpool, he's part of a squad of internationals and part of a team that is top of the league. If he doesn't cut it, or doesn't follow instructions, he'll likely find himself kicking his heels in the stands, as underlined by the harsh-looking hook versus Southampton after an influential first 45 minutes.
Klopp also gave the attacker a very public dressing down after Liverpool lost to Chelsea in the League Cup but was happy to throw him some toffee at the weekend.
"Shaq came in and was involved in two nice goals (against Red Star), which is always good," he said.
"That made it so hard to leave him out because he was a good player for that game, but we had to think about if it was the right thing to do.
"We decided differently, but football games are 97-98 minutes and you need 14 players for that. Bringing on that quality is a massive difference."
After all the negativity just months ago about Shaqiri, it feels now the tide has turned and there were also some encouraging words regarding his ability from Peter Crouch over the weekend.
Writing in his Daily Mail column, he said: "In terms of ability, he is up there with the best I've played with. Trust me, he can be whatever he wants to be. For someone with his ability, £13million is a bargain in this day and age, and I'm only surprised that more clubs didn't register an interest. I know he is going to have a big season.
"You need belief in yourself to thrive at Anfield and that is something he has got in abundance."
The opposite to a sportsman bogged down by Imposter Syndrome is one brimming with confidence, one expecting to win and one committed to winning.
In Shaqiri right now, we've got just that.
"Adam Lallana feels a bit like yesterday's man… this Liverpool team have evolved past him." 👀

🗣 Listen to this week's FREE Anfield Wrap podcast here 👉 https://t.co/n8FohiX6SU pic.twitter.com/5bPnWkKaWx

— The Anfield Wrap (@TheAnfieldWrap) 29 October 2018
Recent Posts:
[rpfc_recent_posts_from_category meta="true"]
Pics: David Rawcliffe-Propaganda Photo
Like The Anfield Wrap on Facebook