FOOTBALL is a fickle sport, not for the faint of heart.
There will be highs, Liverpool's scintillating ride to Kyiv last season was one. There will be lows, such as the dreary Roy Hodgson era that tested even the most optimistic supporters.
It's the heartbreak that gets you, though.
That moment when your favourite player decides to move to pastures green, ending a love affair that felt like it would last forever. Fernando Torres's move to Chelsea is still sore for some, while the more recent departures of Luis Suarez and Philippe Coutinho left fans tentative to develop such a strong bond with future recruits.
Wounded, you wait for someone new to come along, hoping that this time it'll be different. This time there'll be a positive outcome. A true spark.
For Liverpool, Mo Salah was that spark.
A love which knows no bounds, the Egyptian has endeared himself to the Anfield faithful, taking up the mantle to become one of the best, most feared players in Europe.
No one could have predicted the magnitude of his impact, smashing several records inside a debut season that saw him net 44 goals in 52 games. Salah's form would see him collect the most club Player of the Month awards in a single season (seven), equal Roger Hunt's record of 23 goals before the turn of the year, and become the fastest Liverpool player to score 20 Premier League goals. Beating Daniel Sturridge and Torres in the process, the sky was the limit for Mo.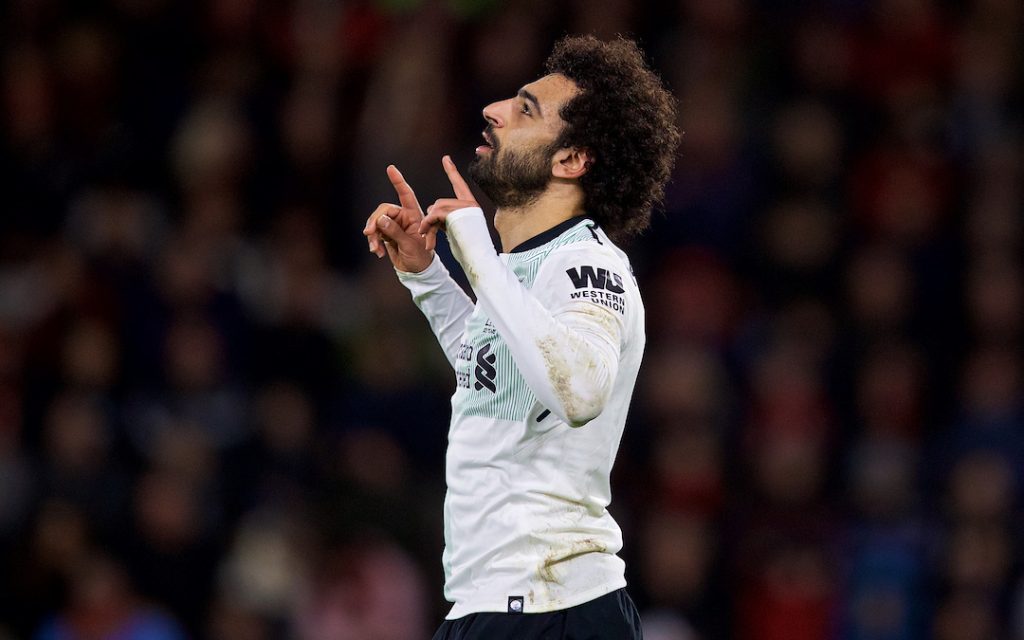 His other accolades in 2017-18 would include:
Highest-scoring Egyptian in Premier League history
Most left-footed goals in a Premier League season
Most Premier League Player of the Month awards in a single season
Most goals by a Liverpool player in a debut season
Highest-scoring African in a Premier League season
Fastest Liverpool player to 40 goals
Most goals by a Liverpool player in a Champions League season
Most opponents scored against in a Premier League season
The first player to outscore three teams in the top flight, Salah rightfully earned the Golden Boot award, becoming the most prolific goalscorer in a 38-game season, beating the record set by Alan Shearer (1995-96), Cristiano Ronaldo (2007-8) and Suarez (2013-14).
This was Salah — our Salah — at his very best, breaking records and taking names.
With Roberto Firmino as the conductor, Sadio Mane the facilitator and Salah the red-hot finisher, Liverpool fans were handed a steady stream of goals across the board and a chance to immerse themselves in the genius of Salah's work.
As a whole, the front three has yet to deliver the same freneticism as last season, largely due to the absence of drive and creativity in midfield — two traits Alex Oxlade-Chamberlain had in abundance. There have been flickers; Mane's breakaway goal against Crystal Palace and an arched first-time finish from Salah, for example, but nothing consistent.
However, Wednesday's win was a step in the direction, with all three players scoring in the same game for the first time this season, having done so eight times in 2017-18. Key to their improvement was Xherdan Shaqiri, whose inclusion added incision and guile, pulling the strings as orchestrator.
Indeed, that's where Salah's first goal came from after his perfectly cushioned ball fell into the path of the Egyptian.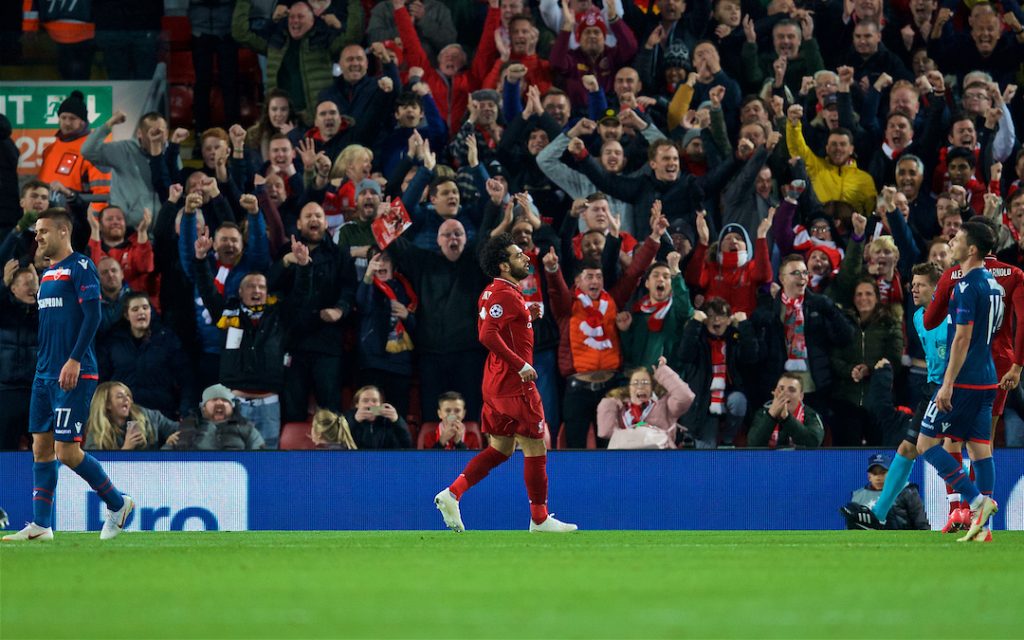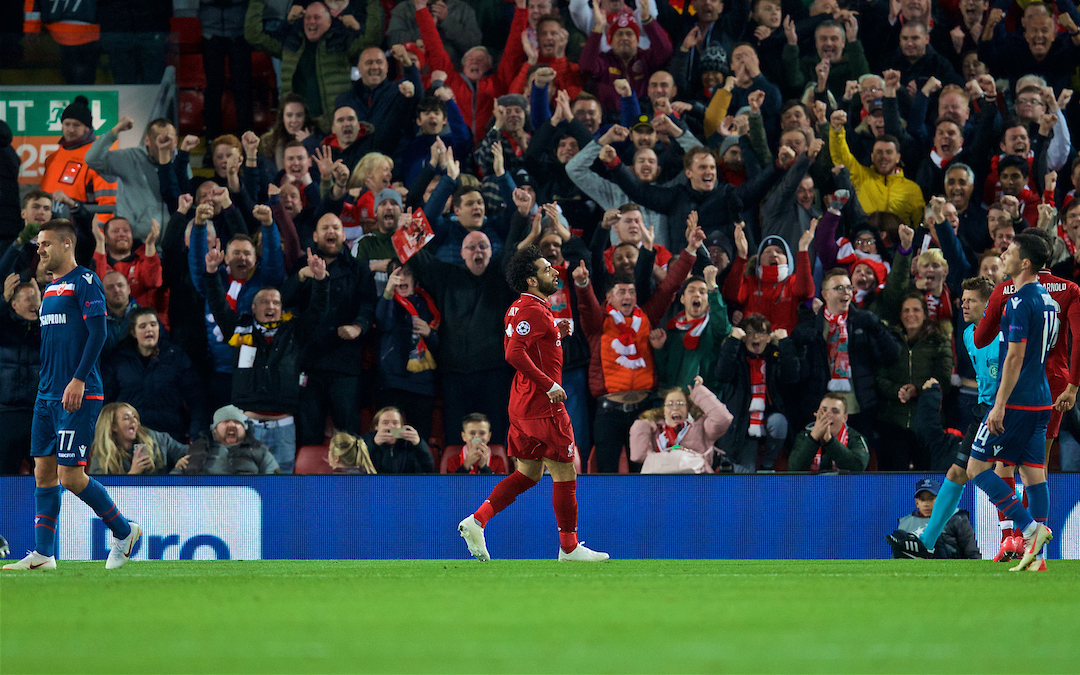 There it was. Mo's right foot doing what it does best.
The 26-year-old would double his tally from the spot, putting the gloss on Liverpool's performance — a performance of composure and class, radiancy and ruthlessness.
In doing so, Salah would break yet another record.
To be the fastest player in the club's history to score 50 goals is a feat of its own, but to do so in 12 games fewer than Albert Stubbins' record in the 1940s is a phenomenon. For perspective, a record of 50 goals in 65 games is 19 fewer than it took Torres, 22 fewer than Ian Rush, a whopping 26 fewer than Suarez and 34 less than Kenny Dalglish managed.
Take a minute to let that sink in.
It's impossible to be obsessed by this game and club, and somehow remain indifferent about the heroes it coughs up. As football fans, heartbreak is part of the job but we're romantics at heart and soon forget the damage caused by the fleeting shadows of old greats.
You can either rest on your laurels, pining over what might have been or you can dive back in with both feet, immersing yourself in the madness and allowing for the opportunity to be hurt again.
Salah's become the new man on the block. The new knight in shining armour, whisking us off our feet and stealing our hearts. He's everywhere and anywhere, plastered across billboards and carved into walls across towns and cities around the world. He's our Mo. Our record breaker. Our golden dynamite. Our Egyptian King.
"Every Red Star player just thought, 'fucking hell we can't live with this.'" 🔥

🗣 Subscribe and listen to our immediate post-match reaction show after the Reds' 4-0 win over Red Star 👉 https://t.co/Y74hlJ4yQF pic.twitter.com/bIMRvhYUjV

— The Anfield Wrap (@TheAnfieldWrap) October 24, 2018
Recent Posts:
[rpfc_recent_posts_from_category meta="true"]
Pics: David Rawcliffe-Propaganda Photo
Like The Anfield Wrap on Facebook