LIVERPOOL lost and they deserved to lose.
The good thing about being good is being able to say: "That isn't good. That isn't what good looks like."
Before a ball was kicked I would have taken a point. Firstly, due to the group scenario but secondly because Napoli have some really good players. The bad thing about being good is that you can presume if footballers aren't definitely of your level (and many of Napoli's may actually be), they can't be better than you on the day, that such a thing should be impossible.
One of the reasons why football is the very best of the sports is that that is indeed nonsense. A side with pretensions of first can be beaten, soundly beaten, by a side with expectations of sixth in our league, especially on their own patch. And Napoli are better than that.
Napoli get to be good. They grabbed being good with both hands in the second half.
The discussion is how Liverpool were bad. Environmental factors were in play — the pitch was dreadful and the weather worse. The same for both sides yes, but the sort of conditions that make you pine for home comforts.
And the sort of environmental factors that bring certain psychological factors into play. The facts are that Liverpool have three important games to play in eight days and that this is the least important of them. If you know that and I know that, then Jürgen Klopp and his players know it 100 times over.
Naby Keita going down with an injury won't have helped, a reminder of the worst type of mortality for a footballer — the layoff. No one wants the layoff, not for a side doing the business.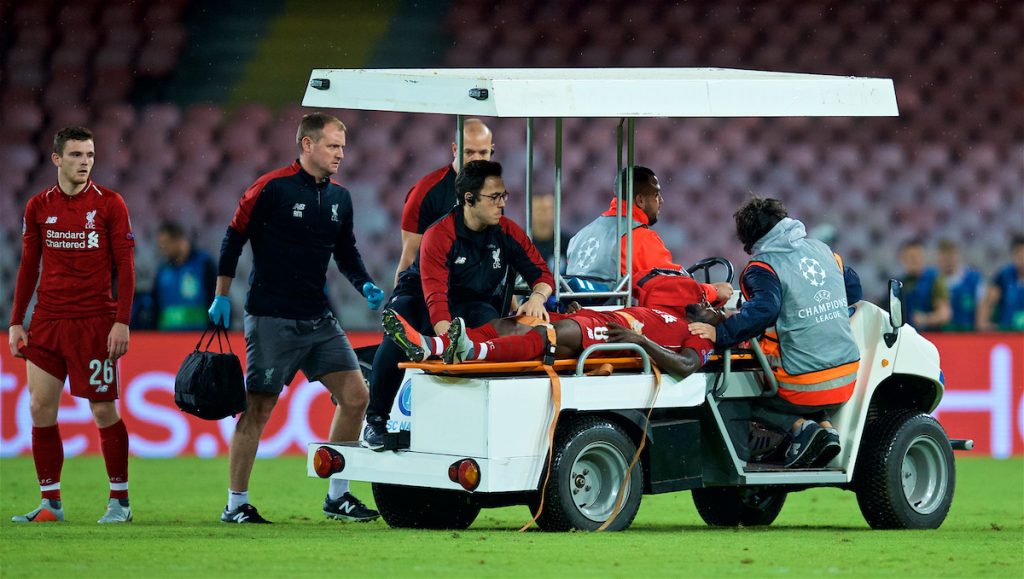 The other psychological factor among these is that this side has played big games away from home. Good games away from home, tough games away from home. But it hasn't faced this type of challenge yet, the sandwich game where the good result shifts like turf beneath the feet. It is another learning curve and Liverpool have been left to do that the hard way.
The concern is the front three. They seem dulled and dealt with, in flashes individually good but less than the sum of their parts. Last season they were the opposite. They need to find that and soon, but the thought persists they could do with some supplementary help to regain their vibe. They could do with a fourth man coming and arriving, demanding to be part of the attack and demanding attention. Liverpool looked an Alex Oxlade-Chamberlain light not for the first time this season.
The defence stood up well to their task and the central triangle of goalkeeper and centre backs can feel hard done to conceding as late as they did. They deserved the clean sheet that would have brought a generous point to Liverpool and a harsh one to Napoli. But it wasn't to be.
They were warned as Dries Mertens smashed one off the crossbar, and they were breached by a lovely ball and an excellent finish. There is a concern that the goal isn't dissimilar to Manchester City's opener in the second leg last season — Virgil van Dijk sucked out wide and Liverpool left one short in the box. The thought persists that the flank to initiate attacks down is counter intuitively Liverpool's left, looking to finish from their right.
It's one for the analysts. They know their game. The rest of us, who know ours, know a season comes in great blocks and has its rhythms. Every bad result is defined by what happens next, not that result itself. This run of games is no different. Liverpool are a victory away from every little thing being alright.
The next game, Reds. The next game.
Look at the size of it.
Let's go.
"Liverpool got exactly what they deserved!" 😩

"Absolutely nothing."

Subscribe to listen to our Post Match Show: https://t.co/UlqKvwZIWy pic.twitter.com/qCOG06FIdn

— The Anfield Wrap (@TheAnfieldWrap) 3 October 2018
Recent Posts:
[rpfc_recent_posts_from_category meta="true"]
Pics: David Rawcliffe-Propaganda Photo
Like The Anfield Wrap on Facebook