YOU say you've got to go home.
It is always someone's first game. Always someone's first time. This is important to remember when you rock up to Anfield giving few fucks, striding through the gloaming as the nights draw in. Remember this is someone's most special evening. Remember what we take for granted means the world.
I know of three people tonight for whom it was their first game at this ground. Three people who got the full hit. But it wasn't the full hit — this is true: football without fans is nothing. This is true of home fans and away fans. A game without away supporters is odd and shouldn't be encouraged.
Liverpool Football Club did the right thing in the way it reallocated the tickets, but football should be about us and them, not us and us. One is the lonelinest number you'll ever do.
The best thing about scoring is scoring but the second best will always be their silence, their acceptance, their acknowledgement that Liverpool are superior, that everything is Red. I am an angry celebrator of goals and wins. I love the idea of sticking it, but where can it be stuck in an all Liverpool crowd? Coitus interruptus.
You say you've got to go home.
There was something sumptuous about Xherdan Shaqiri's involvement in both goals. He wins it back for the first and weights his pass like Michael Laudrup in his pomp. Andy Robertson gets in and Liverpool flood the box in a manner which will delight their manager, Roberto Firmino converts a penalty from open play. The second is won back and propelled forward before the most sugared touch from Shaqiri sweetens the deal for Mo Salah's right foot.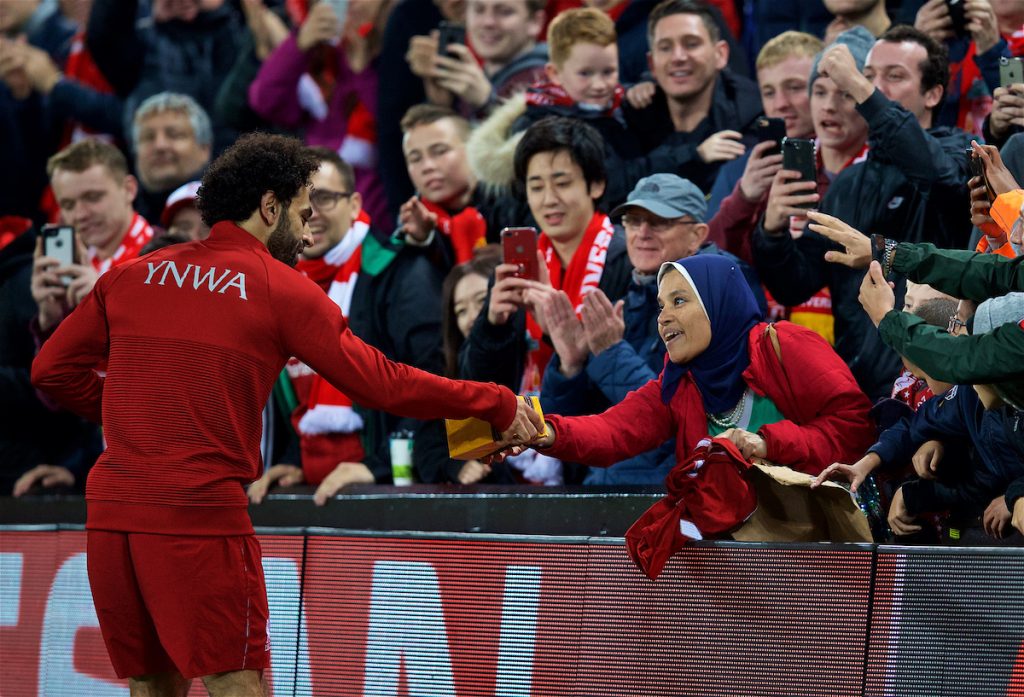 There is a boring but possibly accurate conversation to be had that the most important foot in Liverpool's season is Salah's right. If that foot has an above average season Liverpool will soar. For now though let's talk about Shaqiri's left, or more accurately his desire to use it, to get on the ball.
The most pleasing aspect of everything Shaqiri does for Liverpool is the sheer pleasure in the effort and expression. He's enjoying himself without indulging himself. He's enjoying the workload and the virtue that comes with it. Pleasure in the virtue. He got a deserved ovation halfway through the second half which suggests he starts against Cardiff. Good.
Around the 58th minute Fabinho won it back covering over at 3-0. The ball went forward, Roberto Firmino excelled in harrying and was backed up by Shaqiri. Liverpool built from the final third. The very best thing Jürgen Klopp does as a manager is make footballers not just understand the benefit of graft but to love both it and the possibilities it creates. To work is to live, is to love. It's Liverpudlian to do a day. Liverpudlian too to enjoy a night. Pleasure in the virtue.
You say you've got to go home.
Fabinho enjoyed himself, the sheer excitement of starting, and playing, and seeing what can open in front of him stopped him from splitting the centre halves. Don't worry about the centre halves, mate. These two are sound. You worry about the rest of it, revel in the rest of it.
He did that from the half-hour mark and surely also has to start against Cardiff off the back of it. He won tackles and played the sweetest first time ball to Sadio Mane. They coped with him by fouling him. He should play the return leg, because I am telling you they will hope he doesn't.
Across the course of the game though, Gini Wijnaldum was the outstanding performer. Has he improved markedly or has our appreciation of him improved? I would suggest both can be true. He was better than we thought last season while him going up 10 per cent looks like 20, like 30. It was a performance of brain and brawn, engagement and energy.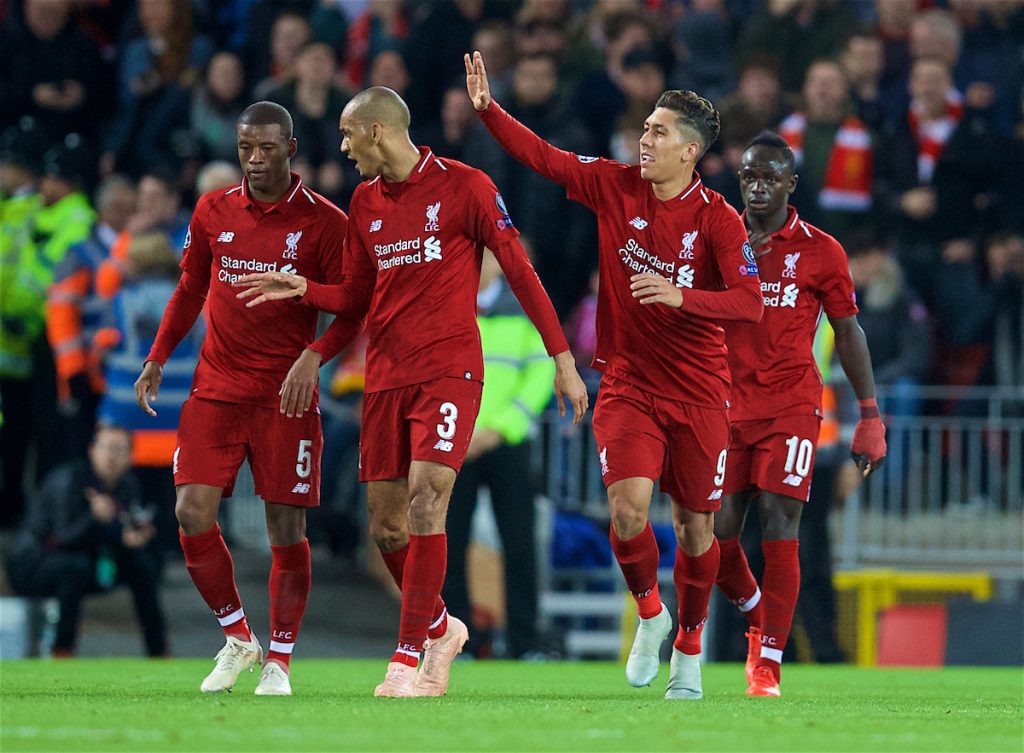 It was a shame to see Mane's penalty saved but marvellous to see his winner supplied by Daniel Sturridge. Even at four, Liverpool deserved a greater margin of victory. But occasionally this happens. There is nothing wrong with Red Star returning home very soundly beaten and simultaneously feeling like they dodged a bullet. It won't be an easy team talk in a fortnight.
It was around this time last season your heroes and mine got their groove and started playing. They did Maribor for seven and never looked back. They reached the places so few teams ever go. Liverpool were marvellous tonight but they need to go there again and go there now. Now is the time to strike, to come alive, to have other ideas.
Liverpool in the box seat in the group. Liverpool probably able to contemplate February trips. Liverpool with so much more work to do and to enjoy.
The clocks go back Sunday. I can't wait to watch them work and enjoy their work as autumn becomes winter. A lovely day of wintery boozers segued into a lovely night of cockle warming Liverpudlian football. Hold it close.
The joy is a furnace and it is always, always, always someone's first time.
You say you've got to go home.
You'll be late.
"Every Red Star player just thought, 'fucking hell we can't live with this.'" 🔥

🗣 Subscribe and listen to our immediate post-match reaction show after the Reds' 4-0 win over Red Star 👉 https://t.co/Y74hlJ4yQF pic.twitter.com/bIMRvhYUjV

— The Anfield Wrap (@TheAnfieldWrap) October 24, 2018
Recent Posts:
[rpfc_recent_posts_from_category meta="true"]
Pics: David Rawcliffe-Propaganda Photo
Like The Anfield Wrap on Facebook