"ENJOY the game."
Those were the last words my mum text me following a conversation on Saturday afternoon.
Enjoy the game? Sounds so simple, doesn't it?
Everyone is different, but some of us supporters tend to enjoy pretty much everything about matchdays apart from the actual football. The whole part about meeting mates beforehand, hearing and analysing the team news, getting in and singing before the kick off, is all great. I look forward to those times more than any other. Even the simple act of walking to the ground can quicken the pulse.
Visitors to Anfield will tell you that the first view of the Main Stand as you approach gets under your ribs no matter how many times you've been there. It's like being called in from afar, like someone has opened up a secret entrance to a private club and asked you to be a part of it.
It's the same once you're inside. The songs, the flags, the pomp. It's all wonderful.
But the second the whistle goes I change completely. Braggadocio and song are replaced with tension and frowning until the referee tells me to go home. Even if Liverpool are winning.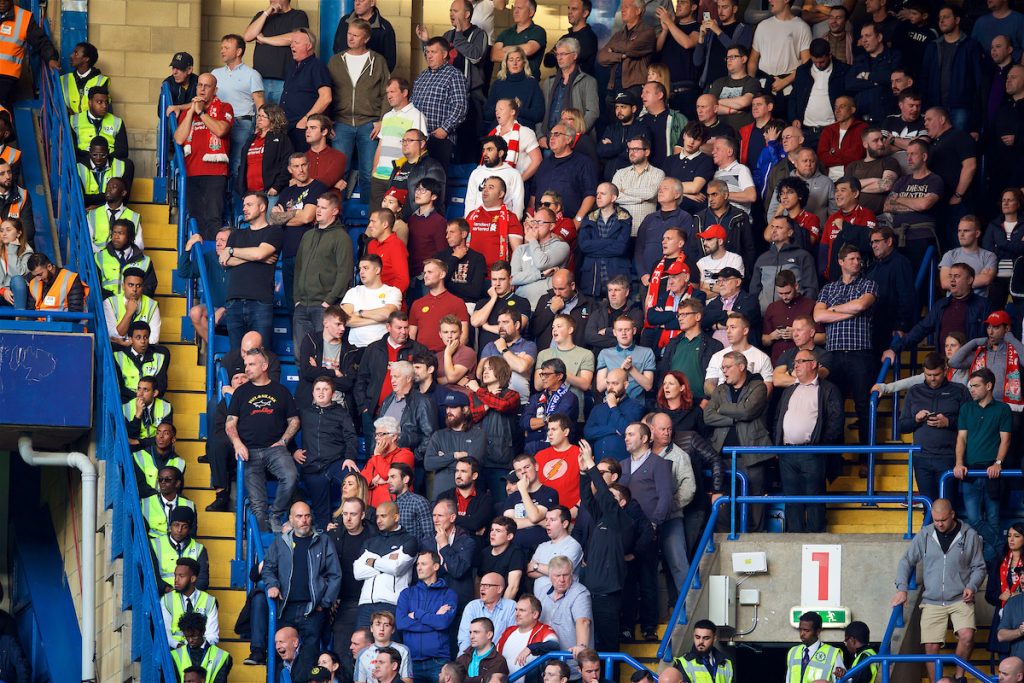 A case in point. In March 2010 a Dirk Kuyt hat trick beat Manchester United at Anfield. Who couldn't enjoy that? The Dutchman's final goal came in the 65th minute, so for 25 minutes the crowd could relax and enjoy a three-goal lead against our biggest rivals before the points were dished out. Absolute dreamland. Understandably everyone was relaxed and even sang happy birthday to manager Kenny Dalglish who turned 60 that day. Smiles all round.
Not me. I was petrified.
What if? What if they come back and get a draw? What if the ref sends off one of our lads for no reason whatsoever? After all, Alex Ferguson would probably be in the officials' ears about Jamie Carragher's challenge on Nani. What if the game is abandoned due to a sudden locust infestation? To my mind, all of those outcomes were more than possible. Then Javier Hernandez came on and scored two minutes into injury time. I'm amazed I made it out of the ground without the aid of an oxygen tank.
Enjoy the game.
Stamford Bridge was similar. Somehow an unbeaten start and the best, most complete squad Liverpool have had in a nearly two decades cranked up the pressure even more. Going toe to toe with another unbeaten side who have brilliant defenders and midfielders made things even worse. I was a wreck.
I'm not alone in this. Even if you're a glass-half-full sort of person who sees that angst as part of being entertained, you probably didn't enjoy the final moments in Rome last season when the Italians came close to overturning what was once a five-goal lead or when Andriy Shevchenko faced Jerzy Dudek in Istanbul. Fear comes as part of the joy.
And if you explained that feeling to a non-football person they'd quite reasonably ask why you bother. What did you do at the weekend? Well, I spent a fortune, travelled halfway across the country and back, and panicked when things weren't going our way. Why do we do it?
Those questions were in my head from Eden Hazard's goal till the 88th minute. It's worse if you're in the ground as you have to contend with their supporters both celebrating their good fortune and barracking you in equal measure. You've got to walk past those baying hordes on the way home.
As that game neared its end I began to think the worst. Liverpool did not deserve to lose. That made it harder somehow. You can't argue with a 3-0 thumping by a superior side, but a narrow 1-0 defeat when you've had the ball cleared off the line twice is hard to stomach. And if you've had a bit of bad luck other thoughts gatecrash into your head. That's that then. The burst bubble. A slide in form and confidence. A defeat against Manchester City to come. Fourth by next Sunday. Bound to be.
So what do you do to expel those inner demons? You take it in like you've done for years and exhale it in passion and song. You shout till your veins bulge. You let everyone of them in the ground know that this side doesn't give in regardless of the situation. You remind them who we are. If we go down, we go down fighting and shouting. Even if you do feel hollow inside.
This was the case until Daniel Sturridge took the ball from Xherdan Shaqiri and pulled his foot back.
Stamford Bridge is a cramped ground with the away supporters occupying half of the Shed End in both upper and lower levels. I was in the lower by the corner flag. From there you don't get the see the entire goal. I could see Kepa Arrizabalaga, but the bit between him and the back of his net was obscured by the front row of Liverpool supporters. I watched Sturridge's shot in the mistaken belief that it was a cross. Probably overhit and all.
Then something strange happened. Time stood still. Everything went quiet. The ball nestled in the top of the net. It didn't fall to the ground. It suspended there for all the world and silence to see. That shouldn't be. Gravity needs to have a word. The ball was in the net.
That nanosecond lasted an aeon.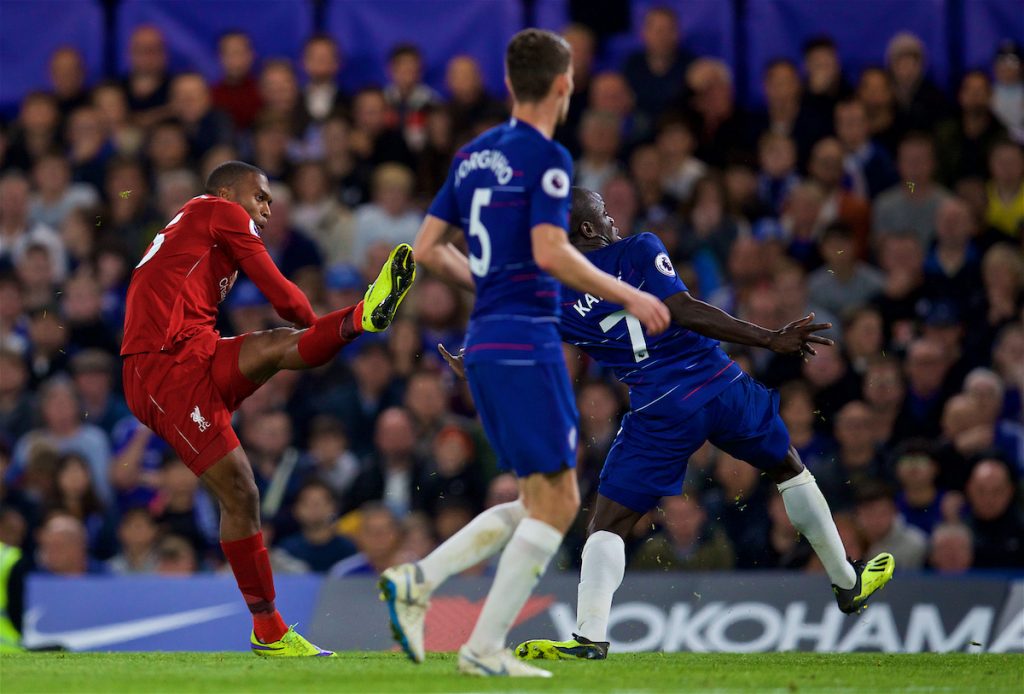 It's that moment where the worry dissipates to be replaced by joy. I don't suppose anyone in the away end could tell you how they celebrated. I couldn't. Those negative thoughts and self doubt were swept away. We really are going to win the league. We can do this. City would take a result like this and they've just been done by Lyon on their own ground. We might stay unbeaten all season. Liverpool are going to declare on 99 points in March in pity for the rest of the league.
Suddenly the walk through the home supporters is a thing to be welcomed. The weekend has been saved. We're still unbeaten in the league. Chelsea can't hurt us today. Fate and bad luck can't touch us. That's a beautiful thing if you've been so close to a ruined day.
Why do we do it? That's why.
Moments like that. It's everything. Joy, ecstasy, relief, schadenfreude. Wave upon wave of emotion. From hugging strangers, trying to keep your specs on your face and pulling your mates up from the floor to looking onto the pitch and seeing the man who gave you that moment. He's staring at us all. Just staring. Like he's just given you a present and checking your face to see if you enjoy it.
And that's what that first half was about. It was a pre-paid tariff that you were going to get back with interest later. That's why we do this. Moments like that. Moments that you can never forget because you can't remember what happened in the first place.
Enjoy the game? Yeah, I did. Eventually.
Recent Posts:
[rpfc_recent_posts_from_category meta="true"]
Pics: David Rawcliffe-Propaganda Photo
Like The Anfield Wrap on Facebook