NINETY minutes of sheer hell, John Barnes said years ago.
The words echoed through today. Liverpool 0 Manchester City 0. Unbelievable we pay good money to be made to feel like that.
If it wasn't hell it was purgatory. The prospect of losing loomed large, the stick bigger and more powerful than the carrot for both sides, and that dominated the whole contest. For Manchester City's 100-point heroes, it was a trial to get through. Could they see off Liverpool? Could they see off the cauldron, the eye of the storm? This was to be an examination and they can feel like they passed. Aymeric Laporte was particularly excellent but their wonderful, clever manager can look his players in the eye tonight and feel like he has helped them and they have shown him something new.
They turned up like Brighton or like Leicester away, taking significant risks to stop Liverpool's passing shapes from working. The football from neither side was cowardly, indeed to play as both did takes an awful lot of bravery and even more trust. Out of possession, you have to take up odd positions and hope your teammates have done the same. In possession, you have to play an awful lot of passes along a tightrope just to get out.
The first half was just that. Two sides trying to get out, having to work hard as anything just to get to halfway and have a breather. Everything you can normally rely upon gone, because Bernardo Silva stands just there, and Gini Wijnaldum just there, and now you can't see anyone. Let no one say these aren't serious football teams. There were no jokes on show, no flourishes. There were brains, bravery and brawn.
It was astonishing to see them time waste, dawdle over every restart and take time out of the game. They stole yards from throw ins during what would normally be a comic three minutes during the first half, but throw ins like everything else became too serious to laugh about. They mattered and they took up time and time was on everybody's mind, going by so slowly.
It was unbelievable when it was 58 minutes on the clock. More than enough football had been played but there was to be over 30 minutes more. Football does things to time and scientists should look into it. Repeatedly Ederson Moraes was Ben Foster, no goalkick could handle enough contemplation, the ball spotted and respotted.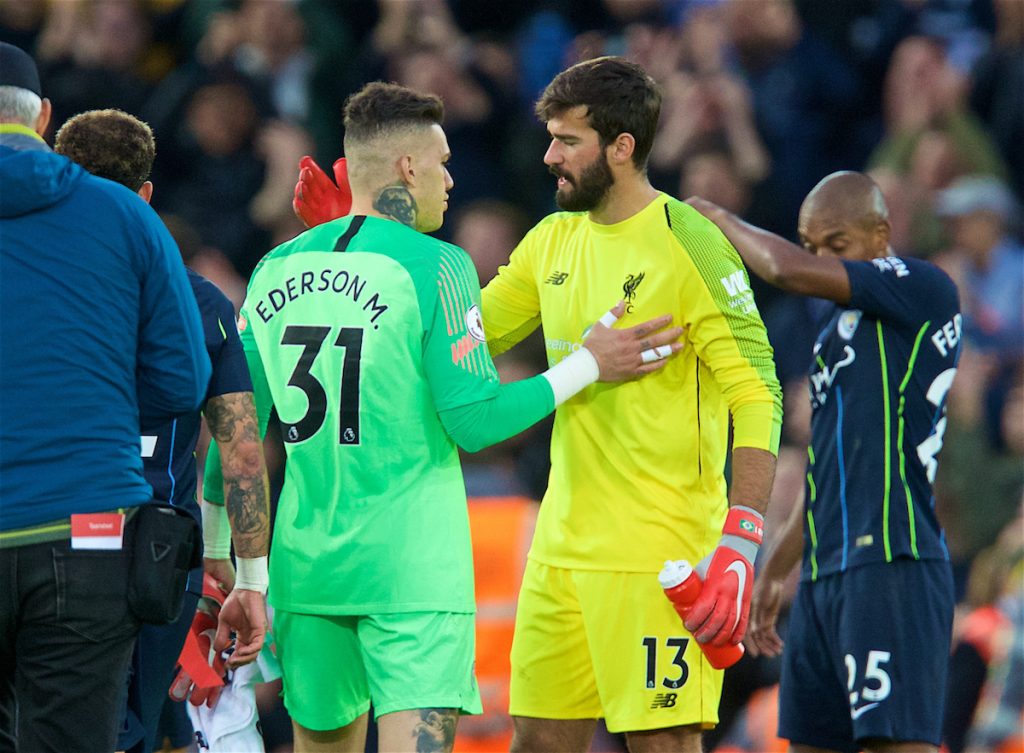 The City players loved a row, nothing takes time out of the game like a good row, whereas Liverpool captain Jordan Henderson kept up an ongoing conversation with the official. He could have given us more but he was right to give the penalty, one of the few breaks in the attrition, though wrong not to give us a freekick on halfway in the buildup. It was a game of marginal decisions, marginal positioning, marginal passing. That he perhaps struggled shows that neither side rose above him. He was not to become irrelevant.
The second half saw Liverpool shade it in general play, but City were constantly dangerous on the break. It's not meant to be that way but that was the way it was and everybody took their medicine. Liverpool got around City's box a lot but City got in Liverpool's more often than their opponents.
Kyle Walker sat in a similar position to his for England, Andy Robertson broke out in fits and starts, Joe Gomez was ignored first half but integral second, Benjamin Mendy was more desire than quality. Sergio Aguero's main contribution was to block lanes and get himself booked, Gabriel Jesus gave The Big Dog the chance to remind everybody it can still be his yard. All of Liverpool's front three toiled but none could both escape attention and make themselves available. Instead they scrapped in areas.
Words will be written about them but this was another game where Liverpool missed Alex Oxlade-Chamberlain and would have liked to have seen more from Naby Keita. He's a new signing, the fixtures have been a nightmare and it will take time, but when lanes are blocked everywhere it helps having someone run beyond them, someone creating new realities. Keita never quite did that and we could do with him finding his mojo soon. Huddersfield Town, Red Star Belgrade and Cardiff City should be easier.
Gini Wijnaldum excelled again. It was his sort of game — a challenge just to keep it. He was in his element. Riyad Mahrez spurned the chance to win it. Liverpool and Manchester City instead settled to have 20 points from eight games. That extrapolates to a 95-point season. Ninety-five points.
The thing is this: these are really, really good football teams. Our starting point and our end point should be the same. Amazing that these young men made it this hard for one another and that tells the story. The stick was greater than the carrot. The examination was everything. Everyone passed.
Eight hurdles passed for both these sides, 30 more to go. Few will feel like that.
"We're going to have to accept that the better we get, the higher the standard the team is who come to Anfield and are willing to take a point."

"They're made up with a point."

Subscribe to listen: https://t.co/sAYhSu6Qag pic.twitter.com/G5czEQuMKQ

— The Anfield Wrap (@TheAnfieldWrap) October 7, 2018
Recent Posts:
[rpfc_recent_posts_from_category meta="true"]
Pics: David Rawcliffe-Propaganda Photo
Like The Anfield Wrap on Facebook