THEY say good things come to those who wait.
Those of us who queue for hours in lines at the post office will disagree, or when you wait for two hours to get a table at a posh restaurant only to get served something that looks like an old shoe drizzled with marmite and have to pay three figures for the experience.
Liverpool fans have been made to wait, and patience from some had started to wear thin, but then it happened. On Saturday evening at approximately 6.57pm, Fabinho played a Premier League minute for The Reds. In fact he played about 25 of them for the first time since his £40m move from Monaco back in May.
It has been pointed out that Jürgen Klopp has previous for waiting before playing his new signings, with Andy Robertson and Alex Oxlade-Chamberlain being held up as prime examples. However, it has also been mentioned that plenty of other signings have been thrown in straight away, such as Alisson, Virgil van Dijk, Gini Wijnaldum, Sadio Mane, Naby Keita and Mo Salah.
Acclaimed football writer Daniel Storey wrote an interesting piece for FourFourTwo magazine last week asking if there was more to the continued absence of Fabinho than just mere handling with kid gloves, pointing out that he had pretty much from May onwards to prepare for his new team as he wasn't at the World Cup, and had a full pre season at Melwood.
I didn't entirely agree with Daniel's article, though it still made some compelling arguments, in particular about how happy the player would be with the situation, and it did start to make you wonder how long it would be before Klopp trusted his first signing of the summer to play a Premier League minute.
He had, of course, given him a very short cameo in the Champions League victory against Paris Saint-Germain, before playing him from the start in the League Cup defeat to Chelsea, and bringing him on to try and hold out in the eventual European loss to Napoli.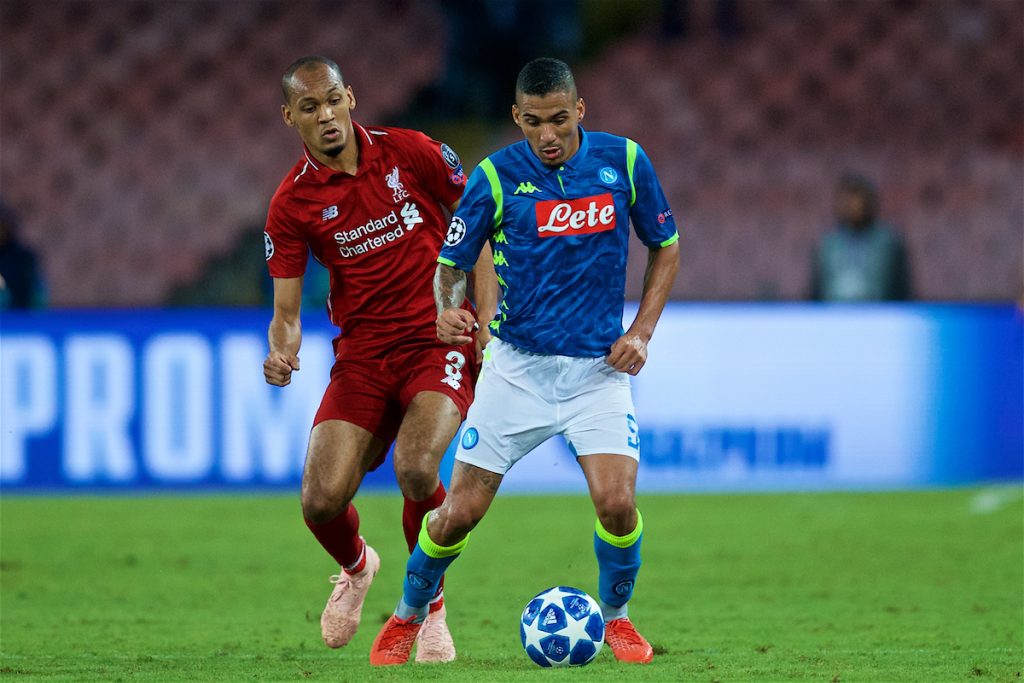 The Liverpool boss understandably seemed to be getting frustrated at how often people asked him when Fabinho would be utilised more often, particularly in the league. In his Friday press conference ahead of the Huddersfield game he was again pushed on the matter, and replied "[He is] close.
"He needs to get used to different things – that's how it is for all the players. I had this situation so often, I can't believe how often.
"I don't like to tell too many old stories but Ilkay Gundogan didn't play half a year; the only difference was he was a young player from Nurnberg and nobody asked for him. He asked. He wasn't in the squad and there were a lot of difficult moments.
"You need to be ready, that's how it is. At one point I have to make a decision if somebody is ready or not. We've already made the decision that he's the right player for us. Now we have to come together.
"There is only one reason: because another player fits better in the moment. It is one reason, no other. I really think a lot about who plays on which position. As long as always there is a player ahead and is fresh then the other player plays.
"It's about the new player to close that gap. It always took time and will always take time. But when you close the gap, go and you make us better. That's the plan."
Of course, after an explanation that reasonably explained Klopp's stance, the German called on Fabinho for the first time in a league game 69 minutes into the win over The Terriers. It may have been that he was left with no other choice with Keita absent with injury and Jordan Henderson having to come off at half time. When the midfield was looking a bit open he needed to shore it up, and so he turned to the 24-year-old.
With the game finely poised, it was a bit of a surprise to see Fabinho thrown in at a time when his teammates weren't at their sharpest and a lot of the onus would be on him to get into his stride right away. Fortunately, he did just that.
It wasn't a classic performance by any means. He made a couple of loose passes and hung a leg out a bit carelessly on one occasion, but he also generally kept things simple, won some key tackles and put in a selfless showing for the team.
Within seconds of coming on, Fabinho was stepping back next to van Dijk to fill in after Dejan Lovren had made a burst forward. He stood in front of the back four but also went forward to offer support on short passes when the hosts got numbers back. His main purpose though was to help out the defence, doubling up with the full backs when the ball went wide, stepping between the centre backs when a long ball seemed to be on the way, and offering a simple pass when David Wagner's men put more pressure on the ball.
It's no secret that Fabinho is chiefly a defensive-minded player. His tackles-per-game average is higher than most and a lot of the time you'll see him patrolling in front of the back four, but he is more than a simple "Lee Cattermole type" (praise if ever there was, I'm sure you'll agree).
When he arrived there were inevitable comparisons to Emre Can, not least because the German international was leaving for Juventus at the same time as the Brazilian was arriving. Can would sometimes play as a six, but more often than not had a box-to-box job as he had Henderson behind him. Despite that, last season saw Fabinho actually average marginally more dribbles per game than Can, and we all know how Emre loved the odd saunter forward like a majestic washing machine.
During Monaco's 2017 Champions League run, one of Fabinho's star tricks was to carry the ball through gaps in the middle of the field when he could, while always showing enough modesty to lay it off to a more capable attacker as soon as he was closed down.
He gave a glimpse of that on Saturday when he dribbled past Jonathan Hogg at one point to carry the ball into the Huddersfield half before passing on to the attack. Having that in his locker is one of the many reasons he stands out as the sort of player that had Europe taking notice when Liverpool announced his signing two days after the 2018 Champions League final.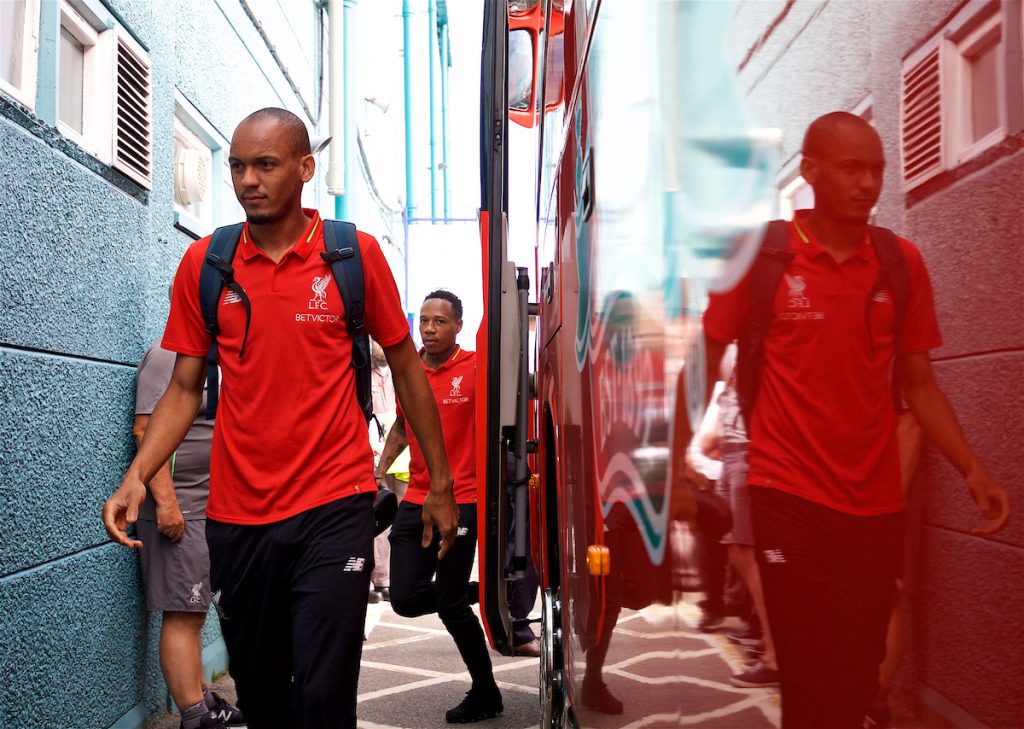 When he was confirmed as a Red I'm sure I wasn't alone in immediately letting my imagination run away with me, believing that Fabinho and Naby Keita would form a two-man midfield that would allow Klopp to give more attacking licence to the third midfielder to add more potency to an already electric forward line.
"Naby and Faby" we would call them. They would destroy Premier League midfields by day, and drive around in a van solving mysteries by night.
So far it hasn't quite worked out that way. Keita is taking some time to settle, not helped by a hamstring injury picked up on international duty, while the Brazilian is only just now being trusted to appear in Klopp's midfield. Meanwhile, James Milner and Wijnaldum have stepped up their own levels significantly, which is another happy result of bringing in such high-quality competition.
Klopp's comments on Friday were honest. The best players will play, be it the ones in form, the ones who are fit or just the ones who might suit a particular opponent.
However, it seems that the time may have come for another top-quality option to be unleashed, strengthening the weaponry of a Liverpool team that sits joint top of the Premier League with 23 points from nine games… And that's just Fab.
"I'm not nearly having a heart attack every time we concede a corner now." ✊

🗣 Subscribe and listen to this week's 'Review' show, after Liverpool's 1-0 win vs Huddersfield, and the Reds' best ever start to a season defensively 👉 https://t.co/lmNtBz4ADz pic.twitter.com/Zk3l9Kcz9S

— The Anfield Wrap (@TheAnfieldWrap) October 22, 2018
Recent Posts:
[rpfc_recent_posts_from_category meta="true"]
Pics: David Rawcliffe-Propaganda Photo
Like The Anfield Wrap on Facebook