"OH no, two women love me. They're both gorgeous and sexy. My wallet's too small for my 50s, and my diamond shoes are too tight."
This line from Chandler Bing in a classic episode of US sitcom Friends has come to mind rather a lot lately, mainly because some people have quoted it to me, about me.
I wasn't really aware of it but for several weeks now I have been going into work and one of the first things a colleague will say to me is "Good win for Liverpool," to which I seem to have been replying "Yeah, glad we got the three points, wish we'd played better/scored a few more, though." The usual response is a quizzical/annoyed eyebrow back at me from a long suffering Crystal Palace or Southampton fan.
This Monday saw a particular high though, when another Liverpool-supporting colleague raised concern at not keeping a clean sheet in the 4-1 win over Cardiff City. The primary comeback was "Yeah, it must be annoying to only just be top of the league…"
In truth, it is a little bit annoying. Liverpool aren't even top anymore thanks to a lacklustre Tottenham showing against Manchester City on Monday night, even if a fortunate bobble on a dreadful surface and Erik Lamela's inability to adjust to it was all that kept City from dropping points.
The irritating ability of last year's champions to stay level on points with Jürgen Klopp's men, and the apparent reemergence of the "one year on, one year off" Chelsea squad as challengers seems to be preventing some Liverpool fans from enjoying a season in which their team has made a remarkable start.
Ten games into the league campaign and The Reds are undefeated, dropping just four points, while at the halfway point they sit top of a Champions League group that pits them against two teams that are significantly stronger than any they faced at this stage last year in Europe.
Despite this, and despite a chief criticism of Liverpool sides past that they struggle to pick up points when not at their best, there seem to be some dissenting voices about the style of the victories rather than positivity on the substance of three points gained.
It could possibly be forgiven when one-goal triumphs over Brighton, Leicester and Huddersfield were a bit closer than many would have hoped, but then similar complaints came after Saturday as well, which felt one step too far.
It wasn't an all-time classic performance by any means, but a surprising number of people on Twitter and on phone ins didn't seem all that impressed with what ended up being a comfortable three points against a Cardiff team that held Spurs to just a 1-0 win a few weeks ago. If we're going to get annoyed that The Reds only just managed to win a game 4-1 then we're severely limiting our chances to enjoy this thing we bizarrely dedicate our lives to.
For a team that hasn't collected enough points to win a title since 1990, the idea that Liverpool aren't winning games properly seems pernickety to say the least.
Maybe it's raised expectations based on last year's performances and an aggressive summer transfer window, or maybe it's the pressure we put on every point now that Liverpool are entering a title race against the best team the Premier League has ever seen. Either way, Liverpool are winning more often than not and while some remain appropriately joyous, others don't seem to be as content with things as you would imagine after 26 points from a possible 30.
There have admittedly been some less than effervescent performances in the opening 10 league games, but let's compare it to last year.
The opening 10 games in 2017-18 included a 3-3 draw at Watford, a laboured 1-0 win at home to Crystal Palace, a 5-0 defeat at City, a 1-1 draw at home to Burnley, a narrow 3-2 win at Leicester, further draws with Manchester United and Newcastle, and a 4-1 battering at the hands of Tottenham. The Reds then went on a run where they scored at least three times in eight of their next nine games.
In other words, it was about this time last year that they hit their stride. Perhaps eight goals in two home games in the last week is a sign that they are ready to do so again.
There may be an element of the team being a victim of its own success. Emphatic wins when the goals flowed like wine at a Roman banquet decorated the previous campaign, but there is the danger that some (particularly pundits) are misremembering those wins as being the norm. It certainly happened more often than your average season, but in 31 of their 56 games Liverpool only managed two goals or less, either dropping points or having to grind out wins.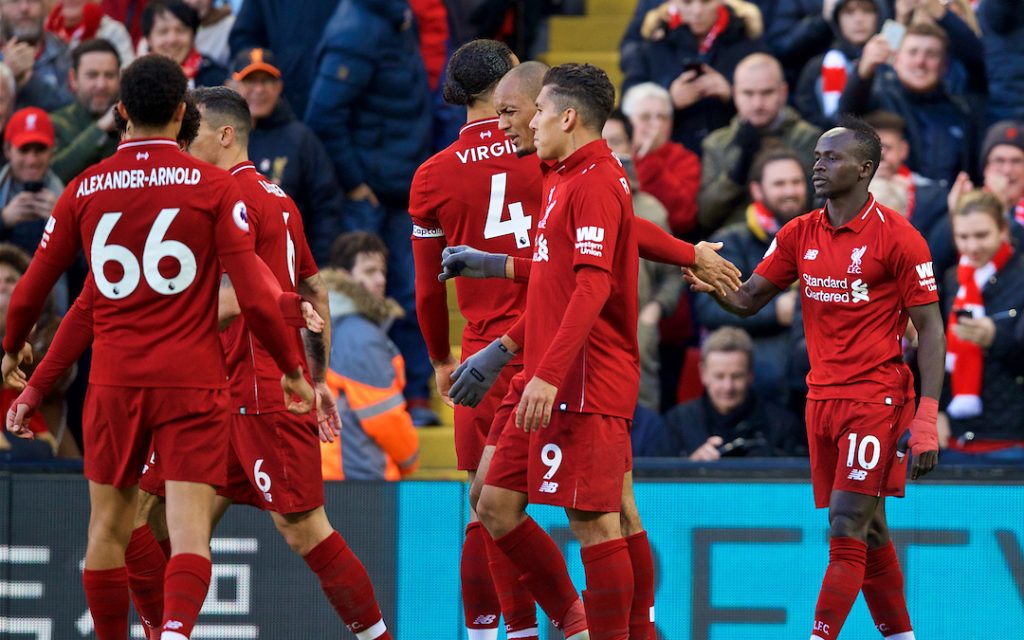 They are certainly not scoring big numbers at the rate they were, or City are, but as already mentioned it took them a while to get going on that front last season as well. In fact, they had scored just 17 league goals at this point 12 months ago, whereas they have hit 20 so far this term. And let's not forget that the defence has improved markedly.
The word for the season so far without doubt is "click". Many have spoken of waiting for Liverpool to do such a thing, and it's somewhat valid. Klopp has admitted himself that performances haven't been perfect, and spoke recently of how annoyed the players were with themselves for not playing better in the 1-0 win at Huddersfield.
However, whether Liverpool "click" now, or a month from now, or not until after the New Year, as long as they maintain this ability to grind out wins when not at their best then does it really matter?
Some might argue that eventually it will catch up to them, but why should it? Klopp's men are the only team to have not dropped a single point to a team outside of the top three so far this season.
So take time to smell the flowers, to tell your loved ones how much they mean to you, and to say nothing else but "get the fuck in," with an accompanying fist pump whenever someone at work asks if you enjoyed the win at the weekend.
Dancing round the office singing "Allez, Allez, Allez" and drumming on the printer might be a bit much, but there's only so many times HR can call you in.
"What do you have to say for yourself?"
"Up the Reds."
"Shaqiri is all about vision and creativity, he can probably see a pass better than anyone else in the squad." 👏

🗣 Listen to this week's FREE Anfield Wrap podcast here 👉 https://t.co/n8FohiX6SU pic.twitter.com/WPlB3MIBON

— The Anfield Wrap (@TheAnfieldWrap) October 29, 2018
Recent Posts:
[rpfc_recent_posts_from_category meta="true"]
Pics: David Rawcliffe-Propaganda Photo
Like The Anfield Wrap on Facebook