"THAT'S not too cool for a manager.
"If it works then it's cool. I had a few centre halves who were able to do things a centre half should not do, like Mats Hummels constantly doing things which made no sense but he was really good in there.
"Alisson is obviously a goalkeeper who can play football, which is good. He's confident enough to do it. He didn't do it for showing off, he did it to sort the situation. He has a nice level of confidence, so he uses that. I like the save from the header more than the chip, but the chip was the right thing to do in that situation."
Jürgen Klopp spoke those words following the 1-0 win over Brighton — a game where Mo Salah's winning goal caused less excitement than Alisson Becker's flamboyant chip over the onrushing Anthony Knockaert while a mile outside his area.
As Liverpool won the game the incident was treated with nothing more than raised eyebrows and light chuckles. No harm done and, in any case, we're used to maverick goalkeeping performances at this club.
It was just funny that the nearest spectators were sat in the Main Stand; a place famed for the more mature and curmudgeonly viewer who frown at such behaviour. God knows what it did to them.
The 'keeper himself had no issue with his showboating: "I take risks. Fans with heart problems have to be careful!"
Oh Christ. He's one of them.
Older supporters may remember the time when the ever-reliable Ray Clemence gave way to a maniacal Zimbabwean who wasn't too keen on his own goal line. Suddenly, our greatest 'keeper was gone and we now had a man who saw no issue in racing out to the halfway line, even when there was plenty of cover in front of him.
A week later at the King Power Stadium, while The Reds were coasting to a 0-2 win, Alisson took a back pass from Virgil van Dijk and attempted a Cruyff turn on Kelechi Iheanacho. The Brazilian was less successful on that occasion and Rachid Ghezzal netted to make things very uncomfortable for the last half hour. It was the first goal we'd conceded all season and it was entirely avoidable.
We know that he's an excellent 'keeper, but many could be forgiven for worrying about this recklessness. After all, we've had nothing but fallible 'keepers at Liverpool for years.
Loris Karius in Kyiv, Simon Mignolet's lack of consistency, the latter days of Pepe Reina and his inability to guard his near post and that's before you get to David James, Brad Friedel and Jerzy Dudek. Fine 'keepers, all, but always capable of throwing one in when you least needed them to. If Liverpool are to be taken seriously then the stupid stuff would have to go.
Klopp refused to criticise his new 'keeper in the press, though he was clearly furious on the sidelines at the time. Instead, he pointed out that the blame fell on more shoulders than Alisson's. After all, both Liverpool's centre backs had ample time to clear the ball long before the 'keeper was involved. Furthermore, he didn't want to see him change his ways. Though the error was avoidable, he still wanted the new man to use his feet.
"No. It's only positive that he is that good a footballer. But we all have to learn to use it in the right way still. That means, pass the ball in the right moment, then immediately make another offer for him, open some passing options.
"That's the job for the team, play the pass in the right moment, not on a dry pitch, not hard enough. Don't do it in these moments. That was a mistake – no goalkeeper in the world should dribble in that situation. But he did it. But it's all OK."
Since that day, however, it has been noticeable that there have been no risks and every goal conceded has been due to no fault of the £65m signing. True, he could have done better with Eden Hazard's shot at Stamford Bridge, but it was nothing like a howler.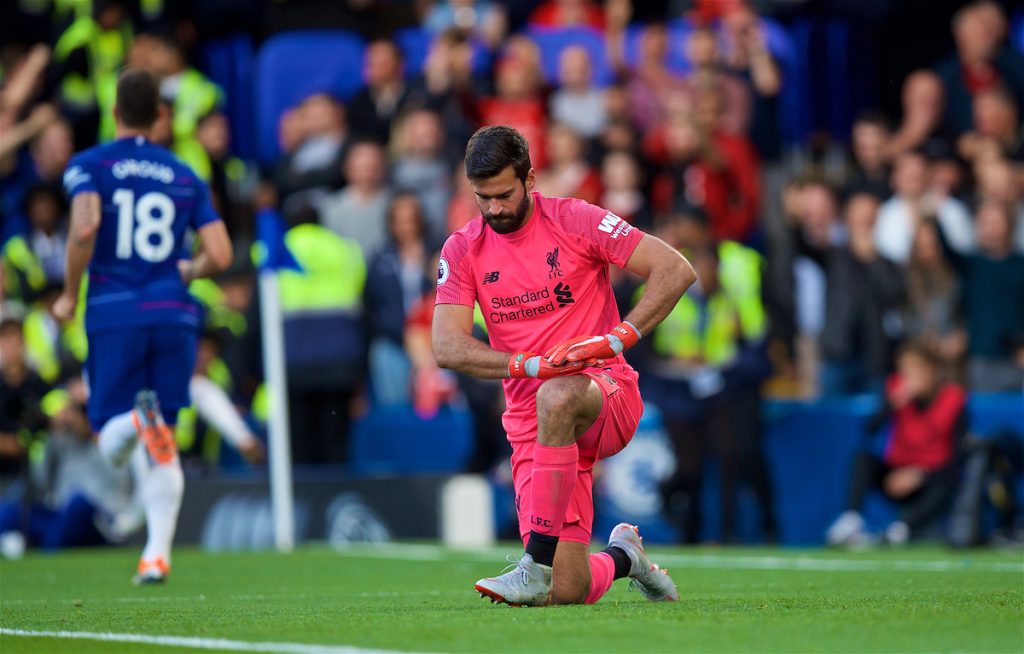 Klopp's right. There are times when you can go a bit jazz, and there are times when it's best to clear it safely. It's still okay to invite pressure, though.
Fast forward to last week's Manchester City game. This time we saw a back four stroke the ball casually around the six-yard line while the best forward pressing line surrounded them like waiting tigers around a herd of gazelles. A very dangerous strategy, though it finished 0-0. This defence was not Liverpool's, but City's.
The tactic was the same adopted by Brendan Rodgers in 2013-14 and is designed to encourage to bring the opposing midfielders forward through a sort of defensive tractor beam, inviting the press. Then, when the moment is right, a long ball into space causes an overload where it's most dangerous. Liverpool's midfield didn't fall for that and kept their discipline, and the most hyped-up game of the season was played to a stalemate.
Maybe Alisson's style of play is best used for that tactic. By inviting the players onto him.
City certainly didn't try that approach at Anfield in either the league or European games last season. Instead they preferred to go toe to toe in all-out attack. Come the second European game at the Etihad they had no choice but to go gung-ho given they were 3-0 down. They lost that game too.
Pep Guardiola's policy had to change and so he did all he could to stifle Liverpool. Last season, Kyle Walker would have bombed past his midfield, but instead he was practically a third centre back, begging The Reds to come onto him and leave space behind.
Ederson Moraes, Alisson's national rival, likes to take the odd risk too. The early part of last season saw him come out of his area and sweep, even though attacks against his side are rare. Maybe jeopardy is the new goalkeeping credo. Most managers will want their 'keepers to be able to use their feet and distribute quickly, but only when an opportunity comes about.
Alisson, at least, seems to have calmed down a little and courted more positive reviews.
"We're on a great journey with Klopp… who knows when it will end, but there'll be more great football, great memories and unbelievable nights." ✊

🗣 Subscribe here and listen to our latest chat with Jamie Carragher in full 👉 https://t.co/lmNtBz4ADz pic.twitter.com/URVUXqBpaR

— The Anfield Wrap (@TheAnfieldWrap) October 12, 2018
Recent Posts:
[rpfc_recent_posts_from_category meta="true"]
Pics: David Rawcliffe-Propaganda Photo
Like The Anfield Wrap on Facebook