BATTERED them 1-2.
No idea how well we played.
Mad this sport of ours, at times.
Quick things:
First half, I was livid with our midfield. Couldn't see what they were about, what they were doing. Felt all three of them looked just off, but felt the Wembley pitch — in terms of both how it was underfoot and the sheer size of it — wasn't helping.
Thought Spurs were alehouse. Really direct for reasons I couldn't pinpoint. Who did they think they were turning round? Liverpool are not last season's Liverpool. I understand escaping the press but there has to be better ways than that.
Second half, I was delighted with our midfield. Loved everything, could see everything. James Milner tackles their lad, and tackles their lad, and tackles their lad.
But…
The thing is this.
I was not in the ground. There are things you can see better on television and things you see better in the ground. What your centre mids are doing is very much among that. Passing lanes are a thing and you can block them without pressuring the ball, intercepting or tackling. You can play well without being visible. That could have been happening first half.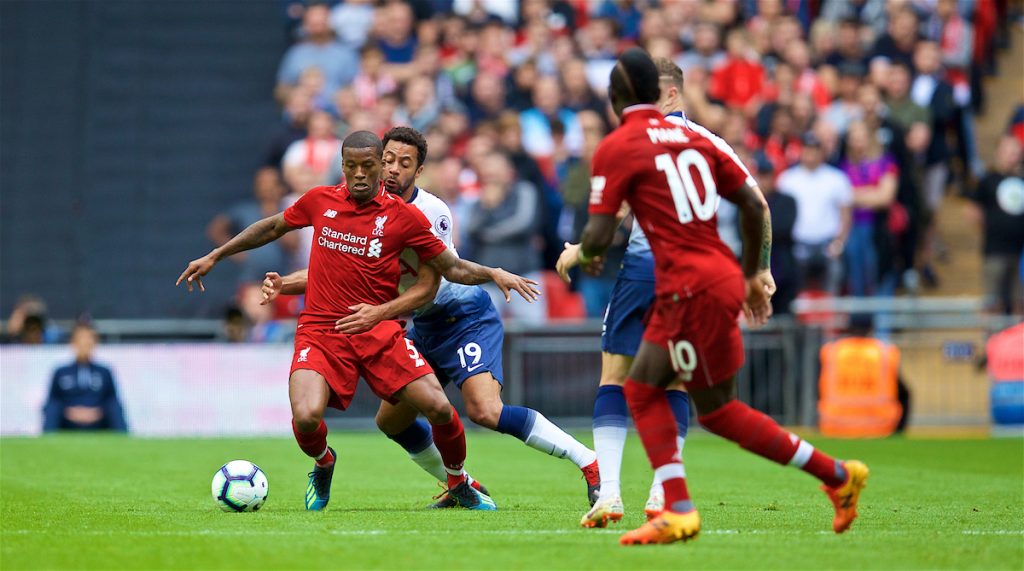 I have no idea how well Liverpool played.
Our knowledge has limits, our emotions don't. We feel the game. We feel the kicking of the ball, we feel Milner tackling their lad. We feel it, they feel it as they play and our opponents feel it. They feel the ball going out tamely for a throw in. They feel their shortcomings.
I have no idea how well Liverpool played.
But Tottenham were abject. It was a crumble of a performance. Liverpool should have scored four, five, six. Tottenham had lads not digging each other out, centre halves exposed and left for dead, midfielders missing.
Eric Dier was dreadful. Tottenham looked a mile away from the consistent point-grinding machine of the last four seasons. They looked a side at a crossroads, a side who have been well managed but where the manager can do little more. He needed his players to stand up and be counted.
The game was spiky for an hour. It was unpleasant and, while Spurs didn't deserve to go in level at the break, did Liverpool deserve to lead? You tell me. All I could feel was what wasn't right until Gini Wijnaldum nodded it back at goal.
Has he given it?
Has he?
Has he given it?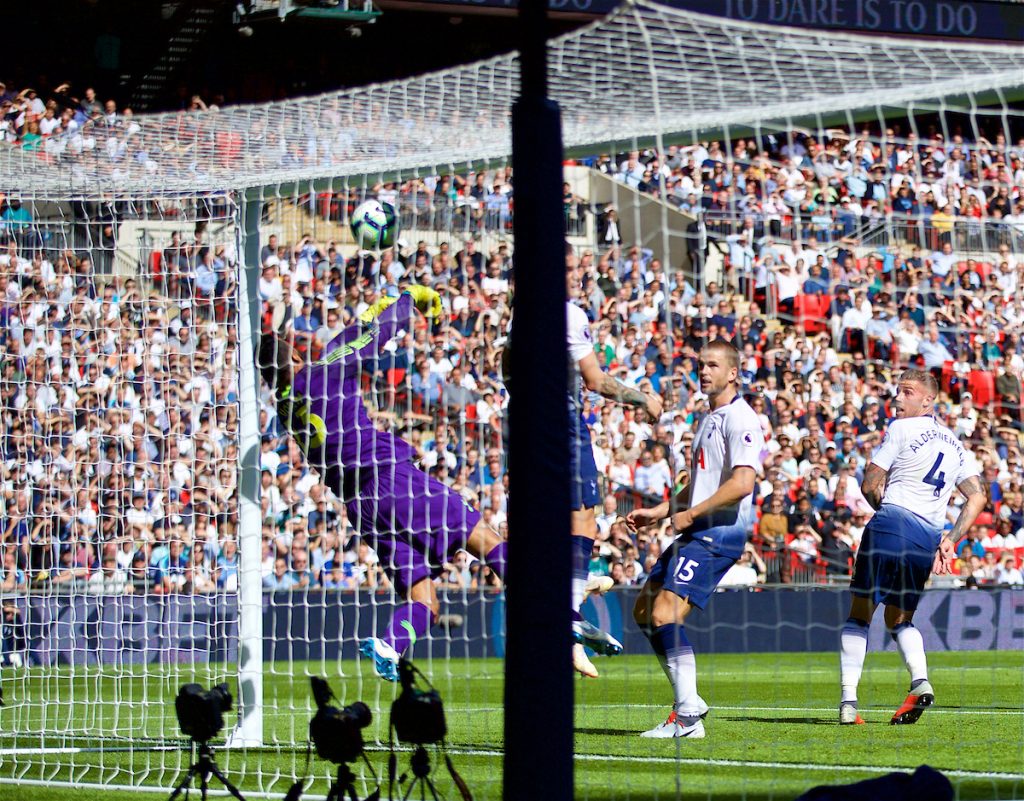 It is football's record scratch of a question. Has he given it? Has he given it? He *has* given it. Mixmaster Mike letting loose the party, inviting the carnage. He has given it and The Reds in the ground, The Reds in Motel, the diaspora finds itself in excelsis deo. Finds itself beside itself. Knows what it means.
It means everything. It was a first goal game and it was a Liverpool goal that was given.
The second, if anything, scruffier but back to what we can't know. There, in that second, we see Liverpool play well. We see Andy Robertson, we see Sadio Mane, we see quality. And while it is a dog's dinner, we see Roberto Firmino convert from all the xG you will ever need. We see the facts. The facts were 0-2. The facts were undeniable and the feelings were irresistible.
Liverpool on the march. But I have no idea how well Liverpool played.
Until the close, the question wasn't will Liverpool crumble? Instead it was, will Liverpool punish Spurs? Will they take them to the cleaners? Will they put them out of their misery?
Virgil van Dijk was majestic. Joe Gomez scrambled but survived; was fortunate, perhaps at key times, but excellent at others. This is the game when it becomes alehouse, the game in its essence. Some waves you ride and ride well.
Across the contest, Robertson was the game's outstanding performer. He never dipped from his seven and extended towards his 10. He showed himself to be marvellous yet again, to be in the conversation about being the best in his position in the league. He was streets ahead of his opposite number in Danny Rose, a player who has often looked the part.
Firmino was the best he has been this season. He showed the best and battled through the game. He deserved his goal and didn't deserve to come off the pitch bleeding from the eye. He was holding the ball brilliantly.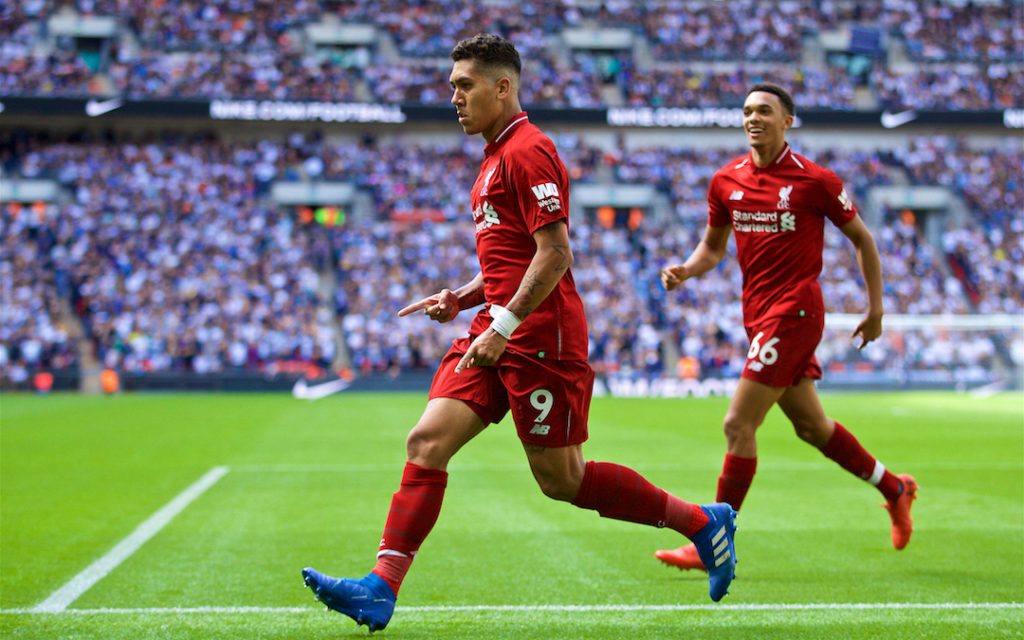 I have no idea how well Liverpool played.
The Liverpool manager kept going berserk. He will have all sorts to bollock great footballers about. Loads to go spare about. But loads to bounce off, loads to be proud of. Loads of courage and presumably organisation. But he will be talking about decision making and final ball. Final ball.
What do we know? Right now, only how it feels. Only that Liverpool scored two when they should have scored five. Only that they saw out the game after the late goal. Only that they deserve three points and Spurs deserve none. Only that in the blood and bone, Liverpool have 15 from 15 and they are determined to make it a joy to be alive this season. They want to make you feel.
I am out right now. We know this. I am out. Liverpool have won away at a top-six rival. This is what it is when they make it a joy to be alive.
Just don't ask me how good they were.
Five down, 33 to go.
Battered them 1-2.
Recent Posts:
[rpfc_recent_posts_from_category meta="true"]
Pics: David Rawcliffe-Propaganda Photo
Like The Anfield Wrap on Facebook