WE'RE in the thick of it now, of that there is no denying.
If the first four games, coming as they did after an earlier than normal Premier League start following a World Cup, felt like a bit of a phony war, this run of seven games, which started with a 2-1 battering of Tottenham Hotspur at Wembley, has the potential to make or break a season.
As has been said on these pages and elsewhere, this is very much the point of the enterprise, this is what we are here for. Games like Spurs and Manchester City in the league, Paris Saint-Germain and Napoli in Europe, it's what it's all about.
While we all hope and believe that The Reds can go and run the board from here until the next international break, the quality of the opposition does bring into focus the potential for Liverpool to lose their first game since last May's Champions League final.
There will be times in almost all these games where The Reds are under the cosh, where Neymar or Dries Mertens or Sergio Aguero are causing us problems or where Kylian Mbappe or Marek Hamsik or Raheem Sterling are knocking on the door.
In truth, this season The Reds look better placed to deal with pressure than at any time since Jürgen Klopp became manager. Liverpool no longer need to be worried that a loose 10 will ruin a whole match, that one loss will lead to a string of bad results.
The performances in the first five games of this season suggest a team in greater control. They are less at the whims of momentum.
Klopp's Liverpool have always excelled in the game's broken moments, in transition and on the counter. While they still possess the league's (and Europe's) best counter attacking trio, an increased certainty from behind means that the reliance on exploiting chaos is less pronounced.
Last year, when teams stayed within one or even two goals of Liverpool, they never felt like they were out of it. Now, it's hard enough for them to ever feel they're in the game to begin with.
How are they exerting this control? Much has rightly been made of the back five, and specifically the improvements made by signing Virgil van Dijk and Alisson Becker. But Liverpool's increased control of games has not come about solely from shoring up the back five.
As important has been the shape and performance of Liverpool's midfield three this season.
Gini Wijnaldum has deservedly garnered huge praise for his performance as the six in midfield for The Reds this season. The Dutch international has shown incredible discipline and energy in the holding role over the last five games. This discipline allows the likes of James Milner to push out to either flank.
Gini stays put within the center circle, Milner and Naby Keita stretch the pitch but hold back and mind shop while the full backs bomb on, while also allowing space centrally for Sadio Mane and especially Roberto Firmino to drop deep.
So instead of Gini holding the width of the pitch all on his own, there is a rough line of three to press, with both centre halves and a sweeping 'keeper to mind the house if the press is sprung.
As much as the back five has improved, Klopp has seemingly learned lessons about leaving his centre halves alone and exposed, most obviously in the 4-1 humbling at Wembley against Spurs last season.
Liverpool now not only have a 'keeper and central defence it can trust, but a midfield shape that offers those players more help.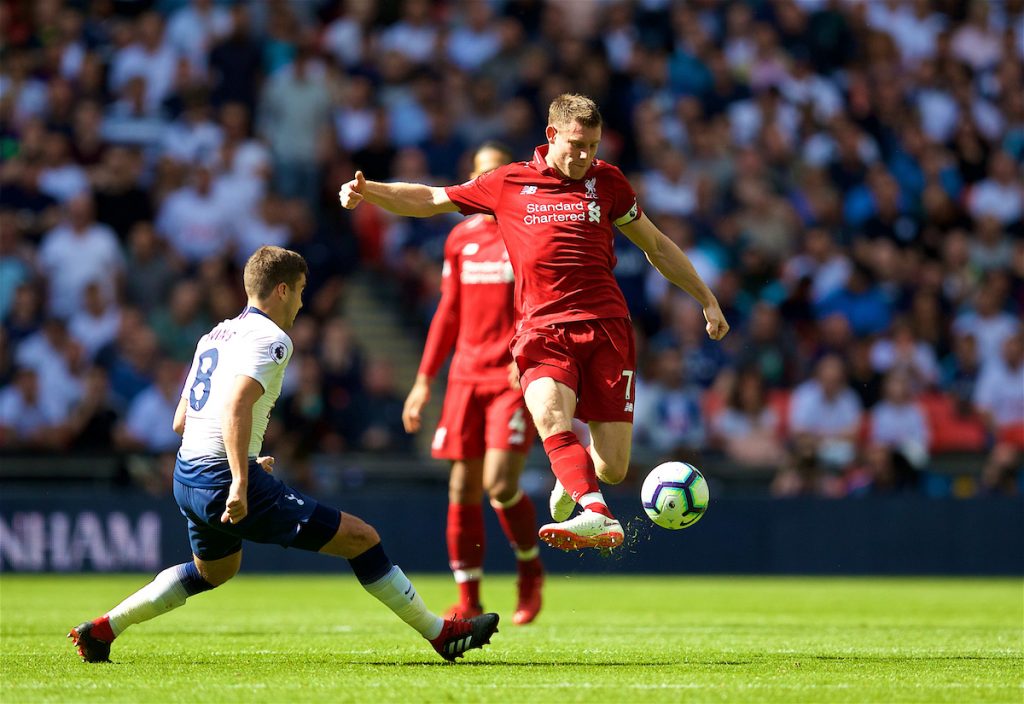 What we have seen from The Reds this season is more than solidity, however, more than defensive resistance. It is suffocating, deafening dominance. Go 1-0 down early and wonder how you'll get at that defence. Start well but fail to score and know that those three lads upfront will surely punish you. Go ahead and worry that this crowd are bound to get it together sooner rather than later.
Games like Spurs at the weekend, as well as Leicester and Brighton have been important lessons, as much for supporters as the players themselves. Last season, the longer Liverpool's games stayed scoreless, the twitchier fans got, both in the ground and on Twitter.
If the opposition got a goal to make it a one-goal game, you could almost feel the tension ratchet up. We weren't confident enough to be happy until the lead was three or four. But, on the evidence of the season so far, this is something we're going to have to learn to love.
We know the front three are boss. But we now know that the back five (plus our midfield press) offer the insurance that not every chance has to be taken. That 0-0 is an opportunity and not a threat. It's a loaded dice, not a coin toss.
The stronger defence, the midfield shape, the terrifying forwards, all of it means that Liverpool no longer need to fear. They don't need to fear conceding, to fear not scoring, even to fear losing. This is a side built for the long run, not hurtling along at a million miles behind a wave of momentum, threatening to derail at any time.
It's a side who know what they're about and aren't going to listen to anyone trying to tell them any different.
"It was a statement performance from Liverpool… we've gone to Wembley and dominated." ✊

🗣 LISTEN to this week's FREE Anfield Wrap podcast, after the Reds made it five wins from five, in full here 👉 https://t.co/Y9B5jXalYB pic.twitter.com/pdt3BXu63N

— The Anfield Wrap (@TheAnfieldWrap) 17 September 2018
Recent Posts:
[rpfc_recent_posts_from_category meta="true"]
Pics: David Rawcliffe-Propaganda Photo
Like The Anfield Wrap on Facebook