IT'S a long old season. Longer than some people possibly realise.
Should Liverpool win the quadruple (think big) they could play as many as 66 games, which is a lot isn't it? Think back to 2001 when The Reds had that really good season – they played 63 games, and that felt long. It was long. The most games that anyone has played in recent times, that I can see, is Manchester United's 2008-9 side that played 64.
The only games they missed that season were FA Cup replays and the FA Cup final. They won the League Cup, lost in the Champions League final, and won the World Club Cup in Japan. The quadruple was a very serious possibility for them until Everton managed to stop that from being a problem in an FA Cup Semi Final penalty shootout.
I said something about James Milner on The Anfield Wrap's Second Look video last week, basically around the lines of having no interest in watching him play against Southampton. I've no desire to get into an argument about tactics that there isn't a correct answer to. (I don't think he's what Liverpool need in that type of game, others do which is fine.)
It wasn't so much about ability or tactics, as much as keeping players fresh. If Milner starts every game for the first two months of the season, there are games where you'd expect him to be less fresh in March due to the workload. I think Jürgen Klopp should be actively trying to avoid that happening.
He didn't play on Saturday and Liverpool managed to win easily having made three changes from the midweek side that beat Paris Saint-Germain. The side was freshened up without being revolutionised, and while Klopp clearly wasn't happy with how the first half went tactically, the ends justified the means. We will see plenty more games like this the rest of the season. Tweaks that will see the people stuck in 1980 asking why the German can't just play his strongest side.
"They're all fit sportsmen, they can't be tired."
I'm only half joking about the quadruple. Why wouldn't Liverpool want to do that? Why shouldn't they have a go at doing it? Sure you need a great deal of luck, but individually all four competitions are winnable, so why not all at the same time? It would take a huge workload, but it's worth aiming for.
Given I'd quite like Liverpool to play in excess of 60 games this season while being good throughout, I thought I'd have a look at the aforementioned United squad from that 2008-9 season as a reasonable gauge of how best to manage players and still remain competitive throughout. A few things stood out.
Firstly, there were only five outfield players who started more than 40 games. In a normal season that doesn't sound outrageous, but 40 games is less than two-thirds of their season total. Wayne Rooney wasn't one of the four and, at the time, was one of the best players on the planet – he started 63 per cent of his United side's games in a season.
The five outfield players who did start more than 40 games were Nemanja Vidic (52), Cristiano Ronaldo (48), Patrice Evra and Rio Ferdinand (43), and then John O'Shea who started 42 games. If you think back to that period, no one would say that O'Shea was a particularly memorable and big part of that United side, but he started more games than everyone except the three defensive mainstays and their top scorer. Their top scorer by the way, didn't start in 25 per cent of their games.
If O'Shea was good enough to do quite a lot in a very good United team, then maligned players such as Dejan Lovren and Alberto Moreno are good enough to play a factor in Liverpool being successful, aren't they?
In terms of appearances in that United squad, only four players (Vidic, Evra Ronaldo and Dimitar Berbatov) started more than 25 league games, while Darren Fletcher started as many games as Rooney. On closer inspection, you can also see Fletcher started more league games than Michael Carrick. The best side, in my view, that English football has seen since Sky created it the early '90s did a lot of things that surprise you retrospectively.
No midfielder started more than 25 games, which, without going back and pouring through teamsheets, means that you would get very little consistency in the midfield in terms of who played with who. But it didn't matter, this is after all, one of the best sides England has seen. Consistency clearly isn't important as we might think.
James Milner has started six of seven games this season, while Gini Wijnaldum has started seven of seven. Jordan Henderson has started three. Fabinho has played about three minutes. Is this going to continue at this rate until May? I suspect not. I would think they'll start a pretty similar number of games, based on things like fitness at the time, freshness and as we saw on Saturday, opponent suitability.
The concept of the strongest 11 is widely talked about. Is it a thing? Well it might be, but it might not be as simple as what we all think is the best combination of the best players. We might need to rename the concept of the strongest 11 as the most appropriate 11.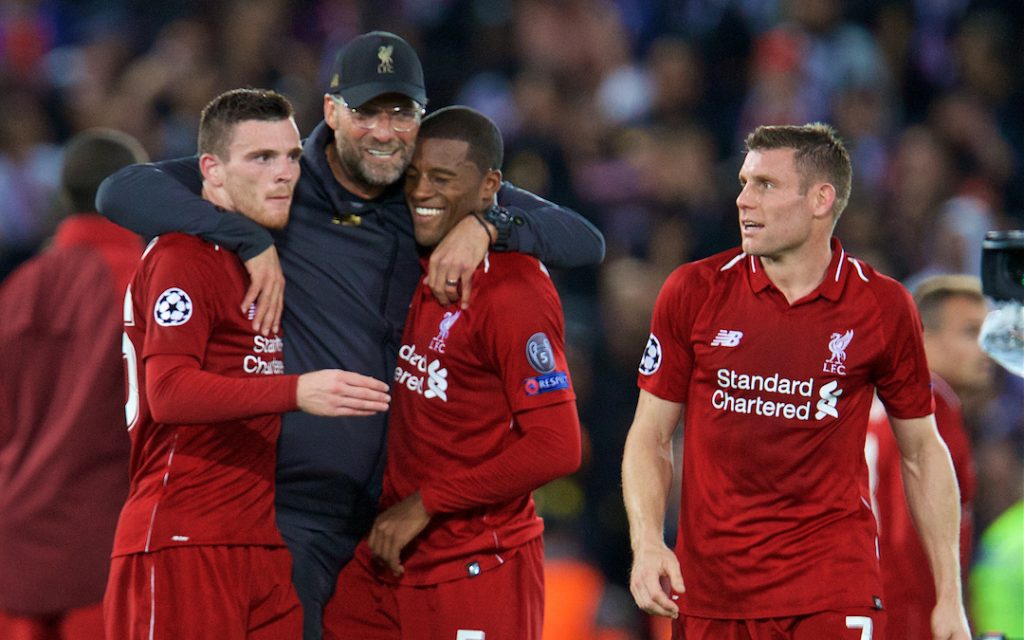 Moreno isn't as good as Andy Robertson, we can all see that. At home to Cardiff however, is playing Robertson really more appropriate than Moreno? I suspect not. Due to sheer volume, there are games where your strongest players all shouldn't play.
The midfield that has been picked so far is more appropriate because Wijnaldum, Keita and Milner were in pre season for a long time. Fabinho isn't adjusted to the system or the league, and Henderson hasn't been in the peak of condition due to starting pre season in early August. It was clearly the most appropriate option here and now.
Throwing Fabinho in? Inappropriate. Playing Henderson? Inappropriate. Tottenham Hotspur have had to make decisions that are inappropriate. Harry Kane having seven starts from seven? Inappropriate. However, Spurs had to make a decision bound by necessity. What was their alternative? They don't have one. Liverpool have a lot of alternatives – so they use them.
The period after the next international break is a real opportunity to pick teams that help you benefit in a few months. Liverpool play Huddersfield away, Red Star Belgrade at home, and Cardiff at home in the space of a week, it isn't appropriate to play your strongest side in all three of those games – I'd like to think that no player outside of the goalkeeper and defenders will start all three.
Squad management is a vital part of how these players will manage a (hopefully) massive workload. This piece from Joe earlier this year feels very relevant to what we may, or may not, see this season.
A team's strongest 11 often doesn't see the light of day that frequently. Or in the case of the Chelsea side of 2005, never at all.
If you write down what you think Klopp's best team is, you might never see it.
🎥"There was an interesting collective Van Dijk panic, the realisation that he's probably the most important player to stay fit for Liverpool…"

"Ever."

Watch for FREE: https://t.co/ZuGeUmQAAD
Subscribe to TAWPlayer for more podcasts: https://t.co/q0tg7SFik9 pic.twitter.com/RlWzbicSJJ

— The Anfield Wrap (@TheAnfieldWrap) 25 September 2018
Recent Posts:
[rpfc_recent_posts_from_category meta="true"]
Pics: David Rawcliffe-Propaganda Photo
Like The Anfield Wrap on Facebook