LAST season Liverpool came back from this international break and lost heavily away to rivals Manchester City.
In midweek, they drew a home European game they had dominated against Sevilla after Roberto Firmino missed a key penalty which drove his form into the doldrums. They then drew a home game against Burnley they would have been expected to win comfortably.
The comparison brings its own conclusions with this season. There is a greater sense of purpose about Liverpool but also a greater level of performance. The former adds to the latter, but Liverpool are just a better football team now.
It is worth remembering, though, that Liverpool then included Philippe Coutinho and Emre Can. The development of this side as both individuals and as a collective is testament to these players, their coaches and their manager.
This week this season, like that week last season, has had every type of test this Liverpool side will face this season. It has had all the flavours and Liverpool have stood up to them all and come away with three wins, each of which was impressive.
Today's was the most underwhelming of the games, but for the consummate professionals in the dressing room it may prove the most pleasing. Liverpool didn't rest on their laurels, didn't reflect on victory and lose themselves, Narcissus in the water. Liverpool, instead, dived in and had a lovely swim.
It was perhaps too easy at times, Liverpool could have knuckled further down. But they had eased themselves through the water and constantly had the other side in view. They won the game in a quick 45 minutes, making the second half redundant as a contest.
✊️ Liverpool 3 Southampton 0

Up the seven in a row Reds 🔥 pic.twitter.com/FOn92ZVpI8

— The Anfield Wrap (@TheAnfieldWrap) 22 September 2018
In every sense, Xherdan Shaqiri made a mundane win fascinating. Pre match: How would he fit in? During the game: Can Liverpool get him on it more? Second Half: Why was he taken off? Shaqiri is another of Jürgen Klopp's footballers with a redemption arc. Daniel Sturridge was our romantic hero against Paris Saint-Germain. Today was Shaqiri's turn to emphasise his seriousness of purpose during his third turn at a big club.
He did that. He was the first 45's compelling performer with no stats to his name. The record should show a brace. Instead they show diddly squat, but he was a pleasure to watch.
And then he wasn't there.
We will discover why. The question will be asked, and it will be answered, and it will be reasonable. The manager felt that he wanted a change and the easiest way to change was to revert. He had spent much of the first half shouting at Mohamed Salah, demanding something — perhaps something around how he arcs his runs or something around where he positions himself when Liverpool were in their back third. There was something.
Salah was, for this observer, fine. He had a good 90 minutes, scoring one, nearly scoring another and having a goal disallowed. He wasn't a joy to watch, but this analysis overlooks the fact he very often wasn't last season. Last season he wasn't in games as much as his colleagues but he was scoring in them. His penalty box instincts were crystal clear today.
Given Klopp's response first half though, the thought occurs that it may well be a side where there is more pleasure and more joy to play wide. Your life may well not be an easy one being Jürgen's number nine. He demands the world.
Joel Matip returned too and marked it with a goal. It was a lovely header, the sort which should be acclaimed but also be more regularly seen. Liverpool have delivery. They have height. They have quality. That Matip has probably been our highest-scoring centre back during his tenure is cause for annoyance.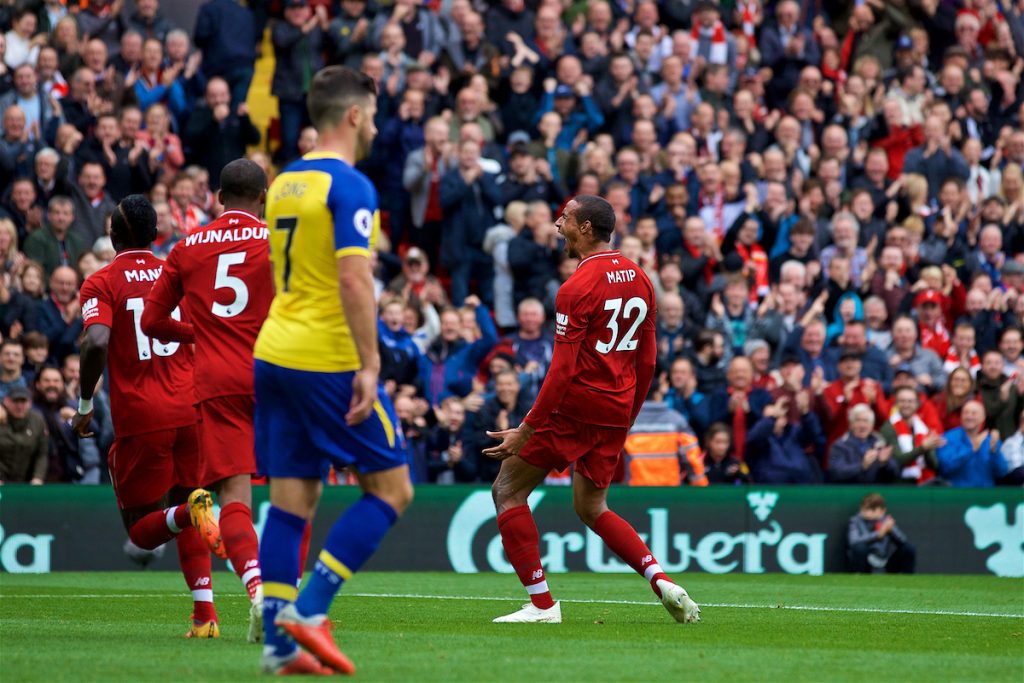 On the whole pitch, he was at times rusty but at others he offered a reminder of his ability. It was lovely to see him burst forward and be part of Liverpool's attack, but fab to see him be unflustered on the whole. He is too good for this opposition and that is exactly what you want from your fourth centre back. Not since Sami Hyypia in 2008-9 have Liverpool been able to boast of similar.
Virgil van Dijk's substitution will be a concern. Gini Wijnaldum's ovation as much for efforts in times past as today. Jordan Henderson shouted at all his teammates almost as much as his manager. Southampton looked a better side than they have in recent memory, but ran into Liverpool; different class to last season, top of the league and deservedly so.
Liverpool improved from September 17 to be one of the best in Europe. They are now one of the best in Europe. The more you improve the tougher the next improvement will become, but Liverpool are not finished. It has been a fabulous week for the club, a brilliant start to September adding to a marvellous August.
This is what it is to be on the march.
Six down, 32 to go.
These Reds. These days.
"Are they going to win forever?"

"Is it hard to imagine a time when you've been more optimistic about a Liverpool side?" 😀

Subscribe to listen to our Post Match Show: https://t.co/UlqKvwZIWy pic.twitter.com/JGCIVJlKSn

— The Anfield Wrap (@TheAnfieldWrap) 22 September 2018
Recent Posts:
[rpfc_recent_posts_from_category meta="true"]
Pics: David Rawcliffe-Propaganda Photo
Like The Anfield Wrap on Facebook