WHAT about that? What about it? Go fuck yourselves, you fucking cowards.
They are good, you know. They are good Paris Saint-Germain. Better than good. I will remember watching Angel Di Maria tonight. I will remember being impressed.
I will remember being more impressed by James Milner.
We have been conditioned to defer to our betters. We have been conditioned to defer to these names. But elsewhere our names are their names. Our names ring out. Tonight Paris talk about Milner, talk about Jordan Henderson. Our name is Liverpool.
All the best.
That is the point. Just to watch that game of football, that is a joy. That is a privilege. That is what playing Champions League football is about. It was truly something, a sight to behold. On the pitch were a load of footballers who are top five in their position in the whole wide world.
Take Andy Robertson. Robertson played brilliantly against Kylian Mbappe. Let's be clear about how good Mbappe is. He is the business. But only when he got inside did he get any joy. Liverpool's left back is among the world's very best. Imagine being among the best in the world at your job.
These lads show over and over again our own shortcomings in rating them. They are among the very best in their position on the planet. These are the facts. And beyond that they are more, much more.
The Reds showed more courage and conviction there than most manage across the course of a campaign. They stood up and were counted when a bundle manage neither.
I have new glasses. The lenses are bigger. The frames are bigger. Here's a thing — when I smile widely my cheekbones push the glasses up.
I discovered this tonight. I discovered this after Daniel Sturridge scored.
Anfield Wrap contributor Steve Graves says this: "Yes I have favourites. I have 11 favourites. They wear Red and they play for Liverpool. The lads on the pitch are my favourites."
It is something always worth remembering, worth clinging to. A first principle. A seemingly difficult sentiment for some in an era where, for instance, sniping at the Liverpool captain is in vogue when he has barely played.
But there is also something that Steve would echo. There is something different, and marvellous, and tragic, and flawed, and incredible about Sturridge.
Sturridge scored on his first Champions League start.
He scored and we all celebrated, and I smiled and I smiled so widely my glasses peaked. They fell off my nose. What a thing. What a smile. I am among the most handsome on the planet. These are the facts.
Sturridge is something shiny. Maybe something special but more something worn. I like that. He isn't pure, more something muddled. He is a bit broken. He isn't alone. Who among us isn't these days?
He may not be Liverpool's best. He may not be in Liverpool's best 11. It is his tragedy, and his humanity, and his ongoing quality why he is the most marvellous. What a footballer. What a man.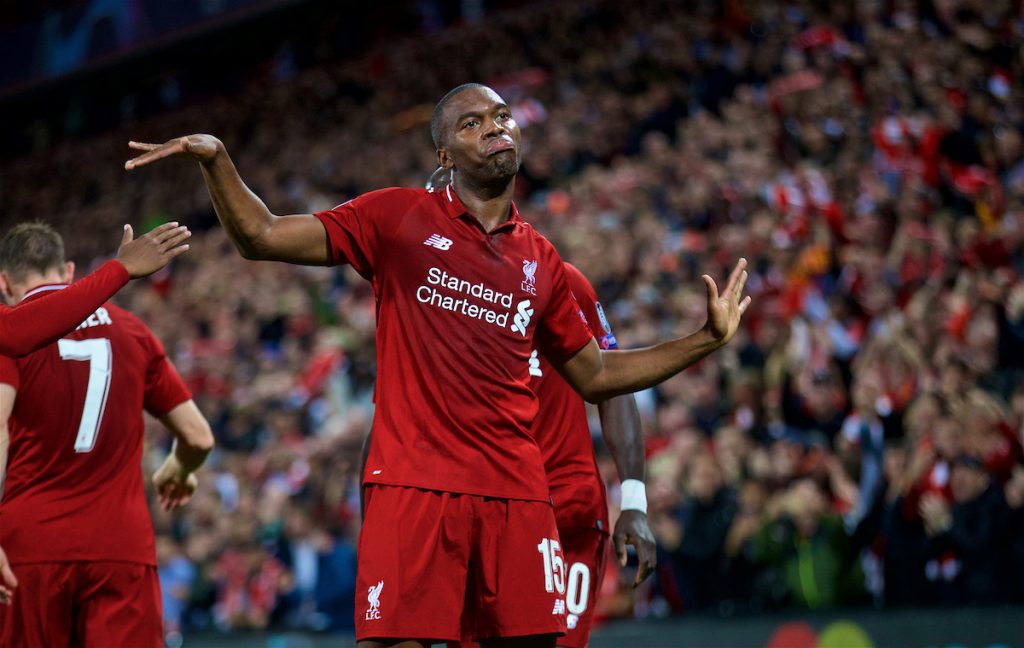 These get to be our heroes. They get to be our champions. They get to be everything unfettered. I know how hard this game is by virtue of being shite at it. I get to understand leadership and organisation.
After 13 minutes Robertson puts his foot on the ball and all I want to scream is: "You know the courage this takes?"
Do you? Do you get what it is to be these Reds? To play the game in such a sense, under such pressure? Do we understand what we are looking for from our footballers?
Tonight Jürgen Klopp asked his players to be the best in Europe, the best in the world right now. Tonight's game is that unquantifiable question. Tonight's game is never clean answer. What have we got that they haven't?
That answer could be the core thing. We made the final. We talk ourselves down far too much. We have such marvellous players. Our front three is allegedly among the best in the world. So our back eight could also be, yes?
Yes. We're tidy. We are good. Milner, Henderson, Gini Wijnaldum. These are our lads. Our best. What a thing.
This is your match report with a thousand question marks. Your match report with a thousand units of love. These are our lads. And that matters when it is continent wide. Don't you dare not love our lads.
There is no one more loveable.
These Reds, Queen.
"We might never lose again…" ✊️

🗣 SUBSCRIBE and listen to our immediate post-match reaction show after the Reds' 3-2 win over PSG 👉 https://t.co/Y74hlJ4yQF pic.twitter.com/psOEb8PQFE

— The Anfield Wrap (@TheAnfieldWrap) 18 September 2018
Recent Posts:
[rpfc_recent_posts_from_category meta="true"]
Pics: David Rawcliffe-Propaganda Photo
Like The Anfield Wrap on Facebook