THESE are the European nights they always talked about.
Those nights where Anfield rose as The Reds downed Europe's big boys. Chelsea and Juventus in 2005, Saint Etienne in '77. Jürgen Klopp and his charges are creating their own. Writing their own stories.
Make no bones about it, that Paris Saint-Germain side are serious business. Whatever you think about the intensity of the French league, Thomas Tuchel manages a genuinely world-class side, full of genuinely world-class talent, who deserve to be one of the favourites for the Champions League.
But staring them in the faces tonight were an opposition who can match them every step of the way. Liverpool are a genuinely world-class side, with genuinely world-class players, who deserve to be in the conversation for a sixth European Cup.
Is this typical Liverpool? The side you can never quite kill off? The side who rise for big European nights at Anfield?
Yes, so much of what we saw tonight was what could be classified as a "typical Liverpool performance in Europe". But this isn't the "typical Liverpool" as I know it. These aren't just some plucky underdogs defying the odds — with all due respect to Rafa Benitez, my favourite Liverpool manager who gave me the single greatest night of my life.
No, this is a Liverpool side who deserve to be mixing it among the world's best. They'll take their knocks. There will be Kyivs. But there will be more Manchester Uniteds. And Villarreals. And Borussia Dortmunds. And Manchester Citys. And Romas. And now PSGs.
Some people would have been heading to Anfield looking forward to witnessing the immense talents of Neymar, Kylian Mbappe and co tonight. I ask them why? Why when you get to watch these gorgeous lads, our gorgeous lads, week in, week out?
Mbappe's goal tonight came close to what can be classified as a shrug of the shoulders moment. Where you're almost left questioning what more your side can do when there's that much talent in the ranks.
And then the world's most unique number nine comes on, and it hits the back of the net, and it's absolute bedlam all around Anfield, and it's Liverpool as they should be.
World-class Liverpool, doing world-class bits.
PSG paid The Reds so much respect in the first half. Their setup was often akin to what you'd expect to see from a bottom-half Premier League side — albeit a ridiculously expensive imitation of that. It was a reflection of the respect Tuchel had paid Klopp's side in his pre-match press conference. They waited for their chances and pounced.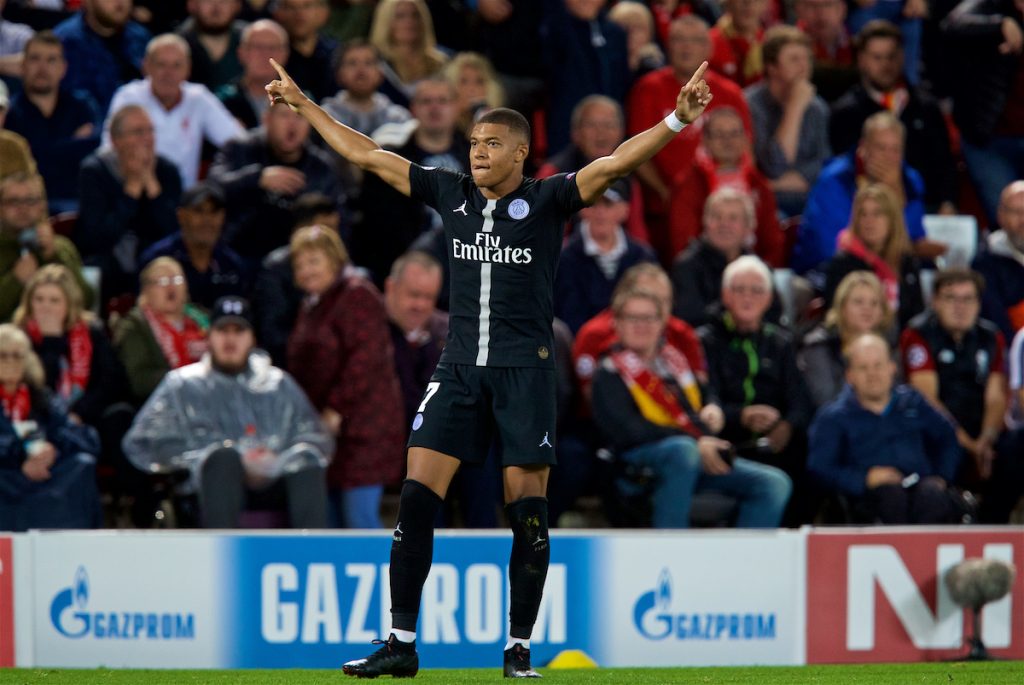 And did they pounce. They cut The Reds open when they had the chance. If it wasn't for the graft and quality of every member of Liverpool's defence and midfield — and I'm including Daniel Sturridge, who put in his shift at right back for the best part of a few minutes — Liverpool may not be walking away from this tie with all three points. They may not sit top of Group C. We may not be in town forever.
But we will. And we'll drink it in. We'll raise a glass to The Reds. The men of Jürgen's best.
It's typical Liverpool, but not as we know. This is the Liverpool they told us about. The one we'll tell the next lot about.
The good times are as back as they've ever been. Except this time it's not a false dawn, we're not plucky underdogs. We are Liverpool. This is Anfield.
You want to go toe to toe with these Reds? All the fucking best.
"We might never lose again…" ✊️

🗣 SUBSCRIBE and listen to our immediate post-match reaction show after the Reds' 3-2 win over PSG 👉 https://t.co/Y74hlJ4yQF pic.twitter.com/psOEb8PQFE

— The Anfield Wrap (@TheAnfieldWrap) 18 September 2018
Recent Posts:
[rpfc_recent_posts_from_category meta="true"]
Pics: David Rawcliffe-Propaganda Photo
Like The Anfield Wrap on Facebook