ALL goalkeepers are mad.
Let's get that out of the way, first and foremost. They are all in some form absolutely insane and, in many ways, need to be for the occupation they have.
A position which is the most isolated, in terms of a team game, 'keepers by their own admission have to adapt an element of madness and separation compared to their teammates. They are often the last line, their own line and are often completely defined by what happens in the space of an 18-yard square.
The psychology and troubles of a goalkeeper have been played out in a Liverpool shirt more than most it would seem. Since the most levelled goalkeeper we had in generations in Pepe Reina exited Anfield in 2013, there has been a continuous debate relating to both the levels displayed and the levels required to carry the responsibility of being number one at the club.
The outcome was that Simon Mignolet is most definitely mad, Loris Karius is possibly madder and Alisson Becker — make no mistake — is going to be mad in some form.
The imposing Brazilian made his competitive debut for The Reds last week and got his first taste of the Anfield atmosphere during Liverpool's comfortable 4-0 victory against West Ham. Alisson's performance was sound in every way until a short pass intended for Andy Robertson midway through the second half did not find its intended target, and it felt as though a flock of whistling birds had suddenly descended over L4.
The murmurs of uncertainty were clear throughout the stadium. It feels like an subconscious perception of Alisson had been built by a short-lived world-record fee for a goalkeeper which maybe offered a misleading sense of unconditional security to some, but one misplaced pass should not dampen what was otherwise a commanding debut.
Liverpool had 11 footballers on the pitch on Sunday. For the first time in many years, I watched a goalkeeper involved in the game with an array of passing and calmness under pressure. That shouldn't be played down considering we've literally witnessed someone give away a corner from a goalkick in recent years.
Alisson's performance was indicative of Liverpool's progression under Jürgen Klopp; the idea of continuous evolution and not standing still, both figuratively and literally. The identity of this season's Liverpool will include building from a goalkeeper and breaking the first opposition line, in the same way Pep Guardiola teams have been famed for down the years.
You can argue that Klopp has always wanted this method of football integrated. It was notably more present when Karius returned to the side last season, however as with most of his attributes you never felt he was completely comfortable. Gabriel Jesus's first-minute goal at the Etihad Stadium in the second leg of the Champions League quarter final in April is an example of when Karius's lack of conviction playing this way nearly cost Liverpool.
The concept of a sweeper 'keeper has often been much maligned and misconstrued in certain quarters. Yet Liverpool's ability at home to overload each flank and outnumber their opponents means that they need a stopper who can operate in an advanced central position, and is confident and able on the ball.
It is vital to accept this goalkeeper will make mistakes; every goalkeeper does. Yet maybe what Liverpool have bought in Alisson is a goalkeeper whose errors will not be made when it really matters, and to such a devastating effect. You feel that when needed and really called upon he will be responsible and reliable for his teammates.
When it does go wrong, it is vital he does not feel the anxiety of 50,000 Liverpool fans around him, some of who have previously spent years having to worry about whether David James had been up all night playing his games console on the eve of a game.
The obvious taglines will reappear; "he needs to just go long", "he fucks about too much", "it's all John Achterberg's fault".
Achterberg will always be some kind of conspiracist scapegoat despite the fact he has had the approval of several managers since he joined the club in 2009. Most of the criticism around the goalkeeping coach remains unfounded on any real level.
I once heard condemnation of Achterberg from someone who witnessed the warmup before a game and, as much as I'd love to dream up some unique goalkeeper drill which would see Karius and Mignolet having to be the unwitting recipients in a game of red arse at The Kop while Virgil van Dijk takes aim from six yards then I'd happily get in the ground two hours early to witness such an event. However, I don't personally believe we can gauge an awful lot from these things.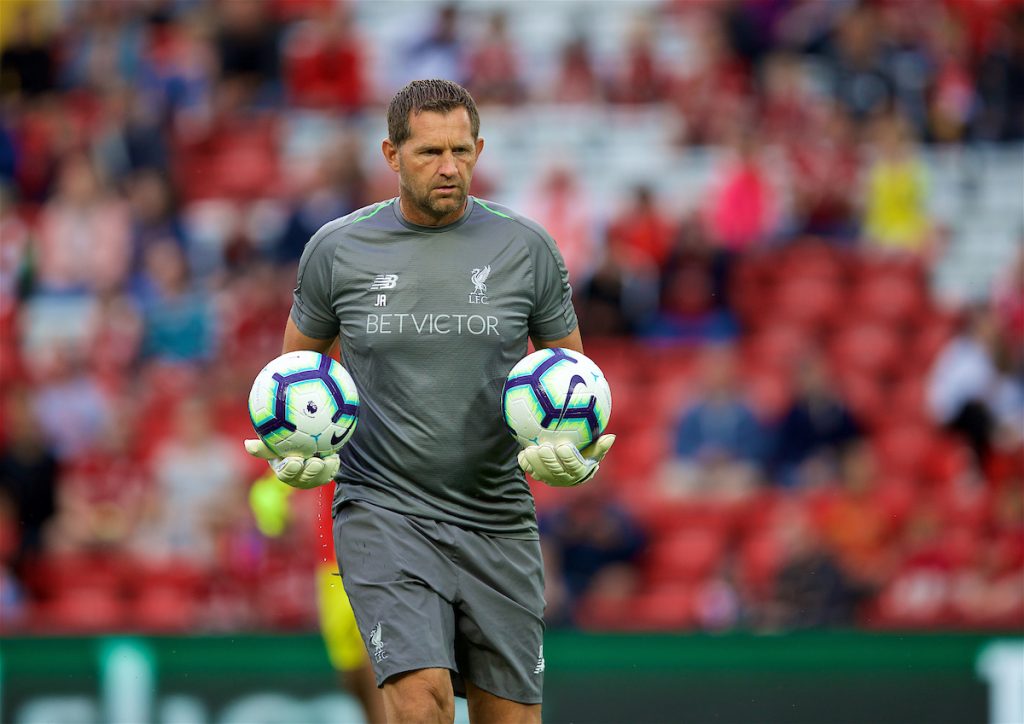 I mean what more can you do about the fact that Mignolet, after practising every day of his life still kicks the football as if he's chipping out of a bunker with a sand wedge at Kirkby golf course?
It can be argued that despite the questions around coaching and development, Liverpool simply haven't had a goalkeeper at the necessary level since a pre-2012 Reina to challenge for top honours on a regular basis. Alisson looks to have all of the required attributes on first viewing, it is vital he is encouraged to be his own man if the club believe in him as much as they clearly do.
Sterner tests will await the Brazilian; Crystal Palace away on a Monday night will provide a difficult challenge from an intimate and hostile Selhurst Park. He still also has to adapt to life in this country both on and off the pitch.
Reassuringly, the Brazilian doesn't seem the type to blame ice on the ball away to Middlesbrough or jump the opposite direction of a shot at Old Trafford like some of the shite we have had to put up with down the years.
History proves a great goalkeeper is defined by a focused and determined mentality as well as any ability he may possess and nurture. Brad Friedel's opinion on 'keepers is interesting and says a lot about his perception of where the required skills lie to be at the top level consistently…
"Being a goalkeeper gives you quite a unique perspective on things. You are part of a team yet somehow separate; there are no grey areas, with success or failure being measured in real time; and you have a physical job which you can only do well by paying attention to your mental wellbeing. A great goalkeeper has to have the keys to a great mindset. To be able to work well in the box, I believe you have to be able to think outside the box."
Maybe I'm looking at this in a far too convoluted way, I could be wrong. Maybe in a few years the new hipster choice of 'keeper will be someone with a degree in psychology and an expertise in having a "great mindset". Maybe the future goalkeeping coach will be someone in the William G. Stuart mould; firing questions about the workings of the human brain at his Darwin-like erudite while he warms up. And if all that fails then surely James Milner can do a job there?
For now, maybe we should all just embrace the madness and brilliance to come from Alisson Becker.
https://twitter.com/theanfieldwrap/status/1030484399421353984?s=21
Recent Posts:
[rpfc_recent_posts_from_category meta="true"]
Pics: David Rawcliffe-Propaganda Photo
Like The Anfield Wrap on Facebook