LOOK, I'm not falling for this again.
An almost fully fit Liverpool squad, battering all and sundry in pre-season, major acquisitions made and no one of note leaving (sorry, Emre) and things look rosier than ever. I'm still not buying it though. As The Charlatans once said: everyone has been burned before. Everybody knows the pain.
Example…
In May 2014, Anfield Wrap contributors Neil Atkinson, Gareth Roberts, Mike Girling and I crawled into a recording studio the day after the Newcastle game — the final fixture of that incredible season. We all had the sort of hangovers that could leave blisters. We discussed whether that season was a lost opportunity and one which we would never see again, or, if it was merely the foundation for an empire. All four claimed the latter.
This had nothing to do with fan optimism and gung-ho spirit. On evidence, Raheem Sterling would be a summer older by the time 2014-15 kicked off, we were in the Champions League again and the owners would be prepared to spend, and we still had Luis Suarez who was rather good.
You know the rest. Suarez left, Sterling lasted one more season and the money was blown on nothing but empty shirts. Optimism can only get you so far.
That said, it can go the other way too.
In July 1994, Liverpool took a strong team for a pre-season friendly at Burnden Park, Bolton to stretch some legs. The Trotters had finished 14th in the old Endsleigh League Division One so everyone expected a drubbing. It duly came. We lost 4-1.
A week later, we travelled to Germany for the big one — The Firestone Challenge Cup. Who wouldn't want that trophy in the cabinet? No? Just as well really, as we were webbed by Bayern Munich, Hamburg and, most worryingly of all, a select Norwegian XI. Not the best preparation given that the new season would feature a trip to Selhurst Park followed by Arsenal at home and then onto The Dell to meet Southampton. Some pundits suggested that we'd do well to get two points from that start and I may have been one of them.
Crystal Palace 1 Liverpool 6. Liverpool 3 Arsenal 0. Southampton 0 Liverpool 2. Obviously.
Of course, pre-season games mean nothing. They're just training sessions attached to cash machines. You can't read anything into them. And yet… This feels different.
For a start, we've got a goalkeeper — a real one who the footballing world coveted. Whatever your views are on Loris Karius, we finally have someone between the sticks who doesn't give everyone kittens every time his goal is threatened.
This is the first season in which I've not eyed a 'keeper with a worrying suspicion. Not since the days before Pepe Reina started doing that dropping-to-one-knee save thing and/or leaving his near post alone for giant quantities of the game. Alisson Becker looks like we might finally have that 'keeper who sticks around for two or three contracts and won't undergo the job share nonsense we've seen over recent seasons.
And that's a huge signing. Fabinho and Naby Keita are quality signings, but securing a 'keeper of that stature is something else.
Many argue that Alex Ferguson's greatest signings were Roy Keane following Forest's relegation, his daylight robbery of Eric Cantona from Leeds or his team scooping up Ole Gunnar Solskjaer from the Norwegian Premier League. It's not even close. The signing of Peter Schmeichel, for just over half a million from Brondby in 1991, shortly after another league-less campaign finally made them serious contenders and their new era began.
The teams who finished above us last season all have strong first-choice goalkeepers while we had to rely on whichever one was less likely to balls up this time. You can't build on quicksand.
"We've put our balls on the table here and made a huge statement." 👏

🗣 Subscribe and listen to today's 'Gutter' show, dissecting the signing of Alisson Becker 👉 https://t.co/lmNtBz4ADz pic.twitter.com/Vmcpgk7PEO

— The Anfield Wrap (@TheAnfieldWrap) 20 July 2018
But, I'm still not falling for it. Not after the last dozen or so times.
Then there's Fabinho. Emre Can divided opinion throughout his Liverpool career, but perhaps it's telling that he's rarely been discussed since the Brazilian signed. I won't pretend I've pored over Monaco's midfield recently, but I like that he seems to take it as a personal affront whenever someone who isn't wearing his shirt colour has got the ball.
This finally looks like a squad — not a first team with a few "alright" people making up the numbers. Even our better teams in recent years have had a bit of that. Iago Aspas in 2014, David Ngog in 2009 etc. If Adam Lallana is our worst creative player on the bench, I can live with that.
Well, yes, alright. I'll admit that this could be something.
Jürgen Klopp's squad development has been slow and steady. A little too slow at times, to be honest. Now he's finally got the forward line to shame others, a balanced and hungry midfield, a steady defence (which admittedly could benefit from another face) and, yes, a proper goalkeeper. Is that cause for optimism?
It looks like the first complete squad for years and I'm not scared of any other side in the league or on the continent. I love opening day, but always carry a little concern about what follows it. Not this time. This is a real squad.
They say it's the hope that kills you.
The Charlatans were right.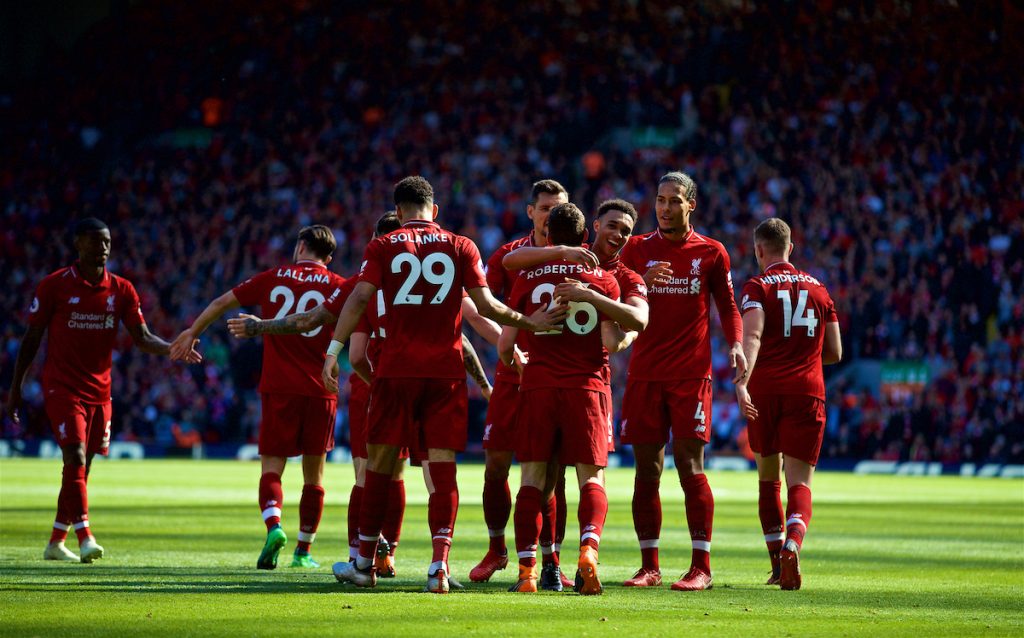 But if you can't be lifted by the look of this team, what are you in it for? There's hiding from fear and there's embracing it. Klopp is all about passion and success, and he doesn't mind ripping my nerves to shreds to make the point.
Pre seasons mean nothing, nothing at all, but come Sunday we'll get to see what this new world looks like and I think it's going to be an exceptional one.
I want the lot. I want Liverpool to win the lot. League, Champions League, two cups, X-Factor, Take Me Out, Love Island, everything. We look capable of doing just that.
Oh, Christ. Here comes the hope again.
Once more into the breach, dear friends. Once more.
The lot, please, Liverpool. The bastard lot.
"I think there's an element of @DanielSturridge looking at this club and this team and thinking 'oh hang on this is where it's happening right now!'" 👊

✍Subscribe to listen to our Post Match Show from Anfield as The Reds win 3-1: https://t.co/UlqKvwZIWy pic.twitter.com/RFCdUGiAyZ

— The Anfield Wrap (@TheAnfieldWrap) 7 August 2018
Recent Posts:
[rpfc_recent_posts_from_category meta="true"]
Pics: David Rawcliffe-Propaganda Photo
Like The Anfield Wrap on Facebook