HAS it all stopped yet? I really want it to have all stopped.
If I want one side jumping on any tiny thing a man does and calling him a disgrace, whilst the other side blindly refuses to accept their hero can do anything wrong, I'll just search for Jeremy Corbyn on Twitter.
Like UK (and probably wherever you live too) politics at the moment, your reaction to an event seems to solely depend on what side you support. For example, if you support Everton or Manchester City then Mo Salah "shamelessly refused to sign autographs for fans while endangering children by being on his phone while driving".
If you are a Liverpool fan then the autograph hunter was a "fat meff who supports Everton/Manchester United, harassing Mo when he's with his family on a busy road".
Does anyone actually really think what they say anymore? Or are all our online actions designed to damage people we don't like or support those we do? Am I turning into a dad if I think that Salah doesn't have to sign anything he doesn't want to, especially on a main road, but then probably shouldn't be on his phone in a traffic jam either? Can't we all just learn something and move on quickly and quietly?
The annoying thing about it all is that Salah is clearly a very decent man. I'm not going to list all the great things he's done in recent times, as you can find them in other articles. I'm not going to humbly brag about how much time I spent in the presence (company is probably pushing it) of Mo over the summer and how I was staggered about how much time such a superstar had for every fan he came across, as the smiling pictures are plastered over the internet.
"He's going to have to put up with this shit a bit more now that he's one of the best players in the world."

🎥 Watch today's Talking Reds in full on our YouTube channel here 👉 https://t.co/s3KxOQD26l pic.twitter.com/0Ldb1xcuZB

— The Anfield Wrap (@TheAnfieldWrap) 15 August 2018
I will just ask this. What do we actually want from our footballers? Liverpool FC could basically become the Harlem Globetrotters tomorrow. Travel round the world playing exhibition matches, showcase their skills, score some nice goals and sign loads of autographs while Peter Moore shoots T-shirts out of a cannon into the crowd.
Is this what we want? It would make a lot of people happy and would be a reasonable amount of fun. Some players might leave, of course, but others who can't be bothered getting tackled and just want to showboat might join. The fella who messages us every week saying Liverpool should sign Ronaldinho might actually get his wish. We'd be like a circus, but with less acrobatic women.
Or do we want Liverpool to be a relentless winning machine? Conquer the bloody world. Have to send a team from Mars to beat us and all that. That would make a lot of people happy too. But it would probably mean some changes to how we do things.
It is fair to say that if the focus is just winning next season then Jürgen Klopp would make some changes to pre season. Out would go trips to America and Dublin and in would be mad army camps in the woods where they have to kill their own food, and training camps where half of them die but the other half are invincible.
It would be all change when they came back too. To have the players fully focused and ready for each game without any distractions. We could probably move them into a gated community in Melwood for them and their families. No travel time to work, keep an eye on them at all times, easy for extra sessions when necessary.
Then on matchday we could just helicopter everyone to Anfield so they would never have to deal with the general public or journalists at all. Just live and breath football and get 114 points.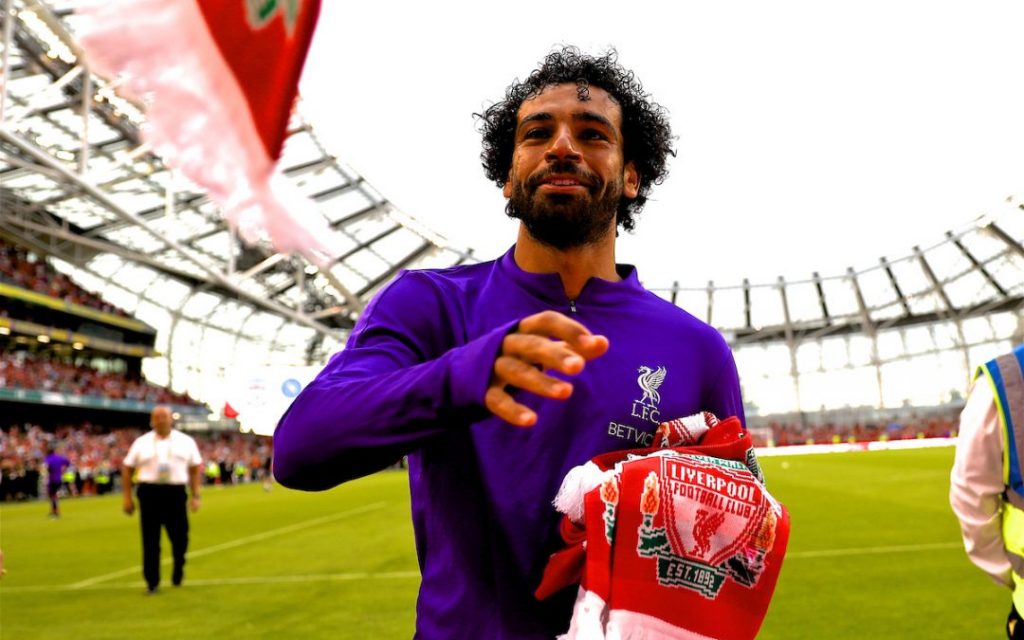 But it doesn't sound like much fun for anyone concerned. The players might want a life at some point and we might want to see our players as more than just lads who kick a ball if we are going to support them.
So maybe, as occasionally is the case in all walks of life, the ideal is somewhere between the two extremes. A really good football team who tries to engage with supporters at appropriate moments. Lads who make you proud with their actions on and off the pitch. Supporters who players want to play for and players supporters want to support. Imagine that.
The thing is you don't really have to. We are really close to getting it. You don't need me to tell you the team is mustard, but they have also spent the whole summer meeting every possible Liverpool fan they could. I reckon Salah has posed for 10,000 photos over the last month. Ten thousand. I get a cob on at a family party if I get asked to pose for four.
Of course, Liverpool could do more to connect with the community, everyone knows that. Even them. But it would also really, really help if we were less mad. Honestly sometimes I don't want to spend time with Liverpool fans and I am one. We are proper intense, you know.
I think what we want is footballers who are really good, who take the time to connect with people who idolise them when they can. So let's encourage this. And stop running at footballers in cars when they are on a busy road and then slagging them off when they don't do what they want. And stop feeding into hate and start seeing famous people as individuals who are making decisions in their lives that they sometimes get wrong.
And then? Who knows what might happen…
"He is ambitious, he is competitive and he's a really nice bloke." 👑

We featured on CNN's Inside the Middle East Special on @MoSalah: Liverpool's Egyptian King. Out May 5, 12.30pm UK time.

🗣 Subscribe to listen to our CNN Special podcast on Salah: https://t.co/eTmRQkhp95 pic.twitter.com/tspr58Ov4i

— The Anfield Wrap (@TheAnfieldWrap) 1 May 2018
Recent Posts:
[rpfc_recent_posts_from_category meta="true"]
Pics: David Rawcliffe-Propaganda Photo
Like The Anfield Wrap on Facebook