"FOOTBALL, football, football, football, football, football, football, football, football…"
There are few cities in Europe as passionate about football as Liverpool and Naples. The game is at heart of both cities, skipping a beat on matchdays.
Day sessions and nights out are planned around games and, for a lucky few, away trips take precedence over family holidays. The football seeps into local culture, businesses, and communities.
This obsession means that a club such as Liverpool, with its worldwide reputation, is made to feel at home wherever these global tours take it, but a visit to Ireland to watch The Reds feels especially like a home from home.
So it seems fitting that teams from two of the most intense football areas in the world should enjoy a rare coming together in Dublin, with the clash no doubt under the guise of a Liverpool home game, with Napoli, led by old foe Carlo Ancelotti, the visitors.
The regions of Merseyside, and Napoli's home of Campagna, have plenty in common, not just when it comes to football but also the makeup of the areas themselves. This is driven from their core by their respective major cities.
For various reasons these areas have at times felt detached from the rest of their country.
During the 1990 World Cup, Argentina played Italy in a semi-final at the San Paolo in Naples, and Diego Maradona famously stated "Napoli is not Italy," before the game.
"Italy makes Naples feel important for one day of the year, but forgets about it on the other 364."
A number of fans took this on board, supporting the nation of their club's star player rather than that of their birth. This didn't apply to all fans at the San Paolo that night, but a big enough portion were behind Argentina to the extent that Naples was blamed for Italy's defeat, and some of this hostility remains to this day. Maradona scored the winning penalty in the shootout to rub salt into Italian wounds.
The snubbing of the national team eased off somewhat in the post-Maradona era, aided in recent times by the inclusion of local boy Lorenzo Insigne in the national side, with other Italian stars such as Ciro Immobile, Rolando Mandragora, and heir to Gianluigi Buffon, Gianluigi Donnarumma, also born in the region.
But there is still a sense of a north-south divide, though the divide is flipped on its head in comparison to the same split in England.
Italy's political powers lie further north, away from the southern city of Naples, and this leads to the feelings of neglect which are reflected in areas of northern England which lie away from the southern London hub.
In England there is clear evidence that this divide exists, at least politically. During the 1980s the UK government were actively planning Liverpool's demise, hoping that a "managed decline" and lack of funding would eventually see the city rot.
Although football is often seen as an escape from the world of politics, the game can also be a vehicle for like-minded people to come together and move as one, bigger political force. Football has played a part in political movements throughout history, and in these cities it will continue to do so.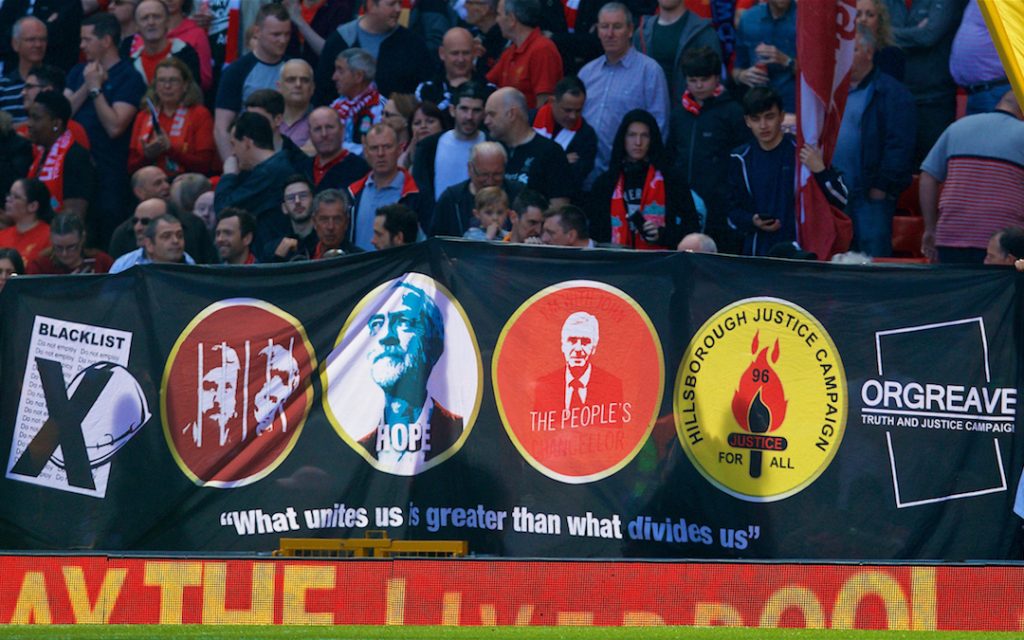 There are many towns and cities which would consider themselves football areas, but there are also football-mad cities which take their devotion to the game and the community it creates to the next level. Liverpool and Naples are both examples of this, and their daily life revolves around the local team — or in Liverpool's case, teams.
Naples, the birthplace of pizza, introduces new creations inspired by the fans' favourite players. One of the best examples was the Cavani Matador pizza, which was a tribute to the tireless centre forward who once ran the channels at the San Paolo. The creation was introduced in pizza restaurants across the city.
Walk into a barber shop in Liverpool and you'll be met, not by images of hair products or tips on shaping facial hair, but by Liverpool and/or Everton flags, and pictures of the city's football legends.
Local businesses often base their promotions around the latest goings on at the clubs, and there is plenty of football-oriented artwork around the city. Regardless of class, background, pay grade, or status; football is a common thread which brings everyone together.
There are also geographical similarities between the two areas, even if they are on a different scale. Winter Hill isn't quite Mount Vesuvius and Formby isn't quite Sorrento, but parallels between Liverpool Bay and the Gulf of Naples are evident.
It's regularly said that footballers prefer London to other areas in England, and Napoli will no doubt be told that some would prefer to live in Milan, Turin, or Rome. But if players want to work in an area which lives and breathes the game, they choose Naples and Liverpool.
Jürgen Klopp could have had his pick of clubs in Europe, but chose Liverpool, while Ancelotti is one of the most decorated managers in the game, but fancied a job in Naples when he could have taken over the Italian national team.
"We lost the final, but all the rest was pure joy. Roma – fucking hell! We have to enjoy the the ride." ✊

🇺🇸 Subscribe and listen to our exclusive 30-minute interview with Jurgen Klopp 👉 https://t.co/lmNtBz4ADz pic.twitter.com/6NxoShl9kO

— The Anfield Wrap (@TheAnfieldWrap) 26 July 2018
Both bosses have commented on this in recent times and both were considered coups for the respective clubs, but the pair have acknowledged what it means to work at these two football institutions.
"I know how passionate the fans are about Napoli and I know that can be an advantage for us," Ancelotti said, shortly after his arrival.
"It's motivating and can help drive us on. You work for yourself and your ambitions but you also do it for those around you. What I want to do now is make the Napoli fans happy."
In a recent interview with Liverpool legend Robbie Fowler, Klopp looked back on his reasons for taking over at Anfield.
"I love the history. I really am a football romantic. I knew I probably can help," he said.
"They maybe really need me in this time. I know what I'm good at. When they told me about the problems they had I thought 'OK, yeah, I am probably the really right manager for that club'.
"A little thing: Liverpool is a world class brand, big, big, big, but in Melwood, you know it Robbie, it is still a family, nothing else, and you can go in and feel that.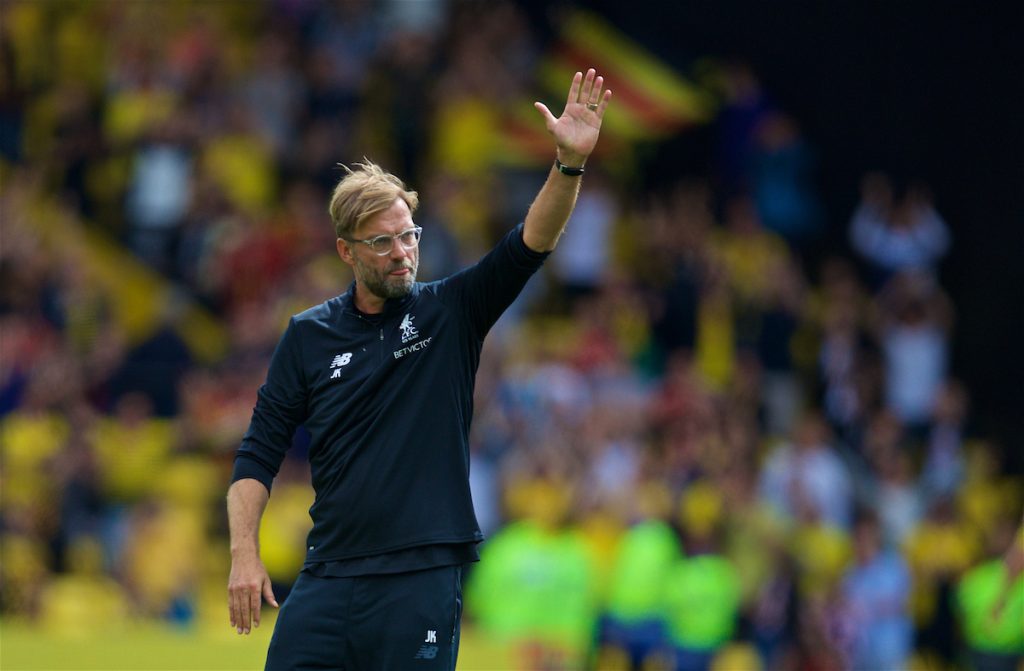 "It is a football club. A FOOTBALL club.
"I had talks with other clubs and they didn't sound like a football club. It sounded like marketing, image, you need to sign this, you need to sign that. And I thought 'wow, that's not the game I love'."
This football fever has cons as well pros, just ask Marek Hamsik or Steven Gerrard who were both considered too good for their respective clubs at various periods, and faced difficult decisions, but stayed thanks to their emotional ties.
Other teams may have guaranteed trophies, but the intrinsic rewards which come from playing at clubs like Liverpool and Napoli are rarer than silverware, and difficult to find in today's game.
While the game in Dublin is only a friendly, both sets of supporters will always demand that the players are as committed to the cause as they are, in every game. Pre-season results will be scrutinised as Liverpool add new signings to the mix ahead of a season where a trophy is expected, and Napoli undergo a period of transition under their new manager.
Ireland is the perfect setting for this game which comes one week before Liverpool kick of their Premier League campaign. It will remind the players of the passionate support the team have closer to home, after experiencing the worldwide popularity of their club across the pond during the past two weeks.
And Napoli will play their part. Even if they are the minority in the stands, fighting against the odds is something they are used to.
"I feel as if that 15 or 20 minutes were special [in Rome]."

"We really felt like we were all in it together." 👊

✍️Subscribe to TAW Player to listen to our exclusive interview with Liverpool left back @AndrewRobertso5: https://t.co/q0tg7SnGVz pic.twitter.com/YWtVfpi6Og

— The Anfield Wrap (@TheAnfieldWrap) 23 July 2018
Recent Posts:
[rpfc_recent_posts_from_category meta="true"]
Pics: David Rawcliffe-Propaganda Photo
Like The Anfield Wrap on Facebook