LIVERPOOL, taking the piss. Liverpool, Liverpool, taking the piss.
We're top of the league. Three games into the season, yet to concede a goal or even to get out of third gear.
We very rarely get off to this kind of start to a season. In fact, since the Premier League began we've only won our first three games on three occasions. The last time being in the 2013-14 season, and we all know how that particular rollercoaster went.
We are allowed to enjoy this period, don't let anybody else tell you differently. It might have only been West Ham, Crystal Palace and Brighton, but who cares? We're top of the league, there's loads of time for this season to completely capsize, but we might as well revel in it for now.
This weekend saw the first Boss Night of the season. If you've been living under a rock and aren't familiar with the concept, it's where scores of Liverpool supporters attend an event after the match designed for lads and girls to sing about their team, while listening to some talented local musicians. And have a laugh, and that's just what they did.
A song emerged from the night to the tune of The Clash's hit "Rock the Casbah". The adapted version where the lyrics were: "We're top and they don't like it… (The Reds are taking over). Guardiola. Guardiola."
Since the video was released on the Boss Night Twitter page, hundreds of opposition fans, mainly those from Manchester, have commented. According to them, we already think it's won. We're an embarrassment, and they're happily saving the videos for May when they can have a good old laugh at us.
The Reds Are Taking Over pic.twitter.com/bvJ2jTx47c

— BOSS Night (@aBOSSNight) 26 August 2018
Go for it, lads. It's supposed to be a laugh.
Nobody's getting carried away, but we're allowed to enjoy watching our team play well. This is what football is all about, isn't it?
Football is supposed to be entertaining, that's why we invest so much into it. If we can't sing about Jürgen Klopp's side doing well now, then you're basically saying we can't celebrate any goals until the end of the season, because if we don't go on to win something then there's no point in it all. I don't like the sound of that, it's about the journey and this is the very start of it.
I personally don't know of any supporters who expect us to win the title this year. We are in hope, we are dreaming, we know there's a chance. And this is why football is so great. It's about the what ifs, the thought of what it's like to win the title.
Those of you lucky enough to have seen us win the league, will have forgotten what it feels like. And those like me, who have never experienced it should let hopes and dreams take over, because the excitement is what keeps you going.
People say it's the hope that kills you, it isn't. It's the hope that keeps you going. Hope is everything in football.
This is the start of the journey, I'd hate to get to May, having missed out on the league by a few points and look back knowing we'd celebrated absolutely nothing. Enjoy the ride, otherwise what's the fucking point of being there at the end of it?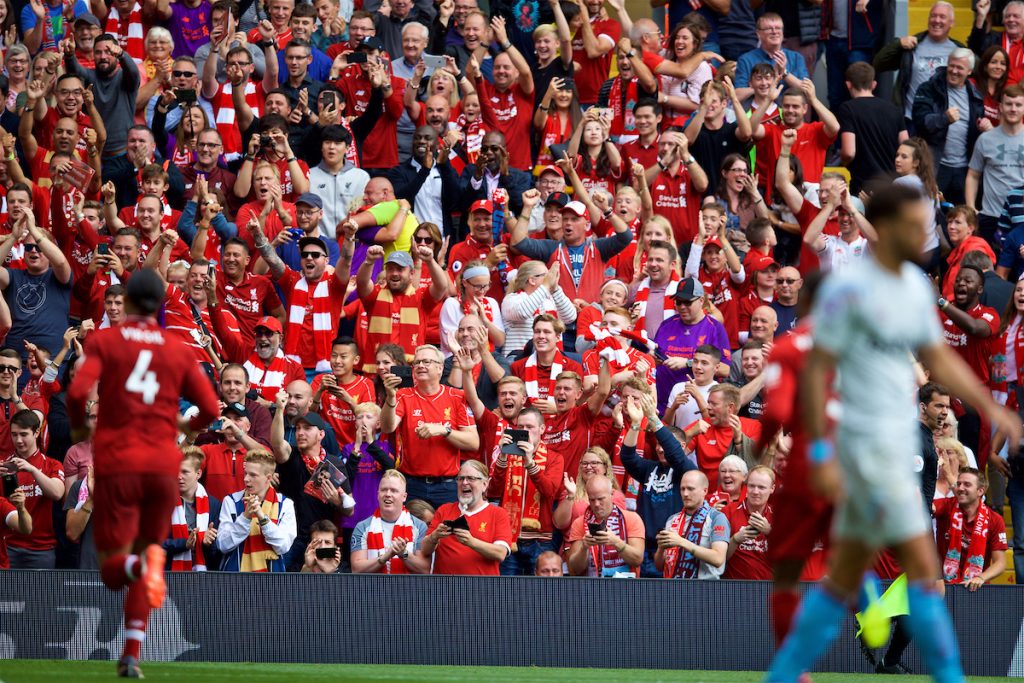 England supporters spent the entire summer singing about football coming home. The vast majority singing those songs didn't actually believe Gareth Southgate's side could get anywhere near the final. They did, however, want to enjoy it while it lasted. We can do exactly that.
I don't expect anybody jumping on bus stops singing "we're gonna win the league" next week, mainly because our supporter base isn't full of blerts. But also because we don't actually believe it's won, we just believe it's possible.
I really don't get why any other set of supporters are arsed about what we sing. If it does come back to bite us on the arse, then so be it. They can have the last laugh, but at the minute it's us who are laughing, we're having the most fun. And I can assure you, most football supporters would love to be a part of it.
Nobody can say whether we'll be top of the league a month from now, by Christmas, or even by the end of May.
What is clear is that we are top now, and they don't like it.
"The vision and technique for Trent to pull of that 70-yard pass vs Brighton… It's scary that he's 19 and can do that." 🔥

🗣 Listen to this week's FREE Anfield Wrap show here 👉 https://t.co/skJfbhinFn pic.twitter.com/oUXHI72lUZ

— The Anfield Wrap (@TheAnfieldWrap) 29 August 2018
Recent Posts:
[rpfc_recent_posts_from_category meta="true"]
Pics: David Rawcliffe-Propaganda Photo
Like The Anfield Wrap on Facebook