JAMES Milner tackles their lad.
James Milner tackles their lad this morning when he has his breakfast.
James Milner tackles their lad while he packs his oversized wash bag.
James Milner tackles their lad from the minute he was born to the second the freekick is given. He has lived his whole life to just tackle their lad at that moment. He has pictured tackling their lad for eternities. Galaxies have exploded, all human life has evolved and become extinct and James Milner is both tackling their lad and picturing doing so.
That moment was the moment where I was reflecting on Brighton home and away against our rivals last season and how frustrating they could be. It was the moment I was beginning to think we could be in for the longest possible afternoon.
James Milner tackles their lad and Liverpool score. From the minute he wins his tackle there is an inevitability about events. For the tackle James Milner should be given:
– the assist.
– the freedom of the city.
– his Sunday dinner in a choice of Liverpool restaurants.
– the right to decide what the dressing room listens to for the next week.
– Maghull. If he wants it.
Flash, flash and there it is. Salah off the post or as near as dammit for it not to matter.
Then he celebrates. Then he prays. Then he pumps his fist staring at the Lower Kemlyn/Centenary/Kenny Dalglish. He pumps his fist looking at me or as near as dammit and we lock eyes, or we don't, and we are thinking Manchester City drew. Liverpool lead. Everything is vital in every sense of the word.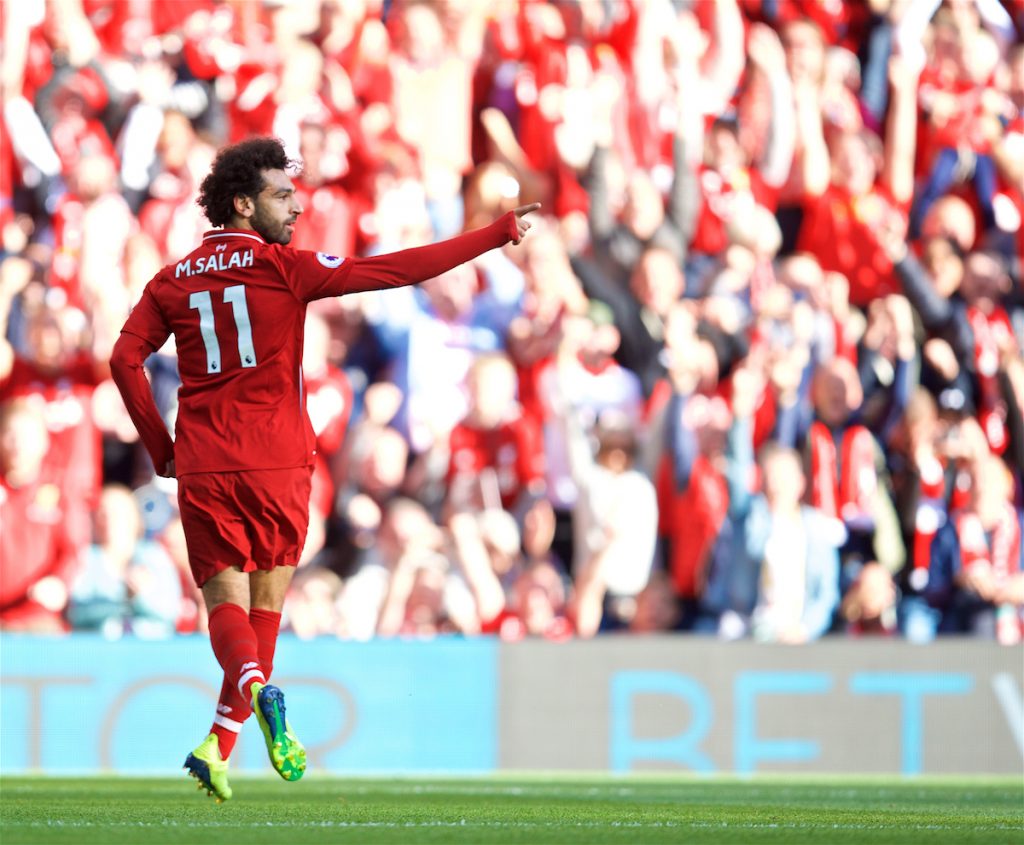 Man City drew.
Listen, I do this thing. Two things. Both in my head.
Thing one: while I do day-to-day tasks, I do this thing where I have imaginary conversations with the Liverpool manager. It has never been as bad as this, not since 2008 with Rafa Benitez. Maybe never as bad.
I consult Jürgen Klopp. I wonder what he would make of x, y or z. Today we had a lovely big chat about how into Wolves/Man City I should be. We should be. Should we see it as an adjunct to our game? Should we focus on The Reds? Jürgen concluded that we should for now see this all as part of the season's rich tapestry, as the adventure.
Reader – I went berserk when Willy Boly scored. I kicked every ball of that last five. Manchester City have now dropped 1/7th of the points they dropped last season. That that is bananas isn't our fault.
Thing two: I brush my teeth and think about the title. I hold a door open and think that is the behaviour of champions. I lie in bed and think about how it would be in May if. If. If. If.
Everything is if. Nothing is when. If.
Send me on a night out and ask me what I would do if it happened. I have plans. Documents. A desk drawer full of contingencies. If. If. If. If.
Yearning on a large scale can make history. The yearning is palpable now and it isn't even September yet. But by Christ it is fun. It is vital. It is what it is to be alive. Yearning on a large scale can make great nights out.
We're going to have a lot of them.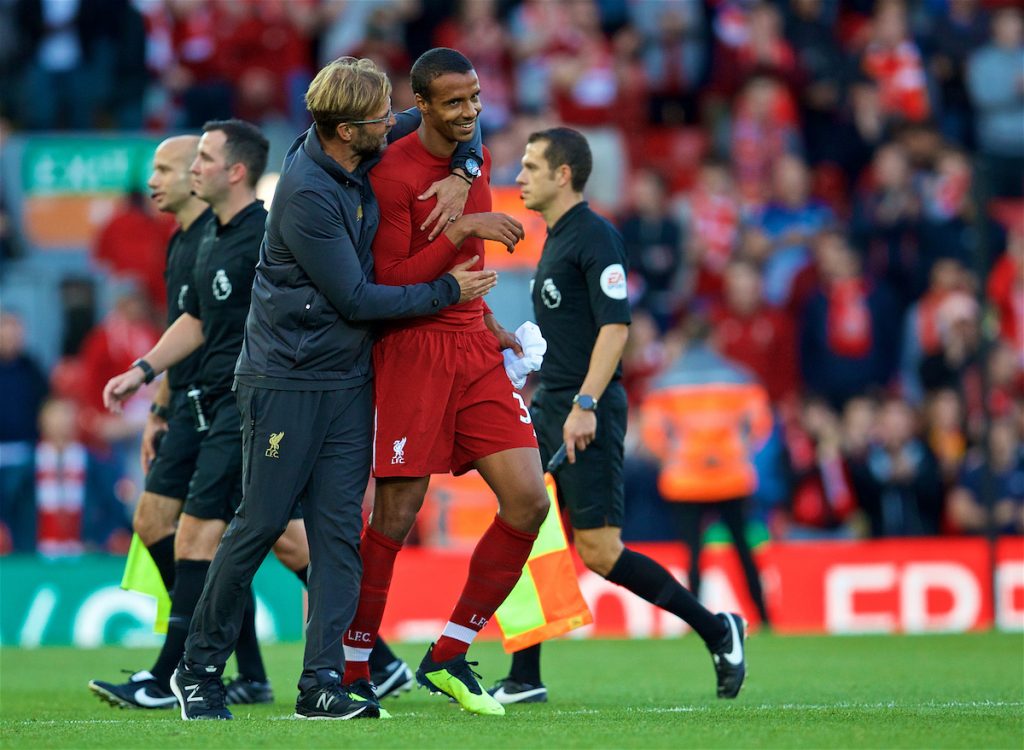 I was umming and ahhing about whether or not I was going to go to town.
Then Virgil van Dijk rolled it back to Alisson Becker. And he dinked it, resplendent in yellow, over the onrushing player's head and controlled it, and you know what, nothing may ever be the same again.
On an evening where much was tinged beige — as it has to be from time to time — it was a technicoloured dreamcoat of a moment. It was what it was to be alive.
Not long after Trent Alexander-Arnold pinged it sweeter than you have ever seen. Earlier, Gini Wijnaldum dribbled past four doing keepy-ups. Liverpool never hit the heights while winning but they are such scamps. They fizzle. Your blood does the same.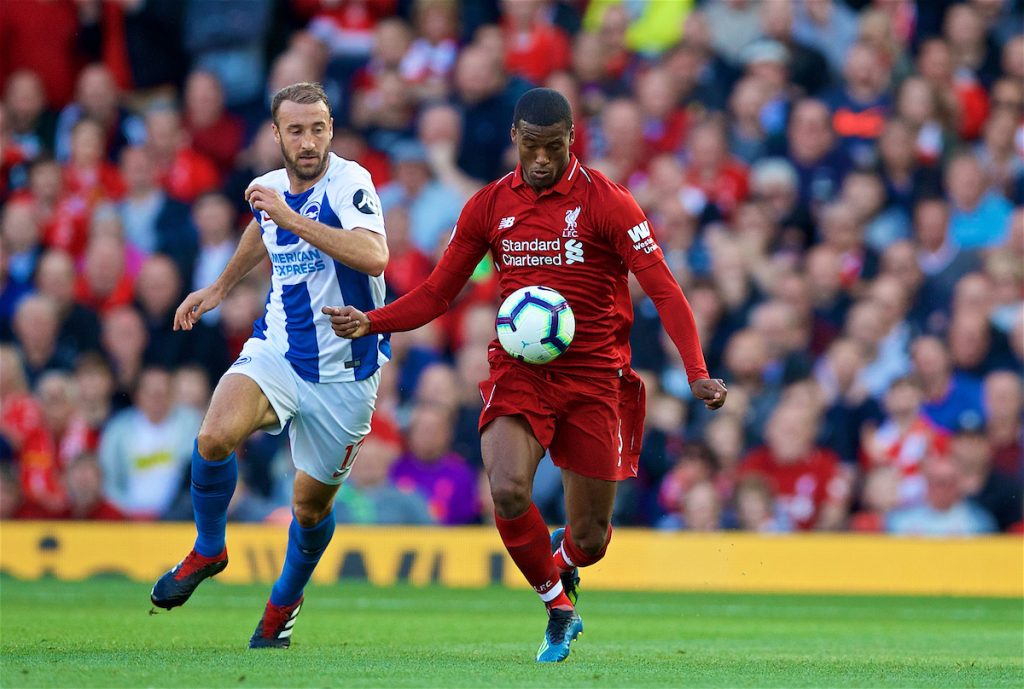 Hero worship is a strange thing when you are 37. There was a point in the second half where two of their lads walloped Milner in close succession. The ground was incensed. How dare you hit our heroes like that? The Mancunian referee didn't give a card for the second.
The curve goes on for so many of these Liverpool players. Twelve months ago juries were out all over the shop. Now the question is which of them you love the most.
It needed graft. Because at times Liverpool hadn't quite gelled. Because Brighton are a well-organised outfit. Because you can't win 4-0 every week, it needed graft and it needed care and it needed seeing out. It needed love. Liverpool loved their three points James Milner's tackle and Mo Salah's whip-crack finish had given them. They sailed those points home, held gentle between big hands. They understood the delicacy of the arrangement. They never sat back — the left back pops up inside right in the box with 10 left on the clock — but nor did they overcommit. They understood the best way to win 1-0 was to look like winning 2-0, something that has been true of football matches since the very dawn of time.
The love to work remains the best and finest thing about this Liverpool side. That and their sense of mischief. They know and believe that exuberance married to graft doesn't do the job. It is the job. It is vital. It is what it is to be alive. It underpins the worship and the imaginary conversations and the life lessons.
Three down and 35 to go.
Be scamps, Liverpool. The hardest working scamps we have ever seen.
"Alisson has been here for five minutes and he's already taking the piss out of people." 🔥

🗣 Subscribe and listen to our immediate post-match reaction show after the Reds make it nine from nine 👉 https://t.co/lmNtBz4ADz pic.twitter.com/KPLC2YLr22

— The Anfield Wrap (@TheAnfieldWrap) 25 August 2018
Recent Posts:
[rpfc_recent_posts_from_category meta="true"]
Pics: David Rawcliffe-Propaganda Photo
Like The Anfield Wrap on Facebook