I CAN'T wait to get back to Anfield.
I can't wait to watch Liverpool play football again.
To see this team in the flesh again is a joy to behold. To get to do it another 20 or so times this season, while absorbing the waves of positivity around the place, is a privilege. Like sands through the hourglass, so are the days of our lives. Seize this.
In a week where narratives have been persistent around the 2-0 win over Crystal Palace on Monday night, the feeling of getting to do it all over again is currently the only way to approach this thing of ours.
It is interesting that last week the BBC, among many others, decided to push the narrative of an end of season draw at Selhurst Park in 2014 as a marker of relevance to this Liverpool side, and completely lobotomise themselves of what is three seasons of clear progression under Jürgen Klopp.
Monotonous clickbait aside, Palace do act as a marker to Liverpool under Klopp. In many ways, they represent watershed moments that the manager has absorbed and improved from with time.
With the Liverpool manager in what is now his fourth campaign at the helm, the transformation of Anfield as the home of Liverpool and a place that serves to add such an advantage has been as noticeable with the Main Stand expansion, which was still in skeletal structure form when the German took charge.
A 1-2 reverse at Anfield to Alan Pardew's Palace on November 8, 2015 marked Klopp's first league defeat at Anfield. However, the game was remembered more by the manager's post-match comments after seeing hordes of Liverpool fans head for the exits after Scott Dann's 82nd-minute winner.
"After the goal on 82 minutes, with 12 minutes to go, I saw many people leaving the stadium. I felt pretty alone at this moment. We decide when it's over. Between 82 and 94 you can score eight goals if you like".
This mentality was indicative of the time. Although you can argue leaving the ground early is as much a logistical issue as anything else, it is impossible to deny this was a time when Liverpool were tired as a home crowd. We were battered by the elements of set-piece goals and incompetent goalkeeping, defeated by the reality of an evaporation of identity.
The defeatism shown this day was exactly that, it was only for the grace of somebody with soft eyes and an influential voice to point it out to us.
Going the match was an endurance, progression and belief were clearly lacking both on and off the pitch. Klopp's pitch of turning "doubters to believers" had yet to emanate and the thought of those big nights at Anfield entertaining Europe's biggest and best were a nostalgic and unrealistic aspiration.
Attending football is a social event as much as a tribal connection. It should never be lost that the fundamental aspect of football is that it is a game. There is no entitlement to it, no divine right. Liverpool will be beaten at home again at some point; they might even concede a goal at some point. Yet fundamental to everything should always be enjoyment, togetherness and fun, and right now we have those three things by the bucketload.
The transformation in recent seasons has been staggering. Liverpool have not only made inroads towards an infrastructure in and around the stadium to befit the sheer size of the club — an issue they have been woefully lacking in pomposity and self esteem in for too many years — but they also now have what is arguably now one of the most exciting teams in recent memory to get behind.
Everybody who supports the club wants to come to Anfield now. The desire to watch Liverpool play has created a buzz and a vibrancy many believed had been lost for good. Conversations around demographics of old and young, local and non local have for now paled into insignificance, paving the way for a collective urge to enter the turnstiles and support the team.
The team is the crux of all this, they are the vehicle in which we're taking this journey on. The subconscious around Anfield has slowly relaxed through a trust which is constantly being earned by this group of players.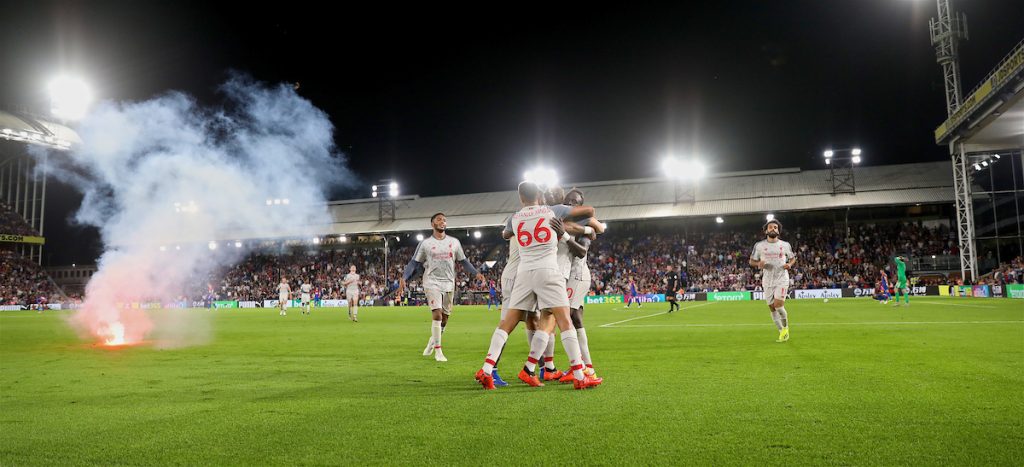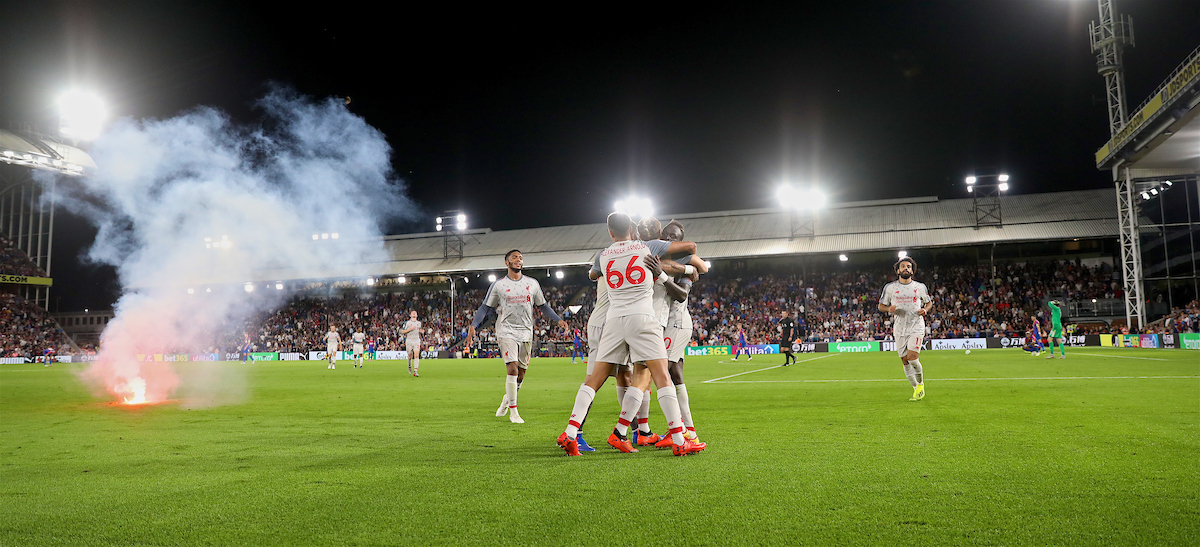 There hasn't been a home defeat in the Premier League for Liverpool since, you guessed it, Crystal Palace came to Anfield on April 24, 2017 and were victorious in another 1-2 win. It's a day that seems more distant in the memory than the year suggests, not only through events on the pitch; defensive frailty, Philippe Coutinho deciding he had to do everything himself to the detriment of the team and Christian Benteke having more than the shred of self confidence he currently possesses as a footballer to score twice and win the game.
But that day was also one of the last times Anfield let itself indulge in its own fatalism, believing everything that could go wrong would and becoming immersed in self doubt. There is no doubt this transcended onto the pitch. What has followed has been a joint enterprise, led by the players, to eradicate such collective pessimism and place the responsibility back on the crowd to get behind them.
All of this is paying dividends. Efforts by the club to integrate players and fans leading up to the start of the season were another way in which togetherness is being harnessed, and a feel-good factor around Anfield is growing.
The hope remains that all of this can culminate in tangible success in the form of trophies. Success has been a fundamental part of what is great about supporting this club and what it has been built on. We too want to reminisce to our offspring about how Liverpool swept the board and were by far the greatest team, the world has ever seen.
Yet it is important that it doesn't become a burden or an objective in isolation above all other things. This manager, these players and us as supporters would love nothing more than a representation of what we're achieving together, yet the challenges remain just that — spelled out in big, fuck-off, 100-point form.
When 50,000 or so supporters make their journey to Anfield this weekend they should do so under the knowledge that they are the privileged minority, that Liverpool could sell out the stadium twice over for a home game against Brighton and Hove Albion if it was allowed. That people all around the globe will be congregating at ridiculous hours of their day with the desire, the colours and the songs all yearning to be in the place we are, doing the things we're doing.
Twenty or so more times, every other Saturday, drink all of it in and hold on to it. This is not a case of entitlement or trepidation around "what if?" anymore. It is a case of these days being the days of our lives, and they're happening right now in the greatest city and stadium on earth.
Up these Reds.
"These are not the games which are going to keep Brighton in the Premier League, these are the games they're going into expecting a hard time."

🗣 LISTEN to this week's 'Teamtalk' show, previewing Liverpool's clash with Brighton & Hove Albion 👉 https://t.co/lmNtBz4ADz pic.twitter.com/gFGtT136K1

— The Anfield Wrap (@TheAnfieldWrap) 24 August 2018
Recent Posts:
[rpfc_recent_posts_from_category meta="true"]
Pics: David Rawcliffe-Propaganda Photo
Like The Anfield Wrap on Facebook