"MILNER'S a phenomenon, a guy with big balls…"
That was Manuel Pellegrini back in March 2015, quite literally talking bollocks.
Three years and five months later, the Chilean was reminded of just how big James Milner's are. Significantly more so than Jack Wilshere's and Mark Noble's after their unfortunate blocking of Liverpool shots at Anfield on Sunday. There may have been temporary enlargement, but purely down to the swelling. Poor lads.
Pellegrini was Manchester City manager at the time of that quote, and in an interview with Sid Lowe from The Guardian he was being questioned about Milner due to the increasing rumours that the utility man was on his way to Merseyside to sign for The Reds on a free transfer the following summer.
He added "I'm Milner's number one fan. Find me a more complete English player. There are players who're better technically, yes. Quicker players, yes. Players who head better, yes. But show me one who does all the things Milner does well. There isn't one.
"It's hard to leave him out. Respect, commitment and performance level: 10/10, fantastic. He's polyfunctional: full back – the only position he doesn't like – attacking midfield, wide. I played him as a forward and the team averaged three goals a game. He gives everything. You leave him on the bench and he's absolutely furious but watch him during the game: encouraging, shouting, supporting. And in the next training session he kills himself."
In his first game as West Ham manager, Pellegrini's new side were up against Milner, and the Yorkshireman put in the sort of performance that would have had his former boss pining for the days he could call on him for his team.
Not many Reds had picked the 32-year-old in their predicted 11s for the season opener against The Hammers, assuming Fabinho, Adam Lallana or Jordan Henderson would be preferred, and also because Milner still had 15 stitches holding his head together following a clash in the friendly win over Napoli a week prior.
"There's no Ribena in it before you ask me!" 🇺🇸

Subscribe to TAW Player to listen to our Post Match Show and quick interviews with Sturridge and Shaqiri after Liverpool's win against Man United 👉https://t.co/q0tg7SFik9 pic.twitter.com/n3ufI7N5dJ

— The Anfield Wrap (@TheAnfieldWrap) 29 July 2018
However, Jürgen Klopp opted for "Millie", and he was right to do so. Milner was sensational in the middle of the park. At one point you could see West Ham's bench checking their tablets to make sure Liverpool's midfield set up wasn't Milner-Wijnaldum-Milner-Keita-Milner.
The former City man was quite the sight as he took to the field in his black headband, though it did feel like a missed opportunity that he didn't get it sponsored by Yorkshire Tea or Ribena.
The official reports were that it was to protect his head injury, though rumours spread that it was to keep the lid on his bonce so it didn't fly off mid game and let everyone see the motherboard inside that powers RoboMillie.
The numbers behind Milner's performance only went to confirm what most felt at the time, that his performance was something quite incredible. He had 122 touches, more than anyone else, completed 95 of his 102 passes, made 57 passes in the West Ham half, put in seven crosses, made three key passes, came away with two assists, regained possession four times and even found room for an interception. All that, and he covered over 12.5km, more than anyone else of course.
It should hardly have been a surprise. The second-oldest player in the Liverpool squad set the benchmark on his first day of pre season, running laps of Melwood during the lactate test with such dismissive ease that next year the fitness team might want to consider putting obstacles in the way, like water hazards or firing paintballs at him.
It's not just the impressive engine though, but his attitude, his game intelligence, and his genuine quality. To not only have the nous to go for the cross from Andy Robertson with seconds to go in the first half, but to reach it on the stretch and control the ball back for Sadio Mane to score showed the touch of a man who deserves more credit than just "works hard, doesn't he?"
Particularly in the first half, he was all about quality decision making. He kept it when he needed to, he made runs out wide when he needed to, and he fired early crosses in when the time called for it. With a bit of luck and better finishing from his teammates he could have gone in at the break with three assists to his name.
His performance was up there among equally impressive showings from Gini Wijnaldum and debutant Naby Keita. You could argue that one performance raises the other, in a chicken and egg sort of way, but in particular when someone like Keita arrives and sees a 32-year-old Milner putting in the shift he does, it can only serve to inspire and set the bar. Keita is a hard worker by nature, and will be thrilled to see that attitude turned up to 11 by his new teammates.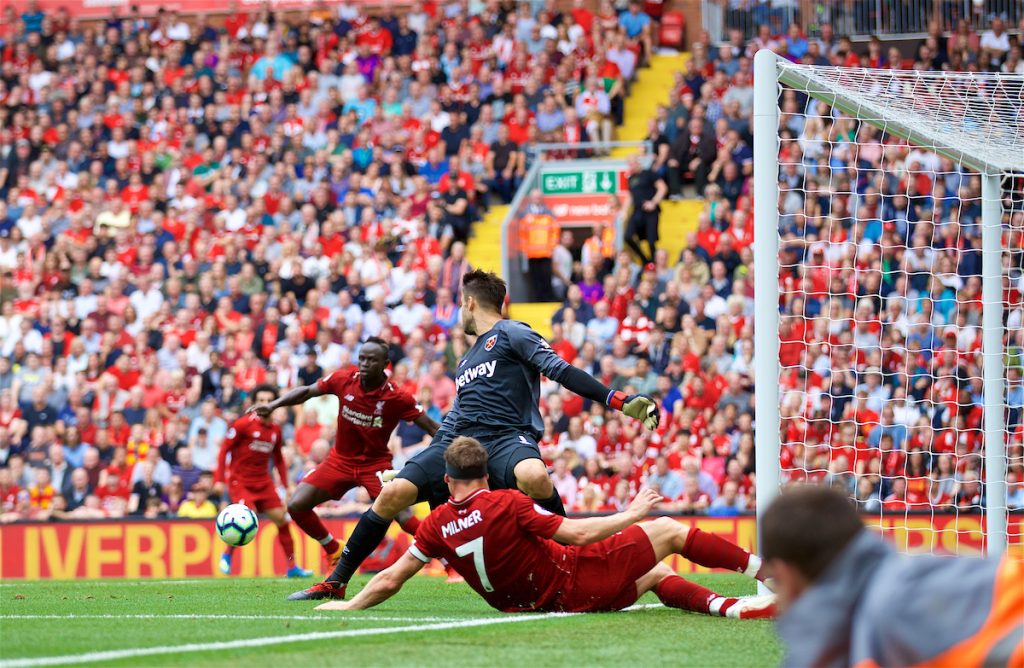 These levels of performance are nothing new from Milner though. He showed what he was capable of last season when he came top of the assists table in the UEFA Champions League, not just achieving the most for 2017-18, but the most ever in a single campaign.
When Milner's rumoured move to Liverpool in 2015 became a reality, there wasn't exactly universal fanfare. He was well respected in the game, and fans remembered the time he came off the bench to nearly single-handedly turn things around at Anfield in the 3-2 win over City in 2013-14, but there was plenty of scepticism that he would bring The Reds what they needed as they looked to get back to the football elite.
Since then, Milner has gone from strength to strength. First he conquered penalties, then he conquered the left-back position for a whole season, he even managed to conquer Twitter within minutes of joining the social media site. He probably would have finished the Tottenham stadium on time as well if he'd been appointed as project manager.
Liverpool's vice captain can sometimes be the forgotten man. Perhaps his unquestionable reliability counts against him on occasion, but see him on a teamsheet and you know you're getting dedication, creativity and at least one thundering tackle that leaves you shouting "well in, Millie".
Despite the summer additions, he will continue to get plenty of minutes this season, and oppositions will hate that. As a midfielder coming to Anfield, or inviting Liverpool into your home, looking up and seeing Milner on the other team must fill you with a certain sense of dread. "I've got to follow him around all day? I've got dinner plans later."
The man with the big balls is leading by example, and everyone sees it. Particularly Klopp, whose celebration at Milner's fantastic assist for the second goal was quite clearly in honour of that fact.
Impressed? You'd be nuts not to be.
"Liverpool were excellent without getting anywhere close to what they're capable of." ✊

🗣 Listen to our first FREE podcast of the season after the Reds' 4-0 win over West Ham 👉 https://t.co/IK9RpE4ECz pic.twitter.com/HDeu6gGy8k

— The Anfield Wrap (@TheAnfieldWrap) 13 August 2018
Recent Posts:
[rpfc_recent_posts_from_category meta="true"]
Pics: David Rawcliffe-Propaganda Photo
Like The Anfield Wrap on Facebook