THE Reds are top of the league. The wriggly arms are back. What a time to be alive.
Liverpool didn't need to get out of first gear to finish off a West Ham side who were there for the taking, and even a convincing 4-0 flattered The Hammers in the end.
In truth, the game was won by the time Jürgen Klopp turned to his substitutes, but what a selection he had.
Strength in depth is something Liverpool have lacked for too long, but this season (injuries permitting) it looks as though The Reds won't lack for firepower off the bench. There will hopefully be no repeat of Kyiv, where Adam Lallana was the best option to replace the injured Mo Salah.
Klopp can now look towards the likes of Daniel Sturridge and Xherdan Shaqiri for inspiration, particularly if things aren't going to plan.
It took just 24 seconds for substitute Sturridge to show exactly what he can bring to Liverpool this season. His tally now matches that of Dom Solanke and the departed Danny Ings last season in the league, and there's every chance he can reach double figures in all competitions this campaign, even with limited game time.
The change in Sturridge is there for all to see. Not only does he look in as good physical shape as he has been since his best season in 2013-14, perhaps more importantly than that, his mentality seems to have changed.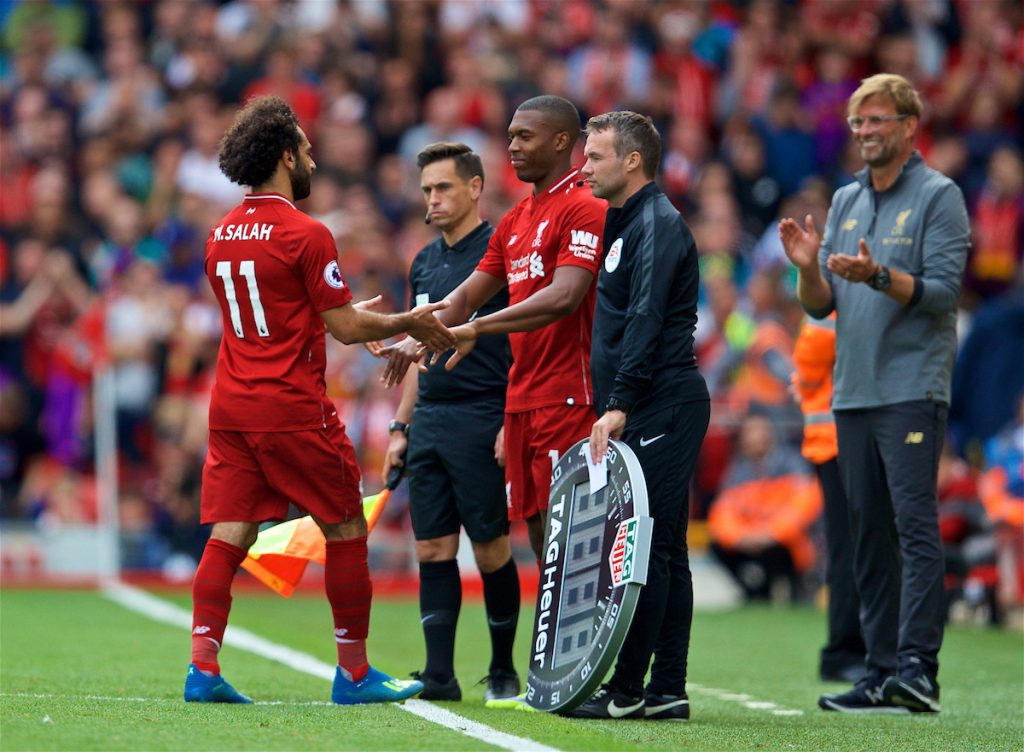 His loan at West Brom will have played a big part in that. It's easy to think the grass is greener elsewhere, but having to spend half a season at a team who couldn't fight off relegation would have been no barrel of laughs. Not the barrel of laughs that being a part of the karaoke-smashing Reds must be.
The expectation is different. Sturridge was once the man Liverpool supporters would look to as one of the side's only real difference makers. Now he provides able backup to an attacking trio who notched 91 goals last term, and new boy Shaqiri among others will be expected to make their own healthy contributions.
Sturridge seems happy that way. In the past he may have craved the limelight, wanting to be the main man and not somebody who played in the shadows of Luis Suarez. But he just seems happy to be a part of this exciting era at Liverpool; aware of the fact that time is running out for him to add to the silverware he picked up during his time at Chelsea.
He appears to have adapted his game to suit the way Klopp wants his players to play. He knows better than anybody the extent to which the long list of injuries he has suffered have taken their toll on the physical side of his game. He's no longer a player that will be able to run himself into the ground for 90 minutes or gallop past defenders at break-neck speed.
However, half an hour off the bench here and there should suit him down to the ground. He still has the ability of a top-class footballer and can be a nightmare for physically and mentally tired defenders. He showed a propensity to drop deeper to get the ball in pre season and was able to pick out passes for more advanced teammates, something which the first-choice Roberto Firmino specialises in. If he can continue the good work of his Brazilian teammate as a backup option, he'll be onto a winner.
Whether you're "all in" on Sturridge or not, there's no doubting the influence he can have this season. His fitness may be patchy but his goalscoring touch will not.
He's off to the best possible start. Let's hope he ends it in the best possible way.
"LIVERPOOL, TOP OF THE LEAGUE, LIVERPOOL, LIVERPOOL, TOP OF THE LEAGUE." 🔥

🗣 Subscribe and listen to our first 'Post-Match Show' of the season, after the Reds' 4-0 demolition of West Ham 👉 https://t.co/lmNtBz4ADz pic.twitter.com/BKuXp3xW6Y

— The Anfield Wrap (@TheAnfieldWrap) 12 August 2018
Recent Posts:
[rpfc_recent_posts_from_category meta="true"]
Pics: David Rawcliffe-Propaganda Photo
Like The Anfield Wrap on Facebook