THERE is a murmur.
The murmur becomes a buzz and then there is a noise.
He is coming. He is coming.
The noise becomes a roar as he is on the sideline stripped and ready. This is acclamation.
The roar never subsides as he fights for a first ball, pops it off, gets in the box and sees his teammate swirl it over. He attacks it and it is there, the net bulging lewdly. The roar explodes. This is fulfilment. This is what they came for. Lightning strikes every time he moves.
It was superstar stuff; it was Beyonce doing Formation at the Superbowl. It was just overwhelming.
It was Mo Salah.
It was pre season but it marked the tipping point, the moment pre season stops being an uphill struggle and becomes a downhill toddler dash towards that first game. The road to West Ham started there.
But it was more than just that. It was the return of the king, it was him with his aura that he developed last season as strong as ever. And it was confirmation that Liverpool have an icon on their hands.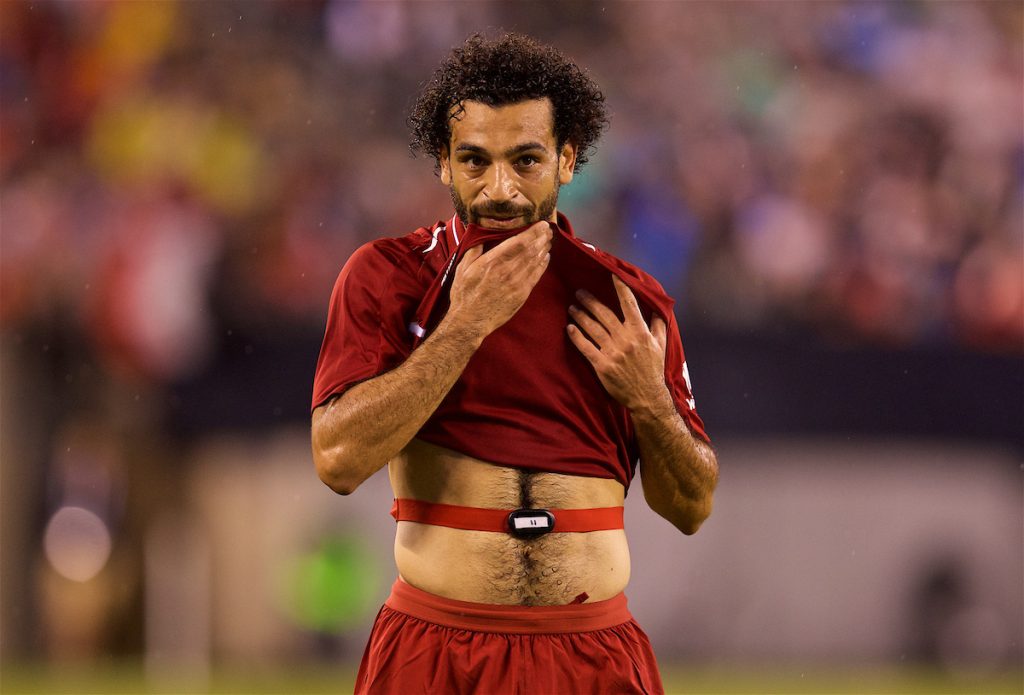 Identity is a multi-faceted thing and Salah has been in the eye of that storm, attempts have been made to exploit and simplify that iconic status. People are multi faceted and we should be suspicious of any attempts to reduce any of us to just one thing. The main fella is an Arab icon, a Muslim icon, an Egyptian icon and a Liverpudlian icon.
His iconic status has come back to us after shifting during the summer and he is not diminished by the final, by the injury or by the World Cup struggle. Instead we welcome him with open arms. He can be who he wants at Liverpool. He can be the player he wants with Jürgen Klopp. He is ours and he is theirs and he may well be becoming the world's. We can afford to share him and show him off. Acclaim him, acclaim us.
Sadio Mane was also not to be denied. He was a whirling dervish from the moment of his introduction. His runs arrowed in off either flank and he ought to have settled the contest from a Salah delivery before he managed to do so from the spot. There was an intent from him. He was direct but agile, an elastic band fired across a classroom.
Rafa Camacho delivered for Salah's goal and he was a constant threat from right back after being introduced. He has something and right back may be a place to demonstrate it. He is pre season's second most interesting discovery.
The first is Curtis Jones. He hasn't been discovered as such perhaps but he has been accelerated. Again he impressed and should have had a penalty, because no Liverpool game is complete without that sentence anymore.
Ben Woodburn also had a good game in centre midfield when introduced. He got out of tight areas with clever touches and moved well from left to right. He relished Salah's presence.
But who doesn't? On an evening when Leroy Sane ran away from Virgil van Dijk and yet again impressed against Liverpool. An evening where Nat Phillips was tidy and Dom Solanke bright. An evening where Liverpool played in a marvellous stadium but on a dreadful pitch. All that mattered, all that was showcased, was the presence of Liverpool's main event. Brought us more than a little bit of razzmatazz.
It took him less than a minute to remind us. The king is back. Long may he reign.
🗣"It's a great moment when the Kop are singing your name."

"I think @Alex_OxChambo was wanting [a song] but I think his name is just too long!"

✍️Subscribe to TAW Player to listen to our exclusive interview with Liverpool left back @AndrewRobertso5: https://t.co/q0tg7SFik9 pic.twitter.com/4q2EjYu2y9

— The Anfield Wrap (@TheAnfieldWrap) 23 July 2018
Recent Posts:
[rpfc_recent_posts_from_category meta="true"]
Pics: David Rawcliffe-Propaganda Photo
Like The Anfield Wrap on Facebook