IT'S not really where fans thought the club would be, writes SAM McGUIRE.
We're into the second week of June and Liverpool have made just one new signing to add to the incoming Naby Keita. The way in which the club tied up Fabinho painted a picture of a team with ruthless ambition – and left many of us excited by the prospect of what might be with Jürgen Klopp and Michael Edwards on the same page
The Brazilian's arrival went under the radar until the very last minute. The £40million signing bolsters Klopp's midfield options and replaces Emre Can as a rival to Jordan Henderson in the centre of the park. It was a statement – Liverpool weren't messing around this time.
It was a good platform to build a successful transfer window on but, now, as the 2018 World Cup gets underway, he's still the only acquisition the Reds have made.
Granted, it's through no lack of trying on the club's part. For reasons unknown, Nabil Fekir's £48million move to Merseyside couldn't be completed. Melissa Reddy gave an excellent insight into the deal on a recent Gutter show but for obvious reasons couldn't give a definitive answer.
https://twitter.com/TheAnfieldWrap/status/1006491048711938049
Many doubt the legitimacy of Lyon's claims that the deal is dead. The fact the Reds seemingly sat out of a potential Thomas Lemar auction seem to back that theory up. The Monaco attacker was a top Liverpool transfer target last summer and reports around the time suggested a £90million move was on the cards if Philippe Coutinho left Anfield before the summer window came to an end.
They failed to act in January despite Monaco reportedly being open to striking a deal for their playmaker-in-chief. According to reports in France, Atletico Madrid saw off interest from Premier League clubs to secure a £56million deal. To an extent, the theory has legs. After all, why would Liverpool not match that offer if the Fekir deal really was dead?
Both are attacking midfielders who can play a number of positions. Both are France internationals with not only the ability to impact the game now, but the potential to improve with Klopp helping them hone their craft. It's a Klopp project if ever there was one and the world has already seen what he can do when he's got a talented player at his disposal.
He helped turn Mohamed Salah from a 15-goal winger into a 43-goal forward feared by all of Europe. Under his meticulous eye, he developed Sadio Mane into a creative force and a consistent threat. The German tactician also aided Roberto Firmino in his transformation from false nine into a bonafide world-class striker.
The possibilities with Lemar would have been endless. But it appears as though the recruitment team made a decision and backed a different player to fill that void in the squad.
No, not with Fekir. His unique skill set makes him somewhat irreplaceable on the transfer wish list. Lemar's alternative might actually be Xherdan Shaqiri. The Times journalist Paul Joyce, amongst others, linked the Stoke City flyer with a move to Merseyside. His £12million release clause means he could be a potential bargain.
Now, the 26-year-old isn't a name to excite fans. This isn't 2012 when he was one of the most sought-after youngsters in world football and Shaqiri hasn't been posting numbers to get people off their seat since his move to the Premier League. In fact, for the most part, he's been decidedly average.
The Switzerland international has 15 goals and 15 assists following on from his move to the Potters in July 2015. But his 15 goal involvements during the 2017/18 campaign was five more than Lemar in Ligue 1.
Of course, that's a crude way of judging players and stats don't always tell the entire story. For context, Shaqiri played just shy of 700 more minutes than Lemar did in the league. That's essentially an extra eight full matches. And while the bodybuilding ballerina was turning out for a side battling relegation, Lemar was playing for a transitional Monaco side. The 2016/17 champions lost Benjamin Mendy, Bernardo Silva, Tiemoue Bakayoko and Kylian Mbappe.
It's stylistically, though, where it becomes clearer as to why Shaqiri might be the reason Liverpool didn't make a move for the former Caen midfielder. The Football Whispers persona model, which can be seen below, picks out characteristics of players and helps piece together a playing profile, of sorts, on them.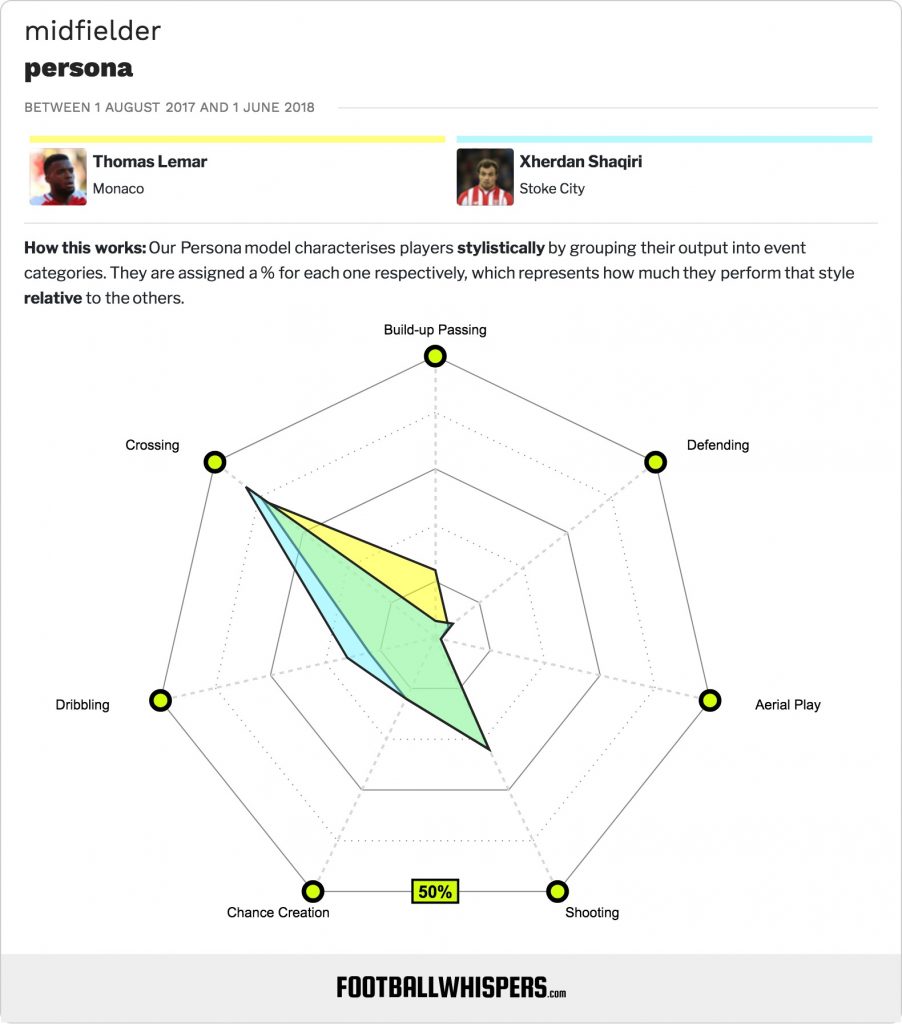 Lemar is more of a passer, averaging 11 more on a per 90-minute basis, but the pair are similar in the sense they're defined as players who like to get the ball into the area, they're dribblers and they could both be described as creators. In fact, Shaqiri comes out on top in terms of key passes (2.03 to 1.76).
Players like Leon Bailey, Ousmane Dembele, Malcom and Wilfried Zaha all come to mind when searching for a Lemar alternative. The former three are potential world beaters and would command fees that would rival Virgil van Dijk as Liverpool's record signing while Crystal Palace are believed to want in the region of £60million for 25-year-old Zaha.
The fifth attacker can't be a project for the Reds, not when the money could be put to better use elsewhere, and they can't be a player who demands regular minutes. But they do need to be good enough to do a job if called upon. Shaqiri ticks the boxes and then some.
He's got a point to prove, he would arrive with European experience and the former Bayern Munich man knows what it's like to win having picked up two Bundesliga titles and a Champions League during his time in Bavaria.
His signing would also allow the club to divert more funds towards a new goalkeeper, perhaps Alisson or Jan Oblak, if the club feel that's the best way to spend the Coutinho and Champions League funds.
The Stoke attacker isn't as much of a step down as many might have imagined him to be. It might be another masterstroke in the market. A back-up forward capable of filling in on either flank for £12million? The Reds know what they're doing and they're getting good at this.
– Read more from Sam at Football Whispers.
Recent Posts:
[rpfc_recent_posts_from_category meta="true"]
Pics: David Rawcliffe-Propaganda Photo
Like The Anfield Wrap on Facebook