THERE are two pieces to be written. There is one which starts like this:
A Liverpool player hits the deck with relief on the final whistle.
We know how he feels.
I hate this: we never do anything the easy way.
I hate that because we don't do easy things. If you want to do things that are at the very pinnacle of your profession they are going to be hard.
We'll come back to that one. We've got time, after all. Getting kept in here. Let's go with number two instead:
A Liverpool player hits the deck with joy on the final whistle. The side are overcome. Virgil van Dijk skips towards us, actively skips. Dejan Lovren explodes beyond him, the pair of them just so, so pleased.
The team want to be next to the supporters, clap with the supporters, sing with the supporters. Trent Alexander-Arnold smiles so widely.
The essence of most sporting magnificence is that it is done by young people in their 20s. It is important to bang on about this because we forget it.
The magnificence is so often precocious; we watch these young people grow in front of our eyes. They grasp a mantle.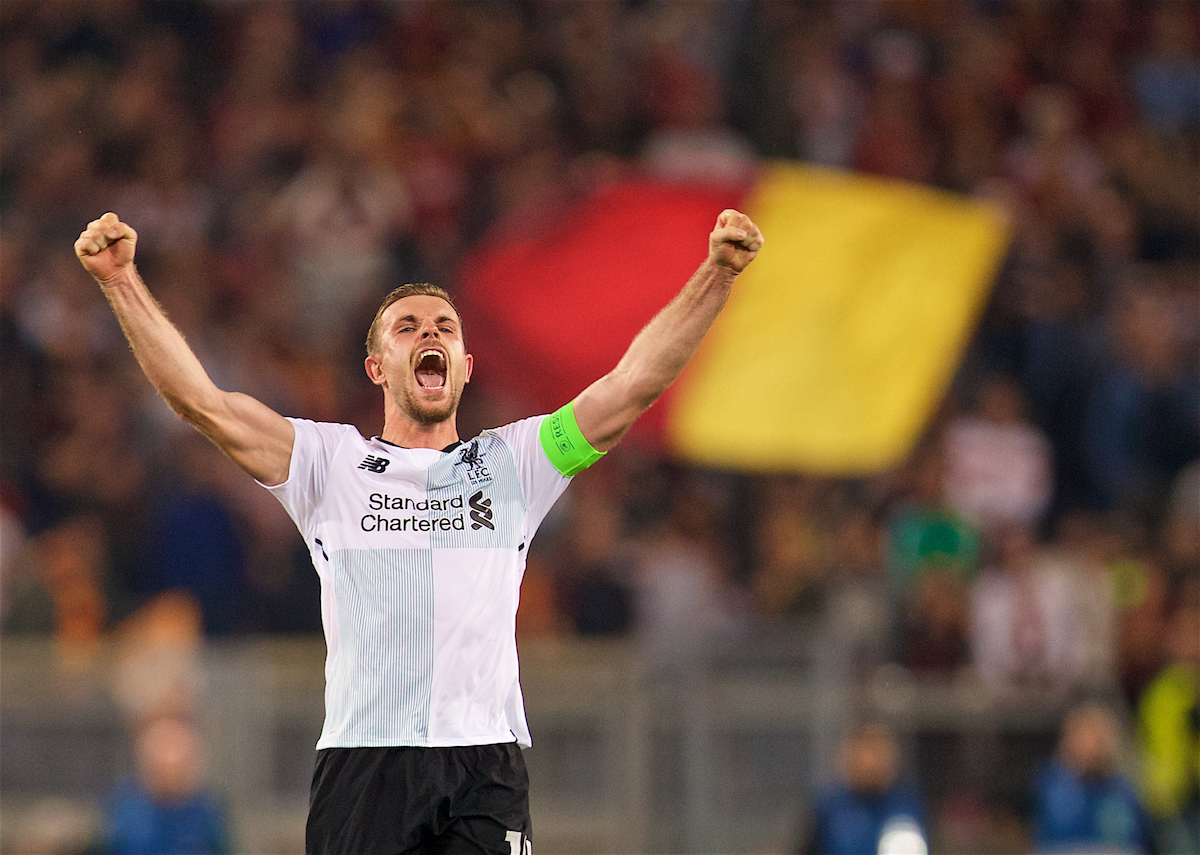 We love them and we hate them and we get frustrated by them and we are jealous of them. And you know what? They mostly feel the same way about us.
What happened after that final whistle was the young men who are the object of our affection made it clear we are the object of theirs. They want our songs and our night out. They want to go bananas with us and for us.
Every player on that football team has had his own journey to this point and one which has been checkered. At some stage they have all been a bit dogeared. Not one of them has been immediately pretty much great. Not this season in some cases, not throughout their Liverpool career in most cases and not through their professional career in all.
For all of them a Champions League final is a personal career high point. Not one of them has been there before.
Our young men in their 20s each had their moments in front of our very eyes after that final whistle, after they went into the dressing room and decided they were in the wrong place. They decided the place to be was with us. And we saw them:
Sadio Mane bursting past the barricade that never was to lose his shit was the most animated example demanding to see the chaos and the carnage of this Liverpool end. Jordan Henderson going out of his way to get the Sean Cox banner and get his team behind it. Trent Alexander-Arnold and Ben Woodburn going off their heads right in front with sheer joy.
And van Dijk. A man who lost half a season to have this second half, a man who oozes this level but who risked it all to embody it.
All this matters. It matters to us and it matters to them. They are human beings and they have had this journey and it has come to this point and there they are and there we are and that is the whole enterprise at its absolute purest. We've all been a bit dogeared, you know. You are in awe of pristine brilliance. But you fall in love with dogeared. There they are. There we are.
There we are. The place to be. The beginning, middle and end of the matter. You better believe it.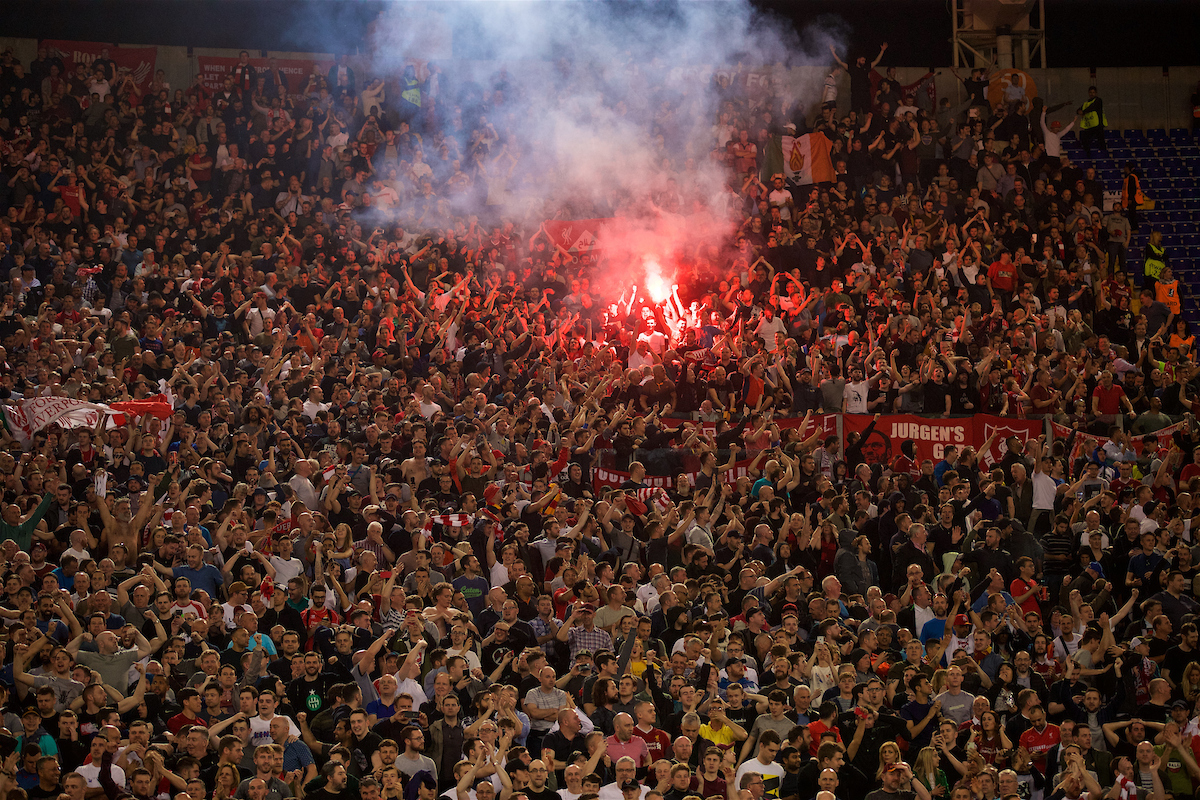 Where were we?
It shouldn't be easy. That is the point of sport's greatest tests.
Let me level with you — it was some atmosphere Liverpool had to play in tonight. It was a cauldron which needed a performance and Roma started playing like they believed they could fulfil that need.
Being fair they did. They beat Liverpool 4-2, they made it as hard as it should be to reach European football's ultimate test. They found their way to make our lives difficult.
They played the bounce brilliantly. They caused chaos and looked to profit from it. They found their marginals and exploited them while playing on a high wire. They actually reminded me of Burnley second half — creating endless 50-50s and personal battles and hoping to win the majority of them, win the ones that matter.
They nearly did. And yet they needed to bridge a gap of three goals and only began that process on 85 with Radja Nainggolan's unerring low drive.
So much of what proceeded that involved a combination of watching clocks and watching ricochets. Roma were committed wholeheartedly to the mixer and Liverpool were committed to the tackle. Jordan Henderson had a far better second half than first.
The end was edgy. The first half had been a series of roared songs, glorying in Liverpool's lead both on the night and across the tie. But the second was a parent watching an eight-year-old on his first proper rollercoaster. You know it will fundamentally end alright, but it's no fun to see someone you love be tossed and blown.
But the golden sky came, the referee blew and Liverpool triumphed. Liverpool joyful and triumphant.
You better believe it.
There's a third piece. It's about Rome and it's beauty and how it is just right that History FC triumphs here. How round every corner you can fall in love, have your imagination run away from you, be overwhelmed with its tastes and decadence. Rome has heft. So do Liverpool Football Club. We can just do this, do this in a way our peers ache with jealousy about. We can do what they cannot, we find ourselves in yet another European Cup final when they have been in so few.
A fourth about Rome thus far at the time of writing embracing us prior to matchday. A fifth about this manager and how his philosophy underpins 4-2 defeats that are simultaneously wins. A sixth about Liverpool doing the business when both Roberto Firmino and Mo Salah were off the boil. A seventh about Liverpool being gnarly and Andy Robertson pushing people over. An eighth. A ninth.
There is too much to count, too much to see, too much to know. Football will never cease.
But know this — Liverpool are in the Champions League final.
Kiev. May 26.
We're never going to stop.
You better believe it.
"To be back in a Champions League final when most of the last ten years we haven't even qualified." 👊

"It is a remarkable turnaround." 👏

🗣 Subscribe for all of our reaction to the Reds reaching ANOTHER European Cup final 👉https://t.co/eTmRQkhp95 pic.twitter.com/lTm1UVkWMl

— The Anfield Wrap (@TheAnfieldWrap) May 3, 2018
Recent Posts:
[rpfc_recent_posts_from_category meta="true"]
Pics: David Rawcliffe-Propaganda Photo
Like The Anfield Wrap on Facebook