THERE are fewer long-standing social cliques in the city of Liverpool than those who are or have been allied in some form to the amateur football scene.
Liverpool, in many ways, is a city which very much acts in the form of a community. There would be no night out with friends without bumping into someone you who have previously played with or against, recounting the clashes you've had and the talented lads you've shared a pitch with that "should have made it".
This would always be encompassed in the Liverpool Echo's amateur football Saturday writeup. You would pick up the paper and go straight to that section each week, looking at the league results and standings while secretly hoping the photographer had turned up to your game one weekend unnoticed and you had been snapped mid slide tackle or a headed duel you came out on top of.
My own career, if you like, was fairly average. A few good league and cup wins to my name, but I was never really good enough to make any kind of significant step up. I, like many others, lamented injury, but the truth was that, apart from my cultured left foot, I had very much found my level.
However, my path was in many ways different to others. From the age of 15 I was playing open age for my local side. In the space of a couple of years this side went on to be the best amateur football club in Liverpool and the north west, going on to win local and national cups by the score, due to the wealth of local talent and players who had previously been at professional clubs and had fell out of that level for whatever reason. This was my education, my development as a footballer playing competitively.
Like everything, it didn't last forever. I moved around clubs, getting what I needed from football while becoming more socially active on Friday and Saturday nights. Yet, no matter the level I played at after my early years, it always felt like a drop down. I knew I had already played to the highest possible standard amateur football had to offer and as a result knew that anything else didn't feel as challenging or exciting.
I've been thinking of this during the past few weeks of watching Liverpool. More specifically of how a young and inexperienced footballer being put in a sink or swim situation at the very highest level can make or break them. Often this situation occurs through pure chance or circumstance, other times the player just seizes the example handed to him.
There are countless Liverpool examples of this down the years. For every Jamie Carragher there's been a Jon Otsemobor. For every Jordan Rossiter there is a Trent Alexander-Arnold.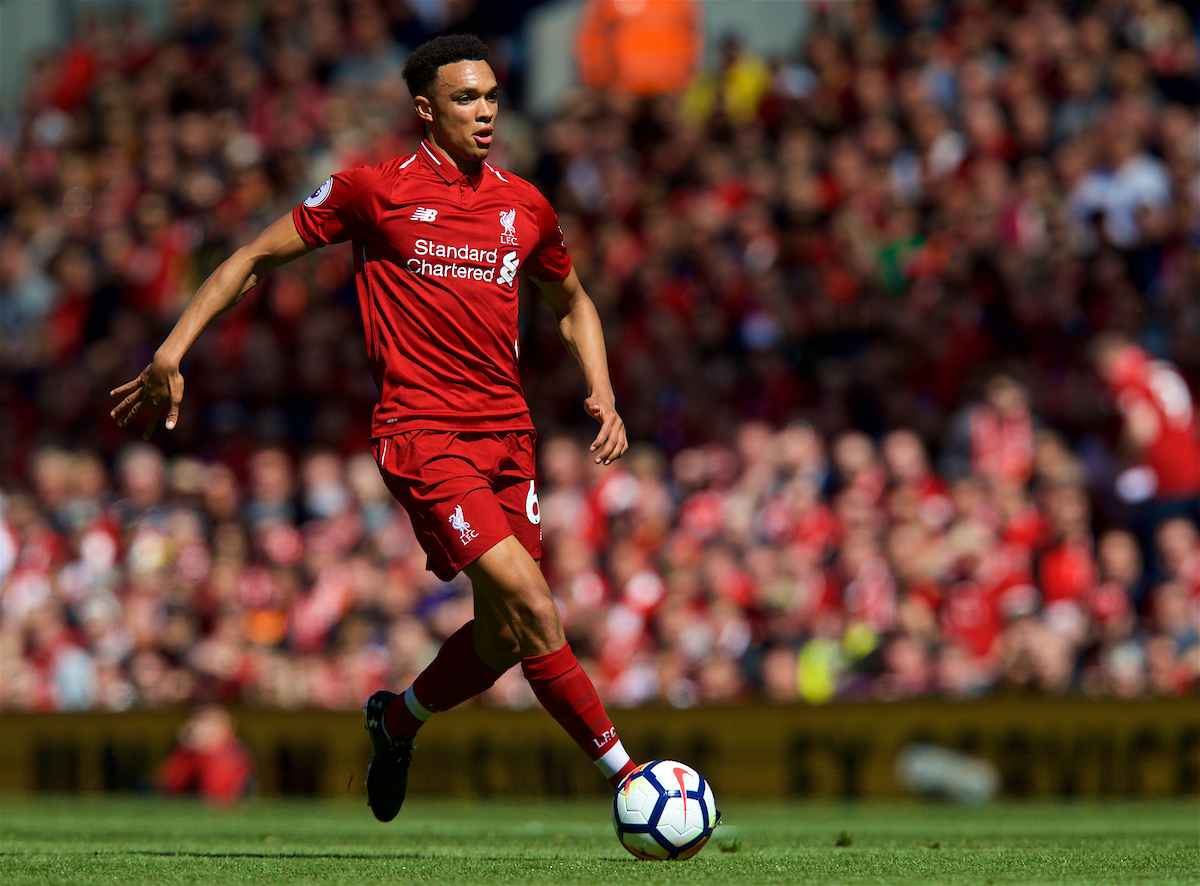 Trent's performances this season have gone from strength to strength. With each passing game he has, in the main looked and performed more comfortably in a senior Liverpool shirt. A player with an addictive sense of energy both on and off the pitch, you feel Trent has now very much set his level as the very top and refuses to lower those standards under any circumstances.
In many ways, this season has been the perfect storm for the young Scouser. An unfortunate injury for Nathaniel Clyne left a void for himself and Joe Gomez to undertake some much-needed development and help Liverpool achieve their aims for the season and, as it has transpired, beyond.
Both players have proved themselves to be good enough to make the grade, with Trent you feel looking more and more suited to the type of versatile characteristics required from a full back in a Jürgen Klopp team as the campaign has progressed.
His maturity was encapsulated in two extremely mature and brave performances against Manchester City in the Champions League quarter final. Often targeted as a potential avenue for teams to exploit Liverpool during the season, Man City over the two legs was no different.
With Leroy Sane hugging the touchline and City often teasing the big diagonal, Trent could have easily been drawn out to the threat of the German attacker and in doing so, leaving the gap in between himself and Dejan Lovren that City had really earmarked for the third man run of David Silva.
The Reds' right back was wise to this from early on and allowed Sane to hang wide, only shifting out to him when he had control of the ball and was a threat, and when doing so often coming out on top of the one-on-one duel between the two.
You feel that this is the perfect environment for Trent to flourish in, also. A team embodied by its manager, who all look after him and each other, who all understand that they are all doing their best and that there is a huge human element to all the madness that surrounds them.
You feel very much that the players are educated in how to understand themselves as people first and footballers second. This type of environment will only serve to aid the youngster and the unique situation he finds himself in at such a tender age.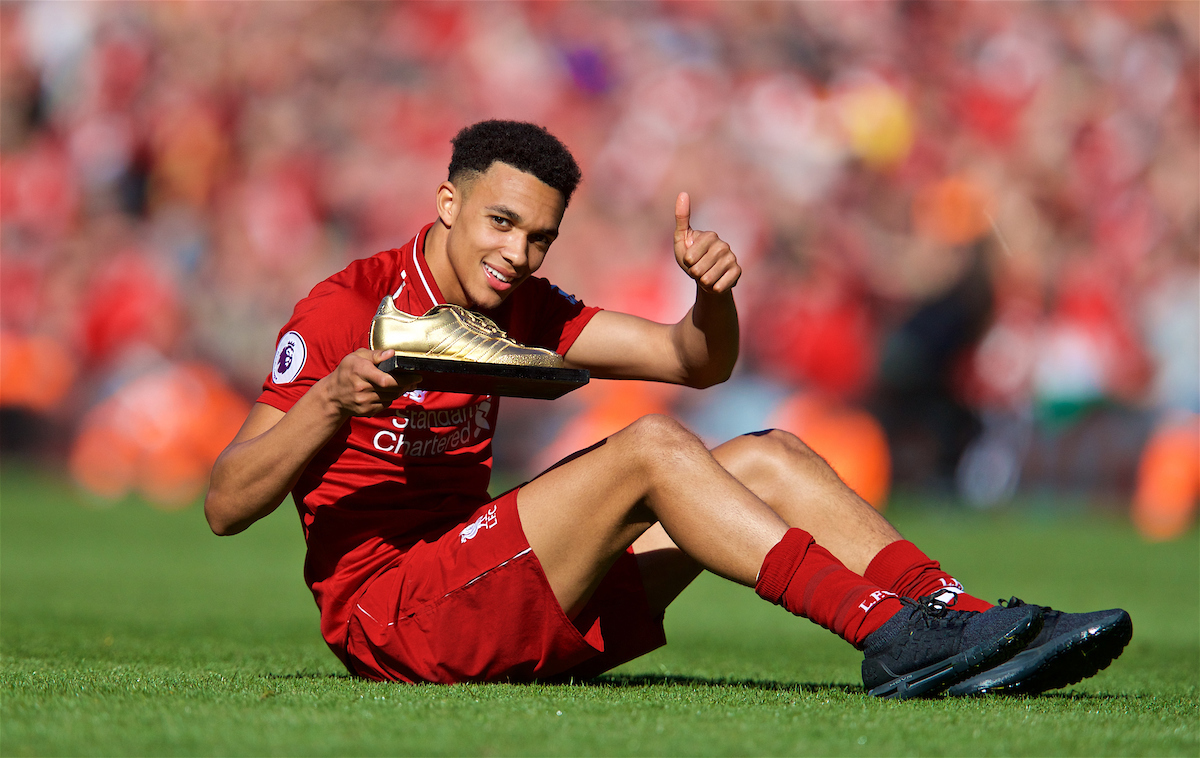 Of course, being a local player adds extra significance to anyone who forms part of the makeup of the team. We will always look to these players to be catalysts and embodiments of all that we deem essential on and off the pitch. However, things feel slightly different with Trent. There has been, you feel, a sense of awareness not to heap too much expectation on his shoulders too soon.
This is also a reflection on his character. You can see that he has all the love and passion for the club we yearn for in a player from our streets, and off the pitch he has already shown an awareness of the supporter causes and social values we hold dear.
Yet he possesses a more relaxed demeanour about the whole enterprise than you feel some local players haven't in the past and have maybe struggled with at times.
The example of Steven Gerrard is relevant. Arguably the best player to ever play for the club, yet the burden you felt Gerrard possessed because of what Liverpool meant to him personally was occasionally to his detriment.
This is important when talking about Trent's development and future at the club. The fact is that he doesn't need to be a future Liverpool captain, and nobody is pressuring him to. The club and squad is healthily packed with leaders of multifarious nationalities and cultures who "get it", therefore Trent is free to become whatever he wants to in a Liverpool jersey without any kind of unnecessary local flag bearing.
It is Trent's character and mentality that ensures that being in the starting 11 of his beloved Liverpool's eighth European Cup final, and now heading off to his first World Cup this summer, will not daunt him or alter his character or personality in any way.
Watching him this season has reminded me of how I once felt playing football in this city. To feel relevant and encapsulated by a place that breathes this game on every level, from the Premier League down to the Liverpool Sunday Business Houses league, and knowing what it means to everyone who holds it dear. Trent, in his words, is "just a lad from West Derby" and is following in the footsteps of all of us by playing the game he loves.
He is playing his game at the very top level of world football and isn't going anywhere, anytime soon.
What a season for Trent Alexander-Arnold 🔥

19 years old ✅
Champions League finalist ✅
World Cup squad ✅

🗣 You can listen to our exclusive interview with @trentaa98 in full here 👉 https://t.co/uTOhui00KH pic.twitter.com/VuCEMOm7ku

— The Anfield Wrap (@TheAnfieldWrap) 16 May 2018
Recent Posts:
[rpfc_recent_posts_from_category meta="true"]
Pics: David Rawcliffe-Propaganda Photo
Like The Anfield Wrap on Facebook