YOU see the pictures and the footage from the glory days, writes RACHAEL HUNTER.
You hear the stories from those lucky enough to have witnessed it first hand and it only serves to increase your desire – your pining – for your very own slice of history.
I was only 12 in May 2005 and I hadn't yet made my matchgoing debut, so I couldn't quite appreciate it in the way that I have the road to Kiev, but I could still feel the magic in the air and it felt very much like it does now.
There's been a bit of discussion about omens; winning the quarters 5-1 on aggregate just like in '84, knocking out the Premier League champions just like in '05 etc. But on top of all that, there's just a feeling. An indescribable feeling among supporters that The Reds are on the cusp of something special.
Before a ball had even been kicked against Roma, people around me in The Kop were asking me if I'm going to Kiev. Not "do you think we'll get there", or "if we get there", just "are you coming?" I love that. The swagger of old is back, on and off the pitch, and rightly so. We've answered every question asked of us and then some.
Allez, Allez, Allez feels like it's the soundtrack to success in the vein of Ring Of Fire 13 years ago. I go round the house singing it, I hum it on the train, I absent-mindedly murmur it in public sometimes and I don't care.
The power football has to make people happy is immense. I've been fortunate enough to have experienced some special nights over the years; nights where you come home exhausted and hoarse and aching all over, with memories to cherish. Those are the best nights.
That moment when the net bulges, the ground rumbles, 50,000-plus Reds let out a collective roar of pure unadulterated emotion and it all goes mad around you. A random arm grabs you round the neck and shakes you; others slap you on the back like they've known you all your life.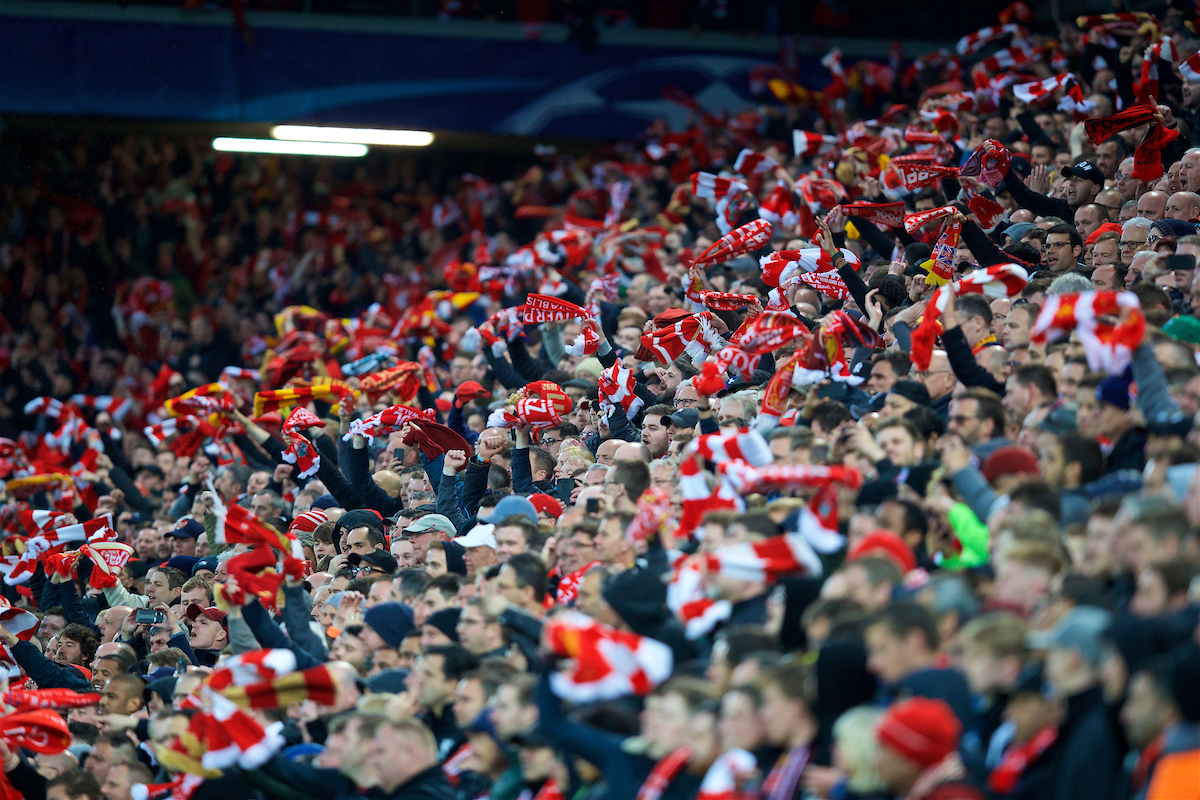 You're falling over yourself and you might get an elbow to the head but that's a small price to pay for everything you're witnessing. Songs are sung, scarves are waved. If the occasion calls for it, pyro fills the air. You don't want it to end and can't wait for the next game in equal parts.
That's what it's all about. Ninety glorious minutes of escape, where you leave your problems at the turnstiles and where, for those 90 minutes, all that matters in the world is The Reds getting the win.
This European campaign has been great for games like that. FC Porto. Manchester City. AS Roma.
Madrid? Let's hope so.
Back in July I went to our pre-season friendly at Wigan (which by the way was a great little trip – the party in the concourse was boss and the train home was funny as well) and it was on that train home that a fella, upon seeing a little girl wearing a red coat adorned with Liverpool badges, said to her: "I like your coat. Make sure you wear it to Kiev in May."
The kid laughed. The dad laughed. People around us laughed. It was a throwaway comment, one that nobody really gave a second thought to.
Well it's May. And it's Kiev. And The Reds are there. How amazing is that?
At the start of the season my stance was to just get through the group stage so we didn't have to get lumbered with the Europa League. I didn't want to expect too much. After so long without Champions League football, it was great to just be a part of it, to hear the Champions League music ringing out at Anfield as it rightly should. Baby steps and all that.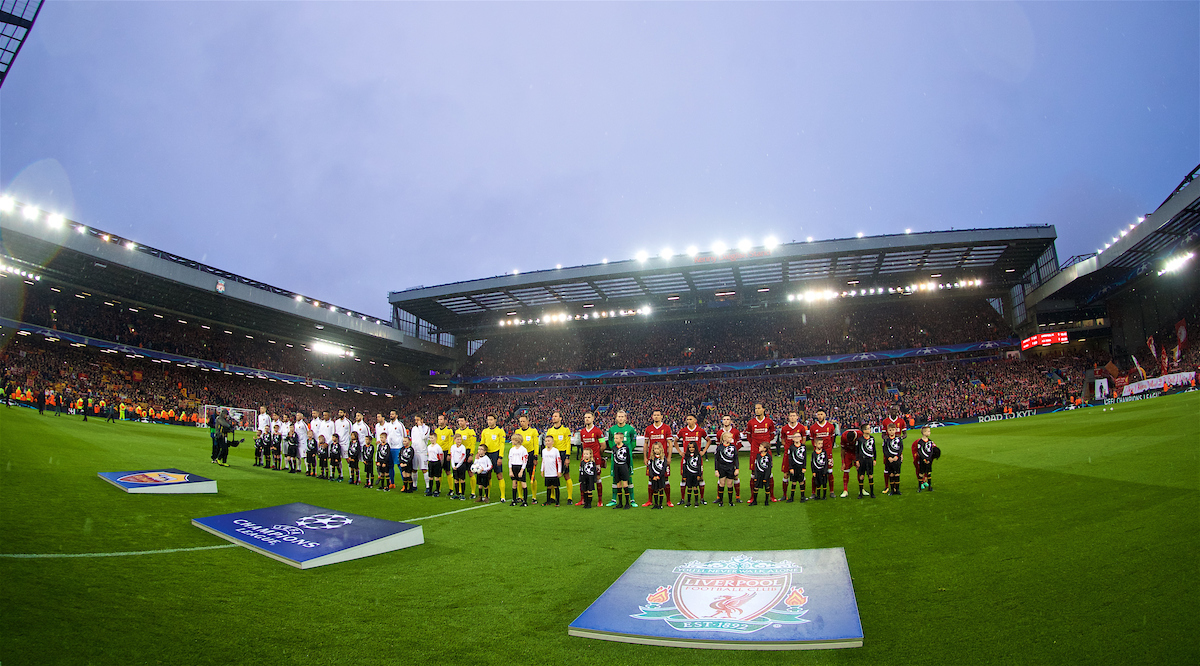 But The Reds had other ideas. They aren't taking baby steps, they're leaping and bounding towards that final and they've blown away everyone in front of them in spectacular fashion.
Once the group stage was successfully navigated (with a pair of 7-0 victories along the way) next came Porto where, as the song goes, we twatted them 5-0, before bringing them back to Anfield for what was effectively a training session. It made a nice change from the usual heart-in-mouth stuff that we've grown somewhat accustomed to.
I had to watch the quarter-final draw with a bitter, who was delighted when we drew City, as they all probably were. Probably had a lock in with their Manc bezzies in The Brick. Again though, The Reds weren't arsed.
We knew we had more than enough to trouble them, and we were right. The only time I feared for us was when we conceded in the opening seconds of that second leg and City had a bit of momentum, but we weathered that little storm and we thoroughly deserved to progress over the two legs. The 5-1 aggregate scoreline reflects that. They'll obviously have a whinge at the referee but the fact is they couldn't live with us.
The favourites duly eliminated, and only two games between us and Kiev, it was all starting to get real. People were booking flights and accommodation and planning routes into Ukraine. People were daring to dream.
I met my cousin at the ground for the first leg against Roma. He'd just been to greet the coach and couldn't wait to regale me with his tales. Apparently he was sneezing pyro. Words like "scenes", "fucking boss", and "mad" were used a lot. I love seeing his eyes all wide and his face full of awe and excitement. We took him to his first game when he was eight and he's now 17. He doesn't remember Istanbul. He was five then. He's sat through some shite in recent times; we all have, so I've loved getting to share this journey with him.
He's had us in Kiev since the Hoffenheim qualifiers, and as if this season wasn't enough, the other day he messaged me the details of the 2019 final in Madrid and put: "Reckon I book it?" You've got to admire that kind of unwavering optimism.
We both sung our hearts out on yet another memorable Anfield night. One foot in the final. I spent the next week watching highlights of the truly beautiful football we played that night and doing very little else. What a time to be a Red.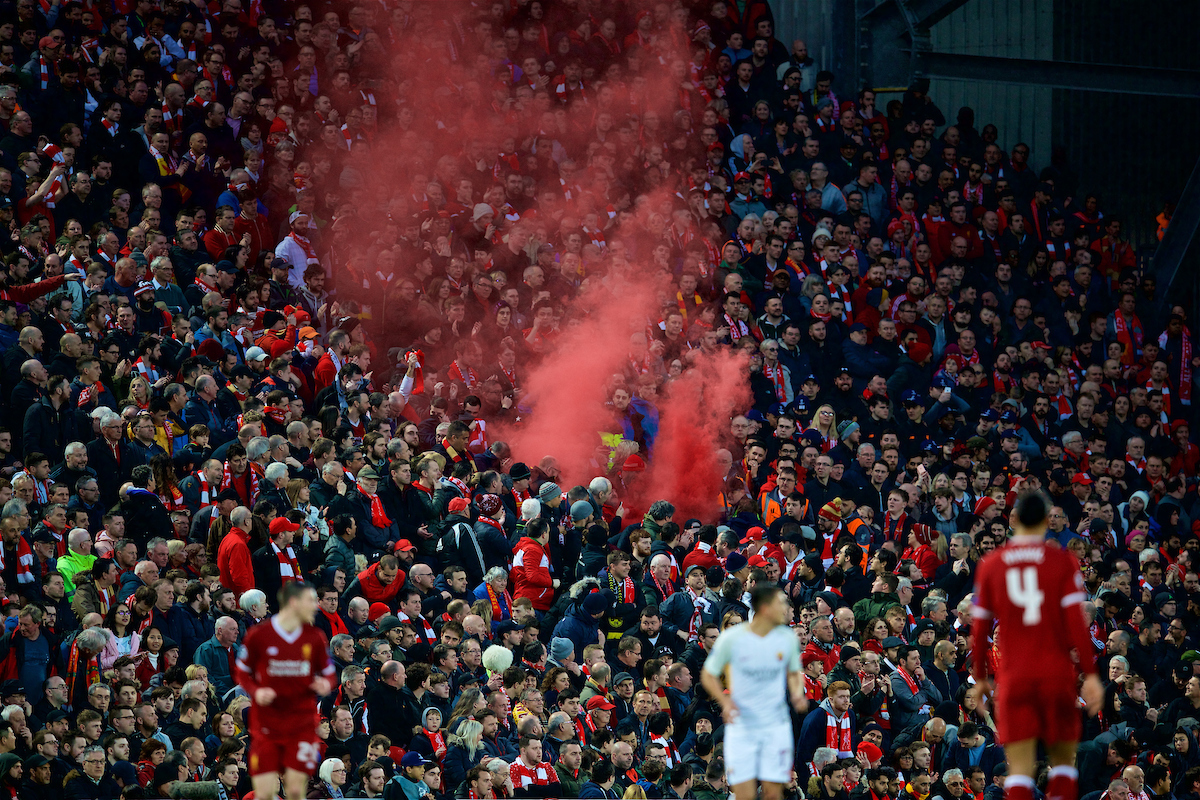 I watched the second leg in a pub in town and had a boss little time surrounded by great people, soaking up the moment, trying to digest the fact that everything that was happening was indeed happening, and not just in my dreams. My nerves were a bit shot towards the end, but at the sound of the final whistle the party that had been in full swing throughout the match anyway could officially kick off. In Rome, in Liverpool, in every far-flung corner of the world.
That's the magic of it all. The joy and euphoria it brings. The memories it creates.
This season has already given so much. I feel like the customary lap of honour really was a lap of honour in every sense of the word, and that's something we haven't always been able to say of late.
There was a weird feeling on The Kop a week last Sunday, though. As the players made their way around the pitch and George Sephton played You'll Never Walk Alone in the background. I got a bit emotional and didn't really know why. Probably my brain wrapping itself around the enormity of what lies on the horizon, and how amazing it is to be a part of it.
It's the end of the season, but it's not. There's room for one last push. As supporters, turning Kiev red. As players, running themselves ragged for the shirt. As a collective, tumultuous, unyielding, driving force, there's room for one last push.
This isn't the end. It's just the beginning. The Reds are coming up that hill, and that gang of cocky, arrogant, entitled, T-shirt wearing bastards won't know what's hit them.
Up The Reds.
"We've been to Hoffenheim and Maribor, Moscow and Seville…" 🎶

🗣 Subscribe to #TAWPlayer and listen to all of our Champions League buildup and reaction as the Reds look to make in number six 👉 https://t.co/yd76hpKGhg pic.twitter.com/SDqy0bNd8f

— The Anfield Wrap (@TheAnfieldWrap) 18 May 2018
Recent Posts:
[rpfc_recent_posts_from_category meta="true"]
Pics: David Rawcliffe-Propaganda Photo
Like The Anfield Wrap on Facebook