immortality

noun

the ability to live forever; eternal life.
SO, here we are. On the brink of immortality. The doorstep to eternity.
I've been writing this for weeks. Thinking about how to start it, what it should say, how to follow articles that I put everything into for the quarter and semi finals.
So many songs. So many lyrics.
This will all be remembered and the promise of immortality brings its own pressures.
Have you thought about it? Have you ever considered your legacy?
I'm approaching 40 years of age, so maybe it's a natural thing, but I've started thinking more lately about what I'll leave behind when I'm gone. Will I be remembered? Will there be any trace on this planet that I was ever here after my brief appearance?
I've thought about those whose names we all know. Legends.
Names that go down in the pantheon of history. Why are they remembered? What did they do?
It only dawned on me after a long drinking session that I already have my own small piece. My own tiny little section of immortality.
Istanbul.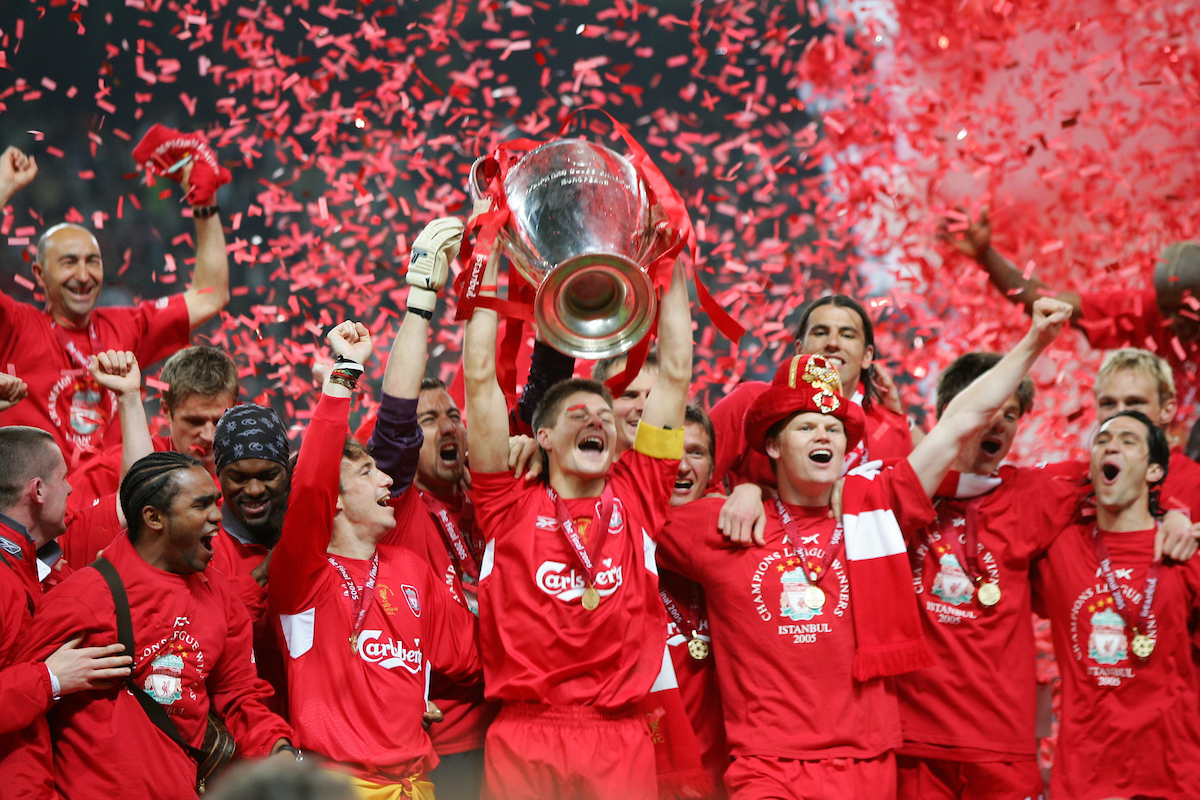 I took a banner. A mate said a line to me after a game of five a side and I asked if I could turn it into something. I spent days in my dad's garage. Letter by letter. Piece by piece.
"Super Croat Igor Biscan used to be atrocious."
It's now in books. Recorded as a pocket-sized part of an incredible story.
I took it to an evening with Rafa Benitez and held back in a queue until the very end to show it to him. They told us we couldn't get anything signed but I'm not one for following inconsequential, arbitrary rules. I told him quickly what it was and thanked him for the greatest time of my life.
I'll never forget what happened next. He put his right hand on my left shoulder, looked me square in the eyes and said:
"No. Thank you. For this."
Then he waved away the security guards and signed the banner. My own modest piece of immortality. Still carrying the dirt of that famous landscape. I refuse to wash it. I refuse to fix the bits where the letters are falling off.
Eternity.
It will be remembered long after I've gone.
In 50 years someone somewhere will look back over Liverpool's history, as we do now with St Etienne, Rome '77 and Paris '81, and say "remember that banner?".
Remember it on the side of a bar in Taxim Square. Remember the lad sitting in a tree. Remember how the pubs didn't expect so many people and served us, Alan Partridge style, with whatever receptacle they could find.
Remember the walk to the stadium. The cold air. The early goal. The moment when we thought we'd all been fools to think this was written in the stars.
Remember the half-time rendition of You'll Never Walk Alone.
Even as I recall it I wonder if I'm making it up. But I'm not. It happened. I was there.
As if as one, 40,000 Liverpool supporters picked themselves up from the depths of despair, 3-0 down to one of the greatest sides you'll ever have the luxury of seeing in the flesh, and sang. It started slowly. A few people. A brave few souls, picking those around them up from the floor.
And it grew. It built and built, into the bastion of invincibility a visionary once described. It started as a sad, almost mournful version of the great song, but soon changed into a roar of defiance.
All of us. Together.
We didn't know then if they could hear us. I'm still not sure now if they could. Some stories say yes, some say no.
But the AC Milan fans could hear us. They could hear an army of people refusing to give up on their dream. Refusing to be beaten. They'd never heard the likes before. They said afterwards that doesn't happen in Italy, their rivals would have gone home. It doesn't happen in Spain either, or in most parts of England.
This is different. We are different. We are special. I've said it before and they laughed. I told you we were unique and they mocked.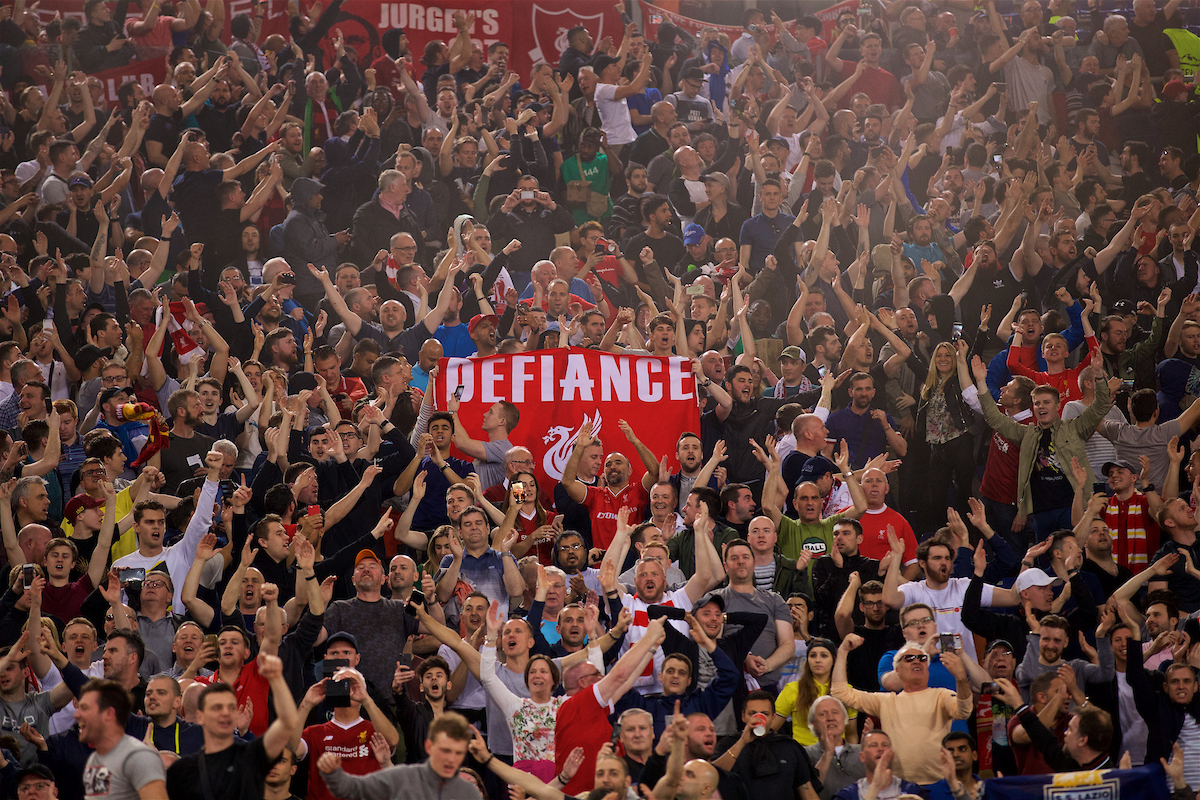 Then we destroyed their league champions. Their record breakers. Ripped them apart. Tore them limb from limb. Devoured them.
We are special. Never let them convince you otherwise.
They will never have what we have. Never forget that. This has been built over generations. Like great empires of the past. Stories handed down from grandparents about what it was like before. Grandkids writing their own stories. Their own songs. Their own adventures to add to the record books.
Your own piece of immortality.
If you've been reading these pieces along this incredible trip, you'll know I've been saying how it doesn't matter whether we win or lose, it's all about the journey. It's all about enjoying your life to the maximum, regardless of the result. It's still true generally. Mo Salah said in his CNN interview via the Anfield Wrap that this is just the beginning and Rio Ferdinand said as an ex-Manchester United player that this is frightening.
For the future they're all scared.
But this matters now. This Saturday. This game. This 90 or 120 minutes is what separates us all from eternity. They don't remember the beaten finalists. I took a banner to Athens which was more polished than the Istanbul one. But no one remembers it.
We lost.
We were the better team that day, but the fates decided that AC Milan owed us one from 2005, and I think we all thought that deep down going into the game.
But we don't think that now. Now is our time again.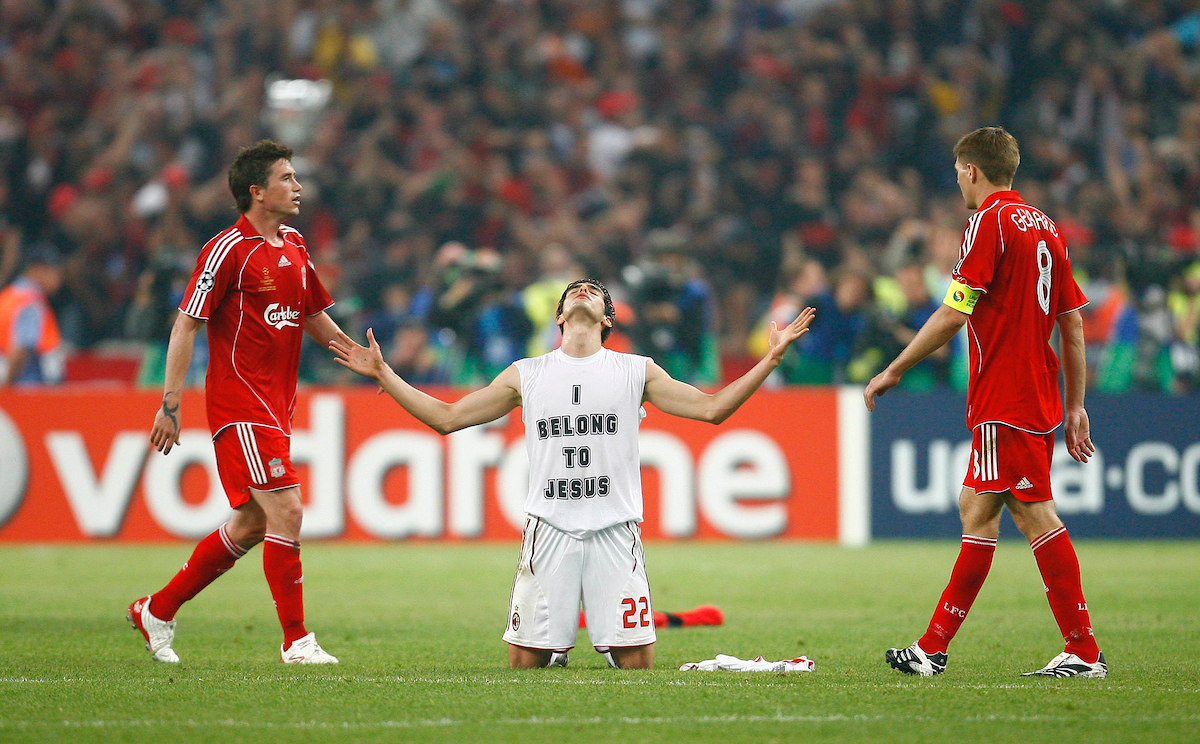 Now is the moment when the world shifts on its axis. The old establishment moving aside for the new, vibrant youth with ideas above its station. With dreams of how the planet can be better for everyone, not just the select few who set up their own tournament and win five trophies before anyone else can play.
They underestimate us. I wouldn't have it any other way. We're at our most dangerous when they don't recognise our power. When they think we're just a gang of jumped-up kids having a nice day out.
But they won't think that when they look into our eyes. When they stare into our souls and see what stares back. We will not be beaten. We will not submit. If they want to beat us they're going to have to destroy us. To beat us into the ground until we can't go on.
But we'll still get up. With a determination and stubbornness that exists only in certain pockets of the world. In a select few. In the special ones.
They hate it, but there's a reason we're remembered. There's a reason we'll always be talked about in the same breath as Real Madrid, Bayern Munich and Barcelona. The greatest of clubs. The legends.
Are you creating your own piece of history? Your own little section of immortality?
You should. You owe it to all of the people who went before. The lad who made the Joey Jones banner. The lad up a tree in Turkey. The hordes on trains to Rome when there was no other option to get there.
What's your little part of the story? Make no mistake. This will be remembered. You will pass this chapter on to your grandkids.
"Tell me about Kiev in 2018 again," they'll say, misty eyed. Dreaming about what went before. Disbelieving that this could all be real.
It will keep them going. It will remind them on their darkest of days that there is always hope. There is always another day. Another hour. Another minute. Another opportunity to change their lives, to pick themselves up from the floor and to go again.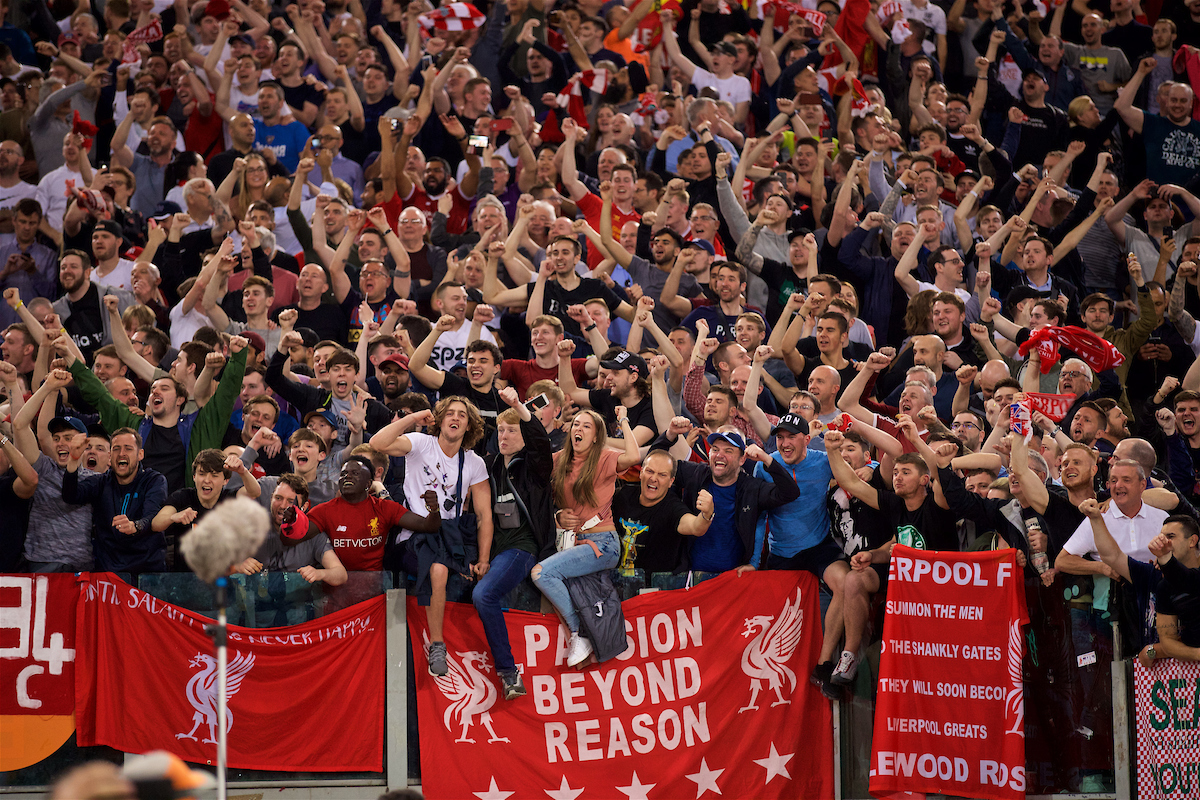 We might need that spirit at some point in the Ukrainian capital. They're good, this Real Madrid team. They have one of the greatest players to ever participate in the sport. Love him or hate him, you have to respect him. He could score a hat trick of overhead kicks, that's how good he is.
Just never forget how good we are. Even if we're 3-0 down. Remember what went before. Remember the stories, the fightbacks, the drama.
The universe wants us to win. The universe needs stories like ours, to remind everyone why it's worth carrying on. Life is tough, it's not meant to be easy. It's meant to be a challenge. Lots of people struggle with it, and that's OK. What matters isn't the struggle, it's what we do on the other side. We all fall down. It's getting up that counts. Failure can't deal with persistence.
I'll always get up one more time. We'll always get up one more time. Together. Helping those around us get to their feet when they thought there was nothing left. A family. A team. Winners.
True winners know how it feels to lose. To go to the brink and to pull themselves back. To rebuild. It's less than 10 years ago that this great football club was on the brink of administration. Infighting ruled. It was not a happy place. Back then I was going to make a banner from one of my favourite song lyrics of all time to make my own point about the ruins our then owners had left us in.
"If I hadn't seen such riches I could live with being poor."
It's poetic that the song from which those lyrics come is now the source of such joy in our ranks. A melodic symphony on which we've helped to carry our new hero to places we could only dream of when our club was in tatters.
If you'd have asked me about that song lyric when I was younger, I'd have told you it was about money. The rich and the poor. The haves and the have nots. But I don't believe that anymore.
Wealth is measured in far more than pounds, dollars and dirhams. Some of the most miserable people I've ever met had more money than they knew what to do with, and some of the most joyful souls I've had the pleasure to encounter had nothing beyond the money for their next drink in their pocket.
Many of us going to Kiev will be closer to the latter than the former, and we're the richest people on the planet right now. No amount of money can buy what we have. No lottery win or pay rise at work can substitute for all of this. It's priceless.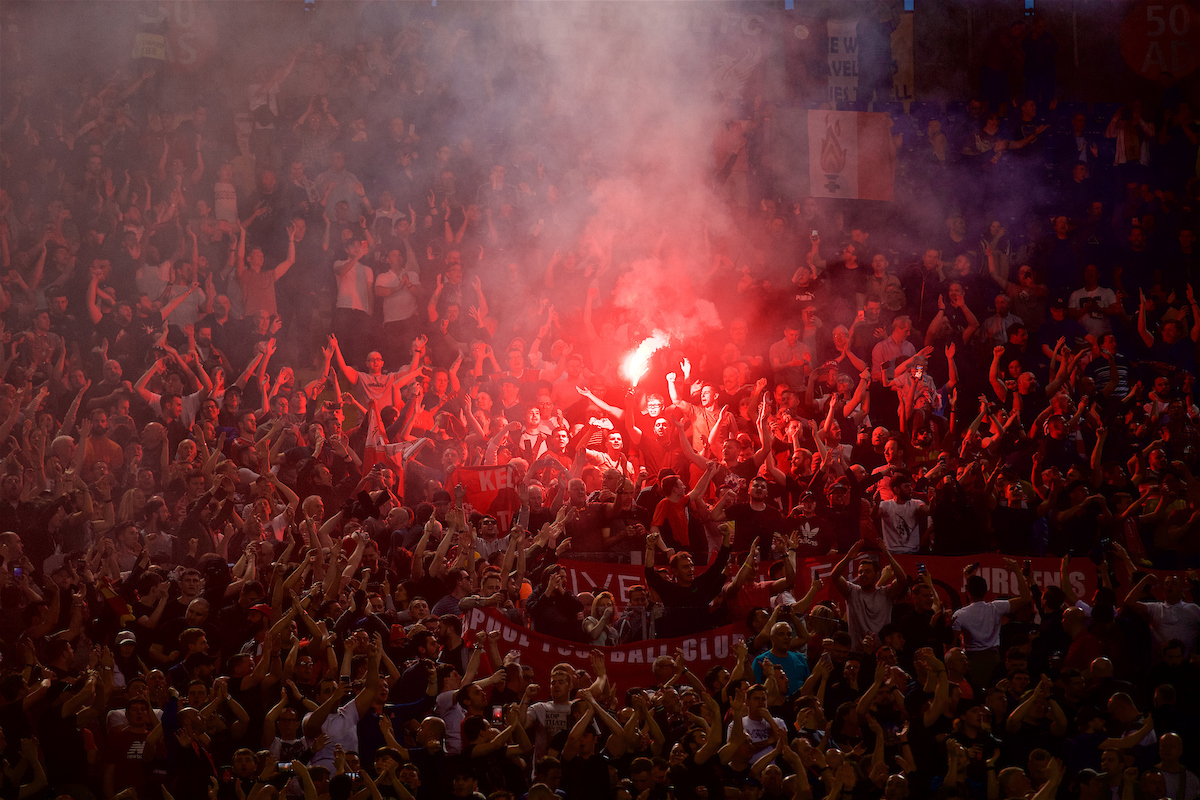 Money can't buy you love. Friends, family, memories, laughs, songs. That's what life is about.
Joy. Unconfined joy. Allowing yourself to be carried away on a tidal wave of pure emotion. To feel your chest fill with hope.
Some say it's the hope that kills you. Don't listen to them. They're wrong. It's the hope that we should all be in it for. Better to have loved and lost than never to have loved at all. Better to have known what it felt like to be so high, even if it means that we inevitably have to come back down. Whatever happens, they can never take this away from us.
But this isn't a time for thinking about anything other than victory.
I stood in the stands in Istanbul, victorious. Arms outstretched, singing Freddie Mercury at the top of my voice. Belting out Tina Turner like there was no tomorrow.
Imagine it.
Picture yourself, wherever you will be, arms aloft, feeling the energy of history washing over you like nothing you've ever felt before. Picture the images. The red tide bouncing to the anthem of our new Egyptian King. Revelling in a French chorus. Rolling around the aisles, laughing. Looking at each other not knowing quite how to enjoy this moment enough. Hugging. Embracing strangers. Crying. I'll cry this time. I'm more emotional than I used to be, and I'll cry with pride.
It's within reach. All we have to do is take one final step. The most difficult one. A leap of faith.
I know that some of you are afraid and I understand why. My favourite thing to do whenever I fear anything is to ask myself what's the worst thing that can happen, and it's usually never as bad as our imaginations would have us believe.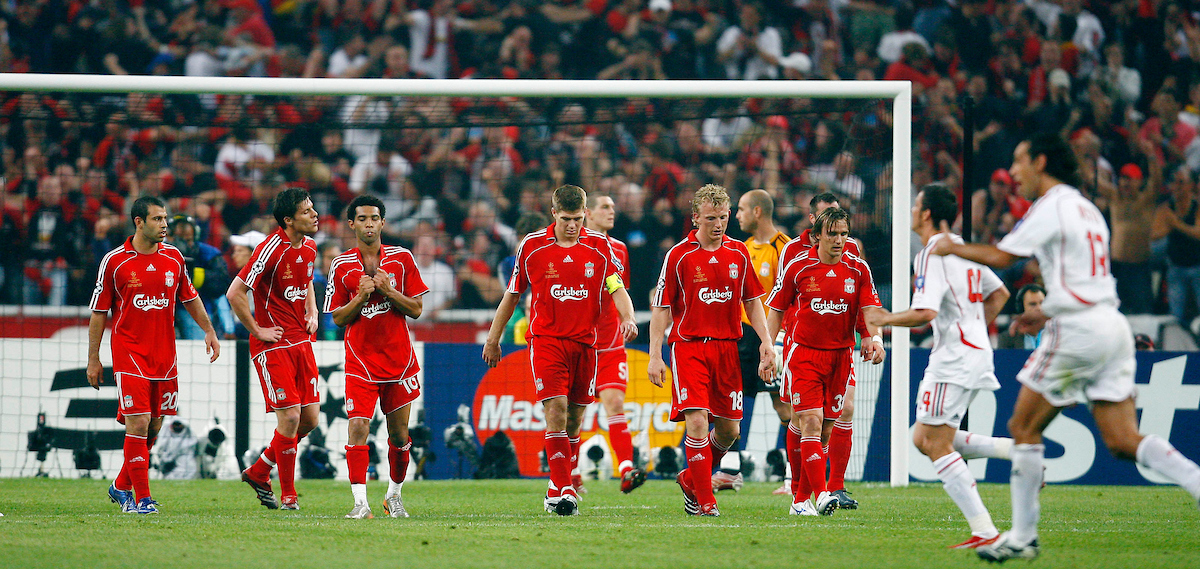 What's the worst thing that can happen on Saturday? We could get beaten by a Real Madrid side packed to the rafters with elite footballers. A side boasting Cristiano Ronaldo and two European Cup wins on the bounce. It's nothing to be afraid of, so don't let fear rule your week. Don't let worry or anxiety cloud what this is, what this could be.
Only 39 teams have ever reached a European Cup or Champions League final and only 22 teams have won it. We're one of them. We're European royalty just like Madrid. But no other club in Champions League history has ever scored 46 goals on the way to the final, not even the greatest of the Galacticos. Make no mistake we're deserving of our place in this showpiece event.
And when you pause to reflect on that incredible goalscoring achievement, take a moment to think about a few of the footballers who have taken us to these heights. If you ever worry about your life and wonder where it's going, remember them and remember all of this. There is always hope.
Only six years ago Andy Robertson was tweeting that he was skint. Only one year ago he was relegated with Hull City. Two seasons ago Gini Winajldum was relegated with Newcastle and Trent Alexander-Arnold wasn't old enough to buy a beer. Now they will all line up for Liverpool in a Champions League final, and they will do so on merit.
If that's not enough to make you believe that anything is possible in your own life, no matter where you are now, consider these very pages. Consider this website, the podcast on which it's based and so many names you know and listen to, watch or read every week. It didn't exist last time we were in a European Cup final. It was built from an idea. From a few people sitting around a table, then a few more sitting around a microphone. It grew and grew. And now you're reading this as if it was always like this. But it wasn't.
Everything starts somewhere. People will tell you about experience. They'll frighten you into thinking that we can't beat Madrid because they've been there and done it so many times before. But if that was true, no new thing would ever happen. No young bucks would ever challenge the establishment, no team would ever begin its own empire.
Before Bill Shankly there was none of this. Not as we know it. But since then, it's grown. From a seed planted by a man with a dream. With a passion to turn a run of the mill team into the best the world had ever seen. The blood rushing through your veins right now is laced with the power of that incredible man. Everything you love about this great club started with one man, with one idea, with one dream. Once the foundations were laid, others built on top. Layer upon layer of stories, passion and excitement. Of goals and trophies and drama. Of winning.
We owe it to all those who have gone before, to all those who created this empire which we are so fortunate to be a part of. We owe it to them now to be the best versions of ourselves that we can be. We owe it to these Mighty Reds to inspire them to be the best versions of themselves that they can be.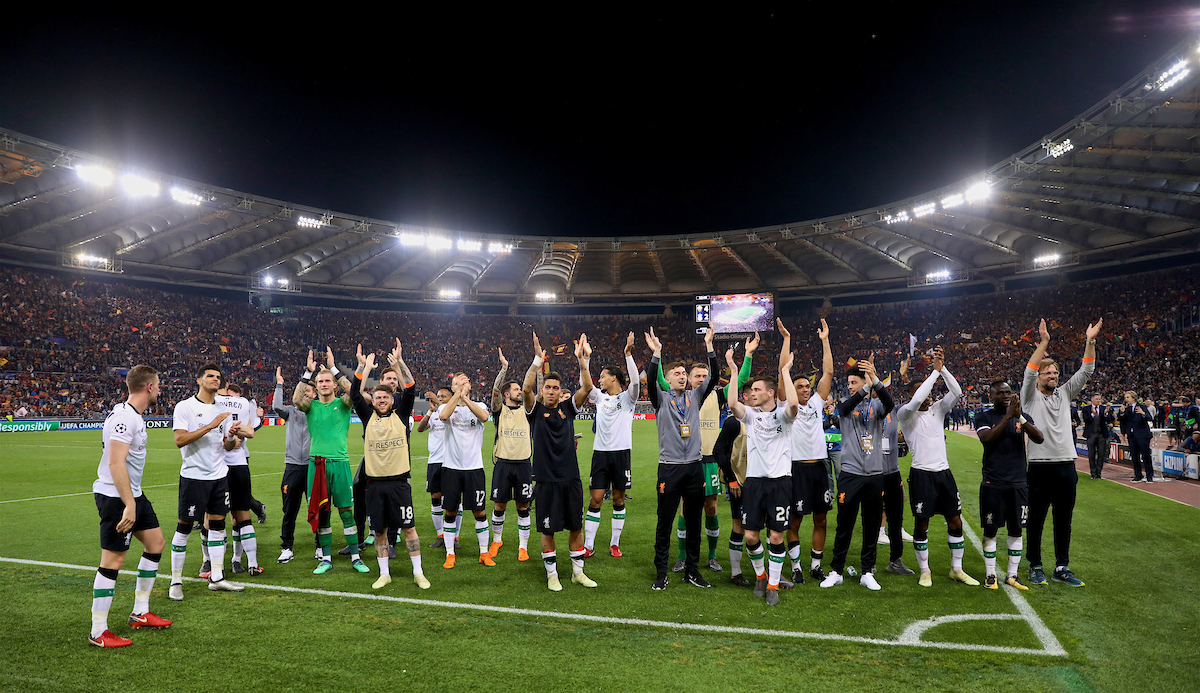 Because I'll tell you something. If our warriors walk out on that pitch in Kiev as the best versions of themselves, if Jürgen Klopp summons up the best version of himself, and if we, every single one of us around the world, inside or outside of the stadium, manifests the best version of ourselves, this Real Madrid team will not be able to deal with the intensity of it all. It will not be able to withstand the wave after wave of attack from The Red Arrows. The players dressed all in white will start to question how fit they are and wonder did their legs always feel this heavy. Was it always this hard to pick out a pass or to even see a teammate.
I know they've told us they've got a plan – so did Manchester City and Roma. In the words of one of the greatest boxers of all time, Mike Tyson, everyone has a plan until they get punched in the mouth.
Make no mistake, at some point during this final, the players representing the great Liverpool Football Club are going to punch Real Madrid in the mouth. Then we'll see how good their plan is. Then we'll see whether they have the experience to deal with it. To repel the tide. To fend off the wild animals on the pitch and in the stands, thousands of them everywhere they look. Incessant. Relentless. An indestructible army.
They might beat us, but if we all turn up as the best versions of ourselves, they're going to have to be the best version of Real Madrid to emerge victorious.
I've been questioning myself as to where to take you with this. I know many of you won't like anything even approaching overconfidence. But then I realised, for me to be the best version of myself I have to tell you the truth. I can't ask you to be the best version of you and not be prepared to follow through on my side.
It brought me back to Freddie Mercury. He served us well before the first leg of the semi final against Roma and I'm as superstitious as the next supporter, so it makes sense to end this glorious run with the great man himself.
I remember standing on my seat in the Ataturk Stadium in 2005, only 25 years old, a baby when I look back, having just been given the greatest night of my life by Rafa Benitez and his glorious Reds. Having just had my first time. My first real experience of the stories I'd heard so many times before as I grew up, as many of you have had up to this point.
I remember We Are The Champions playing after the trophy presentation and 40,000 Liverpool supporters lapping it up.
"We are the champions, my friends. And we'll keep on fighting to the end."
And that is where we are again now. Just with one last hurdle in our way until we can sing it officially. One more step to fulfil our destiny.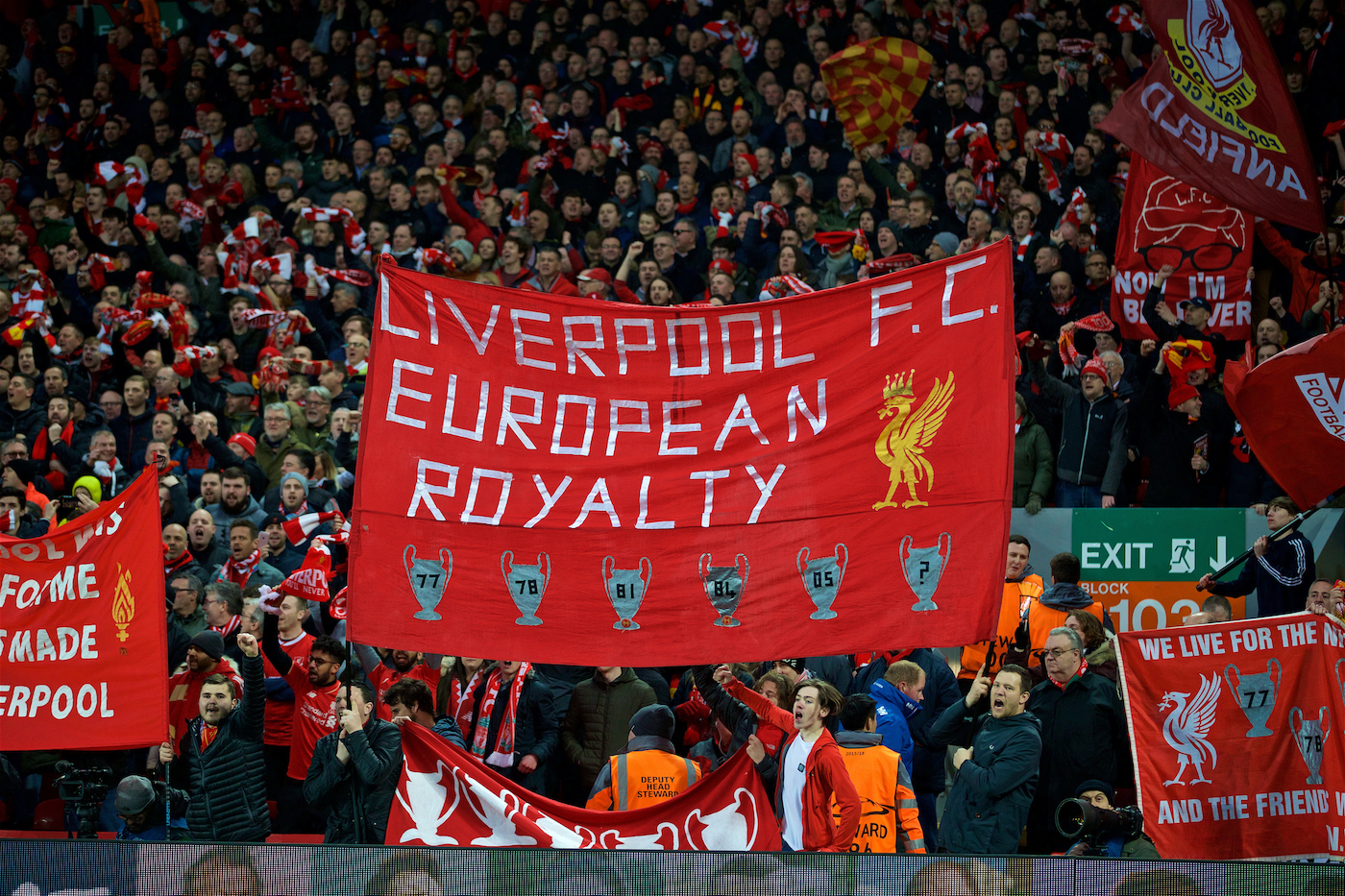 I believe that to win you have to think like winners. You have to walk like winners, talk like winners and behave like winners. Stride down the street with your shoulders back and your head held high. Let the world see your aura. Let those around you know, without a shadow of a doubt in their minds, that you are a winner. Whether it's today, tomorrow or next year, sooner or later you're going to win, because that's just what you do. Victory is inevitable.
That's all of us now. That's these Mighty Reds. Built on the shoulders of a Dutch colossus, strolling around, cool as ice, never phased. On the back of a new global superstar and his glorious sidekicks.
For those who'll say I'm tempting fate by talking about being champions, you're right, I am. I'm tempting fate to deliver what is rightfully ours. To serve up to us a sixth European Cup. I've witnessed it with my own eyes. We stood as one, 3-0 down at half time in a European Cup final, and we tempted fate. We dared to believe, to demand one more go. To refuse to accept defeat.
We'll keep on fighting to the end.
"We've paid our dues, time after time. We've done our sentence, but committed no crime. And bad mistakes, we've made a few. We've had our share of sand kicked in our face, but we've come through."
We've come through. Always together, hand in hand, singing songs they'll never sing, seeing things they'll never see.
The time has come to stand up, hand your work to your nearest Evertonian and get started. Become the best version of yourself you can be. Every moment, every second between now and the final whistle on Saturday. Everything you have, for these Reds, for one last time, from every corner of the globe. It's your time.
Breathe deeply, put your shoulders back and your head up. Feel the power of history rushing through every part of your body. Electricity powering your soul and making the hairs stand up on your neck. Energy like you've never felt surging through every pore, the power of 126 years of greatness empowering you in a way you've never felt.
It's time.
"I consider this a challenge before the whole human race, and we ain't gonna lose."
See you on the other side.
Immortality awaits.
"We've been to Hoffenheim and Maribor, Moscow and Seville…" 🎶

🗣 Subscribe to #TAWPlayer and listen to all of our Champions League buildup and reaction as the Reds look to make in number six 👉 https://t.co/yd76hpKGhg pic.twitter.com/SDqy0bNd8f

— The Anfield Wrap (@TheAnfieldWrap) 18 May 2018
Recent Posts:
[rpfc_recent_posts_from_category meta="true"]
Pics: David Rawcliffe-Propaganda Photo
Like The Anfield Wrap on Facebook