THE recent positioning from The Government and The Premier League regarding rail seating and the desire of football fans to stand at matches is more than a little odd so far.
Not only are the statements and justifications lacking in real detail – for instance, how was it decided that maintaining the unsafe standing status quo is the best for all concerned – but they appear to be telling us, regulars at matches home and away in the Premier League, how we feel about the situation, and contradicting what we can see with our own eyes.
Further, they seem to ignore the will of numerous clubs, and their supporters, plus the evidence of a successful, safer alternative to standing in seated areas just a few hours away at Celtic Park.
To recap on the catalyst for all this, West Bromwich Albion — on the grounds of improving safety for their supporters — proposed converting a 3,600-seater area of the Smethwick End at The Hawthorns to rail seats in time for next season.
It was backed by the local Safety Advisory Group and West Midlands Police.
Rail seats, in case you don't know, can be locked up to create a safe individual standing space with barriers in front and behind that prevent the surges associated with the open terraces of old.
Knocking back The Baggies, sports minister Tracey Crouch claimed only a "vocal minority" of football supporters want to stand at matches.
Meanwhile, the Premier League has apparently carried out a survey that suggests only five per cent of fans want to stand for a whole match.
According to BBC Sport: "Fans numbering in the low thousands have been asked for their views over the past 16 months by polling company Populus, on behalf of the Premier League."
Matter was discussed at last week's Premier League club meeting.
Understand PL research is being conducted by Populus and has seen thousands of fans surveyed over last 16 months.
Told this is not definitive view from clubs – but they want a research/evidence based approach.

— Richard Conway (@richard_conway) 18 April 2018
Further details of the survey are yet to emerge: who was surveyed, how they were surveyed and exactly what was asked would be interesting to see. Is there any reason the Premier League can't provide that information?
Yet the tone appears to be that's that then. We can all do as we're told and sit down. The position will not change.
We can accept that. Or not.
An online petition calling for a debate in parliament on the issue has now hit more than 70,000 signatures at the time of writing. At 100,000 it has to be considered by the Government.
It appears plenty don't want to let this lie, among them English Football League chief executive Shaun Harvey.
He said there is "significant popular demand" for standing to be allowed.
And he added: "I can assure you that we do not consider the comments made this week to be the last word on the matter.
"We will continue to engage robustly with government and other relevant stakeholders in order to achieve the changes to the all-seater policy that our clubs seek."
The Premier League statement describes the subject of standing as "complex and nuanced" and yet this is precisely what jars so much.
What exactly is complex and nuanced about it?
It is clear that from almost every Premier League match played that some supporters wish to regularly stand to support their team and others don't.
So why aren't clubs allowed to provide an opportunity where people attending matches have the choice?
In the here and now, we have persistent standing at Premier League grounds.
To use the example closest to home, Liverpool have played four games so far this month – Manchester City home and away, Everton away and Bournemouth at home.
Large numbers of Liverpool fans have stood for 90 minutes for every one of those matches.
More evidence than what I can offer up from personal experience? OK:
In 2017, of 7,239 Arsenal fans surveyed, 96 per cent voted in favour of safe-standing
In 2017, of 1,400 Everton fans surveyed, 92 per cent agreed that supporters should be given the choice of whether to sit or stand at a match
In 2017, of 17,910 Liverpool fans surveyed, 88 per cent were in favour of rail seating being introduced in football stadiums.
The Manchester United Supporters Trust and Manchester City's fan collective, the 1894 Group, have both publicly called for safe standing areas at their stadia.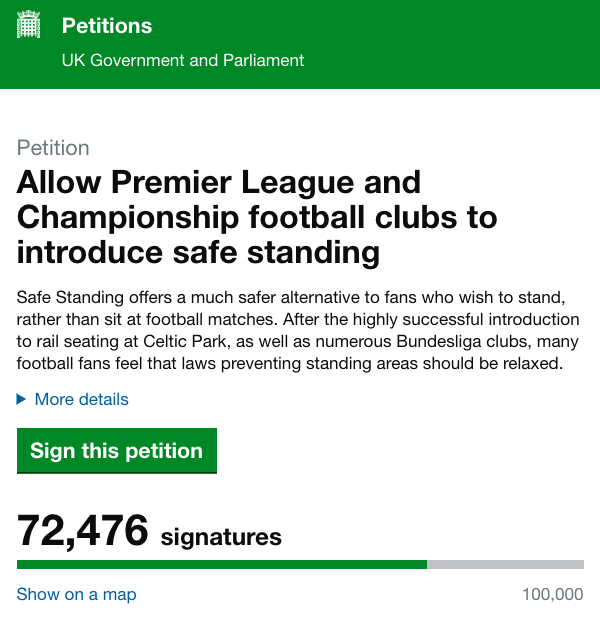 Away from the support of fans, Tottenham Hotspur, the club Tracey Crouch supports by the way, has also made it clear that if legislation allowed it would be interested in installing a safe-standing area at the new White Hart Lane.
And Manchester United managing director, Richard Arnold, quizzed on safe standing by United We Stand fanzine said: "We have pushed for it, but we have to fit into the environment that we're in.
"We need to bring people with us, such as the local Safety Advisory Group, the police, the government. We're applying constant encouragement."
At Celtic, the rail-seating section has been hailed as a huge success since its introduction in 2016 — by the club, by the fans and by the authorities.
Celtic chief executive Peter Lawwell said the section "represents an investment in spectator safety" at his own club.
He told joe.co.uk: "Across football globally, the reality is that supporters are choosing to stand at matches. This is something we must accept and manage and also understand the positive effect which these areas have on atmosphere at matches."
Meanwhile, in England and Wales, standing is allowed lower down the football pyramid, at different sports, and at music concerts and the like.
So why football, and why only the top two divisions?
The additional line from the Premier League was that more research and evidence is required, but what form does this take? What does it look like? How much is needed?
If Celtic isn't enough what about Germany, where German clubs using rail seats include Werder Bremen, Hamburg SV, VfL Wolfsburg, Hannover 96, TSG 1899 Hoffenheim, VfB Stuttgart, Bayer Leverkusen and Borussia Dortmund?
It is now 29 years since the Hillsborough Disaster – the spark for the legislation, the 1989 Football Spectators Act, that is applied to the issue of standing/sitting.
Section 11 of the act reads: "The Secretary of State may, by order, direct the licensing authority to include in any licence to admit spectators to any specified premises a condition imposing requirements as respects the seating of spectators at designated football matches at the premises; and it shall be the duty of the authority to comply with the direction."
Standing is not a criminal offence, but it is against ground regulations (for more on the legalities and the grey areas around them, see here).
To give context, that act also proposed a draconian national membership scheme for football fans – meaning a registered card, with photographs, issued by one of the 92 League clubs in England and Wales. The cards, it was proposed, would allow supporters to attend away matches. Thankfully the idea never saw the light of day.
Almost three decades on, society, football and the grounds the games are played in have changed. So too have the options for managing crowds who wish to stand at football matches.
Lord Justice Taylor, in the post-Hillsborough report that was a precursor to all-seater stadia, accepted, that "standing accommodation is not intrinsically unsafe".
Further, he wrote: "The seated spectator is not subject to pressure of numbers behind or around him during the match. He will not be painfully bent double over a crush barrier. Those monitoring numbers will know exactly how many are there without having to count them in or assess the density by visual impression.
"There will still, of course, be scope for crowd pressure on stairways while entering and especially when leaving, but involuntary and uncontrolled crowd movements occasioned by incidents in the game are effectively eliminated."
[wonderplugin_audio id="70″]
It was a key point then and it is a key point now. Taylor did not have the choice of rail seating in 1989. Had he had the option he could have made the same observations – no pressure behind or around (as was the case on the old open terraces) and no uncontrolled crowd movements.
Then, Taylor could not have predicted how prevalent standing in seating sections would become in the modern day. Or perhaps it's more that the want to stand has never ever gone away.
Taylor wrote: "It is true that at moments of excitement seated spectators do, and may be expected to, rise from their seats. But the moment passes and they sit down again."
Only they don't. And during feverish celebrations in seated sections in 2018 there is a genuine danger to life and limbs at some stadiums.
For some, standing will always be synonymous with Hillsborough and no one can dictate to families of victims or survivors of the disaster how they should feel about all this. They feel how they feel.
Equally though, the facts of what happened on April 15, 1989, are now firmly established and there for all to see.
Anne Williams, the tireless Hillsborough campaigner who died five years ago this week, summed it up so well: "My lovely son Kevin did not die because of standing on terraces, he died because of the lack of control and care by South Yorkshire Police.
"I believe terraces are safe without perimeter fences. Standing never killed anybody, cages and treating people like animals did."
It's time for an open and honest conversation about rail seating, safe standing and the legislation around it that was put in place almost three decades ago. Football in 2018 is a world away.
If you agree, sign here.
Recent Posts:
[rpfc_recent_posts_from_category meta="true"]
Pics: David Rawcliffe-Propaganda Photo
Like The Anfield Wrap on Facebook