"IT ain't about how hard you hit. It's about how hard you can get hit and keep moving forward; how much you can take and keep moving forward. That's how winning is done!"
Yeah, I know he's a Blueshite, but your man Sylvester Stallone had a point.
For all the talk of last week's excellent result, the only people talking about tonight's game as a foregone conclusion were either Manchester City fans or in the media, I didn't speak to one Liverpool fan or read anything that took Manchester City anything other than very seriously.
As the days ticked down to the Champions League quarter final second leg at the Etihad, despite a healthy first leg advantage, and despite our slowly developing swagger and self assurance, the self doubt began to condense, a slow drip became a stream, which became a river once game day had dawned.
The fight of left brain and right brain, stop it, don't do it to yourself, we'll be fine, won't we?
A healthy respect for one of the best sides in Europe is quite reasonable, but the root cause of this fatalism is far more deep rooted in the psyche of the average Liverpool fan.
Given what we've been witness to over recent history, we've been conditioned to fear the worst, and when the oasis of calm that has been Virgil van Dijk drops one in the first two minutes to give City the lifeline they craved, the river becomes a torrent.
But, despite all the City pressure and domination, they didn't create too many clear chances, and even the one they had chalked off incorrectly was down to another Liverpool error.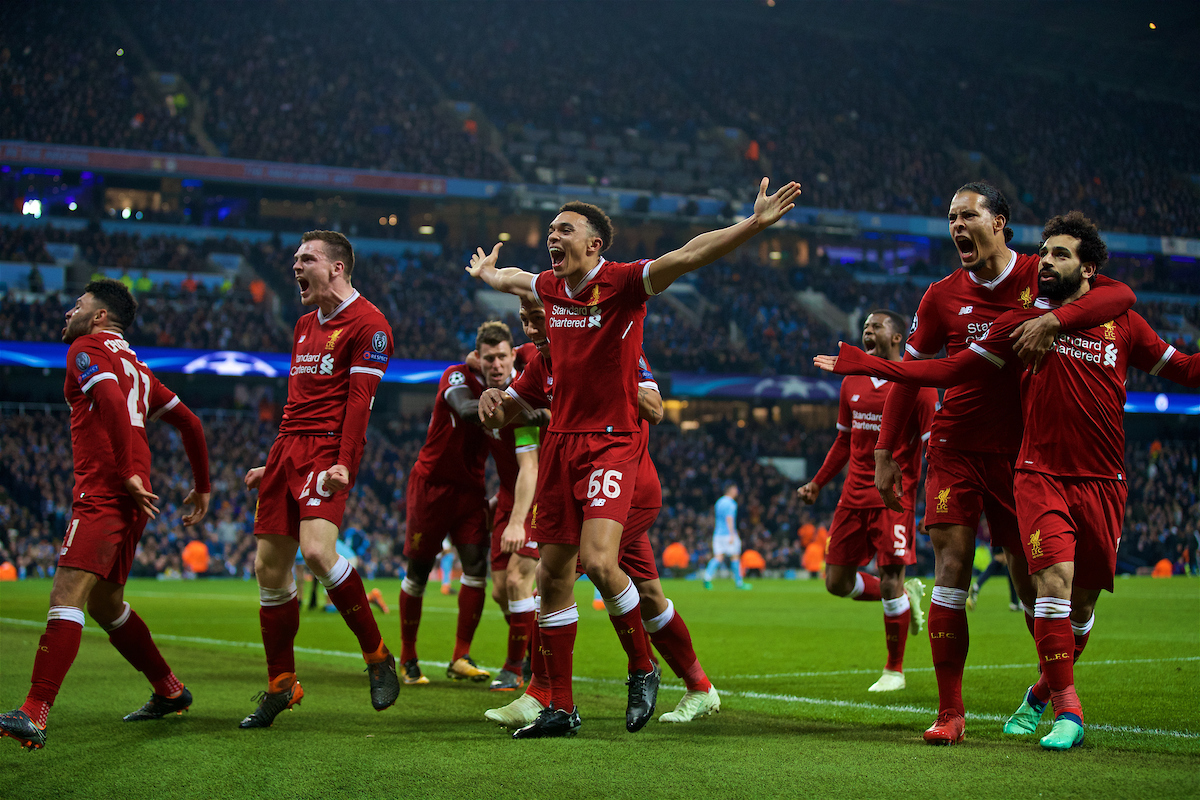 Previously, as recent as earlier this season, Liverpool would have mentally crumbled, a lightning fast, relentless, dizzying, stinging heavyweight with a glass chin.
The body of evidence of recent history shows one undeniable fact, that THIS Liverpool team is evolving quicker than most of us can keep up with.
As a rationalisation tool, when I'm desperate for any buoy in a sea of doubt to cling to I'll often check the bookies odds and at no point during the game were Manchester City ever really close to being favourites to qualify for the next round.
Me? I'd have put money on finishing with nine men and a 5-0 defeat after the opening 10 minutes.
But they didn't, they weathered the City storm, as they did in the second half at Anfield last week, to not only see it out, but to record a third victory against the team that the above-mentioned bookmakers made the outright favourites for the European Cup in the days up to kick off at Anfield.
Regardless of who we get in the semi finals (Sounds boss, doesn't it? What are YOU doing Friday morning?) an indelible marker has been put down tonight, not for everyone else in Europe, but for ourselves.
Anything is possible.
Bring on yer Roma by the score…
"What a night!" 😍

🗣 Subscribe and listen to our immediate post-match reaction show 👉 https://t.co/Z8JVyOQDO5 pic.twitter.com/uwLQFawX4j

— The Anfield Wrap (@TheAnfieldWrap) 10 April 2018