WHAT the fuck do you write about this game? The manager at the end?
My god.
My lord.
My word.
Allez.
Class act here — what a 35 they had. What a set of footballers and team. What a force. What a smother, what a plan, what an angle. Everywhere was sky blue on that pitch. What a set of footballers, what a selection, what a set of bollocks. He played his lads, Pep Guardiola. Their manager. Loved his lads. Backed his boys.
Fair play to him.
They aren't The Reds though. On and off the pitch. They aren't The Reds. That ground before kick off was a disgrace. Give me something, lads. Offer me something. Dare us. Make us be able to say fair play to you.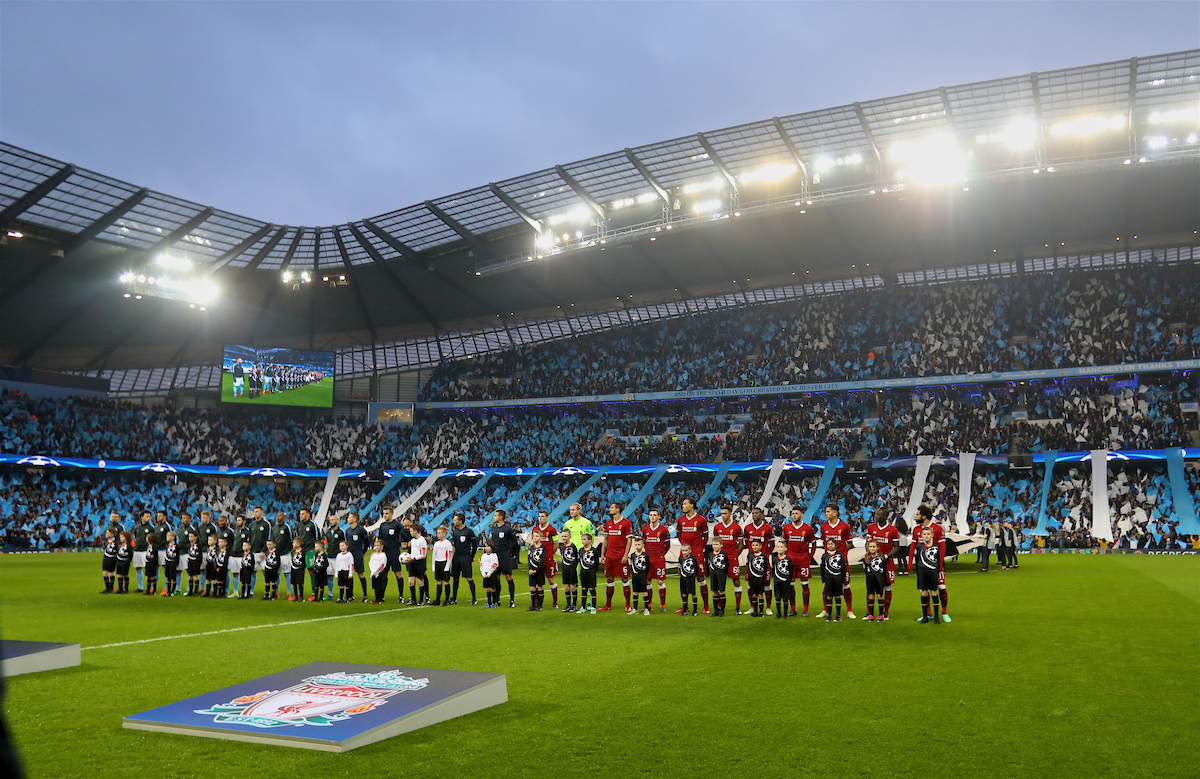 We hung on, you know. For dear life. We grafted and worked and were smarter than we were good. That was some half of football. It was a reminder of what it takes to manage this. Win the European Cup? Get to the final? Graft, boys. Hang on, lads. Want work in a bikini? You better work, bitch.
Those lads. James Milner is the very best of us. I've met him, you know. Looked him in the eye. I can tell you this — I would follow him into the very jaws of hell. And tonight, 10 teammates did. He wasn't to be denied. The manager at the end hanging off his neck like a teenage boy around his love. The manager at the end.
Before then. We'd survived. We got to 35. We got to 40. We got to 45. We got in. And then we came out and we began to play and we got our reward. He dinked him. He dinked him like Kenny Dalglish and I didn't see it see it hit the net and then all it was was limbs and everything on top of me, of all of everything exploding on top of me, Europe being conquered, no one going to stop. It was there. It was everything.
The second. The most glorious knockout blow. I told everyone. I told your best mate and your boyfriend, I told your mother and I wrote to your father, Liverpool had 90 minutes to score twice and win the tie. Roberto Firmino was the calmest man in the ground when he slid it in.
The manager at the end.
Then it was a matter of time. Reader, I counted all the fives. I called each of them home. Celebrated them. They were our fives. Liverpudlian fives. Each and every one a treasure. Paul Senior screaming next to me "win the tie, win the fucking tie, Liverpool." Milner doing the same.
I've met him, you know, Paul Senior. Looked him in the eye. Would follow him into the very jaws of hell.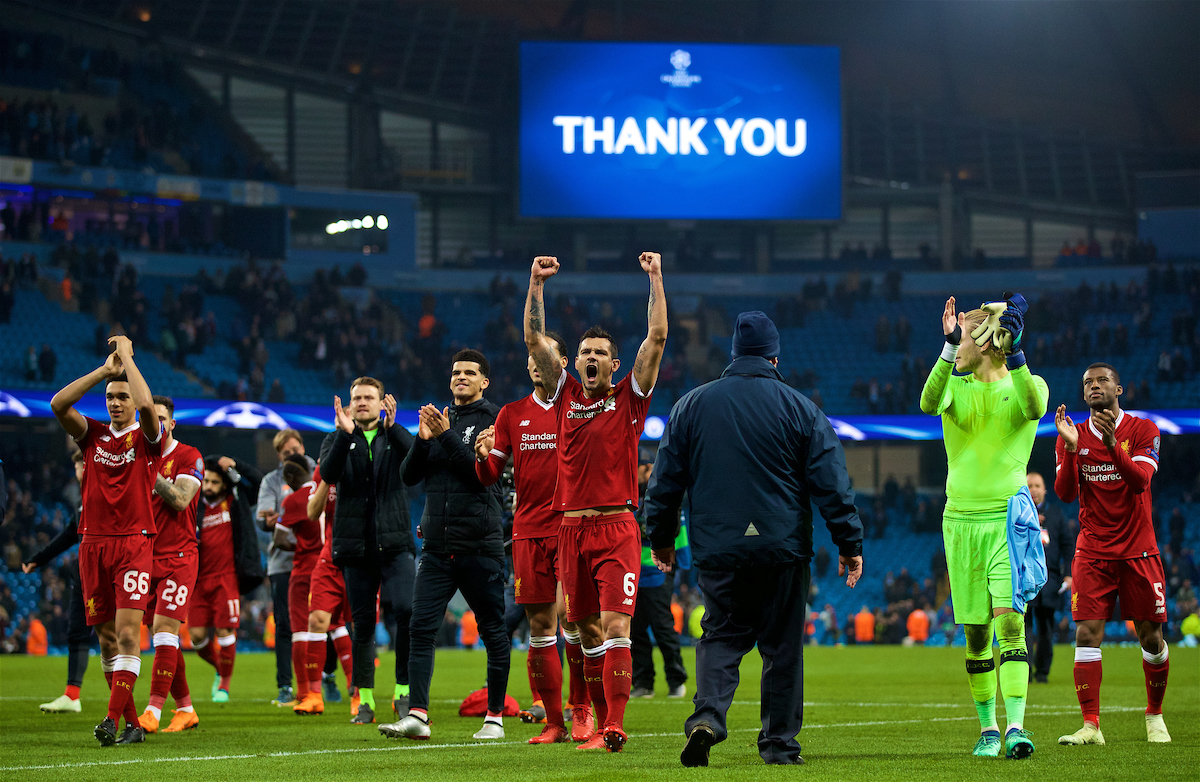 They come over on the final whistle, are kept away from us by daft stewarding. They hang off each other. We hang off each other. The manager hangs off Milner, Degsy Lovren needs to be walked around — but then who doesn't? — and then gave us all they had because that is the thing, and it is the best thing many of them have done in their whole lives, and that's sound you know because we borne witness to it, and loved it, and adored it. They are young men, all younger than me, and they gave us the best day of their lives because it was their job, their vocation, their calling and their passion. They gave it all.
The manager at the end. He wants to be with us but he has to be with them and there are far worse lads to be with. Us for one thing.
We walked out. They kept us in and we walked out, and let me tell you it was joy unconfined. Let me tell you, in my Liverpool FC Philadelphia scarf, in Manchester, I have rarely felt closer to the city of Liverpool, rarely felt the brotherly love of Liverpool like this. God has given us these days of leisure. Rarely known the likes. Rarely been as keenly in love.
Let's not be shy. That's what the enterprise is. It's an act of love. Of devotion. Of generosity. And if they don't know that in sky blue, that's not our fault. It is theirs. Wherever you are in the world, be in love. Because they are, the footballers are. They are smitten. With looking at an end in raptures, with each other, with an adventure.
It is our adventure.
It is a joy to be alive.
See you in a couple of weeks.
Much love as per. As always. The Reds.
"What a night!" 😍

🗣 Subscribe and listen to our immediate post-match reaction show 👉 https://t.co/Z8JVyOQDO5 pic.twitter.com/uwLQFawX4j

— The Anfield Wrap (@TheAnfieldWrap) 10 April 2018