A FEW years ago a few newly promoted clubs adopted the song "we're not really here" to the tune of Knees Up Mother Brown.
This was also the case with a side who found themselves at the top of the league but knew it couldn't last. The significance was that they were the David to the Premier League's Goliaths and though they were fighting against the big lads, they couldn't believe their luck.
Last night, Liverpool were supposed to lose 4-0 to Manchester City. Everyone called it. "It's not over! If anyone can pull this back it's City!" OK, maybe a few would be a little kinder and just say it would be a "spectacle" or "an extravaganza of attacking football" but the basic narrative was that Liverpool would have to cling to that narrow 3-0 home win like a shipwreck survivor clinging to a passing piece of driftwood.
Three-nil.
Seriously. Three-nil.
What was lost in that tale was that Liverpool did a number on City a week earlier. A three goal plus clean sheet number. The non-red world seemed to have forgotten all that stuff. The 50 per cent of the tie where Liverpool dumped on City from an unimaginable height.
If you'd sat down any Red before the home leg and asked them to draw a picture of paradise, it would look like that scoreline. We achieved that.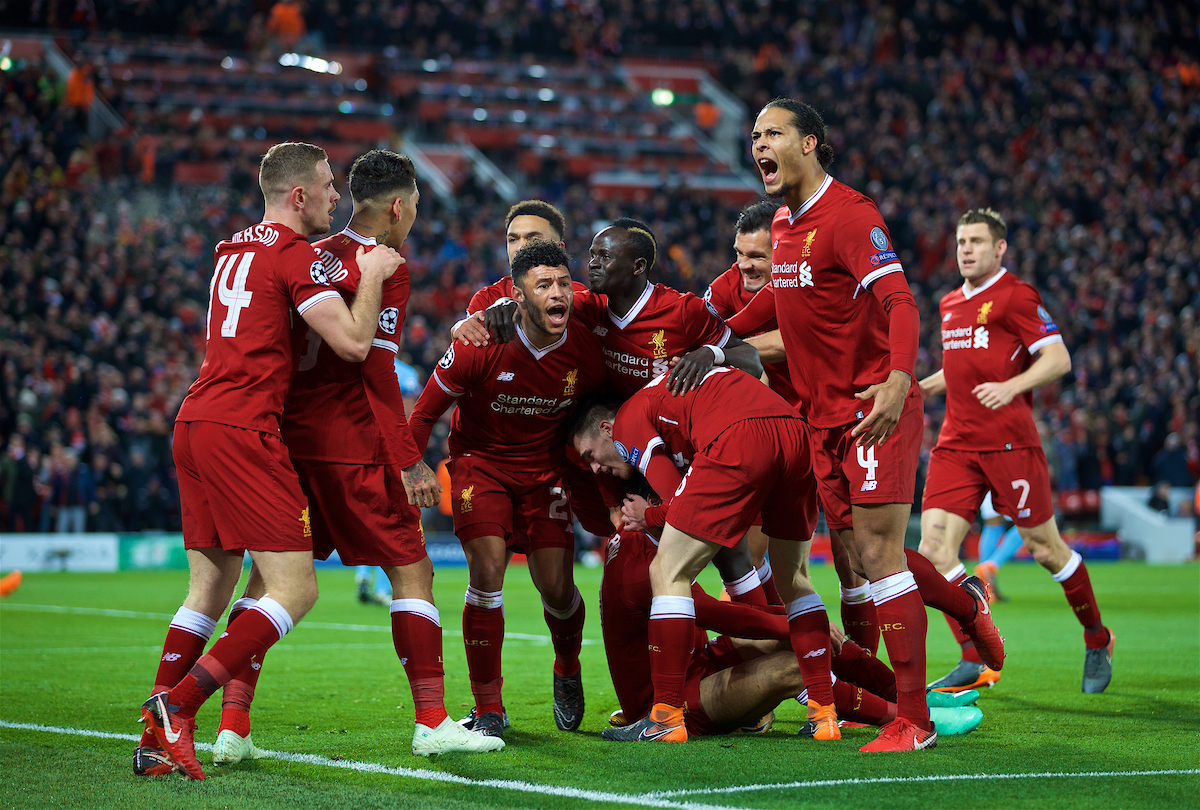 Ah, but the second leg would be different. There was the 5-0 at the Etihad earlier this season, the lack of Jordan Henderson, the return of Sergio Aguero and Pep Guardiola's genius in battering sides. What's more they'd be wounded after the Manchester derby and would fancy taking things out on The Reds.
Yeah, they might have a point. Two minutes on the clock, two individual errors from Loris Karius and Virgil van Dijk and City were in. Then there were the bookings and the bizarre incident where Ederson Moraes performed four yellow card actions in about 10 seconds.
Oh, and the offside goal. Well, it wasn't an offside goal. It was a goal. Of course it was. The ref was nuts. Everyone could see that. The booking of Sadio Mane and Ederson resembled a poor actor who had been told to "do anger" in their only scene. He seemed angrier than both of them.
Then he gave no injury time. City fans can look at that as Liverpool favouritism, but we were just as confused as they were.
The second half was completely different. City went from swagger to stagger and suddenly there was a recognisable gap between our midfield and defence. We even passed the ball a bit rather than just hitting Mo Salah in the channels. Liverpool calmed down.
And it's this that makes that night so special. City threw everything at us in a blizzard of crosses and overlapping full backs. Liverpool waited and waited. Block, harry, foul, frustrate. Block, harry, foul, frustrate. City kept Aguero in reserve but the game was over by the time he came on.
Though it's not always reported as such, Liverpool are not all rush and pace. We're not all blitzkrieg. When we have to we can calm the play down. James Milner is a master at it. We can play triangles and move five yards up the pitch. Not everything is an assault on their goal.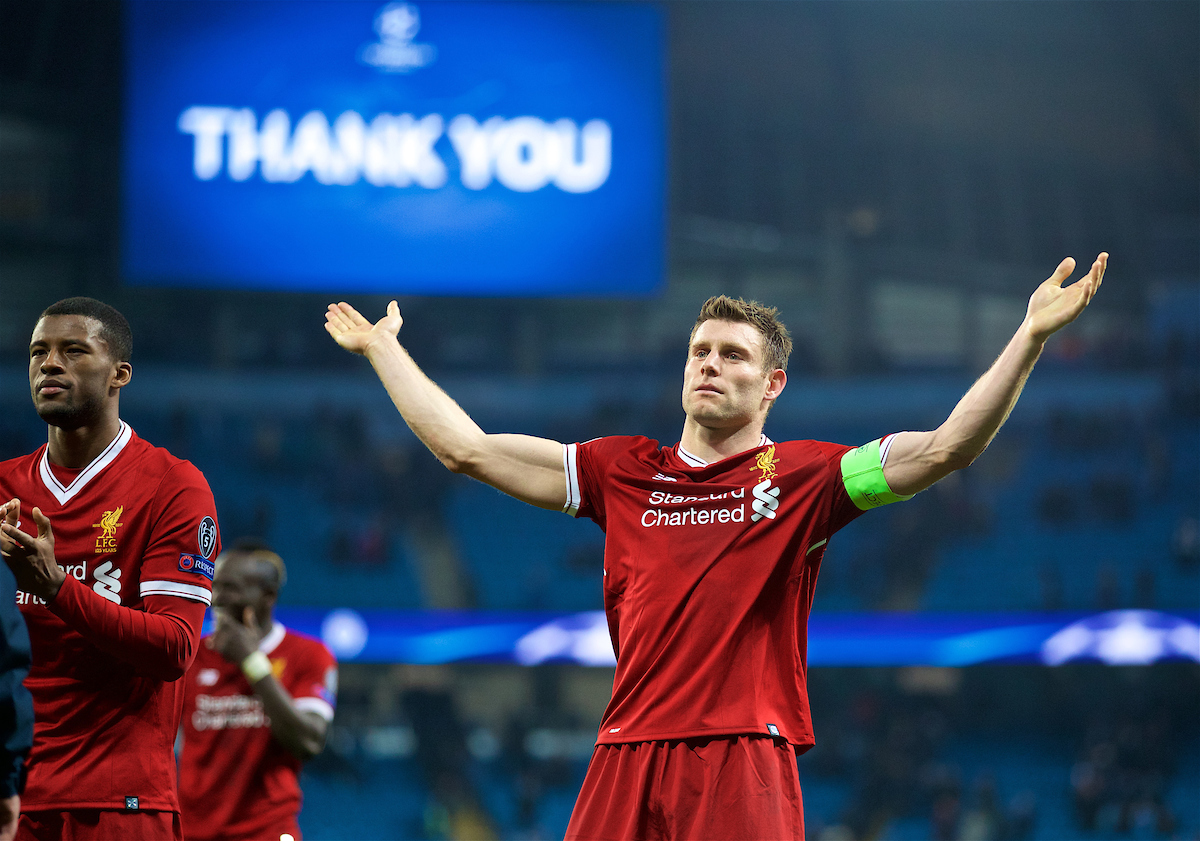 And speaking of goals, well, they were beautiful. Salah played his Kenny Dalglish 1978 finish and Roberto Firmino has so much to do once Nicolas Otamendi slips, but still managed to calmly slide it in. Cue carnage.
We're not really here.
Liverpool will be content with a top-four finish. Maybe have a run in the cups, but that's about it. Get out of the group stages in the Champions League but then bow out whenever they face a good side. Yeah?
But we are here. We not supposed to be, but we are.
We've just beaten City — a hell of a side — 5-1. The last time we won a European Cup quarter final by that scoreline was in 1984. We went on to beat Roma in the final. Just saying.
Oh, and if we get Bayern and then Real Madrid then it's all back to 1981 and the greatest throw in in Liverpool's history. Time to start looking at royal weddings and Grand National winners for coincidences.
These things come in waves. This is my third. The first was from 1977-1984. Then there was 2005-2009 and though Craig Hannan annoyed me on the post-match show last night by somehow inferring that those who can remember the Rafa era period are "old", he has a point about this wave. This is theirs. The younger Reds who came close in 2014 but just missed out. Their first of many, hopefully.
And now another generation gets to do it all again. European royalty and don't you forget it. ♥️ pic.twitter.com/yLOTk0G6MU

— Craig Hannan (@C_Hannan7) 10 April 2018
Liverpool are here and though there are difficult ties to face, be them in Rome, Munich or Madrid (I'm assuming they go through), we weren't supposed to beat City in the same way we weren't supposed to beat Bayern in 1981, Roma in 1984 and Juventus in 2005. But we did. We're not scared of anyone.
The new league champions (guessing again, but on safer ground I reckon) have lost twice to The Reds in six days. Six. Days. AND they had the second leg at home. Who can stop The Reds when they're in that mindset and form?
And this is why we do it. This is why we slope out of Wembley in 2015 after being beaten by one of the worst top division sides I've ever seen and still come back for more. This is why we continue to lurch from frustrating season to frustrating season rather than packing it in altogether.
Because one day we get nights like these, seasons like this. Well, there's probably a bit of masochism in there too.
We're in the last four. We go further than that. Much further.
"What a night!" 😍

🗣 Subscribe and listen to our immediate post-match reaction show 👉 https://t.co/Z8JVyOQDO5 pic.twitter.com/uwLQFawX4j

— The Anfield Wrap (@TheAnfieldWrap) 10 April 2018
Recent Posts:
[rpfc_recent_posts_from_category meta="true"]
Pics: David Rawcliffe-Propaganda Photo
Like The Anfield Wrap on Facebook