THERE are certain sights and sounds that evoke feelings within us all, stirring memories that are replayed in our heads and unaffected by time.
In the Champions League quarter final second leg, Mohamed Salah stood before us like a God as he gazed over the scenes unfolding in the away end at the Etihad Stadium with an air of calmness — breathing it in and savouring what he was witnessing.
That sight was a crowd crawling over seats, falling down stairways with their fists clenched and arms uncontrollable in unconfined celebration.
The sound was 2,000-plus Reds in hysterics, clamouring and roaring, knowing they were another step closer to the final of a competition that has shaped the identity of Liverpool Football Club, but one in which success has eluded them for over a decade.
What those fans saw amid the melee was our Egyptian king staring back at us, arms wide and expression blank. Salah was stood in quiet euphoria, met by his teammates having scored another goal of great importance on the biggest stage. A moment in time.
The new anthem for this new era was ringing out and could be heard with absolute clarity even from outside the Etihad, with every Red losing their voice for Liverpool.
In that moment, it feels like football has reached its climax. That you can't possibly feel more euphoric or alive because you've experienced a moment in time, a goal that will be replayed and forever remembered if Liverpool win number six.
Except this is another episode, rather than one single occurrence. Hold onto that second leg alongside Porto away, Manchester City at home and then…
"Liverpool's Egyptian king with another crowning moment in the Champions League. The brighter the light shines, the better Mo Salah performs."
OHHH MO SALAH! 👏

What a goal! What a moment!

Liverpool and their Egyptian King go marching on!

🇪🇬👑 pic.twitter.com/30UvuOdnTJ

— Football on BT Sport (@btsportfootball) 24 April 2018
There he is again. Stood still. Arms aloft, almost apologetically this time. It was a muted celebration out of respect for his former club, an expression that told me that he's sorry for his season of success after being sold for just £35million in the summer.
In the stands though, it was bedlam. Red smoke shrouded little pockets all over the stadium, as this football team ran riot. Anfield was alive, The Reds were irrepressible.
There was an aggression and relentlessness emanating from the fans that spilled over onto the pitch. The Romans were frozen by the noise of The Kop and floored by the latest in a long line of attacking masterclasses by this Liverpool side.
Don't try and tell me it has ever been better than this.
Another moment to savour, another story to reminisce over. A love affair rekindled in a semi final that those present have never seen the like of, no matter how old they are.
"It's just like the old days."
It could become your granddad's Saint Etienne in '77, your dad's Chelsea in '05. Except this one belongs to you. These are the days, my friend.
Those nights in Porto, Anfield and the Etihad could be written into folklore as some of the greatest in our history, consolidated by a result in Rome and one game in Kiev.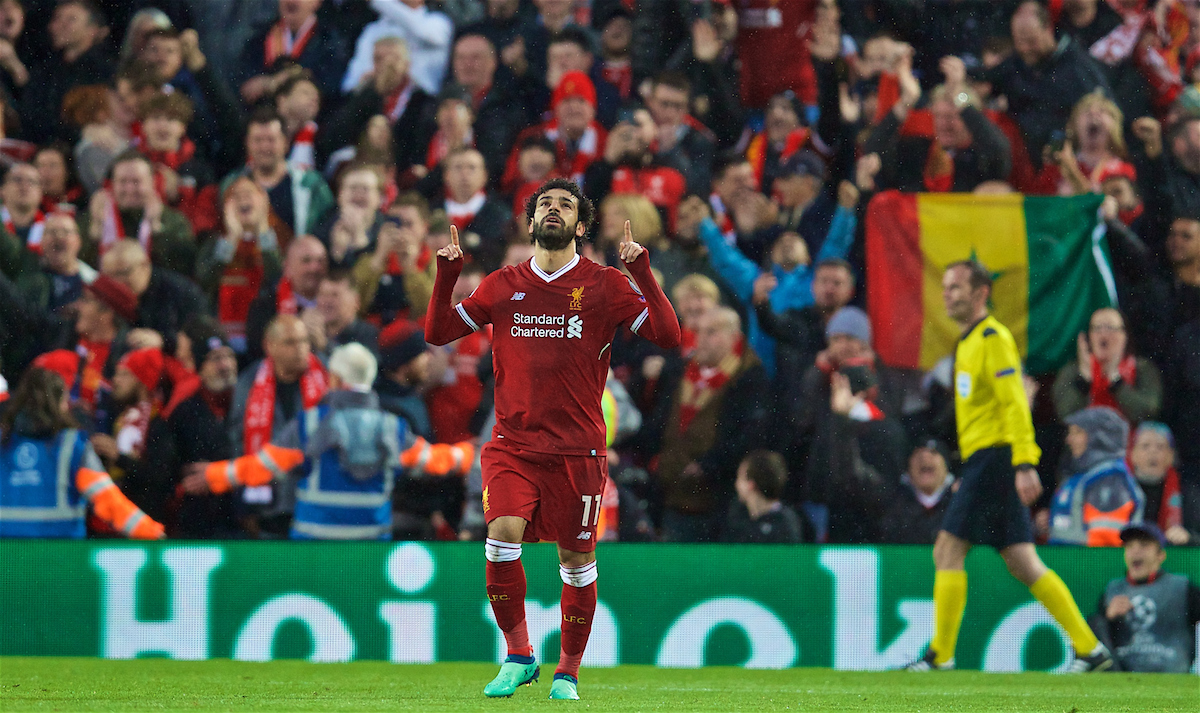 Lifting the trophy renders these nights we've experienced irrevocable.
Following Liverpool in Europe, the elation of each excursion, the planes, the trains and the ineffable emotion felt following this team with your mates, while falling in love with a group of footballers who have the chance to burn their names into the history of a club already steeped in European glory.
Now we go to Rome, a city soaked in memories. For you, it may be the setting for our first success in the competition in '77 or European Cup number four in '84, but for my generation it's a stepping stone to our own.
These will be our own tales to be told and retold, because you've grown tired of hearing about Istanbul, Wembley, Paris and Rome. Win a European Cup for me.
And what's to come is exactly what you're in it for.
The sight? Them scousers again. Inside an ageing Stadio Olimpico as historic as it is hostile. Outnumbered in quantity but not in noise. Five-thousand away fans dreaming of that cup in Kiev. This venue yet again the backdrop for a famous European night for this football club.
The message reads loud and clear. The Reds have reawakened and are coming up the hill, boys.
And the sound? Allez. Allez. Allez.
🗣 @Carra23 on playing in Rome: "I don't remember the Stadio Olimpico being intimidating… it's not Anfield." ✊

Subscribe and listen to all of our Champions League buildup and reaction here 👉 https://t.co/JCi3zocNYl pic.twitter.com/PpGKITTZyJ

— The Anfield Wrap (@TheAnfieldWrap) 30 April 2018

Recent Posts:
[rpfc_recent_posts_from_category meta="true"]
Pics: David Rawcliffe-Propaganda Photo
Like The Anfield Wrap on Facebook