AMID the joy of what we witnessed at Anfield on Tuesday evening, there is sadness that one of our own lies critically ill in hospital following an unprovoked attack just yards from The Kop.
Sean Cox, a dad of three, did nothing other than what we have all done so many times – head out the door for a football match to cheer on our team, have a laugh with mates and hope to witness something special on the pitch.
Instead, he was on the end of an indiscriminate attack carried out in broad daylight on a road well trodden by thousands.
Sean is a husband, a dad, a friend, a son, an uncle, a brother — for those close to him there is now an agonising wait. Praying for news. Hoping for progress. Riddled with anxiety and worry about the man they know and love.
It's an incident that you would expect to send shivers down the spine of any football fan. It has for me. The reporting of the incident is clear as it was witnessed by journalists. It isn't a skirmish, a scuffle, an argument, a clash, or any other form of tabloid terminology.
It was an attack. It so easily could have been you, me, my friends, your friends.
Next week, 5,000 Liverpool fans will travel to Rome. For some it will be their first big European trip — a moment to look forward to, a chance to taste what it is like to travel abroad with mates and support Liverpool.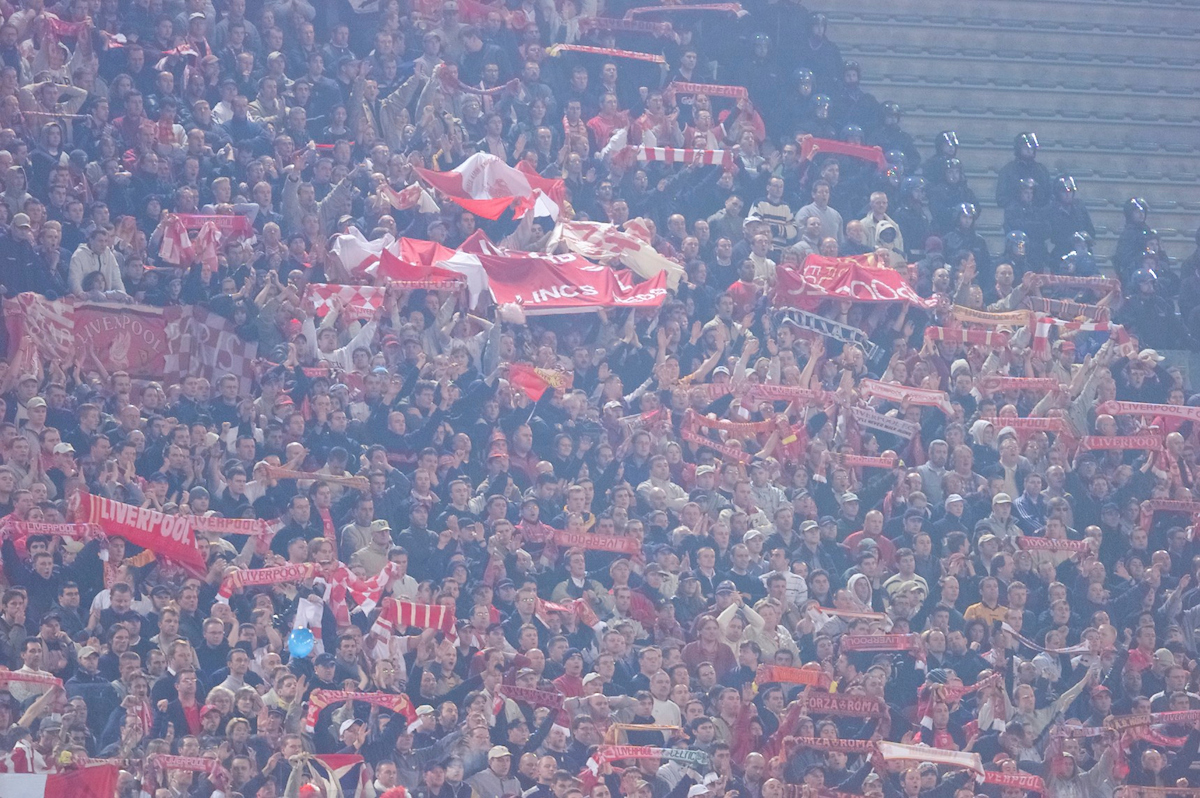 Now there is a cloud that hangs over it.
This morning someone who can be loosely described as "a journalist", Colin Mafham, writing for the Daily Express website, decided the time was right to tar the name of the thousands that support our club.
Further, a sub editor somewhere decided it was a good idea to publish it.
In the second half of the "column", Colin describes himself as a Sunderland supporter. Yet at no point in an ill-considered, bigoted rant does he consider those who just follow a football team.
Instead he links Heysel to Hillsborough, loosely talking about responsibilities as though the incidents are in any way similar.
Instead he talks of attacks on the Roma bus that didn't take place.
And worst of all, on the website of a national newspaper, he is happy to ask the following question, having placed it in the context of the above: "Why is a 53-year-old man now seemingly fighting for his life, and two Italians being held on suspicion of attempted murder, before a football match involving Liverpool?"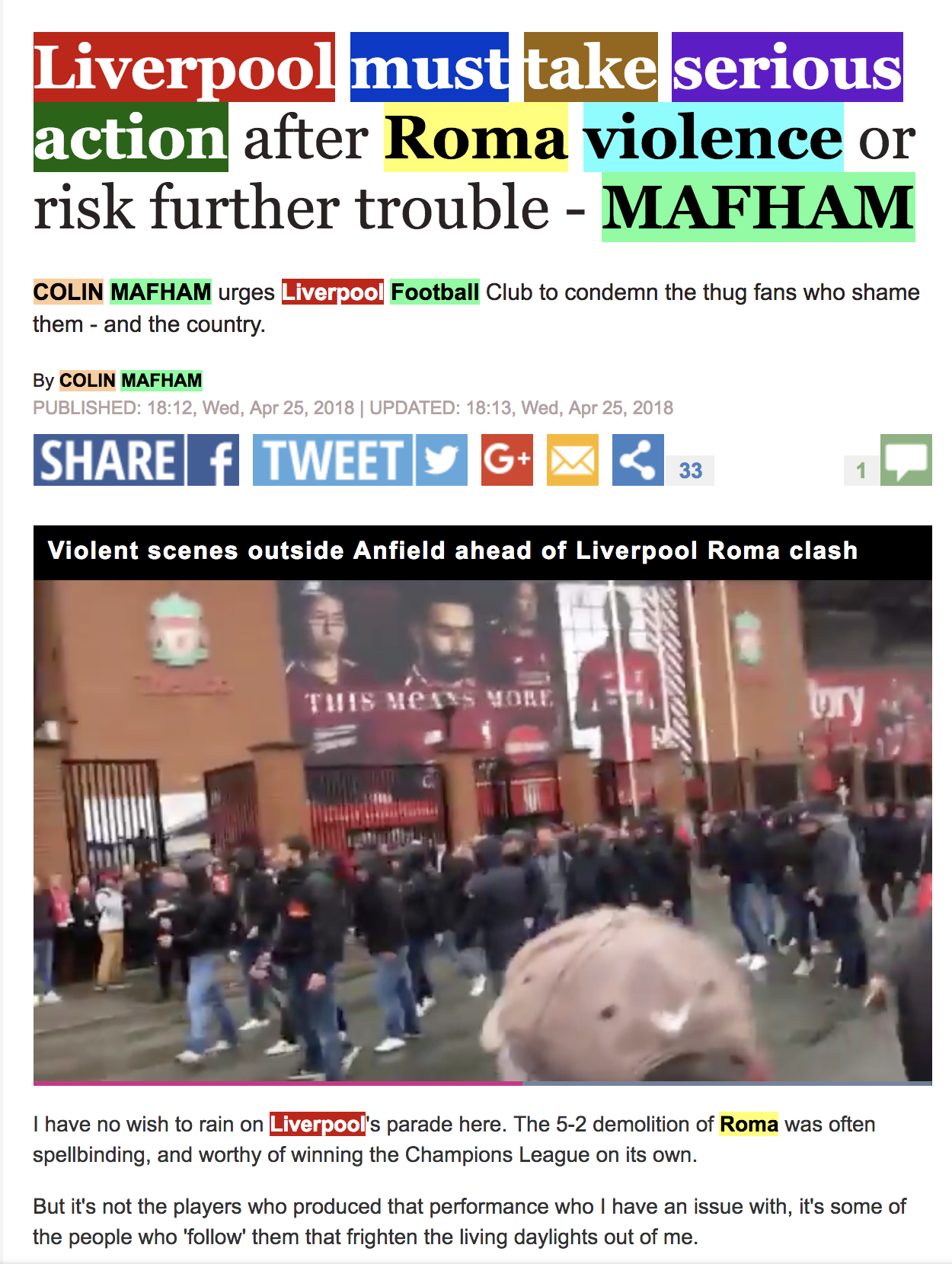 What is being inferred is very clear. That an innocent man attacked indiscriminately has somehow brought it on himself. That he is responsible. That we are responsible. That this is Liverpool's fault.
He goes on: "How on earth are their fans always seemingly involved in such horrific altercations on big European nights?"
Always? Seemingly?
If you were to list every European tie Liverpool have played in since the turn of the century you could detail incidents of trouble over a near 20-year period. But how many people are involved? How many people are perfectly well behaved? And how many matches passed off without "horrific altercations"?
It doesn't really seem to concern an author who is happy to publicly ponder: "Why does trouble seem to follow them like bees round a honey pot?"
Tarring the reputation of huge groups of people is not something new to Liverpool, as a city or a club. It happens to football fans in general, too.
The story of Hillsborough, and the battle for the truth to be recognised — alongside justice being done — is packed with tales of lies, screaming headlines, hyperbole, and cheap attempts to blacken the name of normal people dressed up as "opinion" or "analysis", even "the truth".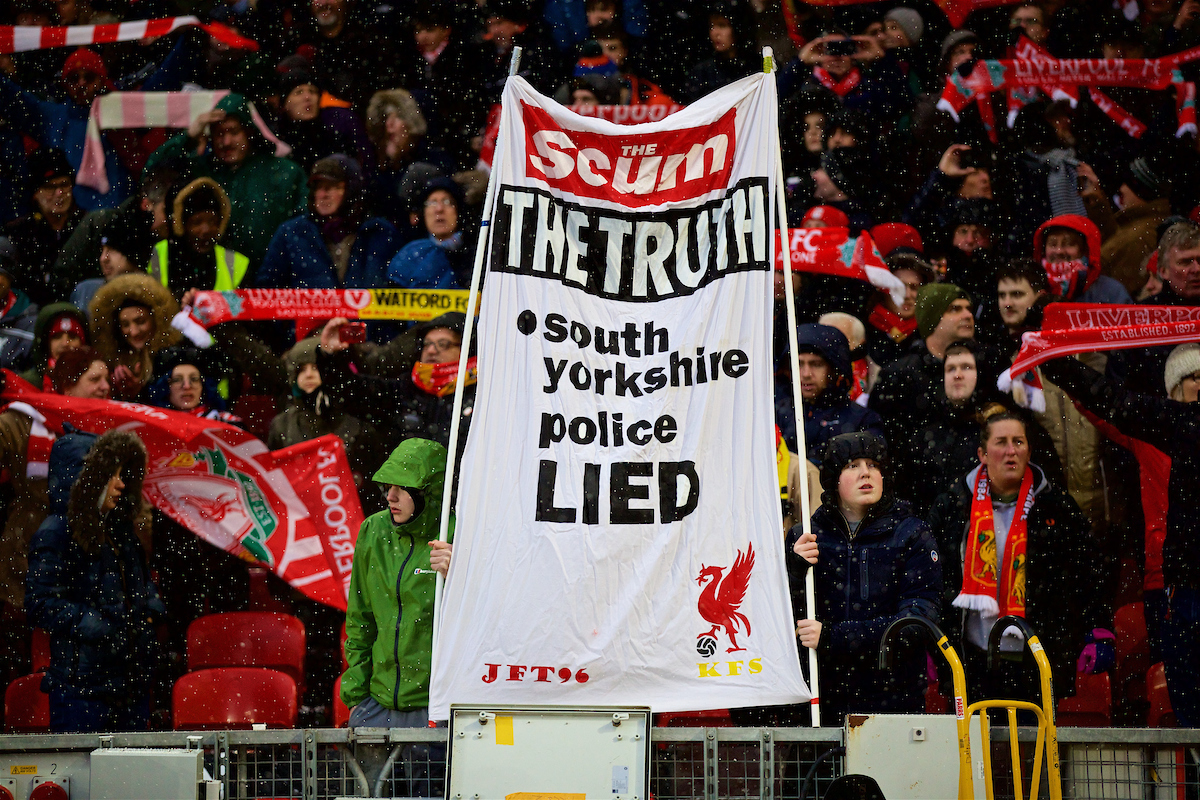 And here we are again.
"No one is suggesting that the violence that erupted on Tuesday night was solely the fault of Liverpool fans," writes Colin.
"But there are suggestions that the reputation of Liverpool supporters had gone before them and Roman yobs had simply decided to get in first, and with such awful consequences. It's not right, but it does again highlight a common denominator."
Suggestions from who, I wonder? I could suggest that Colin has made something up to fit a skewed narrative. "From some" is from no one. So there's no comeback. I could suggest that Colin wants clicks for his article. That Colin knows there are people who love conflict, love stereotypes and love to sneer at Scousers, Liverpool, football fans, and no doubt many other sections of society deemed worthy of a spot of defaming.
Colin has recognised in the sneering songs that tumble from terraces that we're "always the victims" and that "it's never our fault" and he is feeding the fallacy. He even counteracts arguments — quoting them no less — that have never been made and don't actually exist.
He writes: "That's why I urge Liverpool Football Club to condemn, rather than giving succour to excuses like 'it's society's problem' and 'all the world's against us'."
Who has said "it's society's problem"? Who has said "all the world's against us"?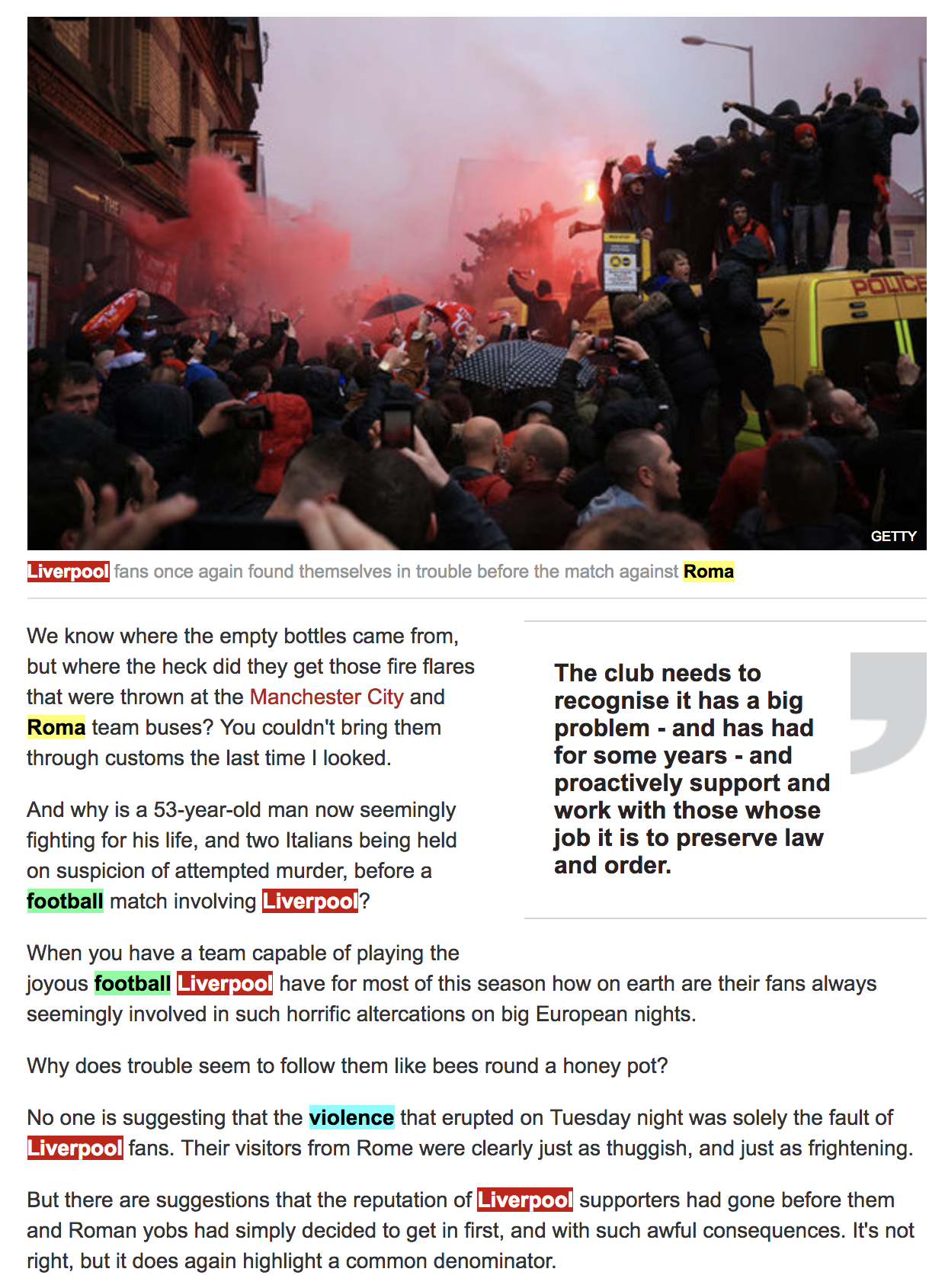 Is Colin saying we're always the victim and it's never our fault?
The stereotypes, the baiting and the bashing are nothing new, and merely a step back in time for many of us. But it's the timing of it, and the framing of it, that bites the most.
Just like all those years ago, when Kelvin MacKenzie and his like gave no thought to the families who had lost loved ones at Hillsborough, to the survivors who were being told they were complicit in the deaths of their fellow fans, Colin Mafham has given no thought to the family and friends of Sean Cox.
As they wait, and pray, and hope for good news, there is a writer happy to put the boot in. To use an incident that has left a man in a critical condition as a springboard to criticise the club he supports and the fans he mixes with.
As supposed journalism goes, it's the lowest of the low. The article was edited and then later removed from the website, with no statement or apology.
It will come as no surprise to anyone that the writer is a former night editor of The Sun. Peddling hate then, doing the same now.
For a man who loves a question, here's one for him: Why do you do it?
Recent Posts:
[rpfc_recent_posts_from_category meta="true"]
Pics: David Rawcliffe-Propaganda Photo
Like The Anfield Wrap on Facebook