partisan

noun

a strong supporter of a party, cause, or person.
HERE we are again, Reds.
These are my favourites. I'm happy to write about how well Trent Alexander-Arnold has done or why Emre Can's self belief should be applauded, not derided, but these articles are what I'm in it for.
These games are what I'm in it for.
All of those times questioning whether to just stay in the pub rather than sit in the freezing cold watching Hodgy tell Danny Agger to launch it long. All of those days arguing with fellow fans about whether it matters if our manager gets his teeth done and how all great teams have great players, not just his. All those drab 0-0s against West Bromwich fucking Albion, having to listen to their fans ask mockingly where our famous atmosphere is.
They're all worth it. Every single one of them. For days like these and nights like the one ahead.
I remember 2005. I remember booking the day off work and meeting my mate in Wetherspoons for a breakfast and a pint at 11am. I remember the steady flow of other supporters walking in, giddy at the thought that they should, as grown-up humans, be in their serious place of work doing a serious, adult job on a Wednesday but, instead, were sitting in a pub having a pint, watching the people who were always in there at 11am and wondering whether they were doing life right.
I remember the air filling with optimism as the day wore on and the alcohol level increased. I remember the songs. I remember the European flavour to the rhythm and the tunes.
It was Spanish then. It's French now, but the point is still the same.
No other English fans do it quite like this, because no other English fans have our European heritage. From our days as a port, welcoming people from distant lands, revelling in their mystery and adopting the best of their cultures, to the days when we started on our own quests, heading to far foreign lands and returning victorious.
No-one else does it quite like us, because we're special. They'll laugh at me for writing it and they'll laugh at you for saying it, but never let them convince you it's not true.
I've seen it. I've felt it run through my veins and make the hairs on my neck stand on end like there's an electric current running through me.
I've seen them. Lots of them. All the big boys, all the hard men, all the giants saying they've seen it before. They've played in big games in big stadiums and they've been to Anfield plenty of times.
They're saying it again.
But we know it's different. We know West Bromwich fucking Albion will only ever see it on TV and we don't fucking care. Because this isn't about them. This isn't about 19 home league games, some with a good atmosphere and some which are just piss poor. This is about the mystique of Anfield on a European night.
It isn't a myth. It's a story that endures for a reason. It's a legend passed down from generation to generation.
I remember when I was a little boy my granddad telling me about it from his terraced house on Pinehurst Avenue, a 10-minute walk from the ground.
I remember standing outside his front gate watching the men walk past after the game asking them what it was like.
It's like heaven, son.
It's a place you go to leave all your troubles behind. Your shitty job, your empty bank account, the arguments with your other half.
None of them matter anymore. Every ounce of frustration you have in your life, every bit of anger, every little bit of shit that's built up over the months, can all be washed away in a glorious 90 minutes.
Take it all out on them. They play in blue, which makes it easier. Demand every free kick, appeal for every penalty, make sure that the referee comes off the pitch begging for the sanctity of video assistance in the future.
Let everything out. Don't leave anything unsaid. Don't walk away with any regrets that you could have done more.
They say they've seen it all before, but they've never seen anything like this.
Remember last season in the Europa League, when United's players were visibly petrified of the Kop ❤️

Same on Monday 👍 pic.twitter.com/BduzO7ihGR

— Empire of the Kop (@empireofthekop) 13 October 2016
I've seen legends crumble under the weight of an Anfield crowd. Juventus, Real Madrid, Chelsea, Borussia Dortmund. Gianluigi Buffon, Andrea Pirlo, John Terry, Iker Casillas.
Ilkay Gündogan.
Crumbled in a yellow shirt and ripped apart in a light blue one.
And part of that was when the ground was 9,000 supporters lighter than it is today.
Make it rain down on them from all sides. Make them feel the weight of our power and our glorious history. Make them wonder why they can't do what we can do.
Make them realise that this is not for sale. Not everything in life can be bought with oil money.
They'll never be us and they'll never have what we have.
Whether they like it or not, the European gods love us. We are, and will always be, part of European folklore.
Tonight is the time for a new generation to learn that the legend is true.
Tonight is for all the old men and women who have seen it all before and grown tired and disgruntled with 12.30pm kick-off times and Rupert fucking Murdoch to roll back the years and remember what it used to be like.
To have 10 pints and sing in the street.
To get caught on the telly screaming at a 20-year-old kid on £100,000-a-week to make him shit himself, when in everyday life you're just an accountant, bored with life.
This is your time.
Tell your boss you're taking the afternoon off. Wherever you are in the world, make this a five-hour buildup. You might not be in Liverpool or in the ground, but you can still be heard. While City's nouveau riche fans around the globe sit quietly applauding their stylish team, you'll be screaming and shouting and jumping and singing.
They'll think you're a lunatic, and they'll be right.
That's what this is. Millions of lunatics all around the world urging their red army on with all the power they have, channelling everything through 50,000 soldiers inside Anfield onto the pitch.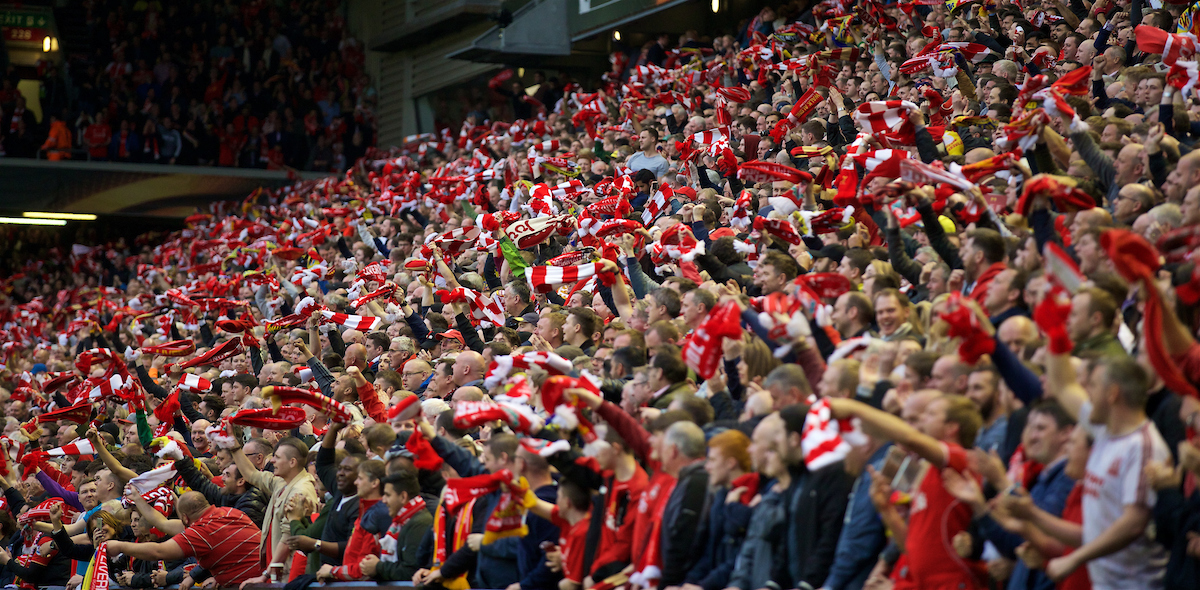 Stand up now. Take a deep breath and get started. There isn't a minute to spare.
Feel the power of history flow through your veins and electricity ripple across your skin. Feel your heart pump with the force of five European Cups. Of Graeme Souness and Alan Hansen, Kenny Dalglish, Ian Rush and, of course, Steven Gerrard.
Remember the John Arne Riise cross and the captain's header. Remember the gesture to the support inside the Ataturk to rise with the red tide.
Remember Tommy Smith powering a header into the top corner, Davey Fairclough toppling St Etienne and Brucie Grobbelaar's jelly legs.
No-one else can match it.
No-one else can do what we can do.
Embody the strength of history. Walk the streets 10-feet tall today. You're part of the red army on your way to defeat the moneybags favourites.
We've done it before and we'll do it again.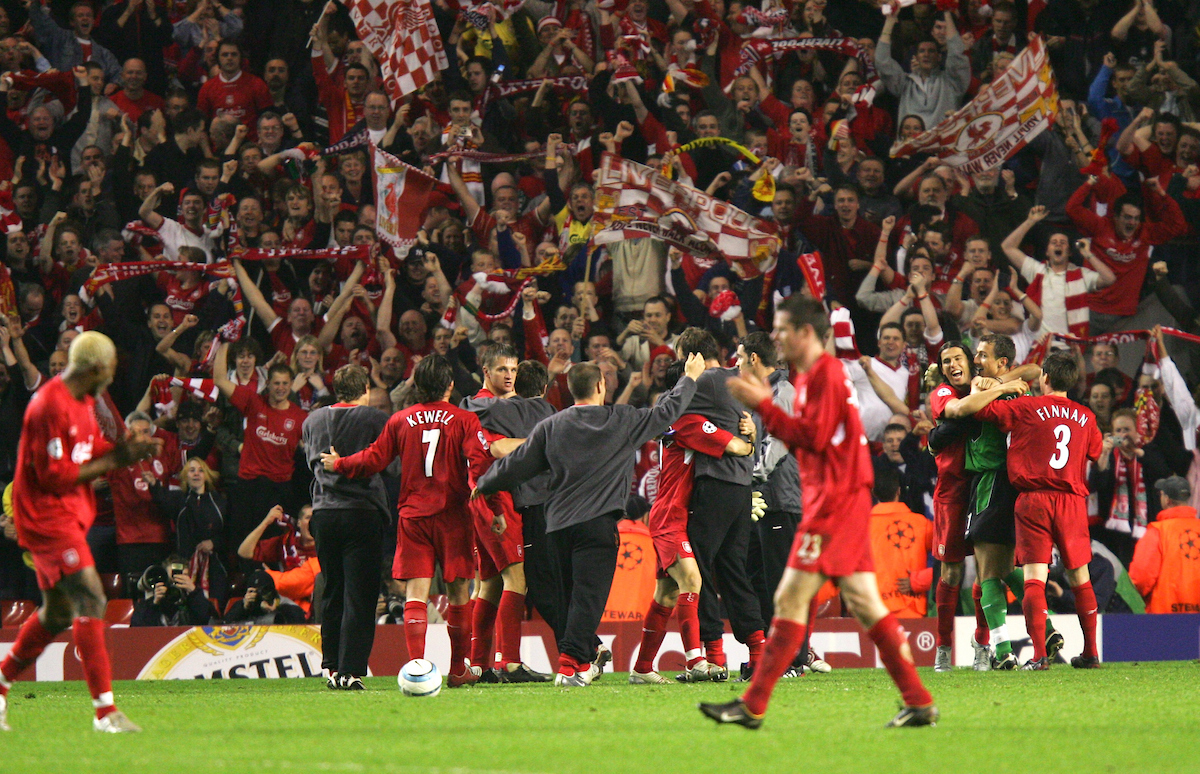 We'll make the whole of Europe bow down at our feet. We'll build it up and up, a bastion of invincibility, until they have no choice but to concede to our overwhelming power.
Can you feel it?
That's what victory feels like. That's how real champions win a European Cup.
Never let them convince you otherwise.
We've conquered all of Europe,
We're never gonna stop,
From Paris down to Turkey,
We've won the fucking lot,
Bob Paisley and Bill Shankly,
The Fields of Anfield Road,
We are loyal supporters,
And we come from Liverpool…
Allez, Allez, Allez…
Come on you Mighty Reds.
"That's what Liverpool is about. It's about having a fighting spirit, a never say die [attitude]. We can take anyone on."

"This is not a threat, this is an opportunity."

🗣 Subscribe to listen to all of our Champions League coverage 👉 https://t.co/B1RLh44638 pic.twitter.com/NEQurAe2JA

— The Anfield Wrap (@TheAnfieldWrap) 3 April 2018
Recent Posts:
[rpfc_recent_posts_from_category meta="true"]
Pics: David Rawcliffe-Propaganda Photo
Like The Anfield Wrap on Facebook