THERE was a point between the second and half time where the whole ground fell silent.
It was as if everyone in the place had a moment. Had this moment:
Have you ever seen anything as cool as that in your whole life?
Have you, though?
There have been a million and one comparisons made this season between Mo Salah and Lionel Messi. But forget the greatest of them all. Think of George Best, think of all those videos of Georgie Best where defenders look like ghouls, look 1940s, look inept while Best has eons to convert. The easy thing to do, the easy thing I have done too often, is to malign the defending. To say: would modern defenders make a pig's ear of themselves like that? To say: no way he's having that much time these days.
The easy thing.
The fact is this — Best was a genius. He was a remarkable footballer capable of remarkable things, capable of dragging a team full of great players by crowning their greatness with his genius. Bobby Charlton and Denis Law were great. But Best was a genius.
Roberto Firmino and Sadio Mane are great. But Mo Salah is a genius.
We hit the interval and he has scored a blinder off the underside of the bar, but forget that one. He bears down on goal, looks at the goalkeeper and dinks him, the ball trickling across the line. That's the goal. That's the goal of a man who all of a sudden understands the game in a way we cannot begin to process.
He may never be able to put it into words, Christ, he may never be in as much of a purple patch as this for the rest of his life — though I doubt that — but he simply is the best at this game of ours in the whole wide world right now. Literally the best at the game the world plays. He knows it and the world knows it. Salah and the ball are there and everything else is limbs and pandemonium and the best thing you have known for all your days, for all your nights.
Mo Salah, the football, the sheer unbridled joy of the enterprise.
Mo Salah and everything is red. Everything is beautiful and nothing hurts.
Hold that close.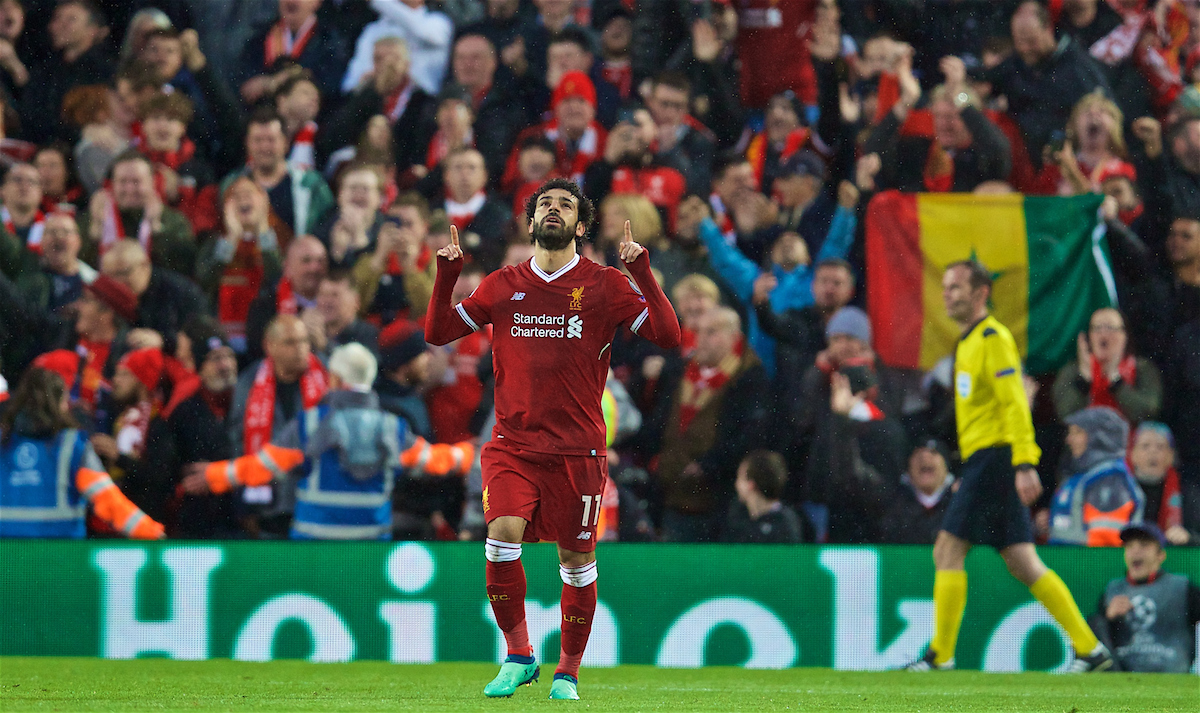 There is this poor woman who has sat by me for this European campaign. I like her a lot, you know. No idea of her name. Every game I shamble up the stairs stinking of ale close to kick off and there she is. God she loves The Reds. She tends to be calm as anything while I'm a case.
Today it was the opposite. Well, not the shambling and the stinking of ale. But the being a bag of nerves. Roma got on top first half for a bit and she was rocking. There I was. Wise words in between croaky shouting:
These can't play much better than this. And they can't keep this up.
They couldn't. And they couldn't. For 60 minutes of the game Liverpool dominated, by a mile the better side. Five-nil flattered Roma. The Reds were worthy of six. Of seven. You name it, they deserved it. What a team. What a gang of lads.
It was a demolition.
Hold that close.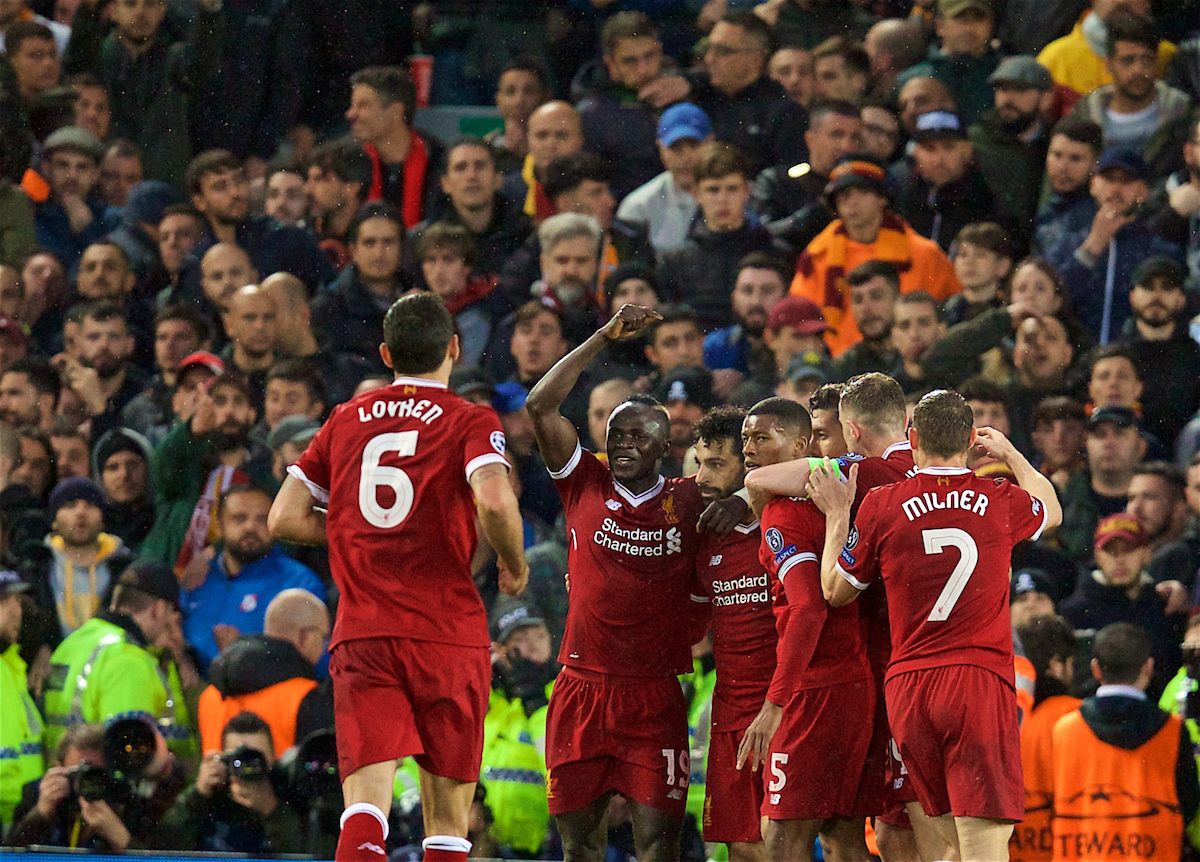 Liverpool come out second half and don't stop. They are relentless. The time between half time and the fifth, you've never seen anything like it. You have never known it in a European Cup semi final. There they are, the great players. Mane and a Firmino brace.
From the minute Gini Wijnaldum came on and broke lines, Liverpool have dominated Roma. They've not been able to live with the desire or endeavour or the tactical nous. There is five minutes around the hour where Jordan Henderson is irresistible. The match belongs to him, the match belongs to Liverpool.
Second half Roma come out with the following gamble — turn 2-0 into 3-1. It's not unreasonable but Liverpool run roughshod all over it. Turning 2-0 into 5-0. Dominating.
No one tells you what to do when you are 5-0 up in a European Cup semi final first leg. For my money, you try and make it six. For my money.
But Liverpool suddenly fall between stools. Suddenly lose momentum, suddenly struggle for legs. The adrenaline drops.
What are you meant to do? It excuses nothing but it explains everything.
Hold that close.
You've spent your life hearing about great Liverpool sides. There have been some, you know. Before the game me and Steve Graves and Emilia Bona watched Roger Hunt banging goals in. It's easy to say that defenders look like ghouls, look 1940s, look inept while Hunt has eons to convert.
It is easy to say that.
The truth of the matter is they were great Liverpool sides. The best there were. The best. And you've heard the tales. Heard the talk. Know the jive.
The tales were real. They conquered all of Europe. Never going to stop. But they never went 5-0 up in a European Cup semi final. Never were so good, so cool they gave you an ice cream headache. They never boggled the mind. They were amazing. But they stayed on the mortal plane.
But they lifted the trophy. They found that way.
Hold that close.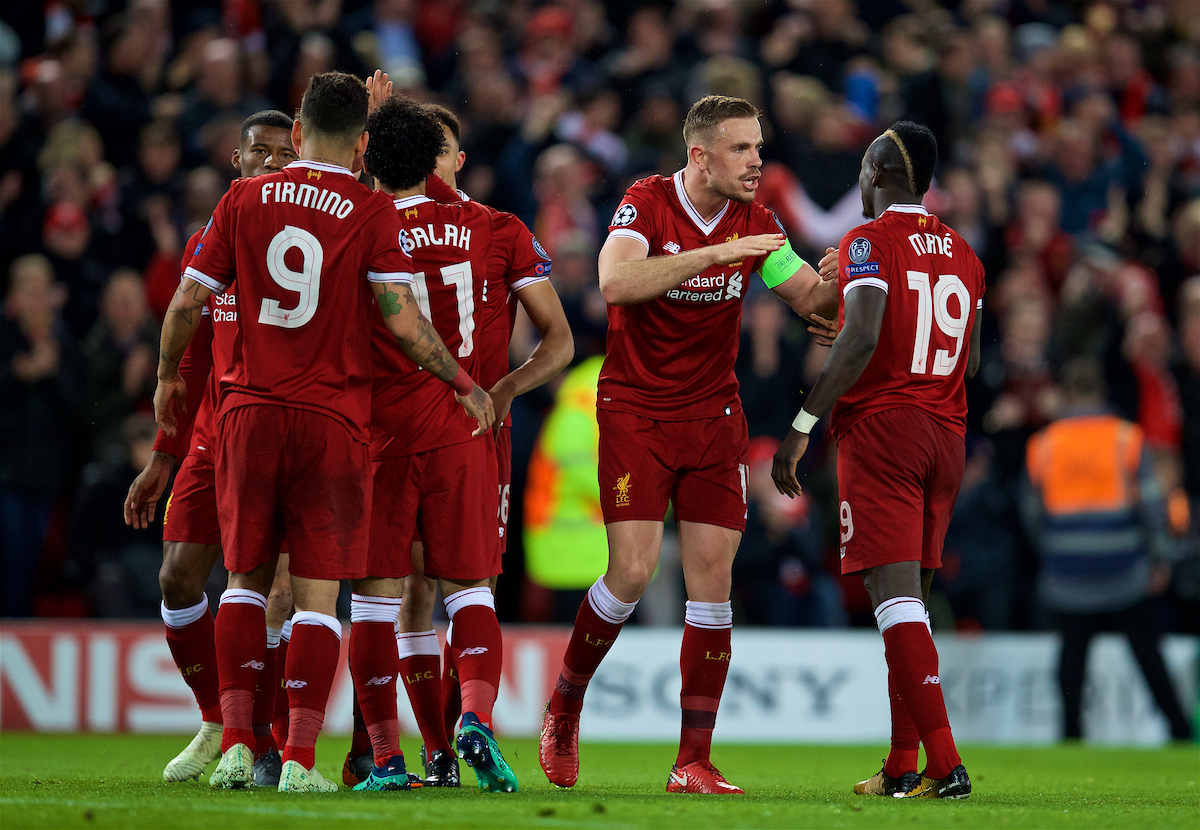 They grab their 2 back. Fair play to them. Fair enough. They grab it back. They give themselves a sliver of a chance. Their lads scrap it through and pull it out. They keep the tie alive. But they can do no more.
Listen:
– You've never seen the like.
– Neither have they.
– It was a joy to be alive
– All those Liverpool players exist and prosper at this level.
– All of them are great.
– One has become a genius.
– The joy cannot be taken away.
Listen, this shouldn't ever be easy. But Liverpool make it look easy. That they do tells a story of their brilliance.
Liverpool have played a game tonight you will bore your grandchildren about. Liverpool have produced a performance you could dream about. For the sixth time this season Liverpool have sent a message out to Europe. They must be sick of them by now.
Liverpool incredible.
Liverpool inevitable.
Liverpool ineffable.
I don't know what it is but I love it.
Hold that close, Redmen. Hold that close.
"That is one of the most imperious performances in Liverpool's history." ✊️

🗣 Subscribe and listen to our immediate post-match reaction show 👉 https://t.co/Z8JVyOQDO5 pic.twitter.com/8e0V4vwtnH

— The Anfield Wrap (@TheAnfieldWrap) 24 April 2018
Recent Posts:
[rpfc_recent_posts_from_category meta="true"]
Pics: David Rawcliffe-Propaganda Photo
Like The Anfield Wrap on Facebook