THAT contained multitudes.
First of all: Don't say they weren't rattled. Don't say it all doesn't mean something, this thing supporters do. Don't say that and never say that again.
In truth, it took more than some noise. City were prepared for something. They had a good first 10. Their shape looked magnificent. They outnumbered The Reds all over the pitch. They'd taken Rafa Benitez's blanket and stretched it. It was quite something.
And then Liverpool scored.
It's the answer to everything. Second best? Score. Outgunned? Score. Under the cosh? Score. Stick it in the back of the net and we can discuss their tactical superiority afterwards.
Goals change games. It's football's best and truest cliche. Liverpool score through Mo Salah and suddenly the first half belongs to them.
Then City were rattled. Then they heard every voice. Felt every roar. They found themselves all at sea. It was suddenly overwhelming, suddenly mind boggling for them, especially after Leroy Sane's miss. Little did City know that would prove their clearest chance of the 90.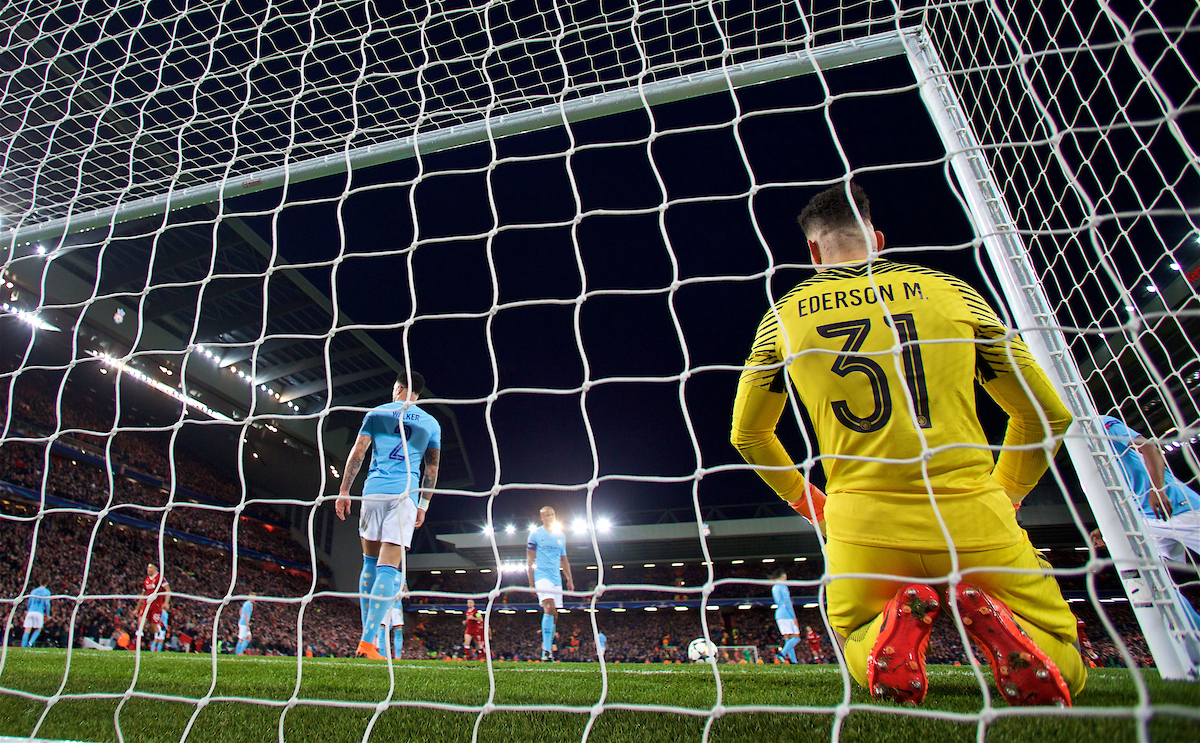 The miss put them further at sea. It had been a chance to quieten the storm; instead, it intensified it. The storm said "Allez". The storm said "Liverpool". The storm would not be moved.
Pep Guardiola had picked a team of compromise. He'd stretched Rafa's blanket as much as he could and suddenly it was torn. Liverpool were playing in that tear, waiting for the ball to come available and they would pounce. We talk a lot about footballers being clever. Tonight both sides showed exactly how clever you have to be — on top of physically dominant, on top of technically elite, how clever you have to be to play at this level. This is the level.
The blanket was torn and Alex Oxlade-Chamberlain kicked the ball dead hard into the Manchester City net, into The Kop end and Anfield was in raptures, Anfield sang Hosanna In The Highest, Anfield resplendent and Manchester City had been undressed.
Their heads could go further. The thing about being a manager and making a big change in your side, taking out your highest scorer available, the thing about all of that is that, if it doesn't go well, then your side starts to wonder. Manchester City compromised the thing that brought them to the table. They sidelined their partner for the dance. And it suddenly hurt, Ilkay Gundogan wandering around, a lad looking for a role. Imagine being Raheem Sterling on the sideline. Imagine being David Silva suddenly running the line.
Liverpool pounced. It was a goal as soon as we were in wide areas. You knew it. You smelled it as keenly as the cordite which the whole area of Anfield oozed. The ball in and it was there. Liverpool Football Club had their reward if Liverpool Football Club can be seen as the whole thing, can be seen as those lads on the pitch and those lads in the dugout and that throng of screaming, roaring magnificence on the side of the pitch. Don't you dare tell me this thing doesn't make a difference. Don't you dare ever say that what we do shouldn't matter.
What we do isn't everything. What we can do is enough.
There was a point at 3-0 when they passed to Andy Robertson and he, not unreasonably under the circumstances, tried to carry it 60 yards and finish where it would be fair to say that the champions elect had absolutely gone. That they didn't know where they were or what they were doing.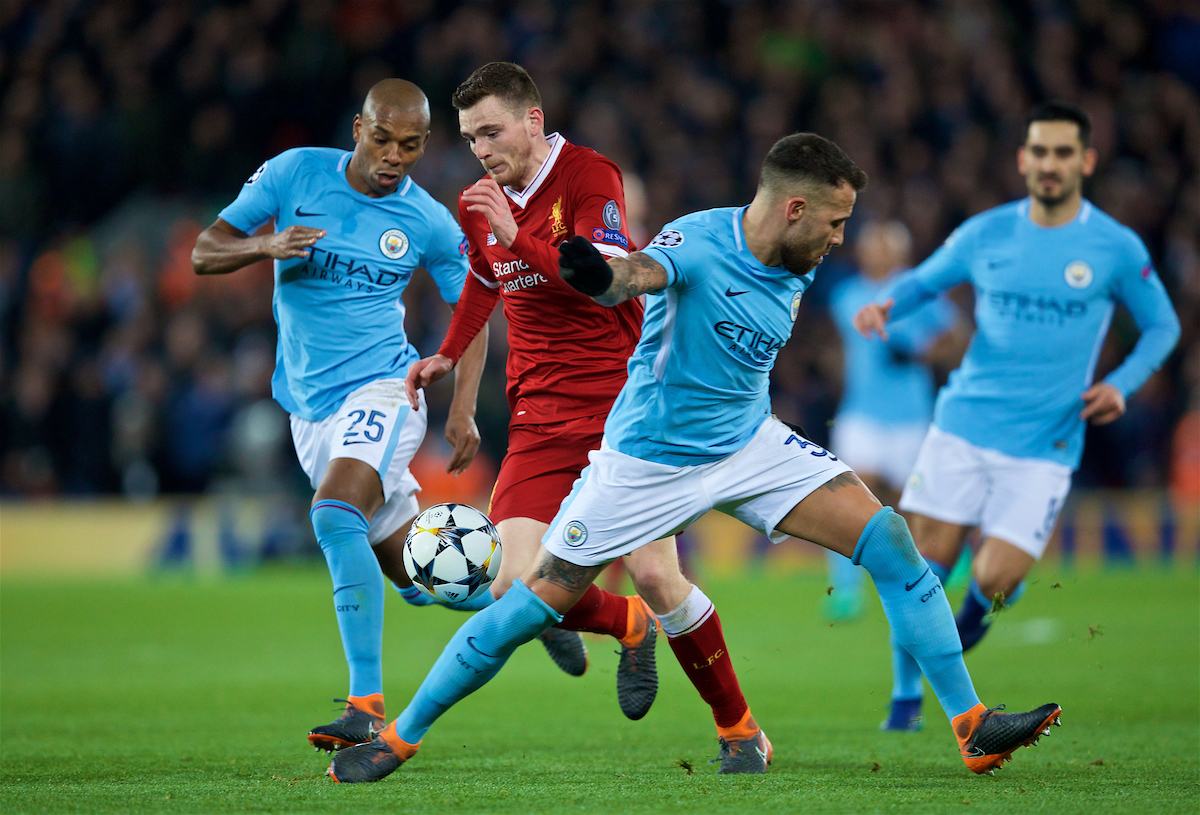 Second half Liverpool wanted to get out of dodge. I've seen this film before, seen the clock go down in units. Just do it in fives, Liverpool. Just do it in fives. One five minutes after the other. My word, Manchester City tried their very best to be very good but they just couldn't get to where they needed to be. They couldn't open Liverpool up, Dejan Lovren's arching, diving header clearances, Loris Karius alive to everything, Trent Alexander-Arnold up against the most dangerous player on the pitch, Robertson shutting down space brilliantly. Behind everything, James Milner alert.
Mo Salah going off injured made Liverpool wobble. Immediately Guardiola introduced Sterling. But City just couldn't break through and the crowd dragged Liverpool home. The crowd put its arm around Liverpool, cheered every block but, more importantly, said to those lads that we were all in this together and here, have some of our energy. This belongs to you now. Take it and run with it. And get out for all of us.
You do it in fives. You get from 65 to 70. 70 to 75. You do it in notches and you bring it home.
Liverpool brought it home.
If it needs to be, and perhaps it does need to be, what tonight can be seen as is vindication. Half that Liverpool side have been heftily maligned at times this season and even for years in some cases. The goalkeeper, Lovren, Alexander-Arnold, Robertson, Milner, Milner, Oxlade-Chamberlain, Jordan Henderson, even Sadio Mane have all had nonsense written about them and said about them — occasionally by me — that they aren't good enough to be at the business end of the season for Liverpool. They have all been written off by the football body politic, by Liverpool supporters, by both. Been judged for what they aren't. Not expensive enough, flashy enough, solid enough, switched on enough.
These lads haven't been flashes in the pan. They've shown through this campaign they are good enough for a side with genuine ambition, they've shown themselves better than their critics and in key moments tonight they've been better than their marvellous opponents. They've shown what a game of football is — a group of lads in their 20s doing their best and being their brightest, carrying, embodying the hopes and dreams of a city, of a sense of place, of a diaspora. They may not be perfect, they may not finish this club's journey under Jürgen Klopp but don't dare malign them any further. Don't you dare say they don't matter.
It contained multitudes. Battles everywhere. Manchester City were good. They are good. Very good. Nothing has been decided tonight.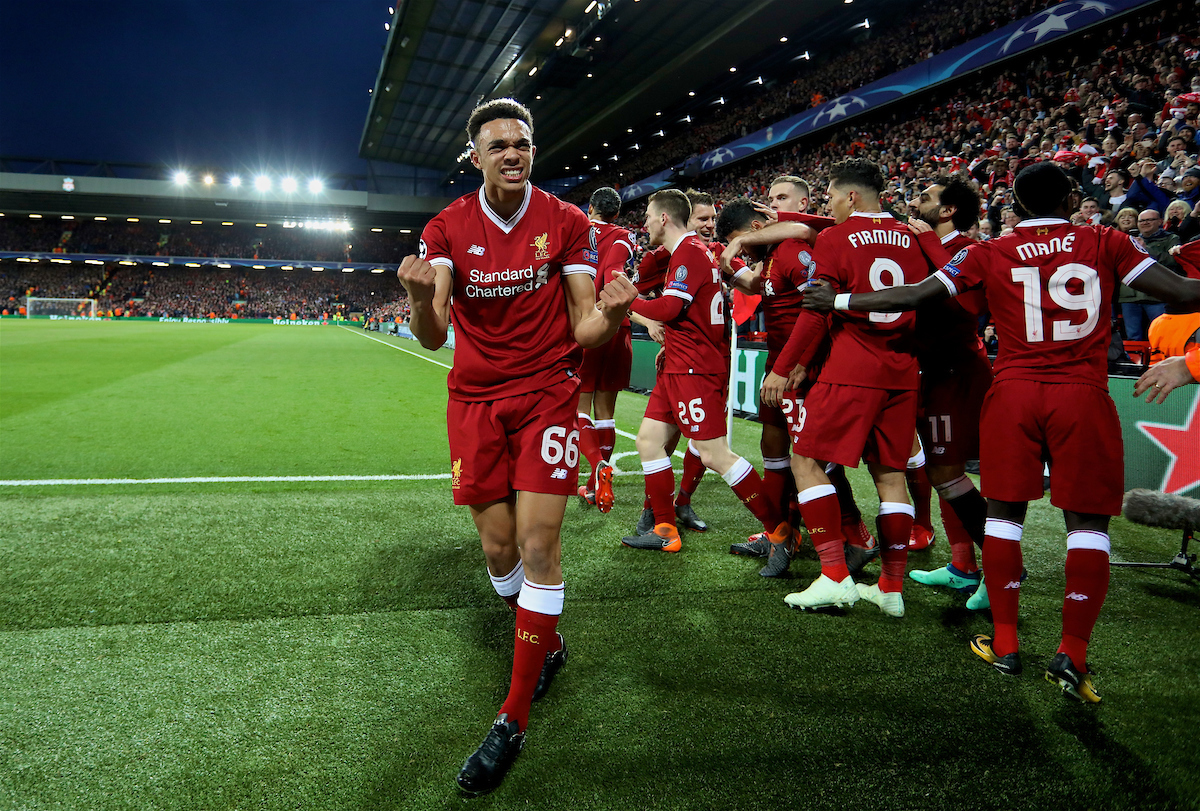 Well that isn't true.
The result of this tie hasn't been decided tonight. It has gone a long way towards that but Liverpool won't be complacent and they shouldn't. Manchester City have scored the most goals in the land. They have put five past Liverpool before tonight; scored eight against them all season. Let's not kid ourselves.
But some things have been decided tonight. This is a very good Liverpool side. One worthy of love and affection, one coached brilliantly. This is a Liverpool side that can harness a crowd. And that crowds are living things, communal forces, that football is part science, part art and part act of devotion when done well, when done right. Come all ye faithful, joyful and triumphant. Liverpool tonight represented a worldwide diaspora, concentrated its force into 50,000 souls in one theatre.
Joyful. Imagine being part of that tonight and not aching with joy, not crusading like a zealot, not having that fire burning inside. This is what the thing is. To love, to adore, to support. These are all verbs. These are all things to be done, to feel, to experience. These are actions.
Tonight, Liverpool took action.
See you next week.
"Anyone who underestimates Anfield, it's at your peril." 👊

"What a performance. What a night." 💥

🎥Subscribe to listen to our Post Match Show: https://t.co/eTmRQkhp95 pic.twitter.com/664IAUvtNY

— The Anfield Wrap (@TheAnfieldWrap) 4 April 2018
Recent Posts:
[rpfc_recent_posts_from_category meta="true"]
Pics: David Rawcliffe-Propaganda Photo
Like The Anfield Wrap on Facebook