BOURNEMOUTH were beaten before a ball was kicked, beaten when the teamsheet came in.
They'd have hoped to see a change at least in the front three. The night before they go to bed and say their prayers. If they have been good boys and are up to date on their confession, then they can be optimistic and ask for two changes.
They see the team. They obviously haven't been good boys. Quite the opposite. They have been forsaken and they play like it. They play like they know Mo Salah is good for one at the very least, that Liverpool will definitely get another, will score first and they almost cry it in. Almost want Liverpool to get it out of the way. Put them out of the misery. Make it 1-0, lads. You know you are going to. Just do it and we can all get on with our lives.
Imagine being Spurs or Chelsea supporters watching that first half. You'd be livid. Why are they making it so easy for them? Why can't they get near them? Why won't they? Why has Eddie Howe played Jermain Defoe up top? If the boot were on the other foot I would be furious about it. I would be spitting blood and bemoaning our luck. Why did they get Bournemouth at home straight after that European game?
The truth is that Liverpool haven't lost a home game this season bar one crazy night against West Bromwich Albion. Not a single side in the league or the Champions League has beaten Liverpool at home. The spate of disappointing draws that pockmarked the first half of the season are now a thing of the past too, on the whole. Anfield is a fortress, a fortress built on fear. Be scared of our attack, be scared of what it can do.
It's a reminder of Liverpool sides from the past but also — and perhaps of greater relevance — of dominant Premier League sides from the past. Chelsea and Manchester United from 2003 to 2009 at home, where everyone shrugged and opposition rivals watched on furious it was never much of a contest. Both sides that tended to have three in attack, both sides who had their biggest attacking threat playing predominantly off the right. Two sides who rewrote the rulebook to some extent.
The rulebook or the guidebook? I've been thinking a lot about that Manchester United side that dominated from 2006 to 2009. It had very strong one-on-one defenders at centre back, an excellent nuts-and-bolts left back, a centre midfield which would simply get the ball forward and get out of the way (the United midfield that season contributed 11 goals in all comps if you don't count Nani — 15 if you do) with a minimum of fuss and a front three who could create havoc anywhere in the country but who all also worked their socks off, and were all in their mid 20s with a lot to prove. They never stopped moving. And my lord could they counter attack. If I were a football manager moving from one league to another I would be tempted to have a little look at what had worked before and wonder why. I would put some time and energy into that.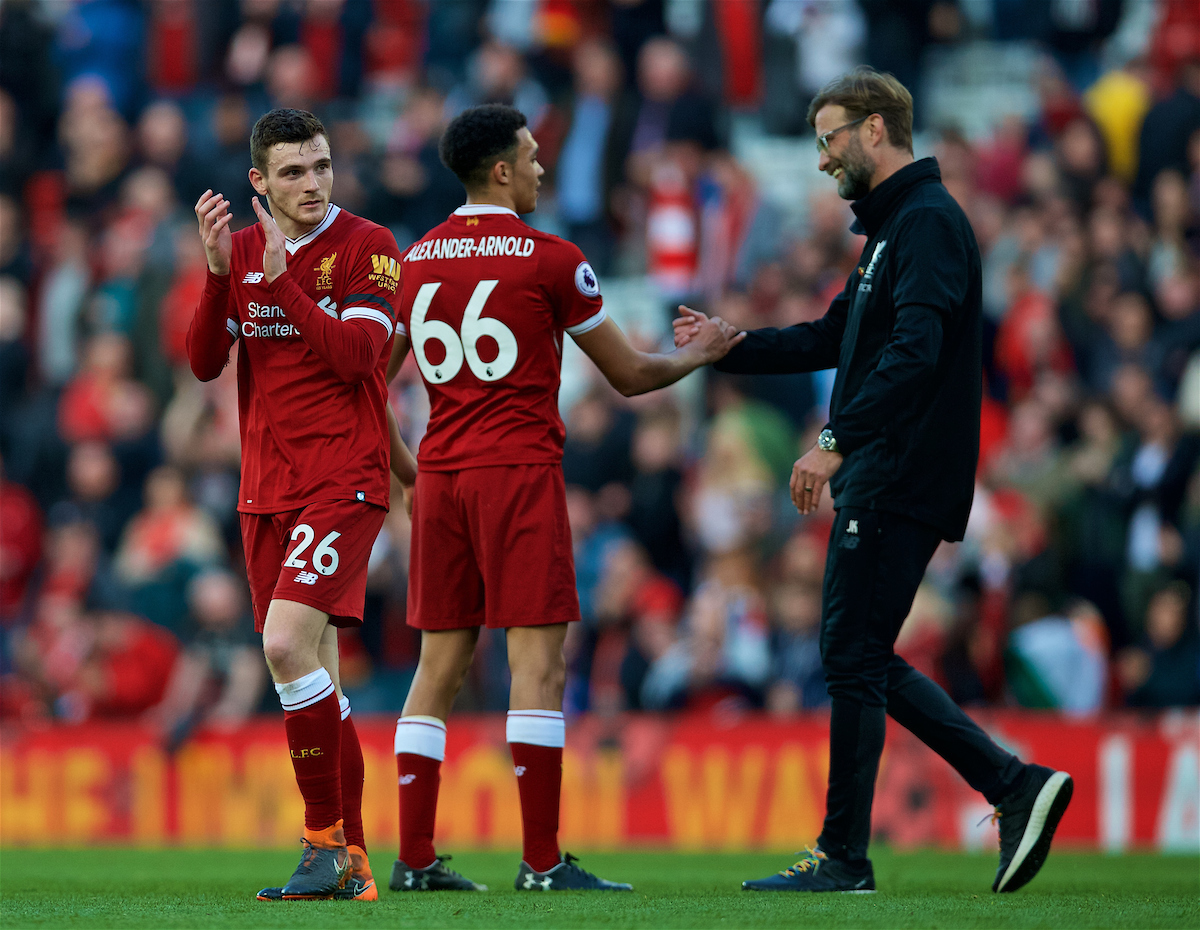 The thing about those Chelsea and Manchester United sides is that they were the last sides in English football to be dominant for more than one season. No one has retained this league this decade; both managed that. No one has backed the title win up. Lots of sides have impressed but very few have stayed impressive. In fact, some title defences have been the poorest for 20 years or so.
Today's Liverpool performance was different to what we saw at this stage last season. Last season around this time we were poor at home, muddling through. We were stodgy in midfield and lacking pace in attack. Today, Jordan Henderson and Gini Wijnaldum were shifting the ball so quickly forward and were constantly available. Alex Oxlade-Chamberlain driving through midfield. To this three, Bournemouth had no answers.
And they were the least of their worries.
The most of their worries, what they went to sleep fearing, happened. A Sadio Mane goal. A Mo Salah wonder goal. A Roberto Firmino goal. There was a late South Coast flurry when the mistake to select Defoe was corrected, when the Kemlyn Road-side liner decided he was going to let Callum Wilson play the game offside and, when Liverpool's intensity dropped for the first time, then and only then did they look like ruffling Virgil van Dijk's magnificent feathers. Apart from that they were kept at arm's length by Liverpool's peacock and his partner. Attacking was irrelevant because defending was everything.
Every Liverpool player looked unhurried and looked to be enjoying his football. They weren't in the slightest bit preoccupied about what they had done nor what is to come, except perhaps for a bit of overeagerness to get Salah his goal now that Harry Kane has decided that he is going to swear on his daughter's life this campaign. Liverpool were serene, certain, better. Better than every opponent, better in every duel, better in every battle. Their brains were better, their hearts better, their legs better.
That the Champions League run hasn't been miraculous, that it isn't having everything thrown into it, that Liverpool are growing as they progress and growing through their season is something truly marvellous, something which can be taken into next season's campaign. Liverpool are finding themselves anew again and again through this season, and every time they shed their skin they become deadlier, shinier and quicker.
They haven't finished yet.
Say your prayers.
"There's a real feel good factor that seems to be flowing through the whole team."

"We're on the march, who knows where this journey ends." 👊

✔️Subscribe to listen to tonight's Post Match Show: https://t.co/eTmRQkhp95 pic.twitter.com/H8tsIUaiw0

— The Anfield Wrap (@TheAnfieldWrap) 14 April 2018
Recent Posts:
[rpfc_recent_posts_from_category meta="true"]
Pics: David Rawcliffe-Propaganda Photo
Like The Anfield Wrap on Facebook