THERE are fewer things in football that better the sight of a local lad pulling on the colours of his hometown club.
Liverpool are lucky enough to have been blessed by some pretty special scousers down the years. Lads who, no matter how much their reputation grows, will always be in touch with their roots, maintaining the core values of what it is to be raised on Merseyside. Allowing the next generation to have somebody from the same streets to aspire to.
These days, there's another lad in the red of Liverpool shooting his way to stardom. A player who remains in touch with the area in which he grew up. Where he started to kick a football, aspiring to reach the top of the game, and is now giving local youngsters the same dreams.
For Mohamed Salah, it all started on the streets of Nagrig. He would begin his footballing journey on those streets aspiring to be the next Ronaldo, Zinedine Zidane or Francesco Totti, and would watch his idols on TV in a nearby cafe.
At the age of 12, Salah's father spotted the potential in his son and signed him up with local team Ittihad Basyoun. Prior to that, young Mo would display his fleet feet playing with his brothers and their friends where, despite being the youngest, nobody could get the ball from him — not dissimilar to the Premier League defenders having the same trouble these days.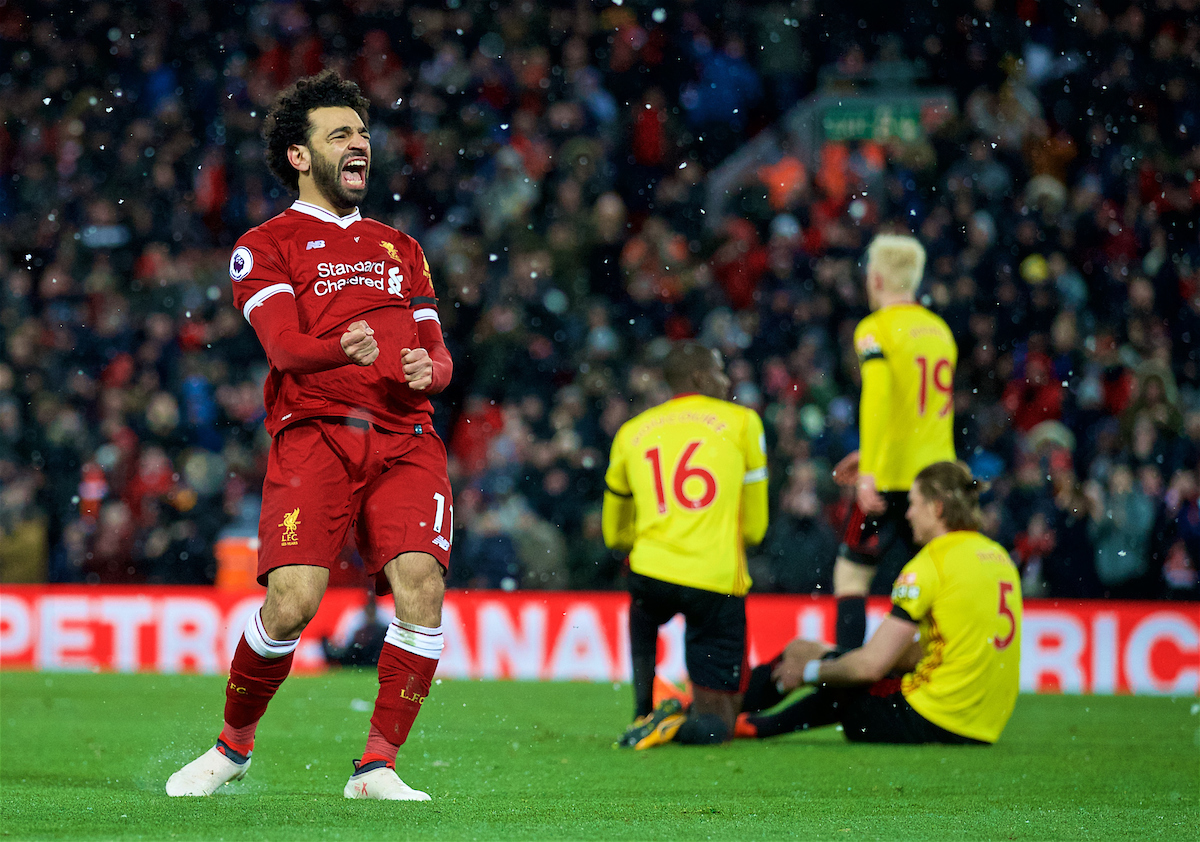 But Salah's first step towards professional football was more accidental. When scouts from El Mokawloon came to the area, it was to watch another youngster from the village. The scout set up a game with the other kids and instead it was Salah who stood out from the rest, and he was asked to join the club in Tanta, an hour from his hometown.
Salah's rise through the ranks saw him eventually move through to their youth team in Cairo. At the age of just 14, he would have to make a four-hour bus journey to training from his home. His commitment would pay dividends once he broke into the first team as he started to make a name for himself across Egypt. In two and a bit seasons, Mo scored 12 goals for the club removed from the bitter Al Ahly-Zamalek rivalry in the same city.
The 2011-12 season would be cut short in Egypt after the Port Said Stadium disaster, in which 74 people were killed and hundreds injured amid violent scenes following a game between Al Masry and Al Ahly. From that tragedy he would get his big break in Europe.
With domestic football put on hold, a friendly was organised between the Egypt Under 23s, who would soon be competing in the Olympics in London, and FC Basel. "The Pharaohs" won the game 4-3 and Salah, a second-half substitute, scored twice. A month later, the Swiss side announced that the Egyptian had signed a four-year deal.
Over the course of two seasons in Switzerland, Salah played 79 games, scored 20 goals and picked up 17 assists. He made a particularly strong impression playing against Chelsea, scoring against them in the Europa League semi finals in May 2013 before repeating the feat twice over two games in the Champions League group stages the following season.
During the January transfer window, Liverpool came calling but it was Chelsea who got their man for a fee of £11million. Salah spent 12 unsuccessful months at Stamford Bridge before being sent on loan to Fiorentina, where he scored three times in his first four Serie A games.
After refusing a permanent deal to move to Florence, Salah joined Roma on a season-long loan deal. It was a move that saw his game advance to the next level. In 2017, Liverpool came back in, this time with remarkably fewer competitors, smashing their transfer record with no hesitation.
Salah's form at Anfield has been beyond anyone's — perhaps even his own — wildest dreams. The Egyptian has smashed several records, becoming The Reds' best ever debutant with his 36 goals in 40 games. He became the fastest Liverpool player to reach 20 Premier League goals, achieving that feat in two games fewer than Daniel Sturridge and Fernando Torres, and he shows no signs of letting up.
Salah's form could see him overtake Luis Suarez's tally of 31 league goals in 2013-14, Liverpool's best in the Premier League era. He could yet catch Ian Rush's return of 47 goals in a season and who would bet against him beating Alan Shearer and Andy Cole's record haul of 34 goals in a Premier League season — even without the same advantage of a 42-game season?
While the records and accolades Salah has received are just reward for the scintillating form he's been in since moving to Merseyside, there's perhaps no bigger sign of how much he has achieved than back in his home country.
👑🇪🇬 pic.twitter.com/XsyS7Ltk7Q

— The Anfield Wrap (@TheAnfieldWrap) 9 October 2017
Events in Egypt never seem to be far from Salah's mind and it's clear he sees himself as having the platform to make a difference. He paid tribute to the victims of the Port Said Stadium disaster by donning the number 74 shirt during his loan spell with Fiorentina. He goes back home to feed people during Ramadan, knocking on the doors of his old neighbours to say hello.
After scoring the goal which secured World Cup qualification for Egypt for the first time since 1990, Salah was offered a luxury villa by the former president of an affluent district in Cairo, but he declined and asked instead if the money could be donated to the village he grew up in.
Close to home, there are schools, community centres and streets named in his honour, sustained as a result of his funding. In his home village Nagrig, more cafes have been built to allow children to watch Salah's goalscoring exploits, just as he would watch his idols back in his youth.
Salah has given the people of his home country much more than money. He has given them a cause to be united behind. A reason to smile and, for the next generation, hope that they too can achieve their dreams.
A special player and a special fella. Until Salah, we were never happy.
"I would say [Salah] is catapulting himself into the bracket of top 2 or 3 players in the world right now on current form." 🇪🇬

"While we have him our team, anything seems possible." 👑

Subscribe to listen to our Post Match Show: https://t.co/eTmRQkhp95 pic.twitter.com/eTmq6xKGVM

— The Anfield Wrap (@TheAnfieldWrap) 17 March 2018
Recent Posts:
[rpfc_recent_posts_from_category meta="true"]
Pics: David Rawcliffe-Propaganda Photo
Like The Anfield Wrap on Facebook