IT'S the worst feeling.
I know for some it willl be losing to Everton, but many younger Reds won't even remember that as a thing. They were strange days of inept managers from Croydon and Paul Konchesky (don't have nightmares, kids).
Losing to Manchester United hurts. Losing to Jose Mourinho hurts. Knowing that somewhere Mick Hucknall is having a better weekend than me possibly hurts the most.
Despite my family being from the city, I didn't grow up in Liverpool, so although there was an implied dislike for Everton, my ire was always turned more towards Man United. For one thing, they won the league practically every season. Then I'd have to listen to school friends who had never been further north than South London crowing about their victories.
In 1996, Eric Cantona's late winner in the FA Cup final caused me to fall off the back of the sofa. Man United physically and emotionally caused me endless pain.
Frankly, I couldn't understand why anyone cheered for them. In the days when cartoons were the only thing as important to me as football, there were heroes and villains. The heroes were virtuous, like He-Man, Lion-o and Robbie Fowler. The baddies were scheming, like Skeletor, Mumm-Ra and Alex Ferguson. Man United's mascot was a red devil for crying out loud, they couldn't have been any clearer about their role in the story of football.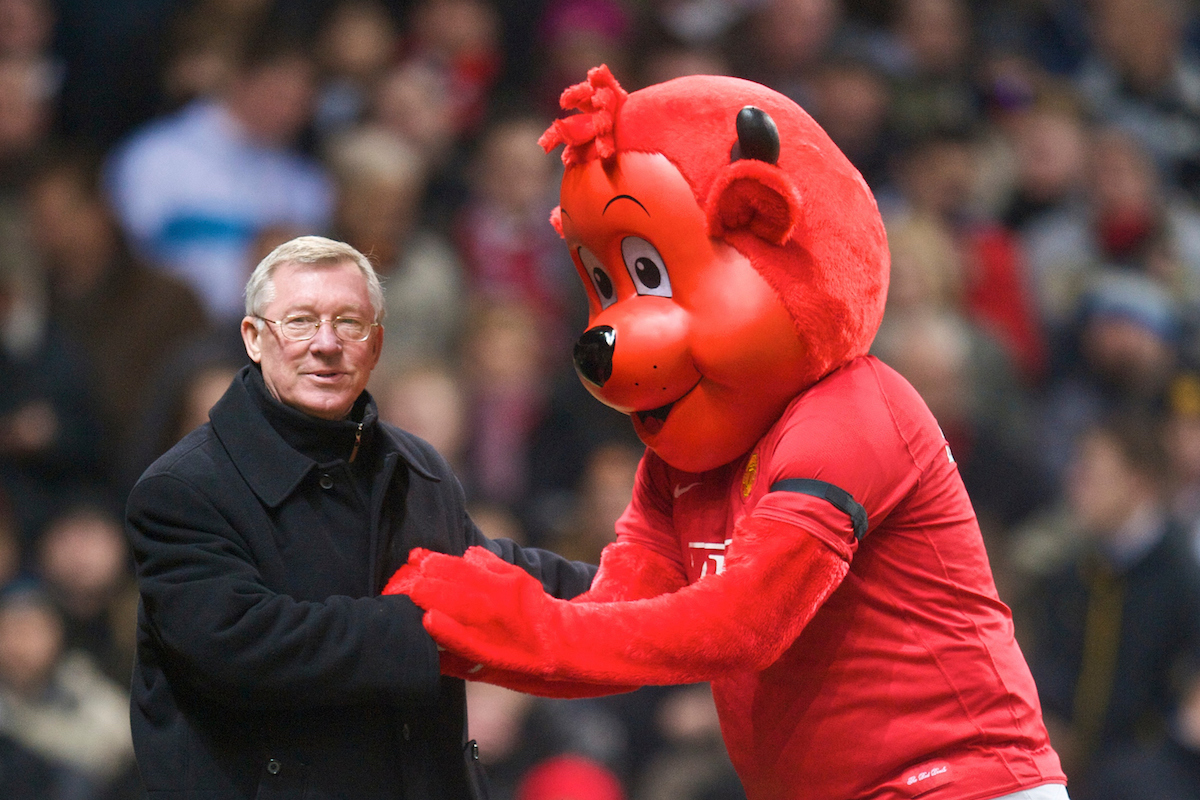 It reminds me of the David Mitchell and Robert Webb sketch about the Nazis ("Controversy as Anfield Wrap columnist compares Manchester United to Nazis"). Mitchell's Nazi character raises concerns about their uniform.
"Have you looked at our caps recently? They've got skulls on them. Hans… are we the baddies? I mean, what do skulls make you think of? Death, cannibals, beheading, pirates…"
"Hans: Pirates are fun!"
"I didn't say we weren't fun, but fun or not pirates are still the baddies."
Fast forward to present day and The Red Devils now have Jose Mourinho as their manager. A man who is so dedicated to being seen as a bad guy that there are people from the WWE who watch his press conferences and go "he's laying it on a bit thick, isn't he?".
To be honest, I'm astonished we've not yet seen him sat in the stands with a cat on his lap and a big red button that opens a tank filled with sharks with frickin' laser beams on their heads.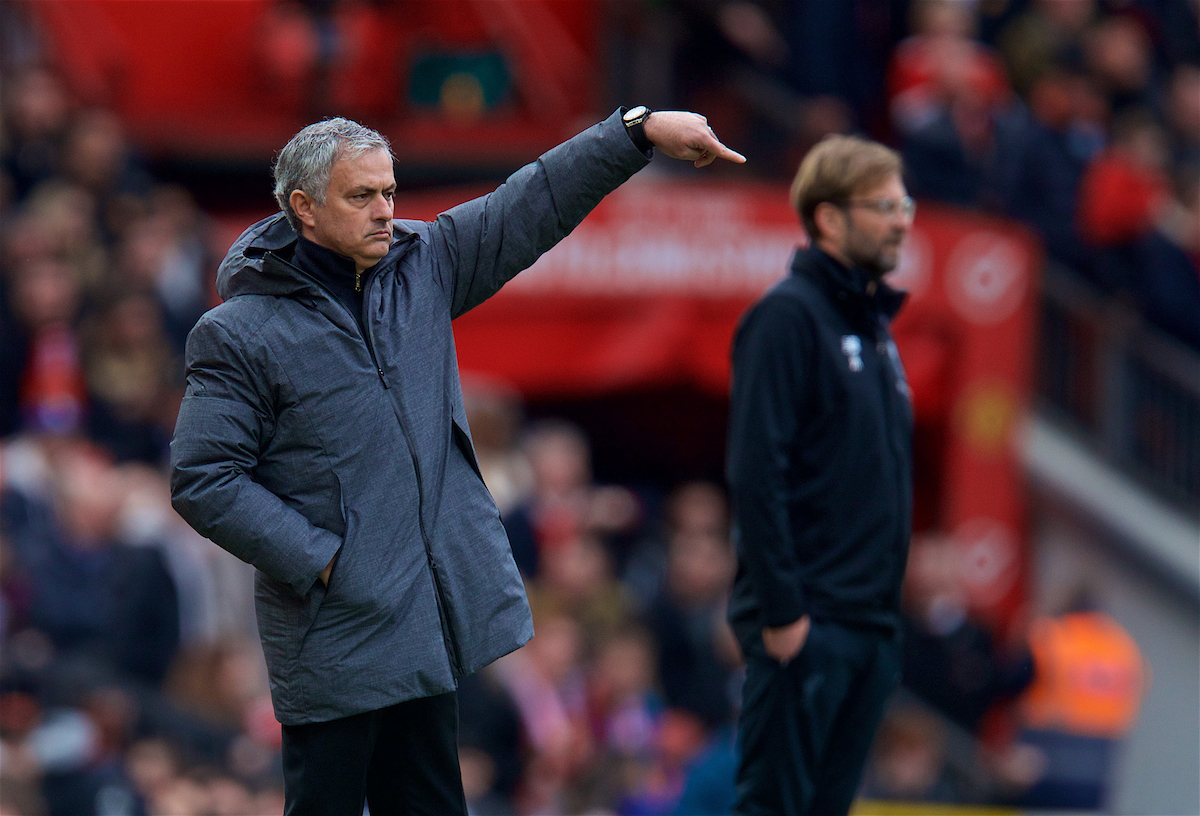 I'll say this though, for all of Man United's devil worshipping, their eye-poking manager and selling poisoned milk to schoolchildren (probably), I do quite like Marcus Rashford.
Yes, he was the one who plunged the dagger in on Saturday — twice — but he's such an impressive talent that I can't bring myself to dislike him. I actually saw him last summer in Malaga Airport. A friend of mine was getting married and happens to be a Man United fan, so we asked Rashford if he could sign his wedding card, and he kindly obliged. I almost felt bad for instinctively flicking the Vs at him as we walked away.
I did think there was a certain underestimation of Man United going on before the game. Liverpool have largely been sensational this season, yet went into the game behind their fierce rivals. They have had more, shall we say, fortunate wins than Jürgen Klopp's men, but then creating your own fortune is a skill in itself. Their football isn't pretty, and their best player by a distance is their goalkeeper, but Man United more often than not get the job done.
That said, I was still confident. Liverpool were overdue a league win over Man United, and The Reds' recent attacking verve versus a Man United side fresh off conceding twice to a blunt Crystal Palace side led to me foolishly getting my hopes up.
However, some sloppy defending and fantastic/jammy finishing from Rashford was the worst possible thing to happen for the visitors. It gave Mourinho something to cling on to, and few managers are better at shutting a game down once they have their nose in front.
The Reds did push in the second half and got a goal back, admittedly just as fortunately as Man United had scored their second, but then couldn't find the equaliser. A lack of creativity and width from the attack, and superb organisation of the defence, meant that Man United saw the game out, much to the relief of Old Trafford.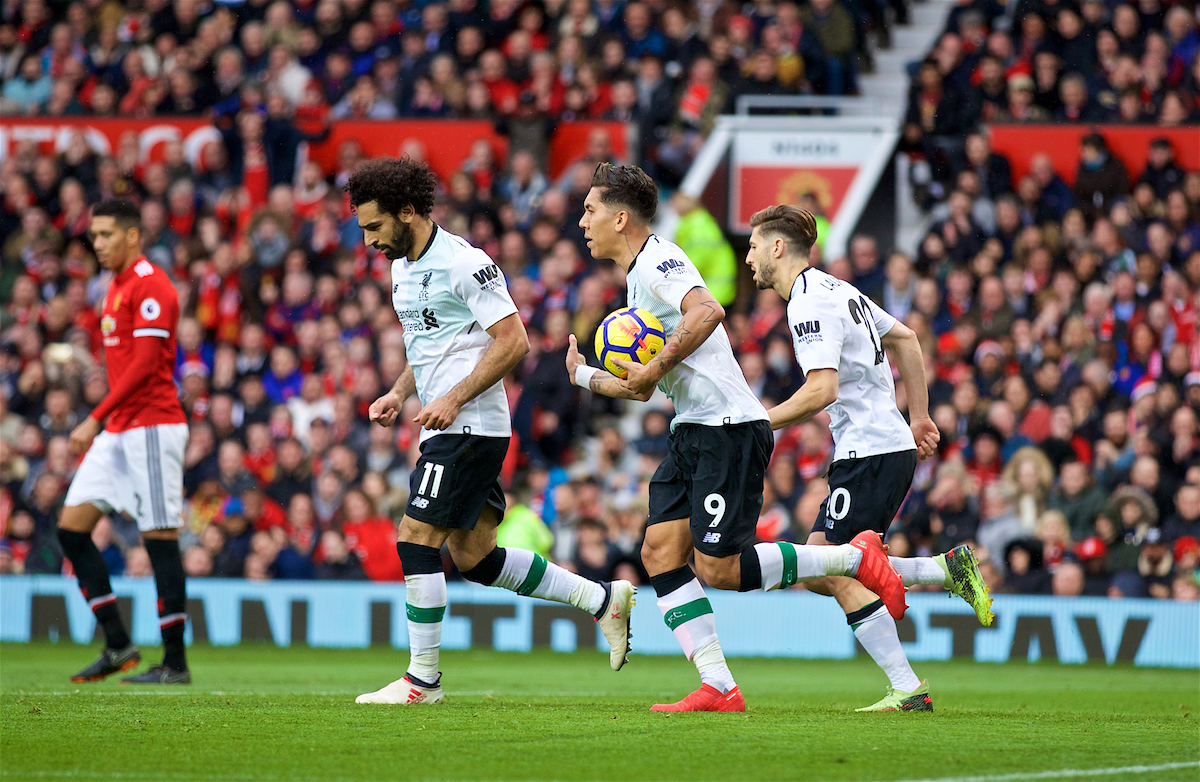 Dejan Lovren had a day to forget. However, it has been surprising to see people suggesting that it was obvious he would get "outmuscled" by Romelu Lukaku. The Croat has dominated the former Everton man more or less every other time he's played against him in the past.
Trent Alexander-Arnold struggled more than he had done in the same fixture 14 months ago, but it will be a valuable learning curve for him. He could have done with a bit more help from Lovren on occasion, but will be stronger for the experience.
The ultimate frustration came right at the death when, just days after Man United sealed their win at Palace thanks to a once-in-a-season strike from Nemanja Matic, Liverpool had a chance via goal-net-hitting enthusiast Mohamed Salah, but his snatched effort flew over the bar.
It's hard to talk about the game without mentioning the penalties, or lack thereof. Even Chris Kamara, that famous voice of absolute reason, felt that The Reds should have had three spot kicks during the game, reportedly telling Jeff Stelling that it was "Unbelievable!", though it might have just been another bang-on Alberto Moreno impersonation.
All three could have been given, but accepting that it realistically has to be stonewall for an official to have the guts to give an away penalty at Old Trafford, the only one I have a particular gripe with is the Marouane Fellaini trip on Sadio Mane. I can only presume the Belgian's hair blocked Craig Pawson's view.
The result puts Mourinho's men in a strong position to finish second. However, it could also prove to be the kick up the arse that Liverpool need to ensure they have a strong end to what has still been a very good campaign.
The spirited fightback in the second half was heartening, even if the sloppy first half and ultimate result was not. Sometimes, though, a team that has been on a roll needs a bit of a reality check. The Champions League will throw up much bigger tests than Porto, and Klopp's side will need to be ready for that. A game like Saturday might just be the slap in the face that they need before those hurdles.
There are also eight games to go in the Premier League, and after Chelsea's victory over Crystal Palace the gap to fifth is back to just four points, with Liverpool still to travel to Stamford Bridge. Very few mistakes can be afforded in the remaining fixtures.
The noises coming out from the players after the game are positive. They hate losing, they hate being nullified and they would love to put it right against Watford next week.
Perhaps the Champions League draw on Friday will give Liverpool another chance to vanquish Man United this season. After Saturday, I'm very much hoping so.
You might say that I'd "love the thought" of Mick Hucknall having a shit Wednesday.
"In the grand scheme of things, it kind of hurts but it's not the end of the world this football match." 🎥

"We're still right in that mix." 👊

Subscribe: https://t.co/eTmRQkhp95 pic.twitter.com/Hd8d6P8K68

— The Anfield Wrap (@TheAnfieldWrap) 12 March 2018
Recent Posts:
[rpfc_recent_posts_from_category meta="true"]
Pics: David Rawcliffe-Propaganda Photo
Like The Anfield Wrap on Facebook