IN the wind and the snow, Mo Salah confirmed he's the best in the land with a minimum of fuss.
It's a debut season from the stars, a return which goes beyond expectation and even hope. We started the season with conversations around "reversion to the mean" where his goals were concerned and he's ending it blowing it completely out of the water. He's realigned exactly what we think he is capable of. I wonder if he has shifted his own thinking or if he turned up thinking he could do something like this.
He set Roberto Firmino up for his goal, should have set Danny Ings for his, but that was OK as he turned the rebound home. The key goal, though, is the first. Not only does it give Liverpool a flying start, it offers so much doubt through the Watford side. If Watford's defenders and midfielders are told one thing it is keep him off his left. Don't let him get on his left. If he does get on his left, get the block in. Just stop him from getting it on his left.
He makes it 1-0 with his right. All plans go out right of the window. What are we meant to do now, gaffer? What indeed. Impossible to work out what to do but wonder at his brilliance.
The second is a tap in from an Andy Robertson cross which demanded it. His third he finishes from another dimension. His fourth smashed home. It's all about being in the box, being between the sticks. He makes none of it look like rocket science. It's putting the round thing into the rectangular thing at its purest.
What he does do, which is marvellous, is the contrast of the pace of his running and his feet with his composure. It's this which makes him so very special. He has time in almost all matters, in almost all situations, in the heat and noise of the football match. He's Neo in The Matrix, bullets swerving around him. He's filmed by Ang Lee. He's the beat the drummer doesn't play, the punch Ali doesn't throw. He possesses the moment.
The heat and noise. The heat, I wish; not today. Anfield was snowy and freezing, the remnants of the "Beast From The East", but the biggest force of nature was Liverpool's number 11. Egypt's finest.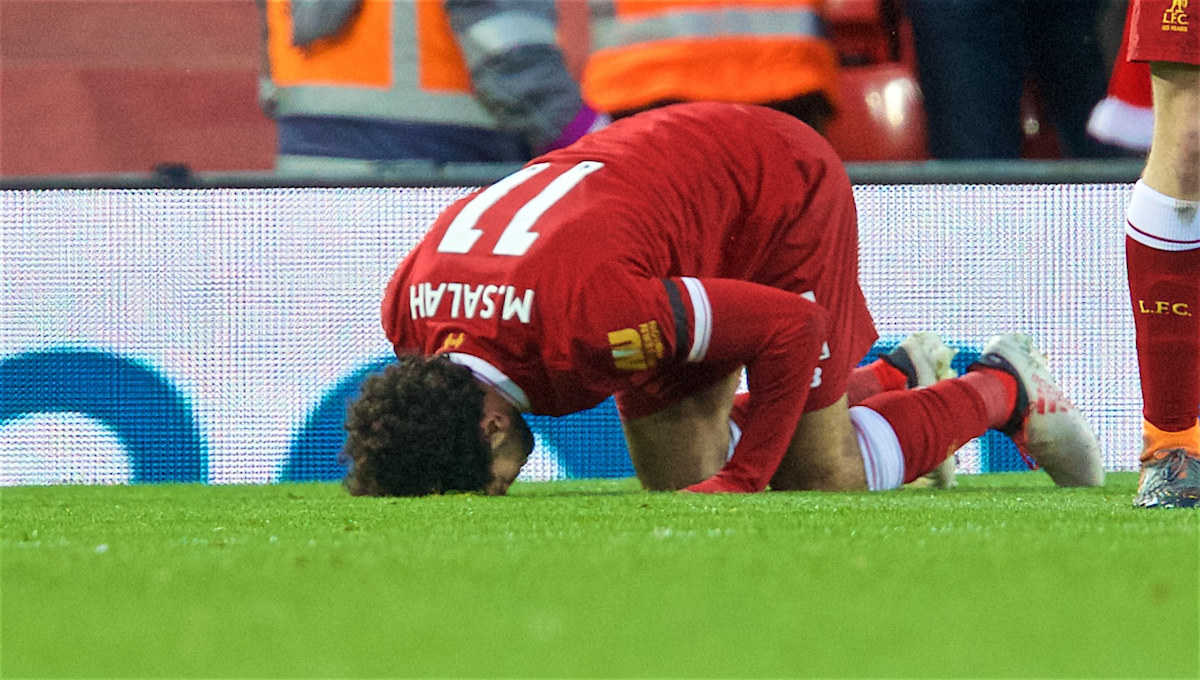 The rest of the match will pale into insignificance but shouldn't. Liverpool completely controlled affairs bar a rocky five minutes around the half-hour mark. It was a consummate performance, everything looked easy but it cannot be that easy. Watford are a decent side and quite a big side but they couldn't get near to hurting Liverpool.
At the back, Virgil van Dijk eased his way through the match, enjoying the battle when it came his way. Sauntering through it, making it look so straightforward both with and without the ball. The whole side showed that same certainty at the back, defending in van Dijk's image.
Watford had no time in the middle of the park, pressed into uncertain passing, pressed into absolute submission. What was happening in there was flat-track bullying at its best.
In fact, it would now be fair to describe this side as a set of flat-track bullies, certainly at home.
Firmino set the tone, as usual, in terms of work expected across that frontline. His touch was a tiny bit off at times, but when it was on it stunned Watford. They had nothing which could match it. Liverpool are telling that story through matches — you have nothing, nobody who can come near this. They are telling that story to their opponents week in, week out. Making that point over and over again.
Anfield was enjoying the cold, enjoying the brilliance and enjoying establishing itself as a fortress again tonight. The crowd had a ball, no one that cold until they emerge from the cocoon of goals, of brilliance. Nothing warms you like Liverpool being brilliant.
Allez allez. It's a season with everything in it and simultaneously a season to build on. Imagine that building process but live in this moment. What a time to be alive.
"I would say [Salah] is catapulting himself into the bracket of top 2 or 3 players in the world right now on current form." 🇪🇬

"While we have him our team, anything seems possible." 👑

Subscribe to listen to our Post Match Show: https://t.co/eTmRQkhp95 pic.twitter.com/eTmq6xKGVM

— The Anfield Wrap (@TheAnfieldWrap) 17 March 2018
Recent Posts:
[rpfc_recent_posts_from_category meta="true"]
Pics: David Rawcliffe-Propaganda Photo
Like The Anfield Wrap on Facebook