CALL it run of the mill; it's the thing that's easy to say. Just a run-of-the-mill home victory.
Pre match we're in The Hole In The Wall and this bloke comes over and points to three fellas and says that these lads have come from California and had to fly into Edinburgh because of the weather and paid 1000 US dollars for a cab all the way down to make the game.
Call it run of the mill.
Steve and me and Anna go to The Vernon and talk to Ravi from Seattle about our first games. It's Steve and Anna's birthday this weekend. Steve's first game was this weekend in the year 1990 — Liverpool are on the march towards their 18th Championship and Gary Gillespie scores a late winner. Liverpool 1-0 v Millwall. Anna saw us beat Rotherham United in 2001 in the FA Cup.
Call it run of the mill by all means but it is always someone's first game. Always someone's first time at Anfield, always worth outrageous trips, always the culmination of someone's dream to be there. It's always special somewhere in the ground for someone.
It's always special. That's the point. These games, these days, these Reds. Someone for the first time sees Mo Salah score for Liverpool in the flesh. It was a lovely move, Liverpool crisp and suddenly certain, a shape or an ideal rather than an equation. A swathe that Newcastle had prepared for but couldn't deal with. Alex Oxlade-Chamberlain irresistible and the ball home and The Reds on top. Liverpool shifting gears for a split second and showing their class, like a racehorse easing clear.
Newcastle were compact through the first half. Throw a blanket over them, 40 yards from their deepest defender to Dwight Gayle. It's testament to their special manager that they stayed that tight but demonstrative of the limitations of the tools he had that he couldn't do much more with what is on offer. They listen to him, they follow his plans but what good are your plans when Liverpool show their class?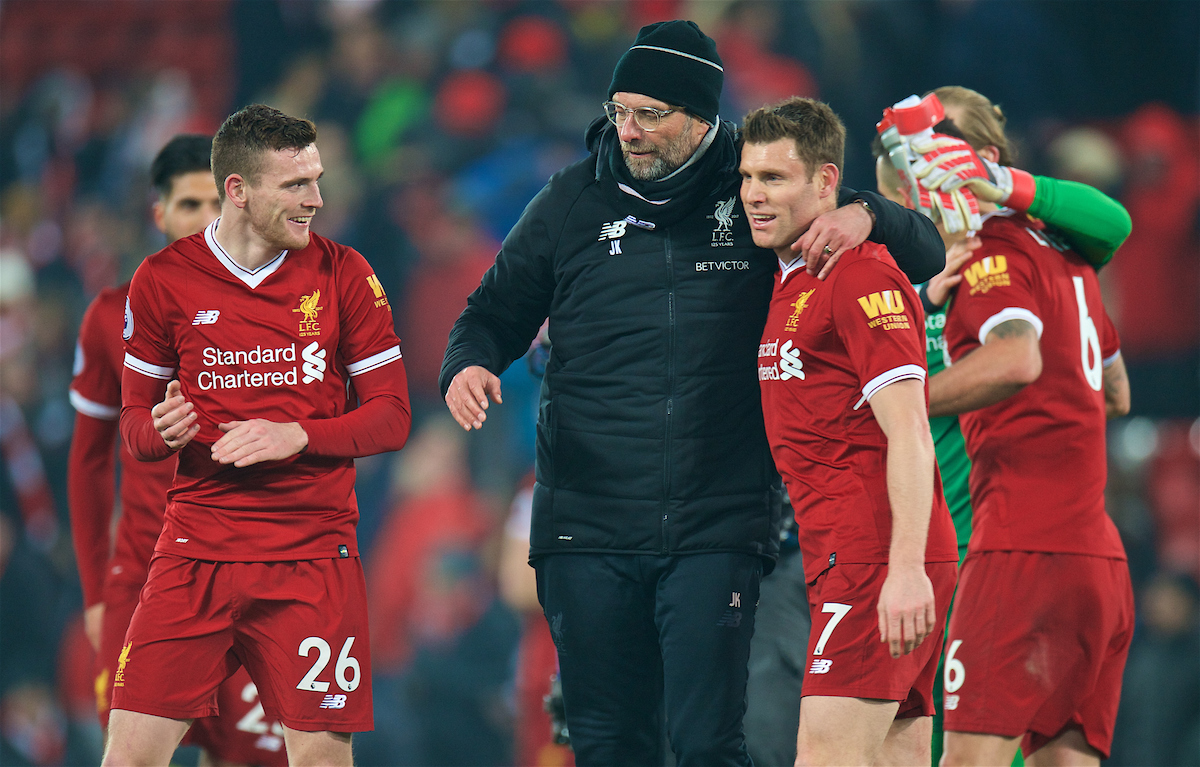 The second is the same. It's a gorgeous goal, a team move which is wonderfully finished. Sadio Mane can now shake off the idea he has been out of form or even slightly fractured for the last few weeks. His mistakes are always clanging, clumsy when they occur but he makes no more than anyone else really. They just can look a bit worse even though they aren't in real terms. He's playing well.
Some footballers aren't that silky and perhaps he is the least silky of the front three, but is by no means ungenerous with his endeavour nor unproductive. He's one of the very best attackers in the land; Liverpool just have two of the best five alongside him.
It's worth dwelling on the fume around the penalty not given late in the game. Zeljko Buvač going bananas and the crowd doing likewise when referee Graham Scott doesn't give the penalty. It was absolutely nailed on and to not give it led to a glorious mass meltdown under the circumstances. There's nothing wrong with going spare when it makes little difference to your Saturday night.
We want to say it is run of the mill, but this is now 10 months since we lost a league home game and only two league home defeats in the last two seasons. Take any two-season spell this decade and find something similar to that. It's impossible. This hasn't been our norm for so long that it makes sense people are flocking to come and adore these Reds. Through the wind and the snow.
It was windy and that was something else Liverpool needed to battle through. And they did. For those of us who are at our first game, those who aren't. For themselves and their manager. For the shirt.
We're both the business and we're doing the business. Liverpool are making being special look run of the mill. We are on the march towards being the very best. There is nothing more special than that.
Come and adore them.
"Liverpool never even got out of first gear." ✊️

🗣 Subscribe to #TAWPlayer and listen to our immediate post-match reaction show here 👉 https://t.co/UqnoxWIzVf pic.twitter.com/8VgMZe904Q

— The Anfield Wrap (@TheAnfieldWrap) 3 March 2018
Recent Posts:
[rpfc_recent_posts_from_category meta="true"]
Pics: David Rawcliffe-Propaganda Photo
Like The Anfield Wrap on Facebook