IN a surprisingly relaxed press briefing earlier this week, and with the return of Rafa Benitez on the horizon, Jürgen Klopp was predictably asked his opinion on a man still held in the highest regard by most Liverpool fans.
And the German couldn't have been more effusive in his praise for a manager who had, up until today's watershed victory, never tasted defeat against Liverpool.
"We know who is coming – a Liverpool legend is coming, Rafael Benitez one of the best managers in the world. We all know how he works, how he can organise a team, how he can make your life really difficult."
That Klopp was so open was telling, the jovial demeanour sometimes hides a disdain for, and annoyance at, the volume of media duties he's obliged to fulfil, and he often treats them as such, an unnecessary distraction from the real work of building a side that can compete with Europe's elite.
But this was different, Klopp seemed relaxed and enjoying himself, happily indulging the press pack, maybe a hint at the increasing assurance he has in his developing team.
The reverence in which Benitez is held among Liverpool fans will never be in question and the warm reception which he deservedly receives on every return to Anfield will never fade, but today, nearly eight years after his acrimonious exit, Liverpool's symbolic victory over Newcastle finally, thankfully and once and for all, puts the ghost of Rafa to bed.
That it took a Liverpool side good enough to be mentioned in the same breath as Rafa's finest to finally record a victory against a Benitez side is deliciously ironic.
A side good enough to be compared to the one that, having dispatched Real Madrid with aplomb in 2009, sat at the top of the UEFA rankings.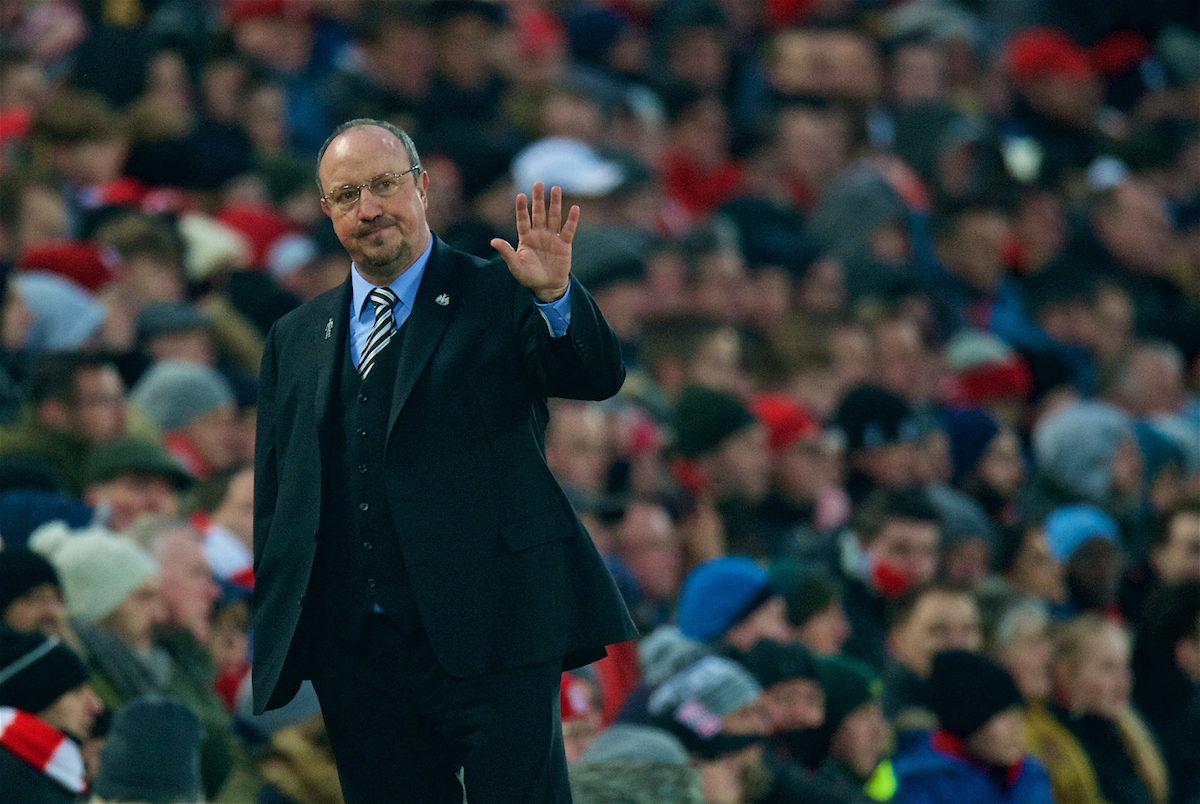 That Liverpool currently sit 30th in that list, having sunk as low as 42nd below such giants as Anderlecht, Braga and Rubin Kazan shows the size of the task that Klopp inherited when he took over at Anfield.
And while the climb back up the coefficient rankings is a long slog, there isn't a side who want to be drawn out of the hat alongside The Reds in the Champions League quarter finals ‪on March 16‬, with the potential of a second leg at Anfield a chilling prospect for ANY team in Europe.
This side is the equal of any of Rafa's finest and is on an upward trajectory, having a points average that in any other season would see them in a title race.
And having finally ended Benitez's record of not tasting defeat at Anfield, and with qualification to the latter stages of the European Cup assured, Liverpool feel like they are now in a position to exorcise the doubts that have plagued the club since Benitez was ousted.
Klopp and Benitez could not be more different, but they both have one thing in common, they are both Liverpool men, and should Klopp's rise continue, his already exalted reputation will see him written into the folklore and the flags that will adorn The Kop for years to come, just like the man in the opposite dugout.
Today's victory felt like a full stop on the Benitez-Liverpool story, consigning a period that took Liverpool to the very edge in bitter acrimony, to the past, to at last be at peace with our shared legacy.
Now we can look forward to a new future with new heroes, new legends, new songs and new trophies.
With dreams and songs to sing.
"Liverpool never even got out of first gear." ✊️

🗣 Subscribe to #TAWPlayer and listen to our immediate post-match reaction show here 👉 https://t.co/UqnoxWIzVf pic.twitter.com/8VgMZe904Q

— The Anfield Wrap (@TheAnfieldWrap) 3 March 2018
Recent Posts:
[rpfc_recent_posts_from_category meta="true"]
Pics: David Rawcliffe-Propaganda Photo
Like The Anfield Wrap on Facebook