THIS is the eighth Champions League game at Anfield this decade.
For all the talk of maybe staying in the pub, of maybe there being something else to do: the eighth. It's 2018. The average has been one a year.
At the end of last season, Jürgen Klopp said this is the bare minimum for this football club. He can be right about that, as can those who talk down "the race for fourth" as not being a real thing, as days out and trophies garnered being the real thing and everything else so much flotsam and jetsum and anything which doesn't focus on just the trophies and the days out as being immature or misunderstanding the game or perhaps understanding and accepting its modern incarnation too well and therefore flawed. Everyone can be right about any of that when Liverpool make 40 in a decade. Until that point the thing is this: we have seen reality bite.
Being in the Champions League isn't its own end for Liverpool. The aim of being in the Champions League is firstly to win it and secondly to get players of sufficient class to win other things as well. But if it was its own end, that wouldn't be unreasonable. If this was the actual reward, this annual (mean average) event then that actually wouldn't be unreasonable. The standards should always be high. The truest articulation of any Liverpool Way could well be to say "well you did that, but what about this?" Ronnie Moran, handing the medals out, over and over.
It could well be that. But, occasionally, the standards and the demands need to take into account the context and the journey, take into account that it is 2018 and this is the eighth Champions League game at Anfield this decade, take into account how rare this occurrence has been, take into account what it now takes to just qualify and take into account that Liverpool have, through their quality, made this the deadest rubber possible.
That the game only came to life sporadically should come as little surprise despite (because of?) the manager's team selection. Liverpool started nine players who can harbour reasonable hopes of starting at Old Trafford, only Alberto Moreno and Adam Lallana could feel it was just beyond them. It exploded around the half-hour mark when sustained Liverpool pressure should have resulted in a goal before Porto fluffed a three-on-two situation.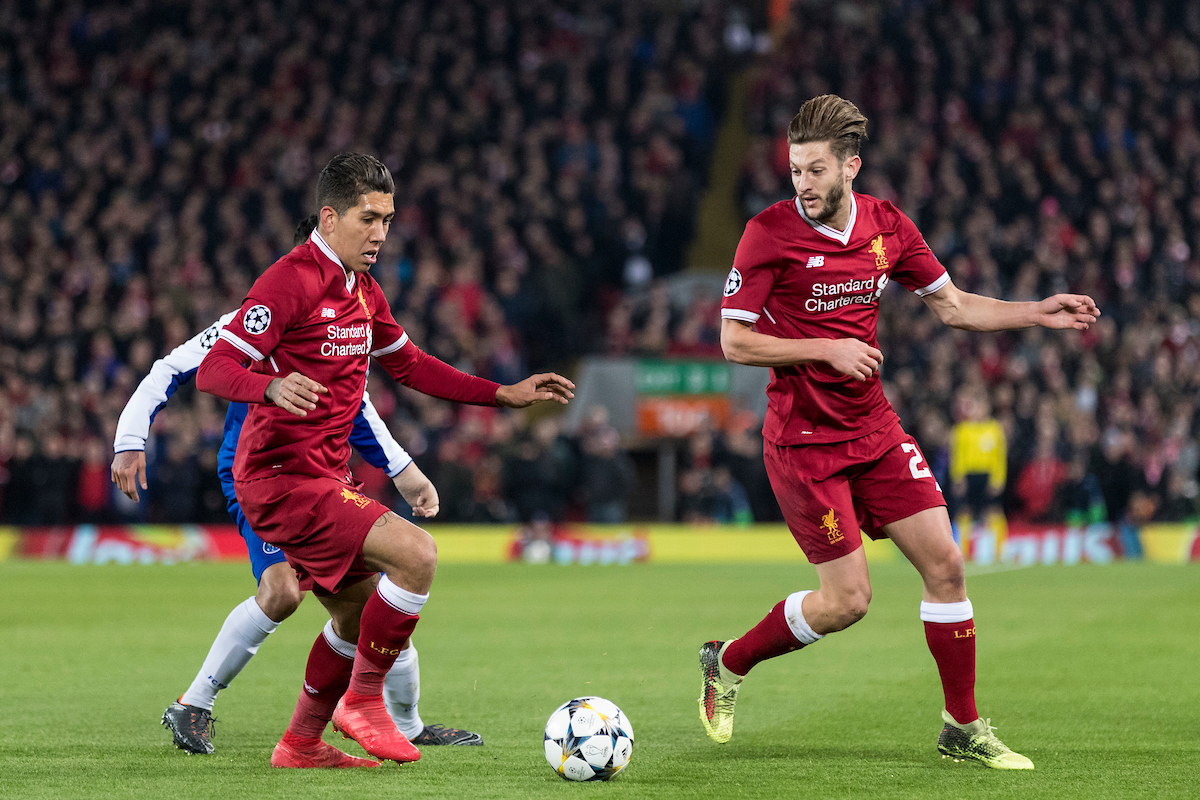 Noticeable in the first half were Liverpool's attempts to pass on the outside of Porto's back four after moving them about, as though Liverpool were using the opportunity to have a look at something. The disruptive running from midfield had an impact and while James Milner did more than the other two, all took their turn. Jordan Henderson and Emre Can yet again seemed to enjoy each other's company. On balance, we probably should have got in a goal ahead, but if ever a football match was being played for points rather than goals it was this one.
Mane played right or central first half, Liverpool preferring to keep the shape where the right-sided forward seemingly is pushed on before swapping back to the left second half, noticeably so after the introduction of Danny Ings. There's a warm, human desire from the crowd to see Ings do well at the club. His Liverpool career is probably settled between now and May; he needs to know he plays regular enough first-team football next season. Given the difficulty of covering Roberto Firmino with a player who would realistically need to accept "regular enough" first-team football, there is a window for him.
He was one of many second half who kept Iker Casillas's hands warm without bringing about much concern in the mind of the goalkeeper, bar a late effort which elicited a good save.
Mo Salah emerged to show how much he enjoys bringing it down and I daydreamed of an afternoon of punting 40-yard balls at him on a field; him smiling gently, putting up with my rubbish. Maybe we go and have a piece of cake afterwards. I don't know.
The eighth Champions League game this decade ended with these daydreams, with Porto's supporters making a great racket, and with the scoreline 0-0 due to a marvellous Ragnar Klavan block.
The journey isn't finished, not for these players, this manager, not this season nor seasons to come. We'll get a ninth Champions League game this decade. Next season we'll make it a bare minimum of 12. Bare minimum. Every chance we get to 10 this year. They'll all matter, all be a demonstration of the grander journey for this side. All to be cherished.
"I think about Kiev every day." 👀🏆

🗣 Subscribe to #TAWPlayer and listen to our immediate post-match reaction show 👉 https://t.co/UqnoxWIzVf pic.twitter.com/YkrbelOrcF

— The Anfield Wrap (@TheAnfieldWrap) 6 March 2018
Recent Posts:
[rpfc_recent_posts_from_category meta="true"]
Pics: David Rawcliffe-Propaganda Photo
Like The Anfield Wrap on Facebook