YOU don't always get what you deserve.
You can make an argument that Liverpool have been the better side and deserved to win in every game they have drawn this season. It may not be a winning argument but it is a strong one.
Today though, Liverpool didn't get what they deserved. They didn't deserve three points. They perhaps might not deserve one. But they have them, they have all three. These points will prove precious. They heap the pressure on Chelsea tomorrow and they offer some wriggle room against Everton.
Liverpool weren't very good. Liverpool weren't at the races. But my word they worked hard and had to work hard. That was digging something out that often didn't seem to be there.
Trent Alexander-Arnold showed what it is to dig a performance out. He was prominent throughout for better or worse and he never let his head drop. Being done early and often has broken Liverpool players in the past. Not today, not quite. But there is undoubtedly something to watch there, something to keep an eye on.
Andy Robertson was marvellous bar lashing too many balls in the air first half. At half time, someone must have told him Martin Kelly loves heading them clear. Robertson's willingness to play is what marks him out at his best. He's a footballer first and foremost.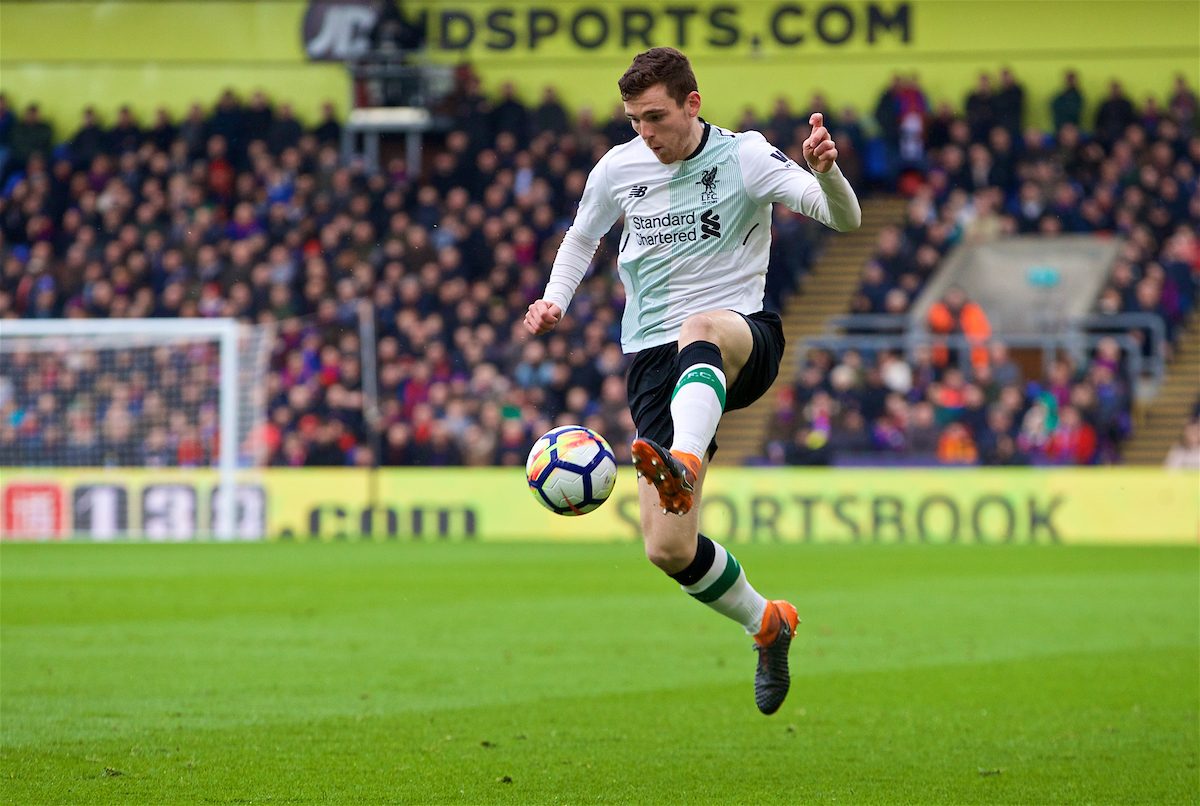 The midfield was dire first half. Joel Matip of no real use. Virgil van Dijk gave us his poorest performance so far. Mo Salah not in it, nothing coming off for Roberto Firmino and, over there, Sadio Mane was everything.
He was the centre of Liverpool's first half, scored an equaliser, booked for diving, stopped van Dijk from scoring and so on. You've seen it all. What strikes me is that when he is at his most rambunctious he is at his most dangerous. Him being everywhere was sufficiently exciting. It bodes well. He's a massive personality and him showing it is very good news for Wednesday.
It's another game where the refereeing was rubbish and rubbish on its own terms. Referee Neil Swarbrick repeatedly let the game down.
A word for our opponents today as well — they played really well today on the whole. The left-hand side of Patrick van Aarnholt and Wilfried Zaha looks to be top-five quality and that pair insist Palace attack down that flank. The centre mids are tidy. We know Mamadou Sakho can be good and that Christian Benteke can be a handful. We also know they are very capable of falling short in key moments.
There was a lot of complacency around this game from some Liverpool supporters. Palace have a top 10 squad and shouldn't be where they are. They will pull themselves out.
The challenge laid down today needed a response on and off the pitch. On the pitch Liverpool stood up and were counted, even though they didn't improve and should have found themselves behind. They kept their nerve. This also bodes well. The scrapping, the nerve, the personality. But also the changes.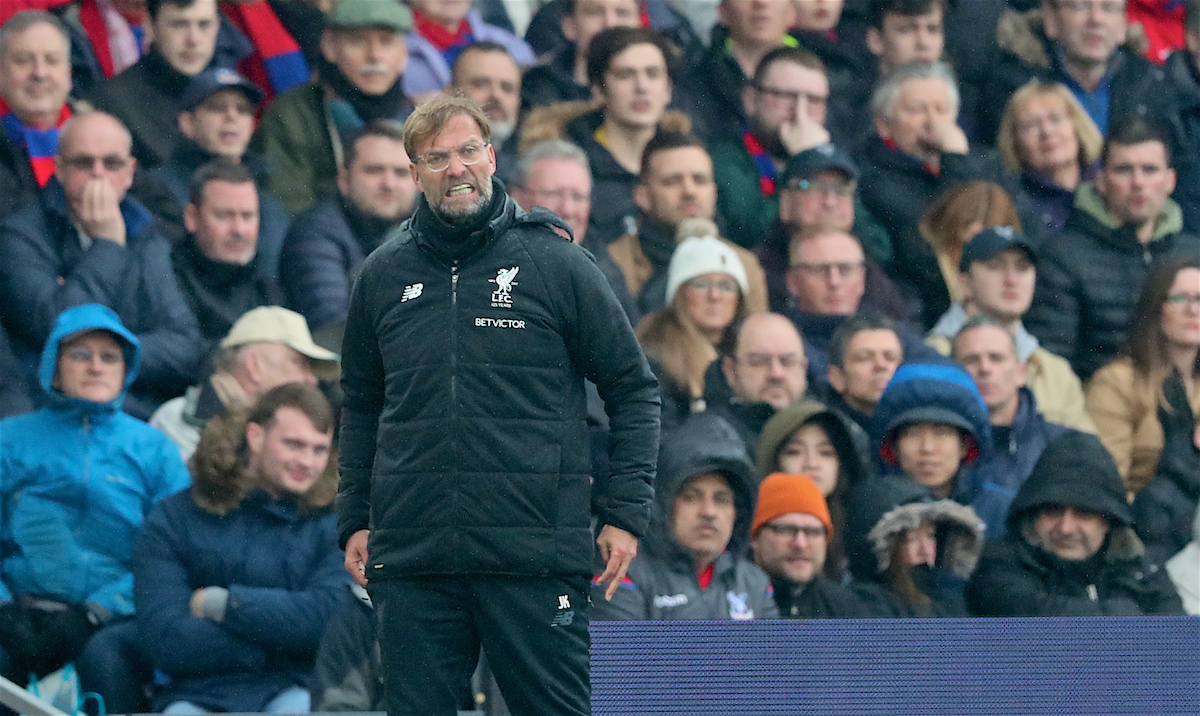 In recent times the manager has had his impact on the training pitch; at the weekend he was been able to watch his lads do the business. Not today. Today he clearly sorts them out at half time — Jordan Henderson and James Milner significantly improved from a very low base first half.
He makes a big change to reshape midfield and look after Mane on the hour and then he improvises after the Adam Lallana injury. He got every call right and Dejan Lovren impressed as a sweeper, not for the first time.
It gave us the platform and those lads on the pitch built on it. Robertson brilliant. Salah not to be denied to take what wasn't deserved.
Football's a game. We've all won games we haven't deserved to win. We've all been opportunistic and wandered off into the distance. It's something to remember when it goes against us.
Liverpool have been spending much of the season making the game not be about the odd goal in three. But today it was. The spoils are ours; we all know we will need to improve but we all know we have a side that will battle.
Liverpool showed more character than quality, perhaps for the first time this season, and got their reward. Just don't say they deserved it.
"I think what you're starting to see is a DNA in them that is enabling them to find ways to win games of football."

" I think what we're seeing is an ability to win ugly." 👊

Today's Palace Post Match Show is FREE & out soon!

Subscribe for more: https://t.co/JaNSChm2u9 pic.twitter.com/241yofIqmA

— The Anfield Wrap (@TheAnfieldWrap) 31 March 2018
Recent Posts:
[rpfc_recent_posts_from_category meta="true"]
Pics: David Rawcliffe-Propaganda Photo
Like The Anfield Wrap on Facebook