WATCHING this Liverpool side step it up should take your breath away and we should have been left breathless at the start of the second half.
Should. I'm worried a little bit. Worried we are taking for granted how good this side is, treating emphatic wins and performances as routine. We aren't enjoying this as much as we should.
That isn't unreasonable — in one sense we are making it the routine, the norm. But that shouldn't be greeted as such or taken lightly. To put it in context in 2011-12 we only scored four against top-flight opposition once. That was against a Chelsea side that was still drunk from beating us in the FA Cup final.
We have gone entire seasons without seeing this type of performance or seeing it rarely. Even think back one season — this time last campaign Liverpool were grinding results, especially at Anfield. Indeed, the last game of last February saw The Reds be swatted aside by Leicester City.
Results are results. Results count for everything especially as February becomes March. But the quality and the style should count for something. And Liverpool's quality in the second half was tremendous. A game went from a little bit stodgy to a red touch paper lit.
It started by being first to everything in the middle of the park and West Ham United were suddenly pushed back and panicked. Their back five with four in front suddenly looked about six players short of what was required. Everywhere were Liverpool, everything was red. It must have verged on disorientating for West Ham, they were dizzy, their heads were spinning. Like a whirlpool, it never ends. And it was those Reds making them spin.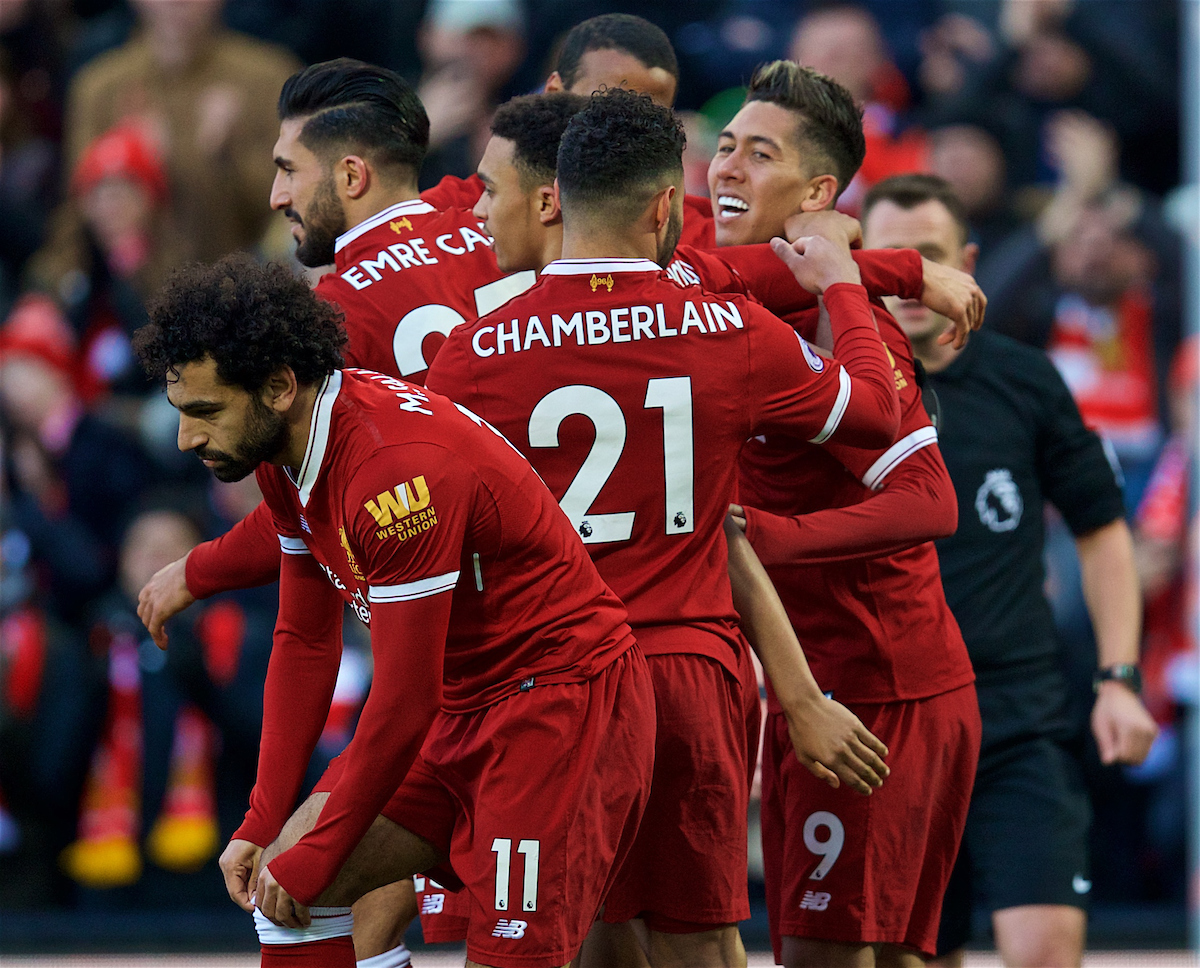 Liverpool won it back, turned them around and squeezed them. Pace and accuracy through the middle of the pitch, the ball arrowing forward to the front three. The second half came alive as Alex Oxlade-Chamberlain did. He reflected the increase in Liverpool's quality and did his best work vertically. Through the whole 90 though, the outstanding Liverpudlian performer was James Milner.
He spent the first half getting walloped and kept coming back but he is in the best possible shape in these games, a combination of brain and brawn. He thought his way through the contest and put himself on the line. He won about 10 tackles through the game, battering into West Ham at every opportunity.
Emre Can looked to play the ball quicker and was enjoying himself, if a bit too much, but we shouldn't be churlish, scoring the opener and setting up the third always helps. That it was a better contest than expected helped too. The game never felt dead and shorn of tempo. That West Ham had Marko Arnautovic helped Liverpool, in that he played well enough to offer West Ham some (false) hope. First half especially he gave Joel Matip a torrid time and was brilliantly denied by Loris Karius.
But again, the front three all scored and all did so with aplomb. Almost more impressively though, all three missed excellent chances. The game can summed up by that fact — Liverpool scored four. They hit the post. They missed a number of other serviceable chances against a David Moyes side playing 5-4-1.
Will sides be able to frustrate Liverpool this season? Undoubtedly. But should we talk of ourselves as easy to frustrate and contain? At some point we need to acknowledge this problem is no more Liverpool's than any other side bar the runaway leaders.
This is a very good Liverpool team. It's alright to say that and it should be screamed from the rooftops. Across the board, this is a side which is worthy of significant respect, but more than that worthy of applause and love. It has made the sublime routine. There is little greater praise and, as a team, that praise, that reality shouldn't lead to it proving faintly, oddly damned.
Recent Posts:
[rpfc_recent_posts_from_category meta="true"]
Pics: David Rawcliffe-Propaganda Photo
Like The Anfield Wrap on Facebook