NOWADAYS it's virtually impossible for a Liverpool manager to make a shock exit from the club.
Instead, if a manager is in trouble, the pressure and momentum build until the inevitable occurs. Maybe over the past weeks the press will speculate that whoever's time it is will be on their way and that weekend's game is a "must win" if he's to keep his job – hoping, of course, that they don't so they can fill pages.
Add to this the Twitter campaigns and pages such as these, being used to cajole others into seeing their side of the story as to why x must go and talk already turns to who will be next in the chair. These things build over time. Resignations (sackings are expensive so the term "by mutual agreement" is preferred) occur as an eventuality rather than a surprise.
This has been the case with our recent managers. In October 2015, there couldn't have been many Reds at the 1-1 draw at Goodison Park who hadn't heard that Brendan Rodgers would be gone by nightfall. The announcement came a few hours later.
Equally, Rafa Benitez — who had been sacked several times over his Liverpool career already according to the city and football forum rumour mill — had weeks to clear his desk.
Roy Hodgson barely had time to put family photos on his before the Liverpool world made it plain that his appointment was ridiculous and unsustainable, and he too was shown the door.
Add to that Gerard Houllier and the resignation letter that was his 2003-4 season, and even further back to Graeme Souness – who escaped numerous calls for his head before he finally gave up the ghost following a home FA Cup defeat to Bristol City in January 1994.
But no one saw Kenny Dalglish's resignation coming. Absolutely no one.
Introducing "TAW Moments In Time" a new series of audio documentaries exclusive to The Anfield Wrap, reliving significant days in #LFC's history.

The first tells the story of Kenny Dalglish's resignation, in the words of family, players, staff, journalists and fans… pic.twitter.com/uWHtMkn6O1

— The Anfield Wrap (@TheAnfieldWrap) 29 January 2018
Not even his captain, in fact. Alan Hansen had been out for a meal with his family and noticed a missed call from his fellow Scot upon his return. It was too late to call him back by that time so Hansen figured he would see him at training the following day and left it at that. He couldn't have dreamt what that message relayed and he was Kenny's best friend at the club. No one had a clue.
In 1991, I was a third-year student at a Poly in London, though I'd call it "uni" now if anyone asked.  I was living in Thamesmead in a shared house with my friend Sarah and a lad we barely knew. Thamesmead is a concrete jungle area in the south east of the city, created at the fag end of the '60s by people who were clearly having a bad day. The town planners had an idea to make it look futuristic with elevated walkways and faux lagoons. It failed in that endeavour and looked outdated by 1971. Fans of the film A Clockwork Orange will recognise it from the scene at the man-made lake where Alex throws Dim into the water. The whole area is as grim today as it was at that time.
Sarah and I didn't have a telly that year. We're not sure why. There was some noble suggestion that we didn't want to be distracted from having one, what with our all-important final exams around the corner, though it was probably due to us being skint and a crackdown on those without TV licences in the area at the time, so we mostly listened to the radio or played music
I didn't have any lectures or tutorials on Fridays, having cunningly elected to write a dissertation in lieu of adding a module to my already hectic timetable of six hours a week. It was a beauty too and should anyone want to read my ground-breaking study on "Political and Post-Modern Structures within Doctor Who: 1963-1989", please contact The Anfield Wrap office. (Please don't.)
I remember being sat on the bed on February 22 when Sarah returned from her lecture. She was only halfway up the stairs when she noticed the open door and called up.
"Have you heard? Kenny's resigned!"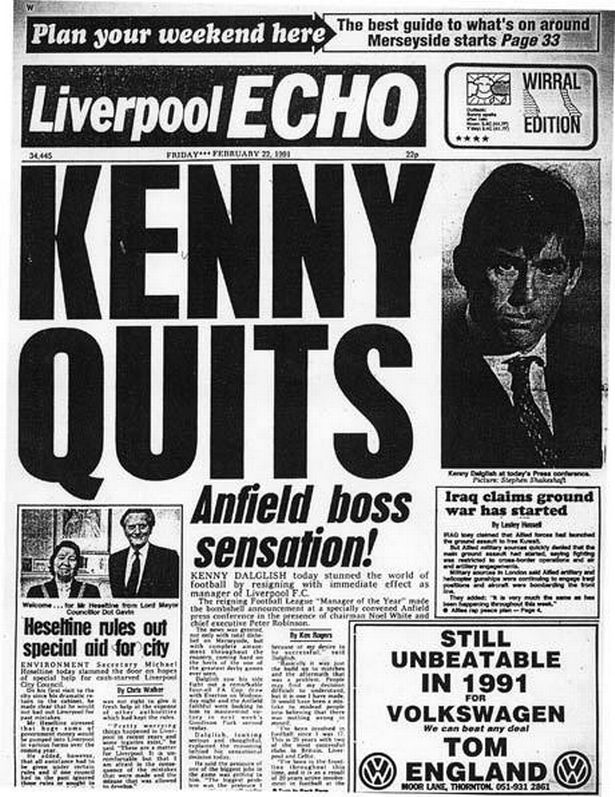 My initial response – and I remember this as if it happened 10 minutes ago – was "Who's Kenny?". She did a different course from me so maybe Kenny was a lecturer or one of her mates who had finally packed it in. People left our courses all the time when they realised that the qualification would be useless and there was a job going somewhere. In any case, I just looked blankly at her, probably wondering what the hell she was on about and which of us would make the tea.
"Kenny Dalglish. Kenny Dalglish has resigned. Did you know?"
This was all in the days before mobiles, social media and rolling TV news (not that we had one to watch it on), so I had to put the radio on and wait for the news. I sat crosslegged on the bed and stared at the wall as it was confirmed. Kenny really had gone.
No, nobody saw it coming, but it was obvious why he'd done it and, in retrospect, the signs were there for all to see. The active and shouty Dalglish on the touchlines had been replaced by a slumped incarnation in his usual red and grey coat. He looked tired and wan over the past months. The torrid aftermath of Hillsborough etched onto his face. He'd increasingly looked like a man who was barely holding it together.
There was nothing wrong with the football, though there had been some bizarre games – including a 3-0 hammering at Highbury when he deployed seven centre backs or something – but The Reds were still top of the table following the last league game – a 3-1 home game in yet another derby.
For all that, the horizon was looking a little darker than usual. Arsenal had proved that they were not just one-season wonders following their title in 1989 and Kenny was making some odd purchases, none less so than Jimmy Carter from Millwall, who looked out of place the second he got off the train.
"Someone should have realised that he was taking on not just the strain of running a football club like Liverpool, but he seemed to be taking the weight of the city's pain on himself." 🗣

Another excerpt from our audio documentary "TAW Moments In Time": https://t.co/rC67rinAKe pic.twitter.com/AfnzkELpzr

— The Anfield Wrap (@TheAnfieldWrap) 2 February 2018
I felt a little better when it was announced that Ronnie Moran would take his place on a temporary basis – who could do it better? – but it still installed a fear. The great '88 side was in decline thanks to the addition of lesser players. Glenn Hysen was no Hansen and that backline was looking a little older and shakier of late.
True, we still had John Barnes who could turn it on at will, but without Kenny, without the creator supreme and without everything that came with him – the nark, the humour, the laugh, the knowledge that he'd walk through steel to give Liverpool so much as a throw in – we'd be in trouble. Without him, Liverpool were about to enter a new and uncertain future. He had been a mainstay for so long in various guises that Liverpool was unthinkable without him. Simple as that. Unthinkable.
Moran took over and, a few weeks later, briefly put Liverpool on top of the league again following a 7-1 away win at Derby County – a game which featured Mark Wright in a Rams shirt. When told the news that we'd gone top of the table above Arsenal by a radio interviewer he replied with a beautifully understated and disinterested: "So I believe." No hyperbole there.
When Kenny came back to Anfield with Blackburn it felt strange. It's not often that you love the opponent's manager more than your own, but that day was about more than adulation. It was a thank you. And not just a thank you for the player and management success. It was always more than that after 1989.
Liverpool never really recovered from that press conference on February 22, 1991. It's a date in this club's diary which still shakes and the after effects still resonate now. That said, he did it for the right reasons and not one person bore him any ill will. His health and family came first. Always and rightly so.
We have a happier Kenny back again and he has a stand named after him. It should be more, but I'm grateful for that at least.
[wonderplugin_audio id="64″]
This is the first in a series of free audio documentaries, brought to you by The Anfield Wrap, reliving significant days in the history of Liverpool Football Club, in the words of those who were there to witness.
Part one of "TAW Moments In Time" tells the story of Kenny Dalglish's resignation as manager of Liverpool, one of the most groundbreaking couple of days in the club's history, with the circumstances surrounding his departure in February 1991 still being debated and discussed to this day.
Detailing the events of that fateful day are former players Bruce Grobbelaar and Glenn Hysen, former coach Roy Evans, journalists Graham Beecroft, Tony Evans, David Prentice, Brian Reade, Clive Tyldesley and Henry Winter, supporters Rob Gutmann, John Mackin, Mike Nevin and Kev Sampson, and TV presenter and daughter of Kenny, Kelly Cates.
Recent Posts:
[rpfc_recent_posts_from_category meta="true"]
Pics: David Rawcliffe-Propaganda Photo
Like The Anfield Wrap on Facebook