A Happy New Year to you all.
A new year is a time for renewal, of reflection. It gives us an opportunity to draw a line in the sand and announce that from now on we will either stop doing foolish things (over-drinking, over-eating, binge-watching Netflix instead of doing more wholesome activities, shouting at Simon Mignolet etc.) or start them (get to the gym, eat real food, not frown so much at that weird bloke you work with).
This is the week where we vow to alter our lifestyle and look for some element of self-improvement.
It is also the week the Queen's Birthday Honours are announced and the nation gets to tut at some choices (Ed Sheeran MBE) and applaud others (Dame Julie Walters, say) according to taste. Part of this depends on whether you see a nod from Buckingham Palace as a nice, traditional reward system or an outdated piece of chaff dating back to the days when pulling your forelock to your master was deemed a good idea. Personally, I've never seen the point of it though a few years ago my friend's mother was given an OBE for her services to charity in her local area and it pleased her family so, y'know…
All harmless, I suppose.
Some people certainly deserve such recognition. Those who selflessly help the poor and infirm, those who install peace through diplomacy or end disease etc, but when it comes to sports people and athletes legging it down the Mall with their best suits on… well, it makes me uneasy.
Again, they deserve it too to some extent, but aren't the medals and trophies enough rather than a national honour? I mean, no one picks up a trophy in May and says, "That's me nailed on for a gong at the Palace".
But it's not just that. It seems to me that the suffix of MBE, CBE and OBE come automatically for a certain group of people regardless of success in their field. People who have made it to an international stage for Great Britain, but have not exactly taken the world by storm.
As an example, I've just picked the name of an athlete from yesteryear and guessed that he must have an honour of some kind. I chose Steve Backley, the javelinist, who won two bronzes and one silver Olympic medal during the 1990s. He's usually the sort of person who gets an award though I had to Google him to see if he'd ever won an elite medal.
Let's see.
Yep.
Steve Backley OBE.
That's not to criticise the man. After all, he was very good at something that I can't do so more power to him and if people want to pin things to his lapel then fair enough. I wonder though if the people of his home town of Sidcup ever clamoured to have his name pushed under the nose of the monarch or he was just 'on the list' along with other Olympians of his era.
It's stranger that some call for certain people to be chosen. This happened with (Sir) Cliff Richard for years.
It's happened recently too.
Well, to one man in particular and it baffles me.
I'll never understand why some Reds are absolutely raging about Kenny Dalglish not being given a knighthood. This comes up every December and it drives me mad. There's been a fair amount of it on Twitter recently.
This year, however, this call has the added voice of the nation's favourite gobshite.
It's unusual for Piers Morgan to jump on a bandwagon of disgust purely in the interests of stirring a puerile debate, but earlier this week he tweeted the following:
As for the rest of the #NewYearHonours, I'm sure there's a perfectly good reason why it's now Sir Nick 'Tuition Fees' Clegg & not Sir Kenny Dalglish, wondrous footballer & man who helped heal a whole city – right?
Because I'm really struggling to identify a single ****ing one. pic.twitter.com/C2lV4TYCNY

— Piers Morgan (@piersmorgan) December 30, 2017
Of course, this barb from 'Piers Moron' as Private Eye calls him is as much of an attack on Nick Clegg as it is a nomination for Kenny, but it took many by surprise. Piers Morgan loves Kenny Dalglish? Really?
What is so staggering about Morgan's sudden admiration is that, according to the biography written by Emily Herbert, he was on The S*n's staff by the age of 23 where he was championed by Kelvin MacKenzie. That would mean that he was at the paper before March 30, 1989 (his 24th birthday). Why would he be friendly with MacKenzie during the time of 'The Truth' and then extol the virtues of a man who did all he could to support those slandered by him? It's a bit like applauding a bombing campaign and then the clear-up effort.
Anyway, putting those people aside (and wouldn't that be nice?), the debate about the Kenny knighthood has been picked up by those seeking parity with Manchester United. "Paisley wasn't knighted and he's better than Ferguson etc."
A few years ago, some United fans produced a flag bearing the legend 'Sir Matt. Sir Alex. Bill and Bob.' That absolutely made my day. Seriously, if I could have helped its creation I would have.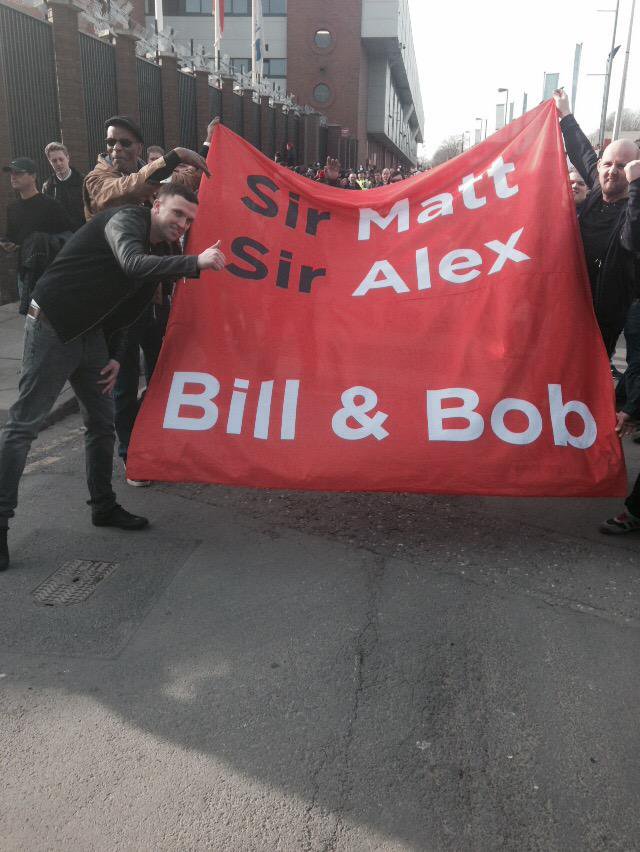 They had missed the point entirely. Our legends belong to us, not to "the nation" or the outdated notion of an empire. In fact, Busby sort of belongs to us too as he played 122 times for us before the War and even captained us, but let's not be pedantic.
The idea that Shankly and Paisley are somehow the lesser for their lack of royal recognition is absolutely laughable. Liverpool — or at least my version of it — have never sought such trinkets. Oh, they're nice enough when they arrive but to use it as a boast from one club over another…
This is partially a political issue as well as a geographical one to some extent. The city has long considered itself as a separate state when it comes to such matters — Scouse not English, etc, and as Gibbo said on Twitter recently "Why would our King bow to their Queen?"
OK
1) he didn't attend every funeral. Would have been impossible. Hate that lie. Diminishes everything he did do.
2) maybe he has been offered one and turned it down.
3) who gives a fuck what this poxy government thinks of Kenny. Would hate to see our King bow to their Queen https://t.co/WZwIbRHmJx

— John Gibbons (@johngibbonsblog) December 26, 2017
Of course, if Kenny was given a knighthood and, more importantly, wanted one then fair enough. We can deny the man nothing after what he did on the pitch and bench and that's before you consider the events of 1989 and the detrimental effect it had on his health, but to petition, even beg for his inclusion amongst the Honours somehow lessens his achievements.
Then there's the issue of the establishment. Why would we want a nod from the very people who lied to us and denied us enquiry after enquiry?
Kenny will always be a "Sir" to us. Higher even. To this day, Roger Hunt is referred to as "Sir Roger" even though he has never been knighted.
It's up to Kenny and his family if he'd like his name to go forward and no one else, but if they gave him an award every day for eternity it would not be close to the esteem he is held in in our hearts and I suspect that matters more than any tap on the shoulder from the sword of a monarch.
Recent Posts:
[rpfc_recent_posts_from_category meta="true"]
Pics: David Rawcliffe-Propaganda Photo
Like The Anfield Wrap on Facebook